Boys' Shimmer Me™ Jacket
Details
http://www.columbia.com/boys-shimmer-me-jacket-SB5511.html
SB5511
Greater Rewards
members earn

400

points with purchase
Uses:
Winter, Ski / Snowsports
Size & Fit Guide
|
Reviewers rated this product
Fits Slightly Small
|
Fit
Modern Classic
Variations
Product Actions
Details
Uses
Winter, Ski / Snowsports
Features
Heat is the name of the game with this classic puffy-coat style jacket. Omni-Heat® helps to retain your body heat while the durable exterior sheds rain and stains. Large classic baffles increase the effectiveness of the insulation so you stay warm in cold conditions.
Features:
Omni-Heat thermal reflective lining retains your body heat while breathing for supreme warmth without the bulk
Omni-Shield advanced repellency sheds water and resists stains
Insulated
Attached, adjustable storm hood
Interior security pocket and zippered hand pockets
Comfort cuffs
Reflective detail for safety in low light conditions
Center back length: 19.5"
Imported
Fabric
:
Shell: Omni-Shield 100% polyester
Lining: Omni-Heat 100% polyester taffeta
Insulation: 100% polyester Microtemp, 100g
Omni-Heat™ Reflective
Thermal Reflective Warmth
Omni-Shield™
Water and Stain Repellent
Technology Videos
Omni-Heat™ Reflective
Magic in a little
silver dot.
Breathable material with little silver dots that reflect body heat.
Omni-Shield™
GO AHEAD.
TRY AND GET DIRTY.
Helps you stay clean and dry by resisting absorption of liquids.
Reviews
Rated

4.5

out of

5

 by

52

reviewers.
Rated

5

out of

5
 by
Janieo
Perfect for Northern Alberta Winters
I bought this jacket for my average weight/ height 4 year old son. He's now into his second winter in the same jacket. I can honestly say it's -40C/F today (with the wind chill) and he's warm. The jacket is really thin but don't let that mislead you, it's warm! My son also has a down-filled jacket but he find his Columbia jacket much warmer and will fight me if I try suggesting he wear his other jacket.
January 12, 2017
Rated

5

out of

5
 by
Happy29
Excellent jacket
12 year old son loves the look and claims he is actually too hot in it .... a good sign it will be warm when the temperature goes really low. Can't believe how light it is. He thinks he looks good in it ... I think he looks good too, and I like that he'll be warm (and wear it!).
December 12, 2016
Rated

4

out of

5
 by
Maribel2
ok
This is more of an early fall/spring jacket, not for a frigid winter. My son is skinny so he was always cold, had to layered under coat.
December 7, 2016
Rated

5

out of

5
 by
Aldous
Third one!
My son absolutely loves this jacket, in fact this is his 3rd one, starting with an XS, he's wearing the medium now. The cut looks great (slim, not bulky), the material is durable. We still have his old ones and they've withstand abuse. And it's warm enough during winter, yet very light weight. We'll keep buying this jacket as long as my son likes the style and available. Let's hope they never change the quality of this jacket, except for the better (not for the cheaper).
November 30, 2016
Rated

5

out of

5
 by
JacobL
Very warm
Good quality product. Keeps my son warm on the freezing days.
October 8, 2016
Rated

5

out of

5
 by
NikkiDeO
Unexpected but Recommended
Let me first say, this is not a thick winter jacket. This is a jacket very similar to the inside layer of an interchangeable jacket system. It has hot dots, which are wonderful, but this is not meant as a jacket for snowy days. There's no snow skirt. This is a good jacket and high quality, similar to the "mighty lite" jacket but with a hood. Not the all-winter jacket I thought it would be.
May 4, 2016
Rated

4

out of

5
 by
yask
very light weight and nice
i got the product very quickly. For my 7 and a half years old son i ordered 10-12 size according the reviews running small. It is fitting well now.
February 26, 2016
Rated

5

out of

5
 by
MominWyoming
Kid Winter Quote
This coat is perfect for my 5 year old. Keeps him warm while playing for hours out in the snow. Perfect for recess at school. The coat is not bulky and looks amazing. I am also super happy they offer the coat in red, as red is his favorite color
January 7, 2016
Rated

2

out of

5
 by
maria0191
Not Worth The Money
For the price of the jacket, it's not worth it the jacket is not as thick as I thought it would be
December 31, 2015
Rated

5

out of

5
 by
Momof3boys40
My son loves it
It is hard to get boys to wear coats. This one is the perfect weight to stop arguments with my son. It looks great, keeps him warm, and makes us both happy.
December 11, 2015
Rated

5

out of

5
 by
Mary
nice jacket but....
Very nice jacket indeed and very light my son likes it and it actually fit on him although I purchased XXS which is ok for ages 4 & 5 but it still run small, so I suggest to anyone who wants to buy this make sure u buy larger coz kids grow fast.... hopefully my son can still use the jacket next year...
November 18, 2015
Rated

5

out of

5
 by
EBR47
So nice I ordered the next size up for this season.
My 6 year old grandson (and his mom) love this jacket. So as the one he wore last year is now a bit too small, I just ordered a larger one for this coming winter.
November 8, 2015
Rated

5

out of

5
 by
MDXM
great all around jacket
I ordered this for my 3.5 year old. The XXS fits slightly big (39" and 35 lbs) but comfortable enough to grow into throughout the winter season. His 4T jacket from last season's sleeves were too short. It keeps him warm but its not bulky at all. The "comfort cuffs" at the sleeve openings will be great come snow season to keep the wet out and his favorite part are the fleece lined pockets.
November 1, 2015
Rated

5

out of

5
 by
mlML
Great Jacket!
One of two jackets purchased. It's a great fall/pre-winter jacket. When the weather's between 40-60 degrees. The mornings are always cold so the Omni-heat is always a plus. In Seattle, the great hood is such selling point. Of course I had to get it the bright red so I could spot my kid when it's already dark at pick-up. To feel like I'm getting the most value out a jacket, I ordered up a size. It was bigger than I expected.
October 27, 2015
Rated

4

out of

5
 by
Trippm75
Good price for the heat
As a purchase for a nine year old son, the coat was purchased a size bigger so there would be a lot of wear out of it. The coat keeps him very warm, without a lot of added bulk
October 23, 2015
Rated

5

out of

5
 by
MomOf2inMT
Great warm lightweight jacket
My son loves this jacket. He is 3.5 years old and I ordered an XXS. I figured it would be a little big on him but wanted him to get two years out of it. It's a little long in the arms as I expected, but with the cuffs on the sleeves, they stay around his wrists and don't hang past his hands. It keeps him really warm without being heavy and bulky. His favorite color is red, so we searched for jackets available in red which is how we initially came across this one and the features fit what I was looking for.
October 23, 2015
Rated

4

out of

5
 by
broxer
fits on the small side
It's very lightweight, which is great for a winter coat, it takes the bulk out. Only problem is I bought the XS for my just about to turn 4 year old when the sizing says 4/5 and it just fits him, so I worry he will outgrow it halfway through winter. My kids do have a tendency to be tall in their upper body, just a small warning.
September 21, 2015
Rated

5

out of

5
 by
8Uhockeymom
Shockingly warm coat
My 6 year old son wanted this coat in red. It looks very nice. I was so concerned that he would be cold because it feels paper thin. I'd ask him everyday if he wanted to put a hoodie underneath it and he'd laugh and say he would probably die of heat if he did that. He said this coat is so warm. He wore it to the bus stop and out in the snow when playing with friends. It kept him dry and warm. He was actually sweaty from the warmth of the coat. I'd buy this again for sure!
August 18, 2015
Rated

5

out of

5
 by
Gina030511
Love this jacket!!!
My son loves this jacket and so do I! It's very lightweight and comfortable. A big difference from the big bulky and heavy types of jackets due to the Omniheat technology. My husband and my brother also have these jackets and on the coldest of days, they stay nice and warm!!!
July 21, 2015
Rated

3

out of

5
 by
Rueda
Jacket for 4/5 year old
Bought a size xs(6/7) which is just a little bigger than the size 4t columbia jacket he already has. He and I were Very Disappointed that it doesn't have the straps that his 4t jacket has to hold like a "back pack" when in the mall etc...
February 10, 2015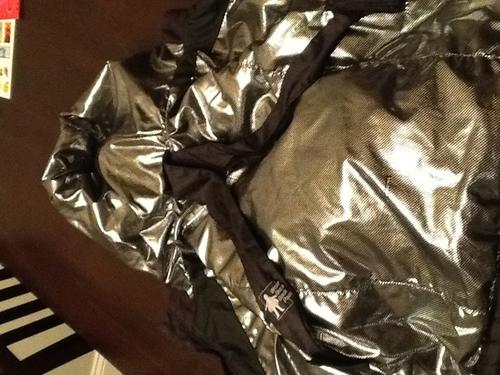 Rated

5

out of

5
 by
HnhB
Great winter coat!
I read the reviews about running a little small, so I ordered a size up for my son. I was thinking he would wear it next season, but he wanted to start wearing it right away. It is a little big on him. He wears 5/6 clothing but I ordered a small (8). I think it will be great for the rest of this year and next year!
February 6, 2015
Rated

5

out of

5
 by
dmbaughman
Great jacket, looks good, fits well!
I bought this jacket for my son who is about 4 1/2 years old, and the XS fits him perfectly. He's pretty average in weight and height for his age, so the sizing chart was spot on. And the style of the jacket is great, so that's a big plus.
January 22, 2015
Rated

5

out of

5
 by
EmiliosMommy
Great Coat!
I bought this coat for my son who normally wears a 5T. After reading the reviews, I went with a size small (6/7) and it fits him a little big, mainly the sleeves. We went with the red color and it's not as shinny as it is pictured...Which is a good thing. I was afraid of it looking tacky being shinny, but the color looks great. It's more of a matte look. The coat isn't as bulky as his coats have been in the past. If the coat had been an exact fit, there would be no bulkiness to it. My son is normally a sweaty child who is always hot and never wants to keep his coat on while playing outside. So I feared that this coat would keep him too hot, but I had nothing to worry about. He has worn it when temps where -9 with windshields -30 & when it was 48 degrees out...it works great for both temperatures! It kept him warm when he really needed it. He loves being out doors, even when it's snowing and freezing out....I think we found the perfect coat for him...finally.
January 18, 2015
Rated

5

out of

5
 by
Lrh37
Great jacket!
We got this jacket for our 5 yr old size small fits perfect. Light weight and super warm.
December 25, 2014
Rated

5

out of

5
 by
Gena307
Great Coat for Kids!
I ordered 2 of these coats for my boys and they love them! I was a bit skeptical about how well the Omni-heat would work in a Wyoming winter but my kids never complain about being cold even in -0 temps. They are well made and the Omni-shield works amazing too, my kids are rough on clothes and both of these coats still look new after 2 winters. Money well spent!
December 23, 2014
Rated

5

out of

5
 by
Amaya
Great ski jacket for a teen
I bought these ski jacket for my 13 year old son and he loved it. Its simple lightweight and confortable. He used it today on a cold snowy day in the slopes and didnt complaint about being cold or anything.
December 19, 2014
Rated

5

out of

5
 by
Ashtay18
Great all around
Jacket runs small so I ordered a size up still fits a little snug but all and all I love material and how little weight it is
December 18, 2014
Rated

5

out of

5
 by
Motherof002
Best Coat
My son loves his coat. He likes it cause it's not real bulky. He still stays warm on cold days. We are in Chicago. So it's pretty cold here. I would recommend this if you are looking for a coat that is warm and not so bulky.
December 4, 2014
Rated

5

out of

5
 by
Kimmy757
Excellent lightweight jacket
I bought this for my 12 year old son and he was shocked this lightweight jacket would keep him warm, but it did! I read the reviews and ordered larger since it stated the jacket runs small. It fits him perfectly!
November 29, 2014
Rated

4

out of

5
 by
StacyG
Huge Hit....but Very Thin & Small
This jacket is for my very fashion conscious, little chunky, almost seven year old. I thought I would hate the blue "tie dye" but the dye is actually very mild and cute. The inside is very shiny but we knew that from the other reviews. My son was so excited when he opened the box, its a big win! We also knew from other reviews that it runs pretty small. My guy is 60lbs and approx 48". He normally wears a sz 7/8 in tops so I hesitantly ordered the 10 /12 with the expectation of him swimming in it and having to pick a different style. Not so! The 10/ 12 runs so small that though it's long for him at the sleeves and waist, he can easily wear it this year and hopefully next . The jacket is VERY thin. We haven't been able to test it for warmth so I'm not sure if this is going to keep him warm in the frigid Michogan temps. I may post another review after be wears it in the cold a few times
November 29, 2014
Rated

4

out of

5
 by
northwestmom
Cute, but strange fit
My son is tall and thin. I'm not sure that jacket is constructed for his body type. I looked all over for a length measurement before purchasing this jacket, but couldn't find one. According to the sleeve and width measurements, my son (who fits 5T clothing at the moment) would be swimming in the XXS. Not having that length measurement, I knew that I might be exchanging this for a different size. Upon arrival we found that the length of the jacket is short, and the measurements aren't consistent with the size chart provided. The XXS is 16.6 inches from the base of the hood to the hem. The length from armpit to sleeve cuff is 12.5 inches, and from shoulder seam to cuff is 16.5 inches. The waist around the outside of the jacket (which is fairly thin) is 30 inches.
October 25, 2014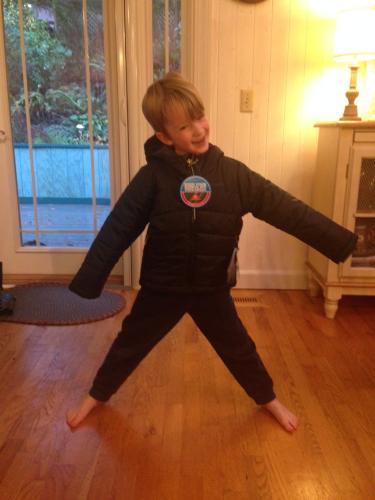 Rated

5

out of

5
 by
katekate
Perfect for a picky boy
My thin 8 year old who is always cold wore this jacket during a long, cold MA winter last year and never complained of cold. Sometimes we had to remind him to take it off inside, because it was so cosy. It's like a thin, comfy sleeping bag you can wear, but it's so thin it doesn't get in the way, even on the large side. It's water resistant, but as this was all he had, he played in the snow all winter in it. It did get a tad wet on the outside, but dried so quickly it didn't matter. Unless you plan on lying in the snow a lot and then staying outside, this will do as well as any parka. Also: it folds up so small it's great for school cubbies and backpacks.
August 22, 2014
Rated

4

out of

5
 by
Natrt
Bright Green and warm enough
My son loved it as soon as he saw it because of the inside secret pockets, little plastic hooks and the soft material. The Inside has a black-metallic texture and outside is a little bit more grass greener that i expected but still pretty. Its very light and warm and allows him put on only one layer when is snowing outside. We bought S (7/8) and fits fine for my 6yo this year and hopefully also next one.
February 23, 2014
Rated

3

out of

5
 by
david163
color not great
the color on this product is much brighter than on the site
February 21, 2014
Rated

5

out of

5
 by
Emsie
extremely warm and light weight
I purchased this coat for my 4 year old son to wear next winter! I bought this coat because I purchased one for myself this winter and I couldn't believe how warm it was. I live in Michigan and we had -40 degree weather this year and my Columbia coat with the omni shield kept me very warm! Its hard to believe that such a thin coat is so warm! I decided to get one for my son because he hates bulky coats and gets cold easily. I will say that the coat runs a bit on the small side. I purchased a size up for myself and ordered my son an xs for next year. He is an average size 4 year old and by next year the coat should fit him perfect! This is an awesome coat for active kids:)
February 21, 2014
Rated

5

out of

5
 by
Hmgirl2013
Cute and warm!
Bought it for my son. It was huge on him but I bought bigger on purpose so he can wear it a couple winters. It looks warm and cozy. He liked it and so did I,
February 20, 2014
Rated

5

out of

5
 by
KeepPortlandWeird
Lightweight but warm
My kid loves this jacket. We got him the red one and he says that it is very warm. We recently had temperatures in the teens and he did not complaint about being cold.
February 20, 2014
Rated

5

out of

5
 by
sarah74
Great jacket!!
I bought this jacket for my 8 year old son and he absolutely loves it!! It's so much lighter in weight than his old jacket but keeps him just as warm. I would definitely buy it again!
February 19, 2014
Rated

5

out of

5
 by
Lisa100
To small!
I love the Shimmer Me jacket! My 6 year old has had one for two years and it still looks like new after being greatly used. I order a new one for next year, but the sizes are way off! He wore a 6/7, so I ordered an 8. It was way to small. I called customer service. They were great to work with. We thought the jacket may have been missed sized, so they sent me a call tag and I ordered another size 8. Same thing, way to small. By the time I ordered twice, they were sold out. I'm disappointed I didn't get one on sale. I'm going to wait and get the new style in the fall.
February 19, 2014
Rated

5

out of

5
 by
lbudach
Perfect
Does anyone else have trouble getting their kids to wear a winter coat? I used to, not anymore. My son LOVES this jacket. He loves it because it's thin. It is not bulky at all. This mom loves it because it's warm. We live in MN with horrible frigid, below 0 temps on a regular basis for many months. He gladly wears this coat, and I no longer have to worry about him being frozen while standing at the bus stop. Fits true to size. Love the red color. The hood is awesome as well, fitted with a small piece of elastic on each side to keep the cold wind out. A little bonus was the reflective trim on the zipper and hood. Wasn't expecting that but nice feature. My son wears a size 12-14 and the large fit fine....maybe a tad big which I am hoping means he can wear it next year. You won't be disappointed if you buy this coat.
February 17, 2014
Rated

5

out of

5
 by
Idonthaveanickname
Good looking jacket
Performed wonderfully and the color was exactly what we needed for my son.
February 13, 2014
Rated

2

out of

5
 by
jmercado
Cyber Green Goof
My 11 y/o son chose this jacket online in the Cyber Green color. When he saw it in person, he was disappointed with the shiny fabric on the inside of the jacket, as well as the bright, bright green color - in spite of his insistence on choosing it himself. He also thought it was too puffy, but this is probably because he's not used to wearing jackets, as we currently live in Florida, but are moving to Illinois. Anyway, it is going back. It might be a cute choice for others, but the green, and the shiny interior, was not a hit with him.
February 9, 2014
Rated

5

out of

5
 by
FABIOESPINAL
slim jim of cold winter jackets
Is great my kid love it !! is not bulky, it fit right with enough space to ware a sweeter. most importantly is the omni heat it work well but for temperatures almost in 0 degrees! you will need to ware a thick sweeter under the jacket. but overall works wonder!! my kid used DAILY!!!
January 29, 2014
Rated

5

out of

5
 by
Jon55
Great for the kids
This is a great, all around winter jacket. My kids basically live in them. The fit is ideal. Roomy enough to wear a sweater underneath (not that you would need too). Love that you can turn it into a packable item as well. Would rec this for anyone looking for a great all around jacket for kids.
December 17, 2013
Rated

2

out of

5
 by
Gonzo27
Shimmer Me, small me, goofy liner me
We didn't like the liner. If a kid hates something about a clothing item they are not going to wear it. Heck, I'm the same way. Way too small anyway. It's on it's way back.
December 7, 2013
Rated

5

out of

5
 by
Mickey4
Very warm but not bulky!!
This coat is great for my son. It is very warm with no bulk which is very important to him. The sizing is true, I ordered an XL first, based on another review and he was swimming in it.
December 6, 2013
Rated

2

out of

5
 by
SingleDadof4
Sizing mishap
I ordered this product for my son after he had been wearing Columbia Jackets previously. He was in a size 10-12, so I ordered him a size 14-16 (growth spurt). However, once the jacket arrived, it (size 14-16) fit him the exact same as his present sized 10-12 coat. Do different styles fit that differently? One would think that the sizes would be according to their own size charts. Otherwise I am sure it is a good product.
December 1, 2013
Rated

4

out of

5
 by
Bed2002
Small!
Nice one... Size not as excepted! Smaller for the size chart!
November 19, 2013
Rated

5

out of

5
 by
JayChicago
Extremely Warm, Light and Comfortable
I thought Omni-Heat was a gimmick until my kids kept raving about how warm this jacket is. It is lightweight, has very comfortable arms and kid-friendly features. My kids also select this jacket in all kinds of conditions (wet, windy, snow), which means it is very warm but does not retain excess heat. I wish I knew what the adult equivalent was -- my favorite Columbia product yet.
November 9, 2013
Rated

5

out of

5
 by
Jodi60631
Second time around
This is the second Omni Heat winter jacket I have bought my son. I searched for a long time finding the right winter coat. Chicago gets very cold in the winter and my son goes outside for recess twice a day, even in the winter months. Most jackets are very warm on the chest and back but have very little protection over the arms. This coat is an exception. It is very light yet very warm. It really gets the job done. It also washes well!
November 9, 2013
2017-01-23
bvseo-cps-pl-PRR
2017-01-23 T13:20:50.492-06:00
bvseo_lps, prod_bvrr, vn_prr_5.6
cp-1, bvpage1
co_hasreviews, tv_52, tr_52
loc_en_US, sid_SB5511, prod, sort_default
Size & Fit Guide
Girls' Sizes (inches)
Size Range
XXS
(4/5)
XS
(6/6X-6/7)
S
(7/8)
M
(10/12)
L
(14/16)
XL
(18/20)
Chest
23
25
27
30
33
36
Waist
21½
22
23
25
27
29
Hip
24
26
29
32
35
38
Inseam
18¾
21¼
22½
26½
29½
32½
Sleeve Length
20
22½
24
27
30
33
Boys' Sizes (inches)
Size Range
XXS
(4/5)
XS
(6/6X-6/7)
S
(8)
M
(10/12)
L
(14/16)
XL
(18/20)
Chest
23
25
26½
29½
32½
35½
Waist
21½
22
23½
25½
27½
29½
Hip
24
26
27
30
33
36
Inseam
18¾
21¼
22
26
29
30
Sleeve Length
20
22½
24
27
30
33
Toddler Sizes (inches)
| Size Range | 2T | 3T | 4T |
| --- | --- | --- | --- |
| Chest | 20 | 21 | 22 |
| Waist | 19½ | 20½ | 21½ |
| Hip | 21 | 22 | 23 |
| Inseam | 13 | 15¼ | 17½ |
| Sleeve Length | 16 | 17½ | 19 |
Infant Sizes (inches)
| Size Range | 6mos. | 12mos. | 18mos. | 24mos. |
| --- | --- | --- | --- | --- |
| Chest | 17½ | 18½ | 19½ | 20½ |
| Waist | 18 | 19 | 20 | 21 |
| Hip | 18 | 19 | 20 | 21 |
| Inseam | 9½ | 11 | 12½ | 15 |
| Sleeve Length | 12½ | 13½ | 14½ | 16½ |
How to Measure
How to Measure
Fold up at dotted line.
Place against a wall or other 90 degree surface.

Place heel against fold/wall on flat level surface.
Mark the end of the longest toe with a pen or pencil.
Measure both feet and use the larger measurement.
Read measurement and compare to size chart.
When comparing on the size chart, determine the closest larger measurement and use that number to determine your shoe size for your country's shoe measurement standard.
Shipping & Returns
Shipping & Returns
Shipping Information
Shipping Method
Rate
Expected Delivery Time
UPS Ground
$6.00
3-7 Business Days

UPS 2-Day Air
$12.00
2-3 Business Days
UPS Overnight
$19.00
1-2 Business Days
Free Standard Shipping
Available for Greater Rewards members. Learn more
Return Policy
Returns are accepted within 60 days of the purchase date online or in-store. Your apparel must be in original and unworn condition, with tags still attached. Footwear returns must also include the original box.
Still Have Questions
See our Customer Service section for more details. Visit Customer Service