Boys Snow Buddy™ Fleece Jacket — Toddler
Details
http://www.columbia.com/boys-snow-buddy-fleece-jacket-%E2%80%94-toddler-WD6641.html
WD6641
Greater Rewards
members earn

300

points with purchase
Variations
Product Actions
Features
Built to protect little ones against the chill, this cozy fleece hoodie jacket sports a sleek wind-and-water resistant overly at top torso for bonus weather fighting power.
Features:
Wind and water resistant overlay
Imported
Fabric
:
Shell: 100% polyester fleece
Shell overlay at top torso: 100% polyester, Microtex Lite
Reviews
Rated

4.7

out of

5

 by

35

reviewers.
Rated

5

out of

5
 by
Momof4NY
Love this jacket!
This is a great fleece jacket. I purchased this jacket in size 18 months and I loved it so much that I bought it in size 2T and size 3T. I never have to fight with the zipper. The hood has just the right amount of elastic around the frame so that it stays on my active toddler. I have washed this jacket a lot and it still looks brand new. Additionally, it's really soft, comfortable and warm. I highly recommend this product!
February 28, 2014
Rated

5

out of

5
 by
momm
Great!
I have a 2 1/2 year old and he loves wearing this jacket. I got it in the green. It makes him easy to spot if we are in a crowd. He is very tall and has a long torso and the 3T fits perfect not sure if he will be able to wear it next year. The hood is great. It stays on even when the wind is blowing. A great jacket that we will be ordering again in the future.
February 28, 2014
Rated

4

out of

5
 by
Sal05
Boys Snow Buddy Fleece
Purchased this jacket for my tall, skinny 17-month old in a 2T hoping it would be big enough to fit him next winter. It fits him now! A little upset that it runs sooooo small but hopefully he can still get a little wear out of it next year. I followed the other reviewer's instructions and ordered a size up but if I had realized it would be over two sizes too small, I would have ordered him a 4T! Still, very high quality. Excellence I expect from Columbia. Keeps him warm in his car seat.
February 26, 2014
Rated

4

out of

5
 by
CTmama
Go a size up or two
I love anything Columbia makes but this coat runs really small. I ordered my 24 pound son a size 3T for next year and it fits him now. The sleeves are a little long but we're getting use out of it this year because it probably won't fit him next Winter. Otherwise, the coat is great and the color is awesome.
February 7, 2014
Rated

5

out of

5
 by
Megan25
Cute, good quality jacket
I ordered a 2T for my 19 month old. It fits him with plenty of growing room. The hood is nice. He likes the critters on it. It's more of a gray/blue. We're still wearing snow suits here, but I'm sure it'll be a great spring and winter jacket. For the price, you can't beat it!
February 3, 2014
Rated

5

out of

5
 by
Esss
Cozy fleece
I found what I was looking for - a thick fleece toddler coat with an elastic hood that isn't too bulky for a carseat. I got my almost 2 year old twins size 4T. Definitely a little large (the hoods especially - but easily roll to fit better), but I wanted to get two winters out of them. I have been using these all winter for short trips outside and all car trips. Although these are quite warm, we have thicker waterproof jackets for extended playing outside.
January 30, 2014
Rated

5

out of

5
 by
rtaylor
Great Jacket!
My son loves this jacket. He has had a Columbia jacket in the past so I knew they ran small. Order one size bigger to make sure it fits! I would order again!
January 22, 2014
Rated

5

out of

5
 by
nsct
Loved it!
The jacket is light weight yet very warm, my 18th month old doesn't usually like jackets but he seemed very comfortable in this one. One thing to keep in mine is that the jackets runs a little small. For example my 18 month old usually wears a 2T so i got him a 4T and it fit perfectly ( with some growing space ). The only thing that i am not too fond of is the hood, it seems bigger then it should be, but its not a big deal my son like to play peek-a-boo with it. Over all its a great jacket, i would recommend it everybody.
January 19, 2014
Rated

3

out of

5
 by
Donnam
Sizing
Good little fleece. Love the gathered hood. Stays on, but is way too small.
January 14, 2014
Rated

5

out of

5
 by
kimshine01
I have them all!
I have this style jacket in three different color options and sizes. As my son grows, I get another! Fleece is a safe choice for use in the car seat and I know my son is keeping warm all the while. The hood is oversized but I've found it nice to put over his hat and then when it's really cold or snowing it really keeps him warm. Another nice thing about the hood is that it stays up. Just beware that it does run small.
January 14, 2014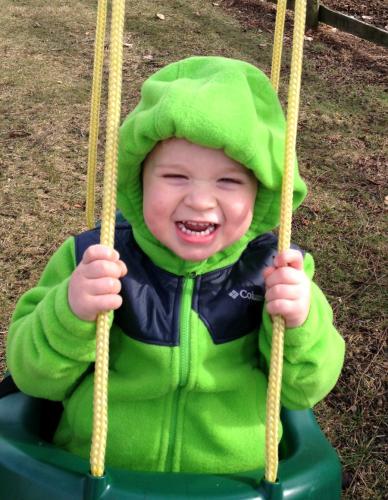 Rated

5

out of

5
 by
tahoet
Superb all-around jacket for toddlers
This is the first season we have bought this style. First impressions is that this is an awesome jacket! The fleece is soft, sizing seems true & the hood is just the right size (I only wish the hood were "optional" & could be removed). We bought the turquoise & light green - both colors are gorgeous. These jackets get a ton of compliments.
January 13, 2014
Rated

5

out of

5
 by
Alan56
Great Value
A very sharp looking jacket, that was a great value. The two tone red and black was smart looking and well constructed.
January 2, 2014
Rated

5

out of

5
 by
Sany82
Cute Looking jacket
I got the 4T fox print jacket for my almost 3 year old son. its fitting him perfectly now. I was glad to find something in prints as most outerwear for boys are plain/stripes/checks. My son liked it too. The elasticised hood and a name tag inside are great features.
December 31, 2013
Rated

5

out of

5
 by
floatypez
Very cute and warm
I originally purchased this in 3T and my son loves it so much I got the 4T on sale. It's very comfortable and snuggly.
December 31, 2013
Rated

5

out of

5
 by
Lizzy10
love this!
I bought this for my 20 month old son for Christmas and we love it! Hes a long and lean guy so the 2T fit perfect but definitely order up a size. Love the color, its warm, and fits so well when hes in his carseat unlike bulky parkas. And he loves it and never wants to take it off.
December 29, 2013
Rated

5

out of

5
 by
HumboldtMama
Great jacket.
My two-year old loves this jacket. It is comfortable, and the hood stays on his head. Keeps him warm, but still light enough to wear in a car seat. Would definitely recommend this jacket.
December 27, 2013
Rated

5

out of

5
 by
mndyliu
looks great, warm, but alil small
my toddler wear 24mths/ 2t ..after i read the reviews i ordered him 3t for this jacket.. its a lil bit loose on him.. but cant really tell it.. so i recommended one size up like others too..btw its very stylish.. and keep my little one warm too.. happy with it
December 23, 2013
Rated

5

out of

5
 by
Madsnmike
Great as long as you size up
I almost purchased the North Face jacket and I am so glad I didn't, this is really a nice quality jacket and because it's reasonably priced I don't care if it will fit my son next year. It does run a little small my son wears 2t in most tops and jackets and the 3t fit great, he has some room to grow and enough room for a heavy sweater, great buy!
November 20, 2013
Rated

5

out of

5
 by
megan28
Great Jacket for Fall
I bought this for my son last year and I absolutelty love it. I bought the 2T and I am glad that I ordered the size up because he can still wear it this year. This jacket is perfect for fall its not too bulky and the hood is really nice because it has the elastic and stays on his head.
November 10, 2013
Rated

5

out of

5
 by
orionmalkovich
Toddler snow buddy
First off, this is the second year we have purchased this jacket in the "woodland" pattern. We love the design and always get compliments. The orange zipper is an awesome touch! We live in the Chicago area so this jacket works well for fall and spring, but it's still going strong mid November this year. Our son loves it. the zipper is easy for him to get up and done. The size (4T) fits great for him with some room to grow. he's 2.5 years and normally wears 4T in a lot of shirts (3T in pants). The customer service with Columbia is excellent. They are very helpful and fast. We ordered this online (since this style wasn't in stores this year) and received it very quick in an awesome box (we chose the reuse the box shipping option).
November 9, 2013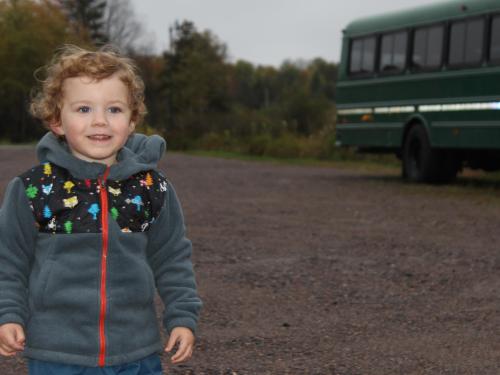 Rated

5

out of

5
 by
Kristin2385
Perfect Jacket for a Toddler
We had this jacket last year and loved it so much we had to get another one for this fall/winter. It's perfect for toddlers because it's warm enough for going in and out of the car even in winter, but not so bulky that you can't allow them to wear it while in the car seat. Love it! Note: it does run quite small. My son is 19 months (28 pounds and 34 inches) and fits perfectly into a size 3T.
November 4, 2013
Rated

5

out of

5
 by
Patti22
Second Jacket
We liked the Snow Buddy jacket we bought our grandson a year ago so much, that when he outgrew it, we bought the next size. I'm sure we'll be visiting your store again!
October 15, 2013
Rated

4

out of

5
 by
grandma4226
Runs very very small
I bought a size 3 for my grandson who wears a size 2, after reading the reviews that it ran small. It barely fits him. I was hoping he could even wear it next year. Very nice jacket, but if you are ordering it, i'd go up 2 sizes.
October 10, 2013
Rated

4

out of

5
 by
alepereira
Highly recommendable product
I bought this jacket for my 2 years old son, the 2T size is the perfect size, although a 3T would be better in order to get a little more space, so, it fits a little small. I chose this color: Fuse Green, Plaid. Which is not like shown in the picture, it's a little more bright, more light strong green. Overall rating, is a very good jacket, good quality, very light and very soft fabric.
April 24, 2013
Rated

5

out of

5
 by
jules98
Great spring/fall coat! Love the hood
I ordered this coat for my son. He wears 2T right now got him a 3T and it fits perfect so runs a little small. I love the hood for here in MN it seems like it is always windy. I would definitely recommend this jacket to anyone.
April 24, 2013
Rated

5

out of

5
 by
Steph7
A Great Winter Coat
Living in Virginia, this is a perfect winter coat for my son! It's not bulky, but I know it keeps him warm! The bright green color is super cute and I love the roomy hood.
February 2, 2013
Rated

5

out of

5
 by
LTNY
Cute...true to pic
Nice warm coat for early winter/early spring brisker days. Warm but lightweight so the little ones can move easily and still remain toasty. Thought it was true to size, fits closer to body, not bulky.
February 1, 2013
Rated

4

out of

5
 by
babies2011
Good quality
My kids are 2 years. I bought 3T for some growing room. It's a little roomy and that's what I was looking for. Great quality. Nice and warm
January 30, 2013
Rated

5

out of

5
 by
Happybuyer
perfect jacket
My 2 year old loves this jacket. I ordered him a 3T and it fits perfectly over sweatshirts for the winter. I love that it is thin and it works well when we are taking road trips instead of him wearing his heavy winter jacket.
January 24, 2013
Rated

3

out of

5
 by
NYmom
A very light fleece
I purchased this for my 3 yr old boy (he's above average in height) got a size 4T, and the torso just barely fit and sleeves had a little extra length. Color and style is beautiful (green) but as mentioned in another review the fleece does not seem like Columbia quality and certainly not for a light weight boys jacket. Pricing, fast free shipping and customer service was superior. Product is not the best you could find out there for a little active boy. I returned the item, but still happy with the Columbia company
December 18, 2012
Rated

5

out of

5
 by
MommaJulie
Love it!
I would say the jacket runs a bit small but the hood is a bit large. Overall, we love it. Just had to order a bigger size than normal.
November 14, 2012
Rated

5

out of

5
 by
sthomp
Great jacket!
My son loves this jacket and so do I! It is cute, goes with many outfits, not too bulky, and easy to zip. I highly recommend it! We bought two different colors!
November 14, 2012
Rated

5

out of

5
 by
Verified Reviewer
Love this coat! Second year and second buy for this coat for us!
I bought this for my 20 month old son for pre & post winter wear...he will be 2 in a couple months, and going in to Spring. I bought a size 3T thinking to buy a little big so he would have some room to grow in to it thru the winter, but it fits him perfectly now. So it does run a little small. He is a big kid anyway, with 2T shirts too small for him, but 3T shirts still a little too big. Aside from the size running a little small, it is an absolutely wonderful coat! We bought one for him last winter and loved it so much I wouldn't buy any other jacket for him this year! Had to have the same one!! It keeps him plenty warm and he's able to wear it thru most of the winter, unless it's severely freezing and snowing. And I will be buying this coat again and again, year after year for him!
November 6, 2012
Rated

5

out of

5
 by
MNmom2012
Great toddler jacket
This fleece is awesome. My son is 3 and just outgrew a similar jacket from Columbia and we were happy to purchase another one for him. We live in Minnesota and this is warm enough to get him through most of the winter. It is cute, warm, and really comfortable. As already mentioned, Columbia seems to be sizing this jacket smaller than in previous years. My son is an average-sized 3 year old and we bought a 4T. It runs narrow through the body. I'd recommend going up a size or two, especially if you want it to last multiple seasons.
October 28, 2012
Rated

5

out of

5
 by
lrncpr
Very Nice Fleece
My son is obsessed with green so he immediately loved this fleece in the Fuse Green color. He refuses to wear big puffy coats so he wears this for now until it gets too cold. It keeps him quite warm into the lower 50's. He's outside all the time at his Montessori school and the teacher complimented his new jacket. The only issue with it is that it runs really small. My son is quite tall for a 2 year old and the 4t fits him perfectly right now. He's also very skinny and it fits pretty snug through the body so I think this jacket runs a size or two smaller than normal. Overall I would recommend this fleece. The quality is excellent.
October 10, 2012
2017-01-22
bvseo-cps-pl-PRR
2017-01-22 T12:44:15.428-06:00
bvseo_lps, prod_bvrr, vn_prr_5.6
cp-1, bvpage1
co_hasreviews, tv_35, tr_35
loc_en_US, sid_WD6641, prod, sort_default
Size & Fit Guide
Girls' Sizes (inches)
Size Range
XXS
(4/5)
XS
(6/6X-6/7)
S
(7/8)
M
(10/12)
L
(14/16)
XL
(18/20)
Chest
23
25
27
30
33
36
Waist
21½
22
23
25
27
29
Hip
24
26
29
32
35
38
Inseam
18¾
21¼
22½
26½
29½
32½
Sleeve Length
20
22½
24
27
30
33
Boys' Sizes (inches)
Size Range
XXS
(4/5)
XS
(6/6X-6/7)
S
(8)
M
(10/12)
L
(14/16)
XL
(18/20)
Chest
23
25
26½
29½
32½
35½
Waist
21½
22
23½
25½
27½
29½
Hip
24
26
27
30
33
36
Inseam
18¾
21¼
22
26
29
30
Sleeve Length
20
22½
24
27
30
33
Toddler Sizes (inches)
| Size Range | 2T | 3T | 4T |
| --- | --- | --- | --- |
| Chest | 20 | 21 | 22 |
| Waist | 19½ | 20½ | 21½ |
| Hip | 21 | 22 | 23 |
| Inseam | 13 | 15¼ | 17½ |
| Sleeve Length | 16 | 17½ | 19 |
Infant Sizes (inches)
| Size Range | 6mos. | 12mos. | 18mos. | 24mos. |
| --- | --- | --- | --- | --- |
| Chest | 17½ | 18½ | 19½ | 20½ |
| Waist | 18 | 19 | 20 | 21 |
| Hip | 18 | 19 | 20 | 21 |
| Inseam | 9½ | 11 | 12½ | 15 |
| Sleeve Length | 12½ | 13½ | 14½ | 16½ |
How to Measure
How to Measure
Fold up at dotted line.
Place against a wall or other 90 degree surface.

Place heel against fold/wall on flat level surface.
Mark the end of the longest toe with a pen or pencil.
Measure both feet and use the larger measurement.
Read measurement and compare to size chart.
When comparing on the size chart, determine the closest larger measurement and use that number to determine your shoe size for your country's shoe measurement standard.
Shipping & Returns
Shipping & Returns
Shipping Information
Shipping Method
Rate
Expected Delivery Time
UPS Ground
$6.00
3-7 Business Days

UPS 2-Day Air
$12.00
2-3 Business Days
UPS Overnight
$19.00
1-2 Business Days
Free Standard Shipping
Available for Greater Rewards members. Learn more
Return Policy
Returns are accepted within 60 days of the purchase date online or in-store. Your apparel must be in original and unworn condition, with tags still attached. Footwear returns must also include the original box.
Still Have Questions
See our Customer Service section for more details. Visit Customer Service