Freezer Zero™ Arm Sleeves
Details
http://www.columbia.com/freezer-zero-arm-sleeves-SU9090.html
SU9090
Greater Rewards
members earn

300

points with purchase
Variations
Product Actions
Features
Designed for long, hot hours in the sun, this Omni-Freeze® ZERO arm sleeve packs serious UV protection for supreme protection from the heat and sun.
Features:
Omni-Freeze ZERO fabrication lowers the material's temperature
Omni-Shade UPF 50 provides premium protection from the sun
Imported
Fabric
:
Omni-Freeze ZERO, Omni-Shade 92% polyester/8% elastane
Omni-Freeze™ ZERO
Sweat-Activated Cooling
OMNI-SHADE®
Sun Protection
Technology Videos
Omni-Freeze™ ZERO
Blue rings react with sweat to lower the temperature of the fabric, so you feel cooler.
Omni-Shade™
Blocks UVA and UVB rays to help prevent sunburn and long-term skin damage.
Reviews
Rated

4.3

out of

5

 by

69

reviewers.
Rated

5

out of

5
 by
Redhead1
Great for Motorcycling
Being fair skinned, I was tired of applying sunscreen every few hours, so I decided to try them, WOW where have these been all of my life! I love them, they (to my surprise) kept me cool and best of all, sunburn-free. I'd love to see these in black, and extended with thumb hole.
November 24, 2016
Rated

2

out of

5
 by
Gatorgranny
Omni Freeze sleeves
I returned my first pair of sleeves. I asked for a larger pair and they have NOT arrived .olease hurry!! I need these desperately!
September 14, 2016
Rated

5

out of

5
 by
Goinghiking
It really works!
I bought these sleeves because I wanted sun protection for my arms, and these did the trick. They really are cooling, especially in direct sun. I appreciate that Columbia offered a color option other than shocking white, which is how other brands often sell these. I do wish Columbia also had a flesh tone option. I bought the blue ones and liked them so much that I bought a second set. I would have preferred a different color, so I could keep track of which pair was which pair, but I did not like the camouflage options, so I bought a second blue one.
September 2, 2016
Rated

4

out of

5
 by
Amer
Excellent sun protection without the sunscreen slime
These sleeves do run small at the top of the sleeve if you are muscular. I wish there were grippers at the top with a little more room. My small/ med fit very snug, but they don't fall down that way. Good sun protection while not too hot like a long sleeved shirt. Slightly less effective cooling in extremely humid weather. Perfect for lower humidity blazing sun days without having the stickiness of sunscreen. I feel this is better sun protection than sunscreen with profuse sweating with activity.
July 12, 2016
Rated

4

out of

5
 by
FishTheBeach808
Big guns?? No go..
If you've got some bigger sized arms these will not fit. Trust me.
June 20, 2016
Rated

5

out of

5
 by
BoatmanGC
Great comfortable coverage
I am a marine mechanic, outdoors 340+ days a year in the Florida keys sun. I can't stand the "compression fit" shirts many UPF shirts come in. I also can't wear loose fitting long sleeves because of the danger of getting caught in moving equipment. These with a standard short sleeve shirt offer protection from sun, and abrasions. I tried a pair and after 1 day ordered 5 more for myself and 5 for each of my employees.
May 30, 2016
Rated

3

out of

5
 by
MBLV
No elastic/grippy material
The sleeve material s nice and does a good job of shielding you from the sun and helping to keep you cool. Bu the big problem with these sleeves is that there is no elastic and grippy material either on the upper arm section or at the wrist. Over time they become loose and don't adhere as sleeves should. It's like wearing socks that keep falling down. Very aggravating and annoying. I cannot recommend theses sleeves.
May 25, 2016
Rated

5

out of

5
 by
Onlyhaveone
Great for golf !
Great for golf. Kept sun off of arms, and very are cool on arms. Boss
May 12, 2016
Rated

5

out of

5
 by
Bill1022
SUPER Comfortable!!!
I just received these and wore them for the first time...WOW...I love them! They were very comfortable to wear under a short sleeve performance shirt! I wish they had more colors to choose from...I am still buying another pair!
March 30, 2016
Rated

4

out of

5
 by
BobbiB
S/M Not Small enough if you are a small
I love how these function... but if you are really a small (5'7' 128lb), they will start to slip down after you have worn them several times. I have carefully handwashed them and not stretched them. These need to some in Small, Medium, Large, and XL to properly fit. Combining sizes gives you a small that is to big and a medium that is too small. BUT... they do keep you cool and they protect from the sun great... even in 100 degree desert! I use them for golf and they don't restrict the swing... just have to keep tugging them to stay up.
March 18, 2016
Rated

3

out of

5
 by
Barbtheelder
Great quality, but very small
I am writing this review before actually field testing these sleeves. I am a very very small woman, but cannot get this on past my elbow. I am going to try and wear them all day as one reviewer says they stretch out with use. Perhaps the sizing is inconsistent as another reviewer that they fit well. I really need this product so I am hoping to make them work out somehow!
December 4, 2015
Rated

5

out of

5
 by
Darleen
Exactly what i expected
Sleeves do not run too small, they do expand a little with continuous wear, but not to the point where you have to keep pulling them up. The main issue with the sizing is the size of your upper arm. If you have thicker/bigger upper arms and smaller forearms, get a size up. It is a tube and does not stretch for your upper arm. Great for hikes, motorcycle rides, being outdoors. Downfall is if you're hiking and you keep them on, the cooling agent kicks in and your arms will be cold.
November 30, 2015
Rated

3

out of

5
 by
MrStoller
Fun and effective
I like these for golf and running to keep excessive sun off. They are lightweight and "cooling" in the sense they do not contribute to overheating. Function very well in preventing sun burn. They are a little tight around the bicep area. For a L/XL, they are boderline too tight at that spot. It is not elastic but seam sealed -- so stretch there is not easily done, feels like you would have to snap the underlying stitching to get more room. It makes it very good at staying up, but not ideal to get it there if you have larger arms.
November 24, 2015
Rated

5

out of

5
 by
Pollita
Protection, comfort gives me flexibility
I love the Omni Zero line and I am glad these arm sleeve exist! They provide me the sun coverage when I run (or hike) and provide this magical cool down. The best option for me is the flexibility to wear any of my short sleeve run shirt and combine them with these arm sleeve, if it's too hot and/or sunny.
November 5, 2015
Rated

5

out of

5
 by
mikey86
Excellent product
The material is amazing. It feels cooler as soon as you put them on and wave your arms. It fits me well. I got the L/XL and I am average size, 11 1/2 inch biceps unflexed. Not sue if anyone with a thicker arms would feel comfortable wearing them. The tags are uncomfortable (5 tags, some rough) and you have to make sure they don't chafe against a mole, otherwise all that UV protection is pointless. Would have preferred smaller tags on the outside. The stitching is on the outside and feels smooth on the inside. One of the sleeves has a slight imperfection with the stitching but I would not trade them for any other brand.
October 15, 2015
Rated

5

out of

5
 by
stevoreeno
Super product
I LOVE these things. I have several pair that I wear while golfing, coaching, working in the yard, etc. I live in Southwest FL, so I'm constantly applying sunscreen when outside, and these are so great because they cover my arms AND keep me cooler.
September 26, 2015
Rated

5

out of

5
 by
golfer15
Need more sizes!
These sleeves used to come in a M/L size which was perfect for me (female - 5"7" 135lb). I've tried a lot of brands of these sleeves for golf and this is the best product out there if they fit. The S/M is way too tight and constricting, and the L/XL is way too big. Please bring back the M/L!
September 4, 2015
Rated

5

out of

5
 by
LCTurf
Great sun protection
Sleeves function great and keep the arms cool in hot sunny weather.
September 2, 2015
Rated

3

out of

5
 by
Nan7
Sizing
These need to be sized better, I take a women's medium or small at Columbia. The unisexed s/m didn't fit. I think the product is great and want to wear them, I hope you continue to make them and increase the amount of sizes.
August 30, 2015
Rated

5

out of

5
 by
JenMG
Freezer Zero Arm Sleeves - a winner!
These sleeves are great for reducing sun and heat exposure. I ordered the Small/Medium and they fit snug, but not too tight. I'm female, 5'4", 140 lbs. You won't regret adding these to your outdoor gear.
August 6, 2015
Rated

5

out of

5
 by
KAR12
Great Product
Love the arm sleeves!! Always wear long sleeve shirts while fishing, but these are it from now on. Already purchased a second pair and bought a few other for presents. Great Product!
August 6, 2015
Rated

4

out of

5
 by
Sylviadr
Great idea but too small
Would like to see a separate M size that is more suitable for women's arms rather than a unisex size. The S/M is more like a small. Also, the Columbia lettering is way too large! Would like to see it more subtle. Idea is great. I'm going to use this in Africa where it is cooler on the morning drives but warms up. Columbia should also consider adding Insect Blocker as an option and provide more colors with no pattern.
August 5, 2015
Rated

5

out of

5
 by
Whataguy
Great sleeves
Love all the Omni Freeze clothing. The sleeves fit great, I can play golf all day in 100 degrees, sleeves stay in place and never slide down. With a little breeze they keep the arms cool and comfortable.
August 3, 2015
Rated

4

out of

5
 by
Michael25
This technology works
First off, these work. My arms are cooler with these on then without them. Get them wet and they are awesome. I compared wet arm coolers to a wet cotton t shirt on a 100 degree day and the arm coolers were cooler than the t shirt against my skin. About fit-they fit tight and they need to fit tight. I first tried on the S/M and they felt quite tight, so I ordered the L/XL. After a couple of wearings, the L/XL started slipping down, so I went back to the S/M and now they are tight but comfortable and they don't slip down. (I am 5' 9" and 145 lbs). If they could make these with a little more stretchy material that would be comfortable at the outset and still stay up, that would be great.
July 27, 2015
Rated

2

out of

5
 by
Sammy1234
Does Not Cool after 4 Washes
Does not cool after 4 washes and I did wash it in cold water as per instructions and tags itch my biceps. The Blue diamonds have disappeared. I ordered 3 pairs same problem with 2 of them returning all 3 within 15 days. See Picture
July 27, 2015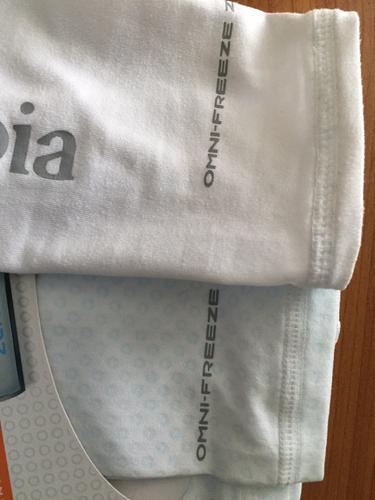 Rated

5

out of

5
 by
LitespeedClimber
Great for Cycling!
I bought these for sun protection during hot rides. These are incredible for keeping the sun off and keeping you cool. Douse them with water before a descent and feel your body temperature drop. I was concerned that they would make me hotter on long climbs but was happy to learn that I was wrong. I would highly recommend these!
July 26, 2015
Rated

5

out of

5
 by
Luther7708
Cancer Survior
First of this year was diagnosed with melanoma cancer. After surgery, five months later was again diagnosed with cancer. I feel that this product is a must to protect my arms from the sun. I wear them everyday when out in the sun be it 20 minutes or all day. They fit just fine on the forearm but keep sliding down from the upper arm. Will keep pulling them up for the protection.
July 26, 2015
Rated

5

out of

5
 by
Karescolero
Freezer Zero™ Arm Sleeves
product perfectly fits. I already try it in a sunny hot day and really keep my arms protected and cool. I use them when I am driving or when to ride my bike and they are the best product that I ever bought.
July 22, 2015
Rated

5

out of

5
 by
Mmkas
Freezer Zero Arm Sleeves
Use arm sleeves while golfing for sun protection. The arm sleeves are comfortable and feel cool. Extremely satisfied with this product.
July 12, 2015
Rated

4

out of

5
 by
papaJohn
size does matter
i plan on buying more sleeves but getting the right size is not as easy as you would hope. Don't over buy till you get the size right then you will be pleased. I think the tighter the fit the better the product works. As long as you have circulation!
July 2, 2015
Rated

5

out of

5
 by
Mickey271
motorcycle riding
Purchase these to keep the sun from burning my arms while riding my motorcycle. Not only did the product keep my arms from burning in the sun it keeps my arms cool as well. They stay in place even at highway speeds. I have only been wearing them for about a week but they are doing the job.
June 25, 2015
Rated

4

out of

5
 by
KarenV
Better than Sunscreen
I bought these for my 10-year-old son for outdoor summer day camp in Florida. My son hates the feel of applying sunscreen and will not reapply often enough. He loves these sleeves. If he wets them in the sink, they get cool. They are very effective and my son doesn't mind wearing them.
June 18, 2015
Rated

4

out of

5
 by
Tere1204
great product!
Gave this to my sister for arm protection when she is driving. great material! I would recommend this to people who are always outdoors.
June 18, 2015
Rated

4

out of

5
 by
coffeebiker
Arm warmers
Have always wanted a pair of these to keep in the pack for those cool mountain biking days. Wanted something packable to put on when the sun dips and so does the temps. They seem to fit kind of tight and I ordered large. They seem warm and functional.
June 13, 2015
Rated

3

out of

5
 by
TriRussell
Really Small
I just got these as a gift and I can't fit into the S/M. I hope the L/XL aren't too big.
May 30, 2015
Rated

5

out of

5
 by
Golf18
Zero Arm SLeeves
This product works exceptionally well for me while playing a round of golf. I have purchased a similar product from another source but prefer the compression sleeves better. I am about to buy two addtional pair after I complete this review.
May 24, 2015
Rated

4

out of

5
 by
Medialuna47
Great for runners
Based on a friend's suggestion, I bought these sleeves (color: white) to run a marathon outside of Las Vegas in May. I was glad to be protected from the sun while getting a cooling benefit. I got them wet and kept re-wetting them as they dried, as I think the cooling effect is enhanced when they are damp. However, I don't know if they would work well in a humid climate if you can't actually achieve an evaporative cooling effect. I have only used them in dry places so far, but I think these sleeves will continue to be a regular accessory on summer runs. My main complaint is that Columbia makes these sleeves only in sizes for men. As an average sized woman, I find that the S/M sleeves are a little loose around my wrist.
May 23, 2015
Rated

5

out of

5
 by
chazrasman
No burnt or cold arms
These arm sleeves are great. The fit is good. Make sure you measure your arms before ordering to get the right size. They keep your arms from burning up in the hot summer sun. You can wear a short sleeved shirt to stay a little cooler but still keep your arms protected. If they get wet they dry really quickly. The fabric is light weight so they don't add a lot of heat to your arms. In the spring and fall you can wear them in the morning and evening to protect against chill but take them off during the day as it warms up. A great product.
May 22, 2015
Rated

5

out of

5
 by
Arthurs6
Great Product
Used the American Scales when I ran the Orange County Marathon. Performed well, I could feel the cooling effect.
May 17, 2015
Rated

3

out of

5
 by
UserMe
Superb product idea, poor execution/description, etc
I have tattoos on both arms and constantly struggle with keeping my arms out of the sun--in the car and just being outside. These seemed like they would be so perfect! The other reviews are horribly lacking on what size was ordered, their body (arm) size, fit, etc. -Some are vague or partially-informative, but mostly overall useless. I am a woman and being as the sizing--NOT included on the 'sizing guide' from Columbia--should include men's larger arms, I hesitated in ordering the L/XL. SO glad I did order L/XL! I cannot comprehend how any regular-sized humans can even attempt to use these (let alone a man with larger biceps & forearms...). I am a woman 5ft 11in tall weigh 155lbs arm (from armpit) length: ~20in long (unbent) bicep circumference: ~13in (unflexed) wrist circumference: ~7in These L/XL are tight and VERY difficult to put on past my wrist. They seem to do what they are designed for--to block sun while not blocking in heat. Best wishes on your purchase!
April 29, 2015
Rated

5

out of

5
 by
Kccc
Freezer Zero Sleeves
Product is excellent, I ordered these sleeves for TIG welding purposes, for the UV protection and the warmth/cooling effect. The thermal ability of these are great, when a little breeze blows in I feel it immediately and it disperses across the entire sleeve. Very great product, I've already ordered another pair. Thanks
March 25, 2015
Rated

1

out of

5
 by
Sher23
Disappointed
This product was seamed up so the outside was inside. So I have to wear the product with the side that is supposed to be on the outside, on the inside. Otherwise, the seams are showing. Also, I wouldn't mind the brand name being on the sleeve, but smaller and less conspicuous.
September 26, 2014
Rated

5

out of

5
 by
raftingjay
Perfect
The first time I wore them I spent the day river rafting in the hot sun. They got wet but dried quickly. I stayed cool the whole time and my arms didn't get a hint of sunburn though my neck did! It's like wearing a long sleeved shirt with sunscreen but way more comfortable and definitely cooler. Doesn't add as much weight to the backpack as a shirt either. Fantastic product.
September 24, 2014
Rated

3

out of

5
 by
Arcnadius
Also good for warmth
I bought these to help stay cool during runs in our muggy climate. Unfortunately, I ordered them just as the weather turned cool. It was a good thing I had them stashed in my run belt, though, because I underdressed for a run a couple days ago in 48 degree weather and slipped these on hoping they would provide some warmth, which they did, just enough to keep me going. I'm 5'4" and 117 pounds with fairly small-boned arms and I found these to be a little loose and a little long (I just gave them a small roll at the end). I can see how a slightly larger person might find these too small. I would have like to have seen a slip-resistant band for the bicep. They did stay up while I ran, but I had expected some compression so I was a little disappointed. The sleeves are not "stretchy" much at all. I look forward to trying these if we ever see warm weather again!
September 12, 2014
Rated

5

out of

5
 by
RunningRN
This product really works
I wear these for running and cycling. I have a couple of the Freezer Zero casual shirts which have been great for the summer. Once I saw Columbia made arm sleeves also I had to get a pair. I just rode a 60 mile race in these sleeves. My arms were comfortable in the heat. I didn't have to worry about burning either. Now I'm looking for a jersey made of the same material.
September 11, 2014
Rated

1

out of

5
 by
Victimofnicknametheft
Really small
Bought some of these in the S/M size and was unpleasantly surprised to learn that there is no way this would ever fit a medium. Couldn't even get them past my elbow. Also the size chart for these lists hats and gloves, which have nothing to do with sleeve sizes. It's especially disappointing because I also got a zero rules long sleeve shirt in size M and it is a little loose on the arms (fits great). Now I have to pay return shipping and wait if I even get a bigger size.
September 9, 2014
Rated

5

out of

5
 by
Golf300
I Was Skeptical, But Not Any More!
I doubted the "cooling" function would work, but needed the sun protection factor for my arms. But I must say, it really does work. I have many performance fabric shirts that I wear for golf, coaching, and exercise, so these sleeves were the perfect complement to them. The technology works and my arms were markedly cooler. I will be purchasing a shirt with Omni-Freeze Zero technology for the whole effect.
August 20, 2014
Rated

5

out of

5
 by
suntri
Comfortable and functional
Did the job, both in blocking the sun and keeping me cool on long training rides on the bike. I have used other brands of arm coolers, but liked the Columbia -- cut is long and covered my arm completely to the wrist, and stays up well without being binding on the upper arm.
August 17, 2014
Rated

4

out of

5
 by
gochugogi
Superb sun protection & cooling but more color choices needed
I own two pairs of the Columbia Freezer Zero Arm Sleeve, one in white and another in stone blue. I'm 5'8" 140LB and a slender toned build, but the L/XL fits me well. I tried the S/M and it was extremely tight (fits my 5'2" GF). The L/XL seemed snug at first but once installed felt comfortable, providing excellent support and compression of arm muscles. I bought these sleeves for playing classical guitar while wearing short sleeved shirts. Yes, that may seem odd, but the compression relaxes my muscles and allows my right arm (the picking hand) to freely slide around and change tone, execute harmonics, etc., without my sweaty skin sticking to the guitar. And the secondary benefit is the Freezer Zero Arm Sleeve is noticeably cooler at gigs--I sweat profusely--than my Nike and Phiten sleeves. I auditioned the Freezer Zero Arm Sleeve for sun protection while involved in mellow outdoor activities such as photography, hiking and biking. I live in the tropics so the sun is brutal and can burn through my tee-shirt in 20 minutes. The Columbia sleeves kept my arms a burn-free milky white! I noticed cooling the most when riding my bike. With one arm bare and the other decked out in a Freezer Zero Arm Sleeve, the sleeved arm felt like AC was blowing directly on it! The bare arm was, well, very warm. The combination of sweat and moving air maximizes cooling. The Freezer Zero Arm Sleeve is a very good product: nice compression, noticeable cooling, excellent sun protection and perfect for guitar playing and outdoor activities in heat and sun. I'd rather the sleeves were plain and didn't have a huge "Columbia" written along the length. Wish there were more color choices. Black, while not great in the sun, would be my first choice for stage use.
August 15, 2014
Rated

5

out of

5
 by
Peng
True to size
I haven't had a chance to use them, but it's true to size and is in good quality.
December 23, 2013
2017-01-18
bvseo-cps-pl-PRR
2017-01-18 T11:53:02.626-06:00
bvseo_lps, prod_bvrr, vn_prr_5.6
cp-1, bvpage1
co_hasreviews, tv_69, tr_69
loc_en_US, sid_SU9090, prod, sort_default
Size & Fit Guide
Size & Fit Guide
| | | | | | | |
| --- | --- | --- | --- | --- | --- | --- |
| Glove Sizes | XS | S | M | L | XL | One Size |
| Unisex Length (Inches) | | 7 1/2 - 7 7/8 | 7 7/8 - 8 1/4 | 8 1/4 - 8 5/8 | 8 5/8 - 9 | |
| Men's Length (Inches) | | 7 1/2 - 7 7/8 | 7 7/8 - 8 1/4 | 8 1/4 - 8 5/8 | 8 5/8 - 9 | |
| Women's Length (Inches) | | 6 7/8 - 7 1/4 | 7 1/4 - 7 5/8 | 7 5/8 - 8 | 8 - 8 3/8 | |
| Youth (Equivalent to Apparel Sizing) | 4 - 6X | 7 - 8 | | 10 - 12 | 14 - 16 | |
| Youth Length (Inches) | 4 1/2 - 6 3/8 | 6 3/8 - 6 3/4 | 6 3/4 - 7 1/8 | 7 1/8 - 7 1/2 | 7 1/2 - 7 7/8 | |
| Toddler (Equivalent to Apparel Sizing) | | | | | | 2T - 4T |
| Toddler Length (Inches) | | | | | | 3 3/4 - 4 1/2 |
| Infant (Equivalent to Apparel Sizing) | | | | | | 0 - 18 Months |
| Infant Length (Inches) | | | | | | 3 1/2 - 4 |
| | | | | |
| --- | --- | --- | --- | --- |
| Glove Sizes | M | L | XL | One Size |
| Unisex Length (Inches) | 7 7/8 - 8 1/4 | 8 1/4 - 8 5/8 | 8 5/8 - 9 | |
| Men's Length (Inches) | 7 7/8 - 8 1/4 | 8 1/4 - 8 5/8 | 8 5/8 - 9 | |
| Women's Length (Inches) | 7 1/4 - 7 5/8 | 7 5/8 - 8 | 8 - 8 3/8 | |
| Youth (Equivalent to Apparel Sizing) | | 10 - 12 | 14 - 16 | |
| Youth Length (Inches) | 6 3/4 - 7 1/8 | 7 1/8 - 7 1/2 | 7 1/2 - 7 7/8 | |
| Toddler (Equivalent to Apparel Sizing) | | | | 2T - 4T |
| Toddler Length (Inches) | | | | 3 3/4 - 4 1/2 |
| Infant (Equivalent to Apparel Sizing) | | | | 0 - 18 Months |
| Infant Length (Inches) | | | | 3 1/2 - 4 |
How to Measure
How to Measure
Fold up at dotted line.
Place against a wall or other 90 degree surface.

Place heel against fold/wall on flat level surface.
Mark the end of the longest toe with a pen or pencil.
Measure both feet and use the larger measurement.
Read measurement and compare to size chart.
When comparing on the size chart, determine the closest larger measurement and use that number to determine your shoe size for your country's shoe measurement standard.
Shipping & Returns
Shipping & Returns
Shipping Information
Shipping Method
Rate
Expected Delivery Time
UPS Ground
$6.00
3-7 Business Days

UPS 2-Day Air
$12.00
2-3 Business Days
UPS Overnight
$19.00
1-2 Business Days
Free Standard Shipping
Available for Greater Rewards members. Learn more
Return Policy
Returns are accepted within 60 days of the purchase date online or in-store. Your apparel must be in original and unworn condition, with tags still attached. Footwear returns must also include the original box.
Still Have Questions
See our Customer Service section for more details. Visit Customer Service