Freezer Zero™ Bandana
Details
http://www.columbia.com/freezer-zero-bandana-CU9499.html
CU9499
Greater Rewards
members earn

280

points with purchase
Variations
1. Select Color:

Super Blue

Out of stock

2. Select Size:

Please select a size.

Out of stock
Product Actions
Features
The ultimate cooling accessory, this Omni-Freeze® ZERO-armed bandana uses our sweat-activated cooling technology, which reacts with sweat to lower the temperature of the material. Built-in UPF 50 seals out UV rays for supreme protection from the sun.
Features:
Omni-Freeze ZERO fabrication lowers the material's temperature
Omni-Shade UPF 50 provides premium protection from the sun
Measurements: 21 in. x 21 in.
Imported
Fabric
:
Omni-Freeze ZERO, Omni-Shade 92% polyester/8% elastane
Omni-Freeze™ ZERO
Sweat-Activated Cooling
OMNI-SHADE®
Sun Protection
Technology Videos
Omni-Freeze™ ZERO
Blue rings react with sweat to lower the temperature of the fabric, so you feel cooler.
Omni-Shade™
Blocks UVA and UVB rays to help prevent sunburn and long-term skin damage.
Reviews
Rated

4.2

out of

5

 by

34

reviewers.
Rated

3

out of

5
 by
Nance44
Thought it would keep me cooler on its own
I wore this mainly around my neck while in some very hot temps hiking. I was disappointed to never actually feel the cooling "technology" kick in. I had to wet the scarf with my water in order to have it cool me at all. I was under the impression this wouldn't be necessary. That being said, it is lightweight, soft and looked nice. Just didn't do the main thing I purchased it for - cooling - until I helped it along.
September 7, 2016
Rated

5

out of

5
 by
DerekB711
Great
it works great. you definitely have to rip the tag off. its very soft and comfortable. its a hair small but it does stretch some. i use it on the golf course when my hat gets to sweaty and uncomfortable as well as any other activities. works so good i now own 3
July 22, 2016
Rated

4

out of

5
 by
Anni22
Cool to wear in summer
Does the job. Blocks the sun and is not at all hot or uncomfortable to wear. You do not even know it is there. I wish it were bigger though.
June 5, 2016
Rated

5

out of

5
 by
WhereisWaldo
Better than the average bandana
I wear a bandana on my head when I'm outside, camping etc, and wanted one that was a little better as I'm taking my teens to Bonnaroo next month. Had a chance to wear this a few times, it's lighter, cooler, and more comfortable than cotton. Has been cool so far this spring so I haven't really had a side by side comparison of the cooling features.
May 25, 2016
Rated

4

out of

5
 by
TheBushmaster
great
It's a little small on my head. I'm glad you are making the sleeves and gloves and bandanas in print now in addition to plain old white. If Columbia could go tagless with all its products that would be good.
March 22, 2016
Rated

5

out of

5
 by
mike781
Way better than cotton
This past summer I had the opportunity to visit the Grand Canyon. My cousin and I hiked from the south rim down to the Indian garden and back up. The temps inside of the canyon averaged around 108 with full sun and no shade. I used to wear cotton bandanas for long hikes in high heat but decided to try the freezer zero this time and I'm glad I did. I can honestly say that columbias bandana kept me cool during my hike.
November 14, 2015
Rated

5

out of

5
 by
Pollita
Most have
So flexible, small and convenient to follow you anywhere and let you forget how hot it really is. Perfect for running or hiking. I used it as a cooling down towel to refresh, used it as bandanna to keep sweat away from my eyes and as a neck scarf to protect from the sun and cooling me down.
November 5, 2015
Rated

5

out of

5
 by
skimers
Does what it's supposed to
Very cool and does what it's supposed to. Would like it slightly bigger but it works.
October 5, 2015
Rated

5

out of

5
 by
BradB
An alternative to the neck gaiter
This was a last minute purchase for by wife a two-week European land/cruise vacation. Many bloggers recommended a buff or neck gaiter, but my wife preferred this design. We liked the cooling effect and the price so I decided to order it. She mainly tied this around her head, but occasionally wrapped it around her neck as well. LIke the neck gaiter that I used, she would wet this with tap water in the morning before leaving the room and would re-wet a few times during the day. We found that simply readjusting it on our head during wear would seem to reactivate the cooling effect as long as it was still damp. Definitely one of the better comfort purchases we made for my trip. Highly recommended!
September 1, 2015
Rated

5

out of

5
 by
LLTX
keep cool
Great for working out or when working in the yard. Keep perspiration off your face. Keeps you cooler.
August 27, 2015
Rated

5

out of

5
 by
Hides
So light I don't even know it's on my head
I use the bandana to hold my hair back out of my face and, because of the light material and giving fabric, I can wear it for over 12 hours and not even know it's there.
August 10, 2015
Rated

5

out of

5
 by
ShayneC
Good bandana
Bandana makes you feel cooler. I went kayak fishing yesterday in 100 heat for 7 hours and it held up. I wore it under a floppy hat. I also wear it around the yard to do chores.
August 9, 2015
Rated

3

out of

5
 by
Oldgardener
Needs to be larger
I wear the neck scarves with your collarless shirts to protect my neck from sun while gardening. Unfortunately they are barely big enough to tie around my neck.
July 25, 2015
Rated

5

out of

5
 by
Erikita0730
Great head bandana
Great bandana. I wear it while gardening and walking in the morning and it does definitely keep you cool. Haven't tried on my neck but it does work on your hairline well. I keep It in my purse now for when I walk ove lunch at work. I used my points to purchase it so it cost me less than 5 dollars. What a great product!!
July 1, 2015
Rated

4

out of

5
 by
nixdorf
Great product, a little small for big heads
I like this product. It is extremely functional and versatile. It fits snug when tide around my large head (size 7 and 7/8 hat), otherwise 5 stars. Wicks sweat away fast (much better than cotton) and keeps me cool. What else could you ask for?
June 29, 2015
Rated

5

out of

5
 by
luv2fishnpaddle
Freezer Zero Bandana
In the past, I've always worn large hats to keep the sun off my thinning hair on top of my head. I love visors but my head gets blistered by the sun. I starting wearing a neck gaitor or buff on my head as a Doo-Rag when it's warm so I can keep the sun off my bald spot. However, during warm weather, it always made me feel many degrees warmer until I bought my first Freezer Zero Bandana. Now, whenever I get warm and sweat, it actually feels cooler on top and also keeps sweat from running down my face and forehead onto my glasses. Just another great product by the fine people at Columbia!!
June 2, 2015
Rated

5

out of

5
 by
1taichiman
Hunting in the heat!
Product works well and can be worn in several ways. Keeps my as cool, and helps protects my head (& forehead) from skin cancer due to exposure from the sun, as well as absorbing forehead sweat which would run into my eyes.
April 27, 2015
Rated

5

out of

5
 by
Penben
Versatile and handy
I have just come off a10 day paddling trip on the Green River This piece was a cooler, a hairband, face wipe, and neck band ti keep bugs at bay. I would not go on an outdoor adventure without it.
October 11, 2014
Rated

5

out of

5
 by
Basserjim
Zero Freeze Bandana
As a full time fishing guide, I really appreciate any clothing article that makes my day on the water comfortable. I purchased the Zero Freeze Bandana to protect and cool from the blazing Minnesota sun. This bandana not only protects from harmful UV's but cools at the same time.
August 24, 2014
Rated

5

out of

5
 by
Trailrider
great for low humidity environments
All products that advertise a cooling effect without refrigeration, from house swamp coolers to clothing, rely on evaporative cooling. This means that as the moisture evaporates, it creates a cooling effect. The lower the humidity, the greater the cooling effect. That's why western desert dwellers love their house swamp coolers but you never see them back east. If you are operating in a high humidity environment you may be disappointed in the cooling effect of any product, including this one. I live in a desert and cool my house and myself with evaporative cooling so this product works well for me. I've been using cotton bandanas for years for sun protection and cooling when wet. This bandana is very soft and more comfortable than cotton, and it cools better. Definitely a winner.
April 19, 2014
Rated

5

out of

5
 by
RobM
Works great - Foliage color a little bright
Great product. I have used this around my neck in 90 degree heat and Michigan's humidity and it has kept me cool all day without re-wetting. I have also used as a skull cap. It's a little small, but the fabric does stretch. The Foliage color is a little brighter green than it looks in the pictures.
March 17, 2014
Rated

3

out of

5
 by
Bojangles
Not sure:((
Just doesn't work the way I thought it would. By the description I thought it would keep the back of my neck cooler. We live in the deep south and I guess maybe it's not made for the humidity down this way.
August 30, 2013
Rated

5

out of

5
 by
ekay
Does what it says
This bandana keeps you cool! I have used it on several +100 degree days in the high desert and I have no complaints. On a really hot day, I like to get the bandana wet and drop it on my shoulders. Wow. The fabric is durable and comfortable.
August 5, 2013
Rated

5

out of

5
 by
AOTay
My favorite accessory on my Tour Du Mont Blanc trip
I picked this up as a last minute purchase before heading off for a 12 day hike in the Alps. I have to say, I loved this bandanna. It was great at keeping the sweat out of my eyes and when it was cold I simply pulled it down over my ears. It was easy to wash every night and was completely dry by morning. I would highly recommend this product for any hiking trek.
July 24, 2013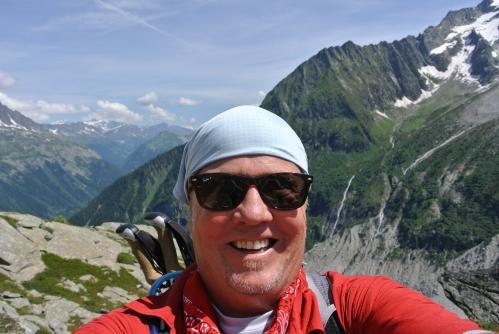 Rated

1

out of

5
 by
tim67
Omin Freeze Zero
works better then a cloth bandana as far as keeping water out of my eyes and fit is nice. But this will not keep you any cooler. Sweat just as much if not more wearing this . DO NOT BUY IF YOU WANT COOL RELIEF.....
July 16, 2013
Rated

3

out of

5
 by
humdinger10
Marketing description doesn't deliver...
received the product, gave it a test run on my next 2 times while mowing of our lawn (pushmower). Had it tied in the do-rag style covering my head. underneath a brimmed straw hat...it did wick away some moisture...as mowing and edging went on I was getting hot and sweaty... was waiting for that "cooling effect" to kick in....never happened... straw hat on or off. While it is better than a regular bandana IT IS NOT worth the price paid. The sales pitch made it out to be more than it really was, and over shot the runway on this items true performance capabilities. Would not buy again, does not live up to the HYPE.
July 12, 2013
Rated

4

out of

5
 by
Leighbo
Bandana? meh
I purchased the bandana and neck gaiter at the same time. The neck gaiter does the same job but a little better as far as fit for me. No hair may be a factor. I'd get a couple neck gaiters if I had to do it again. This in no way means the bandana doesn't work. The Omni-Freeze technology is fantastic no matter how you choose to wear it.
July 3, 2013
Rated

5

out of

5
 by
jwilder204
Not a gimmick - really works!
My wife got me this to wipe my head. I shave my head, and when I go out and work up a sweat, I need to wipe off. This is one of the few items I've tried that actually COOLS my head when I wipe off the sweat. Love this product!
June 11, 2013
Rated

5

out of

5
 by
Happigirl
Love it so far!
Just received two of these. One is for me and the other for my Chihuahua, Stevi. They work just as described and we look forward to a much cooler summer. I will have to alter Stevi's a little due to her size and the size of the bandana, but I expected that. The technology is amazing, keep up the good work.
May 22, 2013
Rated

2

out of

5
 by
dew32
Not worth $30
This definitely was a waste of money. It's a silk handkerchief. I was excited for this not going to lie, but after using it a couple of times, it is just a really expensive piece of nice cloth. Not sure if it's just me but this omni freeze doesn't really do anything noticeable.
May 21, 2013
Rated

1

out of

5
 by
Verified Reviewer
bad bandana for sports
I play serious racquetball and usually use a red cotton bandana for sweat, which costs about $1.00. I paid you $28 for this bandana hoping that the new fabric would help keep my forehead cool. It didn't. Not only did it not cool my forehead, it was even hotter than my normal cheap cotton bandana. For this reason, it was a terrible waste of $27 for a product I can't use on the court. I have been happy with Columbia products in the past but this one is an absolute bust.
April 30, 2013
Rated

5

out of

5
 by
ReddHerringg
Pretty cool (literally and figuratively)
The fabric does what it says. Dunk it it water, even warm water, and the fabric cools down considerably. Draped over your neck it feels like a cold pack, even in hot conditions. The bandanna runs a little small, but I have a small head (7 3/8) and the fabric is stretchy, so no problems tying it on. Because it's so stretchy I've heard some stitches pop when tying it to my head, but no evidence of tears or rips.
April 24, 2013
Rated

2

out of

5
 by
randallp
great idea, poor execution
Came in the mail today, tried to tie it around my head and there was about 3 inches of space between the ends. I have a 7 3/4 hat size and was expecting this to cover me no problems. Will probably return and get the neck gaiter as I was hoping this would serve as a headband for my runs this summer. Unable to review the function though the material is extremely light and breathable. I did not notice any particular "chemical smell" as mentioned by other reviewers.
April 1, 2013
Rated

5

out of

5
 by
moosaki
Along time option upgraded.
So utilitarian, I ordered another. The idea of the bandana for flats fishing has been around. The "Freeze" technology keeps bumping it up a notch. This is the latest edition of that. I buy extras for my Caribbean Buddies. They look better in these than with a T-shirt wrapped around their head.
March 6, 2013
2017-01-19
bvseo-cps-pl-PRR
2017-01-19 T14:15:09.389-06:00
bvseo_lps, prod_bvrr, vn_prr_5.6
cp-1, bvpage1
co_hasreviews, tv_34, tr_34
loc_en_US, sid_CU9499, prod, sort_default
Size & Fit Guide
Size & Fit Guide
| | | | | |
| --- | --- | --- | --- | --- |
| Hat Size | S/M | L/XL | Adjustable One Size | One Size |
| Adult Head Size (Inches) | 21 - 22 | 22 - 24 1/4 | 21 1/4 - 24 1/2 | 21 - 23 1/2 |
| Adult Hat Size | 6 5/8 - 7 | 7 - 7 3/4 | 6 5/8 - 7 3/4 | 6 1/2 - 7 1/2 |
| Youth Head Size (Inches) | 19 - 21 | 21 - 22 3/4 | | 19 3/4 - 22 |
| Youth Hat Size | 6 - 6 7/8 | 6 7/8 - 7 1/4 | | 6 1/4 - 6 7/8 |
| Toddler Head Size (Inches) | | | | 19 - 20 1/2 |
| Toddler Hat Size | | | | 2T - 4T |
| Infant Head Size (Inches) | | | | 17 1/4 - 19 |
| Infant Hat Size | | | | 0 - 18 Months |
| | | |
| --- | --- | --- |
| Hat Size | Adjustable One Size | One Size |
| Adult Head Size (Inches) | 21 1/4 - 24 1/2 | 21 - 23 1/2 |
| Adult Hat Size | 6 5/8 - 7 3/4 | 6 1/2 - 7 1/2 |
| Youth Head Size (Inches) | | 19 3/4 - 22 |
| Youth Hat Size | | 6 1/4 - 6 7/8 |
| Toddler Head Size (Inches) | | 19 - 20 1/2 |
| Toddler Hat Size | | 2T - 4T |
| Infant Head Size (Inches) | | 17 1/4 - 19 |
| Infant Hat Size | | 0 - 18 Months |
How to Measure
How to Measure
Fold up at dotted line.
Place against a wall or other 90 degree surface.

Place heel against fold/wall on flat level surface.
Mark the end of the longest toe with a pen or pencil.
Measure both feet and use the larger measurement.
Read measurement and compare to size chart.
When comparing on the size chart, determine the closest larger measurement and use that number to determine your shoe size for your country's shoe measurement standard.
Shipping & Returns
Shipping & Returns
Shipping Information
Shipping Method
Rate
Expected Delivery Time
UPS Ground
$6.00
3-7 Business Days

UPS 2-Day Air
$12.00
2-3 Business Days
UPS Overnight
$19.00
1-2 Business Days
Free Standard Shipping
Available for Greater Rewards members. Learn more
Return Policy
Returns are accepted within 60 days of the purchase date online or in-store. Your apparel must be in original and unworn condition, with tags still attached. Footwear returns must also include the original box.
Still Have Questions
See our Customer Service section for more details. Visit Customer Service