Girls' Katelyn Crest™ Jacket
Details
http://www.columbia.com/girls-katelyn-crest-jacket-1561851.html
1561851
Greater Rewards
members earn

499

points with purchase
Size & Fit Guide
|
Reviewers rated this product
Fits Slightly Small
|
Fit
Modern Classic
Variations
Product Actions
Features
Pretty—with real-deal protection. The Katelyn Crest is a warm, water-shedding puffy coat for girls, with 240g of toasty synthetic insulation to seal out the cold and a water-resistant shell fabric to shield them from the snow and rain. A slightly gathered waist and removable faux fur on the hood add a feminine flourish, resulting in a versatile jacket that looks great on the mountain or street.
Features:
Omni-Shield™ advanced repellency
Water resistant fabric
Insulated
Attached, adjustable storm hood
Zippered hand pockets
Comfort cuffs
Removable faux fur
Reflective detail
Imported
Fabric
:
Shell: 100% polyester Omni-Shield™ Storm-Lite DP II
Lining: 100% nylon 210T Taffeta
Insulation: 100% polyester Farenhot, 240g
Omni-Shield™
Water and Stain Repellent
Technology Videos
Omni-Shield™
GO AHEAD.
TRY AND GET DIRTY.
Helps you stay clean and dry by resisting absorption of liquids.
Reviews
Rated

4.3

out of

5

 by

37

reviewers.
Rated

4

out of

5
 by
Martymar
Good quality
The jacket fits true to size. Very durable and lightweight. On VERY cold days, my daughter says she feels cold. Wish it were a warmer jacket with fleece lining. Overall, I am happy with this product.
January 18, 2017
Rated

5

out of

5
 by
Tam76
Very warm jacket .
I love the reflector on front of jacket. Holds in heat. Great for cold days. I read a review before ordering , so I went up to an xl. My daughter wears a large. The xl has room & looks great on her.
December 29, 2016
Rated

5

out of

5
 by
nativeportlander
great warm winter coat
My daughter loves this jacket. It runs just a tiny bit big, which is perfect-- she can fit an extra fleece jacket or hoodie underneath. She's sort of in between sizes 8 and 10 (M and L) right now in most all other clothes so I ordered a Medium because I didn't want the sleeves too long. The sleeves are still long enough to come just past her wrists (perfect) and the coat is very roomy for her. The pockets are warm and fuzzy, and she is often complaining that the coat is "too warm", which is wonderful as far as I'm concerned! She chose the purple coat and it looks very well-made and nice (doesn't look cheap or tacky). She's not a big fan of the fur lining around the hood but it is easily removable. We are very happy with this winter coat. We live in Portland, Oregon and it gets pretty cold and rains a lot. And we drive to snow frequently. This coat has done well for all of our weather here so far.
December 14, 2016
Rated

5

out of

5
 by
IndyAnna
perfect for school/play winter coat
My 7-year-old won't wear this till next year, but has tried it on and is excited. Covers her bottom and seems warm enough for a typical midwest winter (Indianapolis) and perfect sizing/proportions as far as we can tell so far!
December 7, 2016
Rated

5

out of

5
 by
DNH28
All around excellent jacket
My daughter loves it...everything about it; the removable fur, the zip pockets, the color... However, it was rated slightly small so I got a large because she usually wears a medium, so it's a little big, but she'll grow into it.
October 5, 2016
Rated

5

out of

5
 by
lgmom
Great winter coat for tweens!
Nicely made winter coat for upcoming cold weather. Haven't worn it yet, but seems very warm. We purchased the large to allow room for thicker shirts underneath and growth. A little big but still good, a medium would have probably been perfect but may have outgrown too fast. My daughter is a petite 6th grader (75 lbs, 5' tall) and wanted a more grown up looking winter coat but can't fit into women's yet. So many of the kids coats are bright colors/prints and look too young for middle school. This was perfect and exactly what she was looking for. Originally she planned on removing the fur but now is thinking of keeping it on!
September 28, 2016
Rated

4

out of

5
 by
ndgirl2106
Winter
I bought this coat for both of my girls. They are in a 6/6x right now so I got a 7. I would say it is true to the size as it will fit well come next fall and winter. They have been wearing it since early spring and have said it is really warm. They both really love that it looks just like mommys coat!
April 14, 2016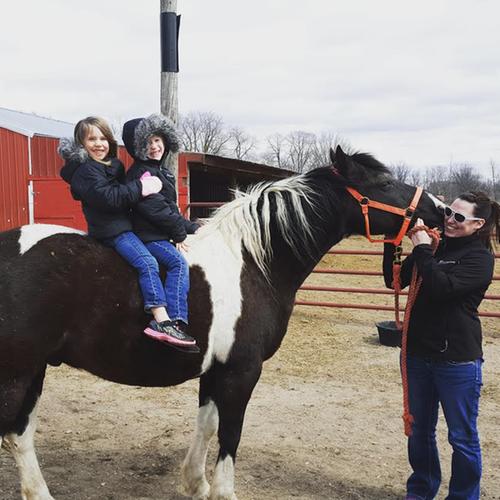 Rated

5

out of

5
 by
Andee22
Great coat!
This is a great coat for our 7 year old. It's warm and easy to get on.
April 3, 2016
Rated

4

out of

5
 by
turkey703
Beautiful Jacket!
Got this jacket in black sz S (7/8) for my daughter who is now 7, it fits her perfectly with a little room to grow in the shoulders. It is slender through the mid section giving it a beautiful look, but makes it snug, not tight on my daughter(who is big for her age). Bottom line, she loves it and it is sooo pretty!
April 2, 2016
Rated

5

out of

5
 by
melzc118
perfect
I ordered this coat more for the sizing then anything since I was having trouble finding a coat for my daughter who is a little taller than most 8 yrs. I was surprised to see not only was the coat a good size but we can actually use it for another year. She says she is super warm and really likes it no more layers and that is was has her happy. It's warm comfortable and was at a great price.
February 27, 2016
Rated

5

out of

5
 by
PCA1
Fashion and function
The jacket is adorable and keeps my daughter warm and dry
February 27, 2016
Rated

5

out of

5
 by
nameKelly
Great and stylish jacket
I ordered this jacket in a size 14 for my 11 year old daughter. She typically wears a 12 and the 14 fit perfectly. I was expecting it to be a little big so she could wear it longer. This is not a negative, just something to know. It is so stylish. A great length and I love the way it comes in at the waist. There are two features that my daughter feels would improve the jacket. First, there is no inside pocket. An inside pocket would be nice for a phone, wallet, etc. Also, the adult jackets have built in thumb holes. This would have been a great feature. Overall, I would highly recommend buying this jacket.
February 25, 2016
Rated

4

out of

5
 by
vanj
Our Daughter loves this jacket
We got one of these jackets from an REI yard sale. I was $7.00 and had a stain on the back. My daughter loved the jacket so much that after she had thoroughly beaten up the original we went to the Columbia site and ordered a brand new one. Good quality, great fit and she loves the in lining at the sleeve holes that keep the cold air from getting up her arm.
February 10, 2016
Rated

5

out of

5
 by
Ivory
to small
The coat was very nice but I ordered the wrong size I should have ordered a woman jacket
January 31, 2016
Rated

3

out of

5
 by
Reerun
Very upset
The coat itself is an okay coat the color I got which was the last color in size they had get very dirty very easy I only had the coat a week in it looks very dirty in old
January 28, 2016
Rated

4

out of

5
 by
Idtr
Good but.....
I bought this jacket for my 10 year old daughters. They wear size 10-12 usually. This jacket is warm and cozy for Nebraska winter,but there is a problem with the size under arm and the breast. The breast is a little bit tight and underarm create a space and is to low. I tried to buy a bigger size to solve the tightness in the breast but the jacket was to big.
January 23, 2016
Rated

5

out of

5
 by
Nancy71
Bought for daughter
I bought this coat for my 9 year old. Had to go up a size because the coat was a little narrow up top. But the coat looks beautiful and keeps her warm in the cold Boston winters!
January 22, 2016
Rated

5

out of

5
 by
Khori
Amazing
Love this winter jacket. The hood stays in place when the wind picks up. The comfort cuffs are a nice touch. Both of my children love their new jackets. Please keep this jacket in rotation.
January 14, 2016
Rated

5

out of

5
 by
Stoneyrobinwings
Katlyn
Love the color the style truly exceeds itself
January 3, 2016
Rated

4

out of

5
 by
MotherW
Needed new winter coat
I bought this jacket for my daughter for everyday use. I am very pleased with it. This is the second purchase from Columbia that I have made and it will not be the last.
December 21, 2015
Rated

5

out of

5
 by
Namspj
Columbia ROCKS!!
I have worn Columbia coats for years, they are warm and wonderful. The quality of these coats are top notch , I have never had one come apart at the seams they are great!!!
December 19, 2015
Rated

3

out of

5
 by
momsd
pretty coat, but too light weight
I was hoping for something a little warmer for South Dakota winters. The fit was okay.
December 9, 2015
Rated

5

out of

5
 by
BriBNE
A Beutiful Cozy Coat and Color
I'm absolutely in love with this coat. My daughter picked out the "Atoll" color and it was a great decision. I love the way the coat goes over her waist and hips. the coat fits perfectly as I got a size "S" for her she's 9 years of age. Its overall a beautiful coat and color! Its cozy and she hasn't complained of being cold in this Nebraska Winter weather!
December 2, 2015
Rated

1

out of

5
 by
mrem
Faux Fur Trim -Ruined almost immediately!
I recently purchased this coat for my very picky daughter. She LOVES the color and te faux fur trim. She wore this coat ONLY 2 times before the faux fur trim was ruined! This coat was worn 1 time for general wear. Then it was worn a 2nd time to play in the snow. When she came inside her coat was very wet. Knowing she wanted to go out again after dinner, we wanted to dry the coat out. BEFORE doing anything, I checked the tags! it specifically states that the faux fur trim can be "tumble dry low". When it came out of the dryer if looked TERRIBLE!!! completely matted into something that cannot be repaired!
November 22, 2015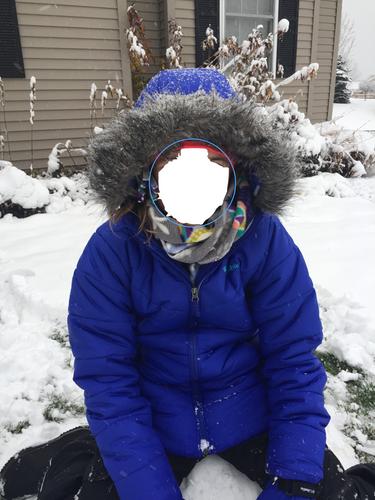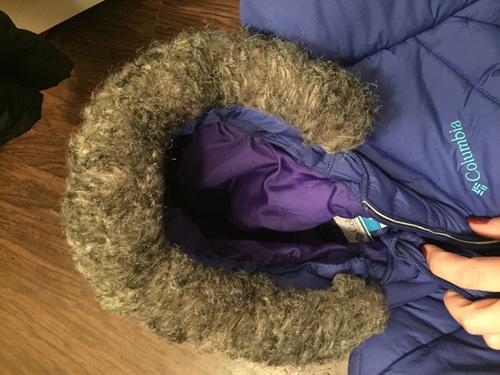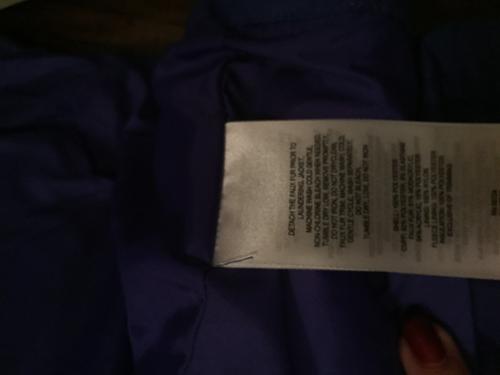 Rated

5

out of

5
 by
riffsalot
Katelyn Crest Jacket
Excellent little winter jacket, bought one for my daughter, read online they ran a little small, I didn't think so, fit perfect, looks great, and she loves it! I do recommend this coat, one thing . . . the price must have went down from when I purchased this,
November 22, 2015
Rated

5

out of

5
 by
Nikolee1010
Product has great style and cut
It may run a bit small. The jacket was true to details stated on the website. Great construction & cut!
November 13, 2015
Rated

5

out of

5
 by
Meg0922
Awesome
I purchased this coat for my daughter, she absolutely loves it, it's a perfect fit and an Atoll is awesome color.
October 18, 2015
Rated

4

out of

5
 by
3girlsinNebraska
kids love that is not too bulky!
Looks nice, let's see if it holds up to nebraska weather!
October 2, 2015
Rated

5

out of

5
 by
FunNana2015
Love this jacket
I purchased two of these jackets for my granddaughters for skiing this Fall. The colors are vibrant and the jacket is well made. The girls have tried these on for size and there is plenty of room for base layers under them but at the same time, they don't look too large. I'm thrilled.
August 12, 2015
Rated

3

out of

5
 by
jenny704
its am ok product
It is an ok jacket it wasn't as thick as I thought it would be but it is very pretty. It would be best to wear a thick sweater under. I live in Chicago so I needed a really warm coat for my daughter.
January 23, 2015
Rated

3

out of

5
 by
Kaclee
Not waterproof!!
Bought this jacket for my 13 year old daughter in the green. Love the style with fur, color, and light weight of coat. She ordered xl (5'4", 115lbs) and it fits well. However for skiing or playing in the snow this coat gets soaked very quickly. Not what I expected of columbia quality and water repellant reputation.
December 21, 2014
Rated

4

out of

5
 by
shopaholic2
Bad but Good
I originally purchased this coat in mint green and my daughter loved it. About a week after her wearing this coat she loved. We noticed that the seam under her are had split all the way down her arm. Obviously I was upset and called customer service and learned that they don't have an exchange policy that I would need to return it to be refunded but that I could purchase a new one now. Disturbed that I was know paying for 2 coats because they sent me faulty merchandise. After speaking with management we were able to work things out. Also now they no longer have the mint green as an option in the color anymore. After all that I did purchase the pink in a size Large although the size chart recommended a Medium. It fits great and she says she is very warm when shie outside. My daughter loves the pink as well, and even though I was upset, Columbia mgmt went over and beyond to make me happy. Would have given 5 stars but gave it a 4 because they no longer had the original color I purchased. Great coat great company.
December 18, 2014
Rated

5

out of

5
 by
KMcT
Great jacket
Plush and warm, fits great, attractive style.
December 16, 2014
Rated

3

out of

5
 by
gus21
Great Color!
This coat runs very small! My daughter is only 70lbs and the medium she can barely zip. I would recommend going up 2 sizes in this coat. The color is fabulous and it's very girly. The weight seems nice but not sure on the warmth yet as we have to send it back for a larger size.
December 1, 2014
Rated

4

out of

5
 by
jaimie822
Very cute, but way too small! :(
I ordered this coat for my daughter online. I measured her, and matched her size according to the size and fit guide provided. It is very snug on her, I have to return it. The waist is very tight (and she was wearing a thin sweater when she tried it on). The sleeves were almost too short. The coat is really cute, but we're both very sad that it's so small - especially since winter came a month early where we live!
November 17, 2014
Rated

3

out of

5
 by
Cam1234
Runs very small!
I purchased this coat for my average sized 12 year old daughter. I purchased a size 14-16, and it was way too small. Perhaps it would fit a 10 year old. Otherwise, the coat seemed to be well made.
October 26, 2014
Rated

5

out of

5
 by
Paulaks
Great coat
Our daughter loves this coat. The best feature for her is the adjustable hood. The Velcro strap allows you to keep the hood from falling too far forward. She is able to see and keep her head dry and warm.
October 15, 2014
2017-01-23
bvseo-cps-pl-PRR
2017-01-23 T13:19:51.441-06:00
bvseo_lps, prod_bvrr, vn_prr_5.6
cp-1, bvpage1
co_hasreviews, tv_37, tr_37
loc_en_US, sid_1561851, prod, sort_default
Size & Fit Guide
Girls' Sizes (inches)
Size Range
XXS
(4/5)
XS
(6/6X-6/7)
S
(7/8)
M
(10/12)
L
(14/16)
XL
(18/20)
Chest
23
25
27
30
33
36
Waist
21½
22
23
25
27
29
Hip
24
26
29
32
35
38
Inseam
18¾
21¼
22½
26½
29½
32½
Sleeve Length
20
22½
24
27
30
33
Boys' Sizes (inches)
Size Range
XXS
(4/5)
XS
(6/6X-6/7)
S
(8)
M
(10/12)
L
(14/16)
XL
(18/20)
Chest
23
25
26½
29½
32½
35½
Waist
21½
22
23½
25½
27½
29½
Hip
24
26
27
30
33
36
Inseam
18¾
21¼
22
26
29
30
Sleeve Length
20
22½
24
27
30
33
Toddler Sizes (inches)
| Size Range | 2T | 3T | 4T |
| --- | --- | --- | --- |
| Chest | 20 | 21 | 22 |
| Waist | 19½ | 20½ | 21½ |
| Hip | 21 | 22 | 23 |
| Inseam | 13 | 15¼ | 17½ |
| Sleeve Length | 16 | 17½ | 19 |
Infant Sizes (inches)
| Size Range | 6mos. | 12mos. | 18mos. | 24mos. |
| --- | --- | --- | --- | --- |
| Chest | 17½ | 18½ | 19½ | 20½ |
| Waist | 18 | 19 | 20 | 21 |
| Hip | 18 | 19 | 20 | 21 |
| Inseam | 9½ | 11 | 12½ | 15 |
| Sleeve Length | 12½ | 13½ | 14½ | 16½ |
How to Measure
How to Measure
Fold up at dotted line.
Place against a wall or other 90 degree surface.

Place heel against fold/wall on flat level surface.
Mark the end of the longest toe with a pen or pencil.
Measure both feet and use the larger measurement.
Read measurement and compare to size chart.
When comparing on the size chart, determine the closest larger measurement and use that number to determine your shoe size for your country's shoe measurement standard.
Shipping & Returns
Shipping & Returns
Shipping Information
Shipping Method
Rate
Expected Delivery Time
UPS Ground
$6.00
3-7 Business Days

UPS 2-Day Air
$12.00
2-3 Business Days
UPS Overnight
$19.00
1-2 Business Days
Free Standard Shipping
Available for Greater Rewards members. Learn more
Return Policy
Returns are accepted within 60 days of the purchase date online or in-store. Your apparel must be in original and unworn condition, with tags still attached. Footwear returns must also include the original box.
Still Have Questions
See our Customer Service section for more details. Visit Customer Service