Men's Alpine Action™ Jacket
Details
http://www.columbia.com/mens-alpine-action-jacket-1562151.html
1562151
Greater Rewards
members earn

1269

points with purchase
Uses:
Winter, Ski / Snowsports
Size & Fit Guide
|
Reviewers rated this product
True to Size
|
Fit
Modern Classic
Variations
Product Actions
Details
Uses
Winter, Ski / Snowsports
Features
Next-level warmth and waterproof breathability meet an exquisite cross-dye shell fabric with a rich color and texture—delivering a serious storm-fighting jacket that stands out in the lift line. This technical hooded jacket combines our superior synthetic insulation and a thermal-reflective lining for great heat retention with a high level of breathability, while ski and snowboard ready features like a snap-back powder skirt and removable storm hood elevate your on-hill performance.
Features:
Omni-Heat™ thermal reflective and insulated
Omni-Tech™ waterproof/breathable fully seam sealed
Modern Classic Fit
Removable, adjustable storm hood
Drawcord adjustable waist
Adjustable, snap back powder skirt
Interior security pocket
Zippered chest pocket
Zippered hand pockets
Media pocket
Goggle pocket
Comfort cuffs
Drop tail
Adjustable cuff tabs
Center back length: 31"
Imported
Fabric
:
Shell: 100% polyester Matte Melange
Lining: 100% polyester Omni-Heat™ Reflective Microtex Light
Insulation: 100% polyester microtemp XF II, 100g
Omni-Heat™ Reflective
Thermal Reflective Warmth
Omni-Tech™
Waterproof. Breathable. Guaranteed.
Technology Videos
Omni-Heat™ Reflective
Magic in a little
silver dot.
Breathable material with little silver dots that reflect body heat.
Omni-Tech™
BREATHABLE &
GUARANTEED WATERPROOF.
Air-permeable protection that's waterproof and breathable guaranteed.
Reviews
Rated

4.8

out of

5

 by

72

reviewers.
Rated

5

out of

5
 by
Abby818
My boyfriend loved it!
This jacket came right before a(nother) winter storm hit the Portland area and my boyfriend absolutely loved it! The fit (large) is perfect for him, he's just over 6foot but thin and has long arms and it looks great. The black looks great. I want my own!
January 21, 2017
Rated

4

out of

5
 by
Geo101
Very good product!
This jacket is very nice, I have no complaints. I actually live in NYC and just bought 3 jackets/coats from Columbia sportswear. Been a fan for years and had 1 15yrs ago, and they're still on point. Even got my 8yr old son a coat. Highly recommended.
January 19, 2017
Rated

5

out of

5
 by
snap
Functional and warm.
I purchased this jacket just after new years and have been wearing it regularly in the northeast. Not extremely cold out but often below freezing. With just a light layer underneath I have been comfortable. I am very please with the materials and workmanship. A lot of thought has gone into the design and it works. Pocket placement both inside and out make it very easy to carry a variety of items safely. The inner elastic cuff works beautifully and keeps everything out. No snow or rain working its way into my sleeve.
January 18, 2017
Rated

4

out of

5
 by
JBeachGirl1
Nice, but not warm enough
Bought this jacket for my husband for Christmas. Based on reviews, I bought him a Medium although he normally wears a Large. It fits but is tight at the hips. He says it is really not that warm - which was surprising because my daughter has an omni heat jacket and is always warm in it - but hers is a 2-in-1 jacket. This jacket is very thin. It seems that it is only warm if you are doing physical activity like shoveling snow - not just wearing it when walking, etc. Considered returning it, but he wants to keep it.
January 13, 2017
Rated

5

out of

5
 by
Evanesp
Awesome Jacket
Awesome jacket...Great quality, great fit... love the material, better quality than my The North Face!
January 12, 2017
Rated

5

out of

5
 by
headnorth
No more shivers
Sub Zero, on the slopes, down town....this covers the bases. Comfortable and warm.
January 12, 2017
Rated

4

out of

5
 by
DRG589
Great Jacket
I really like this jacket. It is warm and functional. I gave it 4 stars because for a jacket like this it really should have pit zips. Why not Columbia??? Otherwise the jacket has all the needed items, like a powder skirt, waterproof, good hood, pass pocket on the arm, decent number of pockets, etc.
January 10, 2017
Rated

5

out of

5
 by
sherwood
great coat
It is what it says it is and then some, light but very warm. Keeps the rain off of you and keeps you warm in the snow.
January 8, 2017
Rated

5

out of

5
 by
MutsSuus
Great jacket for hitting the slopes!!
True to size! Nice color blue! Enough pockets. Warm and comfy when cold freezing weather at the slopes
January 5, 2017
Rated

5

out of

5
 by
ChazCard
Great winter coat
Upon receiving this coat, the initial wears were a bit rigid. The coat takes a week or so to break the fibers in, but after that, it fits like a glove...like a coat should. Sleeves are a bit long for a medium, but I'd rather that than too short. As lightweight as the coat is, you'd think it's not very warm, but it is. I took the trash out one °18 morning with just a t-shirt on underneath. Couldn't feel the wind through it, and it retained the heat very well. The fit is a sleek active fit, so I can see how it would lend itself to skiing and hiking. Very streamlined. I look forward to putting this coat through the rigors once winter decides to actually rear it's head.
January 3, 2017
Rated

5

out of

5
 by
NerdyGuy
I bought it for certain conditions - and it's great
This jacket filled a gap in my outerwear - I didn't really have something for damp, rainy, or windy weather when the air temp runs from 32 to 50 degrees F. I have a parka-style heavy coat for snow and extreme cold and an uninsulated rain jacket for warm and rainy days. The Alpine Action fits perfectly between them. I don't do snowsports, but I do plenty of hiking and walking around in winter when the temps are chilly but not bitter cold. This jacket is just what I needed.
December 28, 2016
Rated

3

out of

5
 by
blues2016
Not what expected
When ordering this I had hoped it had a little more insulation than what is shown. This is more like a Fall/Winter Jacket. Warmth not what expected. My sons and Husband decided to keep the jackets because of they liked the colors and great jacket for being light. That's why I gave it a 3 star.
December 22, 2016
Rated

4

out of

5
 by
DJIB
Great jacket without the bulk
My old winter jacket was a super-bulky down comforter-type jacket that made me feel like the Michelin Man and was too hot and cumbersome when going indoors. I am very happy with the Alpine Action jacket. I usually wear a men's small or medium. I am 6' and thin with longer legs than turbo - the small in this jacket fits me well. It is long enough to cover the groin area - an issue I had with my older, shorter jacket on cold, windy days. I like how warm this jacket is despite how thin it is. Not quite as warm as my old down comforter jacket, but I can add an extra layer below on days in the deep freeze - thankfully I have never had to go back to my old bulky jacket on even the coldest days. This waterproof jacket is great for the cold rain & snow, while still allowing you to move around and not get too hot when you are physically active. The jacket makes the the transition to the warmth of indoors okay - it doesn't feel hot and bulky right away like my old jacket it. There are no armpit zips in the Alpine Action jacket, but I don't feel like I need them. The zippers work well and there are plenty of pockets. The collar does rub your chin when zipped up all the way, but I don't mind on very freezing days as I want the protection from the wind. I can unzip some at the top if it isn't as cold out. I wish the hood was warmer - no omni-heat in there. Columbia probably assumes you will have a hat for colder weather and I usually do. If you forget your hat on a very cold day your head may not be warm enough with the hood only. I love the a subtle pattern that make the jacket a little more interesting then a completely solid color. The Nocturnal color is a purplish-blue. It is not made with down, so no feathers to appear on my clothes. The chest zipper-pocket is good for storing a hat. The only other minor quibble I have is I wish the chest zipper were a similar color as the rest of the jacket instead of a bright white as I so no need to make the chest zipper stand out so much - especially if I leave it unzipped. Please note it does not have the attachments to make it an interchange jacket. Overall I am very happy with the Alpine Action jacket!
December 20, 2016
Rated

5

out of

5
 by
Bureaucrat
Columbia is still FIRST CLASS!
I have been wearing Columbia wear since I was a young boy; after all these yrs you can't beat Columbia...it is still the best & FIRST CLASS! Love my new coat..warm...light weight & the wife always sees me in my new red jacket.
December 18, 2016
Rated

4

out of

5
 by
haiyoushei
This product is warm
Good looking and warm
December 12, 2016
Rated

3

out of

5
 by
jesse724
Not fitted for slim people
Im 5 foot 8 and weigh 128 pounds, the modern classic fit ran way to large on me, just like a blanket. This is the second year that I can't buy a jacket from columbia because they never think of the slim men. I feel that they assume everyone is 6FT tall and 200 pounds. What about the little men?! I refuse to buy north face but this is just not working out. I'm going to try the titanium line to see if it runs fitted..hopefully that works.
December 7, 2016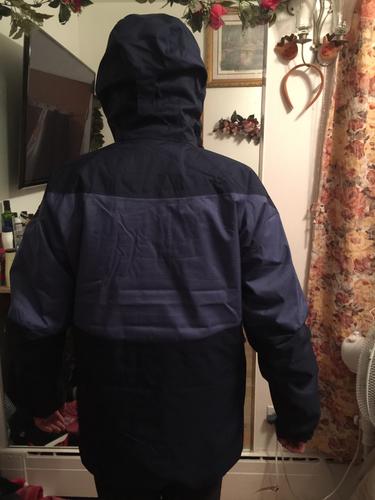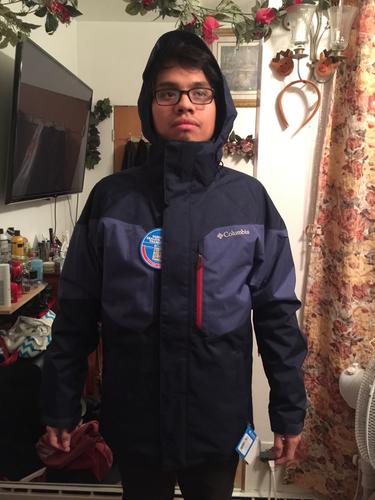 Rated

5

out of

5
 by
Steven911
BUY THIS JACKET
The single warmest, highest quality, driest, most wind proof jacket I have ever owned! I would highly suggest it to anyone who searching for a ski jacket. Great job Columbia!
December 5, 2016
Rated

5

out of

5
 by
Jennyyue
good one
We like it. It's good for cold winter.
December 4, 2016
Rated

5

out of

5
 by
John38
Great jacket
Nothing bad to say about this jacket
December 1, 2016
Rated

5

out of

5
 by
Billie
Alpine Action Red
I've tried the jacket on a few different days and in different weather. For colder days, below freezing, it is warmer with layers under it, such as long johns and a sweater. It is very wind proof and the rain doesn't soak through it easily even after ½ an hour at a bus stop in the rain. I think it's a very good buy.
November 28, 2016
Rated

5

out of

5
 by
Md14
Great jacket
It is very warm and surprisingly light. I would definitely recommend it.
November 17, 2016
Rated

5

out of

5
 by
Dreadthevision
Alpine action jacket
Purched the alpine action jacket for myself and wife. Took them out camping in the rockies this weekend 11/12-11/14. The nights were in the low 30's and i hardly noticed. Plenty of pockets for glasses, gloves and my other backcountry needs. Very nice jacket.
November 16, 2016
Rated

4

out of

5
 by
Malachi
Men's Alpine Jacket
Very good quality, warm, love the style.
November 9, 2016
Rated

5

out of

5
 by
Joesuff
So Far So Good
Just got this coat and it looks and feels great, although I have not actual gone skiing in it yet. However, I wanted to post this positive review because Columbia Sportswear was so helpful in terms of assisting me with this transaction.
November 6, 2016
Rated

5

out of

5
 by
pamgam
Perfect gift
This is a perfect gift, can't wait to see him open.
November 3, 2016
Rated

4

out of

5
 by
BurghFan
Disappointed
Received this jacket size L. Loved the weight, the construction, and the sleeve length was perfect. Sleeve length has always been the issue with fit for me. 6-0, 195lbs. Unfortunately, it was a little tight across the chest and armpits and I returned it. Mulling over whether to order the XL.
October 29, 2016
Rated

5

out of

5
 by
Nando97
Excellent Jacket
I use it to go skiing. It does its job. Keeps me warm and dry. Perfect jacket
October 1, 2016
Rated

5

out of

5
 by
ChrisBF
Awesome jacket
This jacket was amazing. It kept me warm all day in the cold Montana mountains in late December. It has pockets everywhere that are convenient for holding the essentials while skiing. It's extremely warm without being too bulky. I was able to unzip the pockets with my gloves on as well. I'm glad I bought this jacket for my ski trip.
April 9, 2016
Rated

5

out of

5
 by
Muzzer
Professional Customer Service
This review is more about the customer service than the actual purchase. I recently purchased a XXL Alpine Action jacket; however, the XXL was slightly too large for me. I contacted customer service who provided clear instructions for returning items and then assisted me in ordering a similar jacket in an XL (waiving shipping fees). The new order was delivered and refund credited all within six days. Very professional and courteous customer service .... this is one of the reasons why I remain a repeat customer.
February 29, 2016
Rated

5

out of

5
 by
AlfdeCAT
Nice jacket that keeps me warm
This is a very nice jacket that helps to keep me warm. One suggestion is to make the zipper two-way. It will be more convenient when sitting down.
February 21, 2016
Rated

5

out of

5
 by
Eamon
Great product. Lightweight yet warm
This is a great coat. Have used it numerous mornings where the temperatures have been 20-32 degrees with just a t shirt on underneath and have been fine for 30 mins +. Have not used it skiing yet but is a very lightweight coat with great features. Love the wrist cuffs to prevent snow from getting in sleeves. Can easily later with this coat as well
February 8, 2016
Rated

5

out of

5
 by
mom1450
Great coat
This was a gift for my son who is frequently out in the weather while utilizing the public transportation system in Portland, OR. He love this coat! It's not bulky, keeps him warm, repels the rain, and is overall just what he needed.
January 31, 2016
Rated

5

out of

5
 by
davidlk31
Much Better than my last Jacket
This Jacket does everything you need it too plus some. I found a hidden pocket on my sleeve which works perfect for these new card reading systems a lot of the mountains are using at the lift gates now. Keeps you warm and well protected, and it's very stylish.
January 28, 2016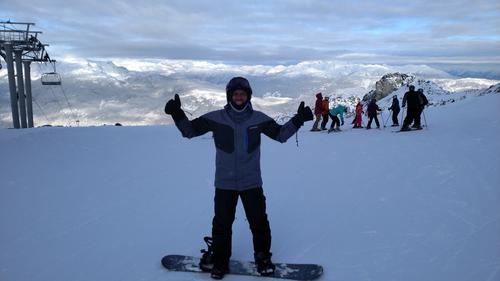 Rated

4

out of

5
 by
petersmith
Satisfied with my purchase
The jacket is very nice, kind of elegant if you choose the nocturnal colour, also very warm and confortable.
January 20, 2016
Rated

5

out of

5
 by
Federico
Men's Alpine Jacket
I ordered this jacket online during the boxing week sale. I use this jacket whenever I go out to enjoy the winter season. It's waterproof, very light and warm. I'm satisfied with my purchase.
January 14, 2016
Rated

5

out of

5
 by
Mike20021
I finally found it: the perfect winter coat
I needed a winter coat so I started by looking at down and synthetic down coats. Problem is if they get wet it's game over in terms of keeping you warm. This coat is different. There's a waterproof outside layer together with an insulated inside layer. It's warm and has tons of nice touches including powder sleeves, an inside zip pocket, fleece collar, removable hood and so on. It's like someone actually gave some thought to what should be in a coat--rather than just dashing something together. This is my first Columbia product but it won't be my last.
January 9, 2016
Rated

5

out of

5
 by
Max130
Great Jacket
This jacket is lightweight and warm. I wore it in windy, 20 degree Fahrenheit temperatures, without experiencing any chills. The jacket also does a great job in keeping out the rain. Their are plenty of pockets, for gloves, tissues, cellphone, etc. I find the jacket to be a little to warm, in temperatures above 45 Fahrenheit, when active.
December 30, 2015
Rated

5

out of

5
 by
Terrance
Awesome product
I'm very pleased with my new jacket... I don't ski or snowboard but am outside a lot in the cold and rain ..it's so warm and windproof. .I work in simi Valley ca. Which the name alone stands for Valley of the wind..I had a northface jacket which I returned and got this one....luv it!!
December 27, 2015
Rated

5

out of

5
 by
Oregonbamboo
Fantastic!
We purchased this for our son as a gift. He works outside in inclement weather and has nothing but good things to say about the quality of workmanship, fit and of course it keeps him warm and dry in the worst of weather. He absolutely loves it!
December 15, 2015
Rated

5

out of

5
 by
DocBT
Excellent jacket
Top quality workmanship very light weight yet warm
December 14, 2015
Rated

4

out of

5
 by
Dweaves
Runs Big
I am 5'9 and 160 and normally medium is my size, however I had to return it and move down to a small to get a good fit. Other than that the coat seems very nice and comfortable.
December 10, 2015
Rated

4

out of

5
 by
tnguyen91
nice jacket
I love this jacket. keeps me warm, dry, and comes with style. down in the south it doesn't get too cold but when it does, this is my go to jacket. it does run a little big but I am a short guy. (5'5"-5'6") I would say the only thing that keeps it from being 5 stars is that the hood isn't as insulated as the jacket. other than that I will wear this jacket everyday.
December 7, 2015
Rated

5

out of

5
 by
bill12341234
Men's Alpine Action Jacket
A beautiful and functional jacket. The snow and rains are here now, so I bought it just in time. I have had many compliments already. A quality product again from Columbia. True to size.
December 6, 2015
Rated

5

out of

5
 by
InTheMountains
A Great Ski Coat
This is a great jacket! I am using it to ski. It is quite warm and comfortable.
December 2, 2015
Rated

5

out of

5
 by
AnneGod
Good for Canada Weather
Great jacket for the weather in Quebec, Canada.
November 12, 2015
Rated

5

out of

5
 by
Dmitry225
Great Ski/Snowboard Jacket
This jacket is great, the makers really had skiing and snowboarding in mind. It is very well fitted and the perfect length. Since I'm about 6'2" a lot of the time jackets run a little short on me which isn't too fun when you're snowboarding in Colorado in negative temperatures! This jacket fits me very well with plenty of length to keep the snow out. It also has an inside stretchy belt that wraps around you on the inside to keep a nice seal from the elements. The omni-tech really works at keeping you warm so don't be fooled by the light weight of this jacket. (On really cold days you still want to layer though.) Plenty of pockets on the inside and outside to store things. Velcro-cuffs great for sealing your glove ends in. Overall this jacket is great for anyone who is a snowboarder/skier or someone that needs a really warm jacket for the outdoors.
November 11, 2015
Rated

5

out of

5
 by
MericasMeuth
Great looking jacket
Waterproofing seems legit, windproof seems legit, get compliments all the time on its looks.
November 9, 2015
Rated

4

out of

5
 by
Nonna
Color
Bought this jacket in Black. It is more on the blue shade, not a true black. Disappointed. Will return
November 4, 2015
Rated

5

out of

5
 by
NSPETE
Excellent product
Perfect in every way for my purposes and a great fit. A very good value for the price.
October 26, 2015
Rated

5

out of

5
 by
JPascual
Strongly recommended
I just bought this jacket and it is quite warm! I can't even feel the wind. Good quality and wide enough to wear other clothes if you need.
October 22, 2015
2017-01-22
bvseo-cps-pl-PRR
2017-01-22 T12:43:17.962-06:00
bvseo_lps, prod_bvrr, vn_prr_5.6
cp-1, bvpage1
co_hasreviews, tv_72, tr_72
loc_en_US, sid_1562151, prod, sort_default
Size & Fit Guide
Size & Fit Guide
Men's Body Measurement (Inches)
| | | | | | | |
| --- | --- | --- | --- | --- | --- | --- |
| Size | XS | S | M | L | XL | XXL |
| Neck | 14-14.5 | 15-15.5 | 16-16.5 | 17-17.5 | 18-18.5 | 19-19.5 |
| Sleeve Length | 32 | 33 | 34 | 35 | 36 | 37 |
| Chest | 32-35 | 35-38 | 38-41 | 42-45 | 46-49 | 50-53 |
| Waist | 26-29 | 29-32 | 32-35 | 36-39 | 40-43 | 44-47 |
| Hips | 32-34 | 35-37 | 38-40 | 41-43 | 44-46 | 48-50 |
| | | | |
| --- | --- | --- | --- |
| Size | L | XL | XXL |
| Neck | 17-17.5 | 18-18.5 | 19-19.5 |
| Sleeve Length | 35 | 36 | 37 |
| Chest | 42-45 | 46-49 | 50-53 |
| Waist | 36-39 | 40-43 | 44-47 |
| Hips | 41-43 | 44-46 | 48-50 |
How to Measure
1.

Neck:

Measure at the base or thickest part of your neck.
2.

Sleeves:

Start at the center back of your neck and measure across the shoulder and down to the wrist. Round up to the next even number.
3.

Chest/Bust:

Measure at the fullest part of the chest, under the armpits and over the shoulder blades, keeping the tape measure firm and level.
4.

Waist:

Measure around the natural waistline, allowing the tape measure to sit comfortably.
5.

Hips:

Measure around the fullest part of your hips.
6.

Inseam:

Measure from the top of the interior leg to the bottom of the ankle.
Men's Fit Guide
Performance
Body contouring fit conforms to movement.
Active
Body skimming fit with end-use mobility in mind.
Modern Classic / Regular
Universal, easy fit for comfortable range of motion.
Relaxed
Most generous fit for a full spectrum of movement.
How to Measure
How to Measure
Fold up at dotted line.
Place against a wall or other 90 degree surface.

Place heel against fold/wall on flat level surface.
Mark the end of the longest toe with a pen or pencil.
Measure both feet and use the larger measurement.
Read measurement and compare to size chart.
When comparing on the size chart, determine the closest larger measurement and use that number to determine your shoe size for your country's shoe measurement standard.
Shipping & Returns
Shipping & Returns
Shipping Information
Shipping Method
Rate
Expected Delivery Time
UPS Ground
$6.00
3-7 Business Days

UPS 2-Day Air
$12.00
2-3 Business Days
UPS Overnight
$19.00
1-2 Business Days
Free Standard Shipping
Available for Greater Rewards members. Learn more
Return Policy
Returns are accepted within 60 days of the purchase date online or in-store. Your apparel must be in original and unworn condition, with tags still attached. Footwear returns must also include the original box.
Still Have Questions
See our Customer Service section for more details. Visit Customer Service