Men's Ascender™ II Softshell
Details
http://www.columbia.com/mens-ascender-ii-softshell-WM6645.html
WM6645
Greater Rewards
members earn

0

points with purchase
Variations
1. Select Color:

Out of stock

2. Select Size:

Please select a size.

Out of stock
Product Actions
Features
The perfect compromise between blizzard in the forecast and first chill of fall, this multi-functional softshell works hard and plays even harder.
Features:
Water/wind resistant bonded softshell
Drawcord adjustable hem
Zip-closed hand pockets
Center back length: 28.5"
Imported
Fabric
:
Fabric: 100% polyester softshell. Lining: 100% polyester tricot
Omni-Shield™
Water and Stain Repellent
Technology Videos
Omni-Shield™
GO AHEAD.
TRY AND GET DIRTY.
Helps you stay clean and dry by resisting absorption of liquids.
Reviews
Rated

4.5

out of

5

 by

76

reviewers.
Rated

5

out of

5
 by
JNo5
Awesome jacket.
This jacket is exactly what I was looking for. Perfect for just about any time. Very comfortable and can take on the elements.
November 9, 2014
Rated

5

out of

5
 by
Jackie24
This product is very good
A perfect outwear. I like it very much!
November 7, 2014
Rated

5

out of

5
 by
ladgyn
Excellent Buy
For $50 it can't be beat. I'm 6', 185 and have long arms so it's hit or miss with finding shirts or jackets that have the right sleeve length. I bought the large and it fits great. I like the adjustable velcro cuffs unlike other reviewers. I think it's a great feature. I like the zip breast pocket. Great for a cell phone. The jacket is light but does its job and is more comfortable than a thick winter ski jacket. Its water repellent material makes it good in light rain. It has a clean appearance and is great for travel. A great go to jacket for fall and winter.
November 3, 2014
Rated

5

out of

5
 by
Jirik
Great Jacket for Fall!
We are a company of 60 employees and we love the Mens Ascender II jackets. They are convenient, light weight and not bulky, yet warm and keeps the cold Minnesota bite out. We love them!
October 15, 2014
Rated

5

out of

5
 by
patriciacch
great fit
great fit, excellent jacket
August 31, 2014
Rated

5

out of

5
 by
finchey35
Can't get enough of this stuff
I have way too much Columbia gear, I may have a problem, my boss has made comments about it. This jacket is great. It is comfortable, reflects water (not water proof though), it protects me from the wind of the south Salt Lake Valley. I'm looking forward to see how this baby does in the winter.
August 27, 2014
Rated

5

out of

5
 by
Frodrick
My new "go to" jacket
Great all around jacket. Great fit, great feel and it great look. Front breast zipper pocket is great for my cell phone.
May 1, 2014
Rated

5

out of

5
 by
Trixi
VERY NICE JACKET
My husband owns a business where is outside a lot & purchased this coat a year ago to try. He wears a light pull over fleece underneath of it & stays very comfortable in it all day. He enjoys it so much that we are ordering more for his employees in various sizes!
March 28, 2014
Rated

5

out of

5
 by
Frack09
Functional and Great Looking!
I bought this jacket as a gift, the receiver is very pleased with it's functionality and looks! He usually wears a medium in Columbia shirts, I got a medium jacket - it fits just right (probably couldn't fit a think sweater underneath). It's perfect for days when it's too warm for a winter coat but too cold to go with out a jacket!
March 27, 2014
Rated

5

out of

5
 by
Kmedic
Another Excellent Columbia Product!
Got this jacket for those times when a full jacket would be too warm. I love this jacket, it is so comfortable and it keeps you warm! The sleeves are the perfect length; not too short and not so long that they get in your way! I would definitely buy this jacket again!
March 17, 2014
Rated

5

out of

5
 by
Doc69
Great Softshell
I own another name brand wind proof soft shell, but this is truly the one I love the most! Fits great, proves more wind proofing, and keeps me much warmer. Love the fact that it is stain resistant. Plus, the price point is exceptional. A must have!
March 2, 2014
Rated

5

out of

5
 by
Bob1000
Great Jacket
I love this thing. Only had it two weeks, but used it for casual clothing on 2 business trips and at home (L.A. Detroit and Virginia). Looks quite stylish I think (others may disagree :) ). Its warm enough for short duration external excursions down to about 30 I figure, but wouldn't want to wear for too long below 40 degrees. If fits quite snugly. I am 6' and 165 pounds. A medium is snug over a button down collar shirt, but comfortable. Love the flexibility of this material. It is a little tricky getting shirt sleeves through the arms on this (due to the fleece lining), but once adjusted its not an issue. Based on this item I think I will see what else Columbia has to offer. I need a new jacket for much colder weather too!
February 28, 2014
Rated

5

out of

5
 by
Ch1n0
Great Jacket!
Excellent fit (once you figure out your size). This jacket has a strong / durable feel and a sporty look. I wore it during a week long trip to Colorado during this Winter and it is a perfect mid layer for weather in the 10-20 degrees. It is also great for warmer temperatures only using a warm base layer under it.
February 27, 2014
Rated

1

out of

5
 by
Jim33
Poor Quality Control
The jacket I received had the ia missing from the embroidered Columbia name on the upper left. Very disappointed that a company that boasts of quality would send out a defective product. No longer a customer.
February 24, 2014
Rated

5

out of

5
 by
Hum84
Great jacket
I was looking for a casual yet dressy looking medium weight jacket and this fit the bill perfectly. The three outside zip pockets and inner pockets provide ample storage. It's a sleek and comfortable fit and bottom line looks and feels GREAT! I'm 5'10", 180lbs, 33" waist and medium stocky build and decided to go with the large instead of medium and really like the fit.
February 18, 2014
Rated

5

out of

5
 by
Bball20
This jacket is awesome
It fits perfectly and is very lightweight but still very warm.
February 13, 2014
Rated

4

out of

5
 by
Kmassage1
Columbia makes nice stuff....
Nice looking outerwear....made well. Do not think it is for really cold temps. This particular jacket runs slightly small, but I can deal with it. Overall I would recommend to a friend.
February 8, 2014
Rated

3

out of

5
 by
Drumjazz
Adequate for N.C.
This coat is lightweight, but is great for the winter weather in North Carolina. I wear it over a sweater and that is plenty for this climate. I am usually in between a medium and large, and I ordered the large. It is roomy, but great for layering. The velcro adjusters around the wrist openings do not sit in a good place and get caught on things. Bad design, and needs to be improved IMO. I would give 4 or 5 stars except for that.
February 8, 2014
Rated

5

out of

5
 by
Eric222
Great Coat
This holds up really well in extreme cold and wind (assuming you have the right thermal layers underneath). Holds up just as well as the gear I used in the army. Fits slightly smaller than the indicated size normally is (for other brands).
January 30, 2014
Rated

5

out of

5
 by
BoofieBoy
This is a great jacket!
This softshell jacket is a great one! This is the second one for myself and my younger son has had a couple as well. Great weight for the Portland weather. Looks good and sheds the rain. I would definitely recommend this jacket to others!
January 29, 2014
Rated

5

out of

5
 by
mrg1991
This product is very stylist & warm
Ordered this product for my son and he loves it. We ordered a large but even though it is just a little big he is able to wear it over a thick shirt.
January 7, 2014
Rated

5

out of

5
 by
WilliamFromVA
Mountain Side companion
Epic Softshell! Took it on the mountain with me this past weekend and held up against the high winds and light rains. I recommend this product to anyone who enjoys a warm and very comfortable, durable jacket.
December 30, 2013
Rated

5

out of

5
 by
Jackie13
Happy with my purchase
Bought this jacket for my 15 year old grandson for Christmas. He loved it!
December 26, 2013
Rated

5

out of

5
 by
BengaliTiger
Great interim jacket for above-freezing temperatures
This is a great softshell, blocking wind and rain, while providing some warmth. I find it works great over a sweater or fleece layer, for days with temperatures around 40-50 F. It's quite light, but feels substantial, and completely blocks the wind. It feels well made, and looks great.
December 23, 2013
Rated

5

out of

5
 by
Nathan
Great Transitional All-Weather Jacket!
|My Thoughts| I love this jacket. I saw it for sale in Academy Sports + Outdoors and checked it out in-store before I purchased it online, due to the availability of "Tall" sizes online, but not in-store. This jacket is perfect for 40-60 degree weather. Also, it is water-resistant, which is great in rainy climes. I live in Florida, so, even though we are the "Sunshine State," it rains here quite a bit. This jacket is great for staying warm and dry. Also, since the winters here are quite mild, this jacket serves me well on all but the coldest of days. If I mix this jacket with a thermal long sleeve shirt underneath and a cap of some type, I am good to go no matter how it gets here. |Jacket Quality/Fit| As with all Columbia items I have had the pleasure of having experience with, this jacket is built very well. There are not any loose threads hanging off, no sticky zippers, no rough edges. This jacket is polished and professional. It fits in what I would call a "fitted" cut. It fits snugly across the shoulders, but I prefer that kind of fit. I'm approximately 6',0" and 185-190lbs. I have an athletic build, so this jacket works great for me. Before I bought this, I checked out the reviews, and there are many other reviews that state how the jacket fits tightly across the back or shoulders, but, when you look at those reviews, most are for people who are wearing quite large sizes, so maybe the different body types/compositions have something to do with it. Personally, I wish that this jacket were just a BIT longer in the torso, but it DOES come with a bungee cinch cord around the waist, so one can tighten the waist up. As of yet, I have not had any draft coming up onto my back or anything, so the jacket actually functions well for me. I just prefer the look to be a bit longer. (If that is all I have to complain about, then you see how good this jacket is). |Conclusion| You are doing yourself, or someone else, a great favor with this jacket. Even if you live in a colder clime, you could wear this jacket throughout the transitional times of the year (fall and spring), even if your winters are ultimately too cold to wear this as a main jacket. Great overall jacket and very satisfied with my purchase!
December 20, 2013
Rated

5

out of

5
 by
Griesjr
I enjoy wearing this product
I had visited the store and tried this product on and was kind of on the fence. I received it as a gift and was able to try it in cold weather and I was sold. Even though it seems lightweight it holds up against cold weather. It has a classy, fitted look and it works great as a substitute for my pea coats. The pockets are roomy, the arms are the perfect length and it is very resistant to dirt and stains. I am very happy with this coat.
December 16, 2013
Rated

4

out of

5
 by
BackCountryGreen
Great fit, look - but cuffs are not ideal
This is a great shell; the fit and look are spot on. It is a great late fall jacket. It is on the heavier side, so I found I did not start wearing it until the temperature started to drop for the season. The cuffs are Velcro which I do not like. I have an inner-shell jacket that is somewhat similar to this, a bit thinner, but it has an elastic type cuff which I really like. The Velcro on this jacket has a bit of a lip to it so it sticks out and is noticeable.
November 23, 2013
Rated

4

out of

5
 by
Footie5
Comfortable lightweight....
Quality product- lightweight but not flimsy, durable. Color exactly as depicted. Would recommend.
November 18, 2013
Rated

5

out of

5
 by
Husker5
Ascender II Review
I bought the Ascender II as a middleweight jacket for fall. Great moderate wind protection, water repellent feature, and cell pocket handy. I would purchase this jacket again.
November 9, 2013
Rated

2

out of

5
 by
BSow
Functionality
Great looking jacket. However, I was disappointed the sleeves have a fleece lining that is not smooth. Putting this jacket on with a long-sleeve shirt underneath is a chore...I would buy something else had I been able to try this on in a store!
October 30, 2013
Rated

4

out of

5
 by
TheVineyard
Great Product!
Body fits perfect in size, however, the arms are a little long. Jacket is extremely warm and looks great though!
October 14, 2013
Rated

4

out of

5
 by
MrFallweather13
Men's Ascender™ II Softshell
Tell you the truth, the first day I bought my jacket it poured down pretty hard and sure enough my jacket kept me dry from the outside, yet warm from the inside. I also thought it would be heavy and thick but more like lightweight and comfortable, I give it a big thumbs up!
October 8, 2013
Rated

5

out of

5
 by
TampaTraveler
A Solid Product
This coat exceeds expectations. Livining in Florida, I needed a coat for a 3 week September trip to Germany. In all asspects this coat was perfect. Packing: lightweight. Rain: first week. wet on outside, dry on inside. Temperature: Cool to cold outside, warm during wear. Cargo: 3 outside pockets, securable along with two oversized pockets on inside, perfect for brochures, phones, cables.....even put in extra lens/flash for camera. Tried on coats at a local outlet and found that coat tends to run a little tight so opted for XXL vice XL. Good fit. Ordered from Columbia as I wanted Buffalo, quick shipping.
October 4, 2013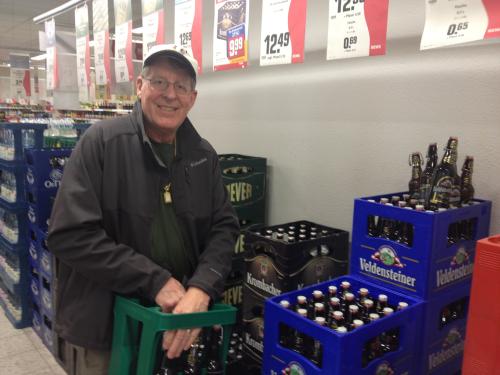 Rated

5

out of

5
 by
Verified Reviewer
nice
...............................good............
September 27, 2013
Rated

5

out of

5
 by
WineCheryl
Pretty darn nice jacket!
I bought a slew of these for a work function and I was pleasantly surprised. The weight of the jacket is light, but offers a substantial amount of protection from the elements. It's nice how the jacket drops down ever so slightly in the back to cover your bum a little more, offering more protection from the rain (it also adds a little curviness to the guys bum which is nice for the 'buttless'). It's a flattering fit. Comments from the crew were all positive and from those who did not receive one, jealous! The Tall sizes were really long in the arms, when a lot of product advertised as 'Tall' are not. Good fit.
June 13, 2013
Rated

1

out of

5
 by
LeeJ52
Large toothed insert
This was not at all what I was expecting. I previously had purchased an outer shell with large teeth. All of the inserts available were small toothed in the zipper. Though the zipper fit appropriately, this was clearly not meant as an insert as it did not have the hooks in the neck and arms to attach to the original outer shell.
June 12, 2013
Rated

5

out of

5
 by
Louis5
This product has excellent qualities
Could not ask for a better quality product. It does everything that it was advertised to do.
May 15, 2013
Rated

5

out of

5
 by
Outdoorsman97
Outstanding Jacket!!
Jacket does everything it said it would. Repels water, keeps you warm and looking stylish. I definitely would recommend this product. Two thumbs up!!
April 8, 2013
Rated

5

out of

5
 by
dessa
Ascender II Softshell
great quality and fit
March 7, 2013
Rated

5

out of

5
 by
AUoptimo
Great everyday jacket
Versatile jacket for fall/winter/spring in a mild climate.
March 5, 2013
Rated

5

out of

5
 by
Needlekat
Great lightweight jacket!
My son loves this jacket, he doesn't have a locker at school so he wanted something warm yet light.
February 28, 2013
Rated

5

out of

5
 by
Blackwiddow79
Quality at its best!
Excellent item made very well perfect when you don't need that heavy jacket.
February 26, 2013
Rated

5

out of

5
 by
NMac
Excellent outerwear for moderately cold temps
excellent jacket; comfortable and well made. Can be worn in weather to 30 degrees, but really not warm enough for colder weather. fits true to size and the color selection is excellent.
February 22, 2013
Rated

3

out of

5
 by
turtlkky
Great fit, not good for windy areas
First, I'm 5'10'' , have a short torso but long arms. Great fit for me. I can see the length of the jacket being a little small for others since it ends just below the belt line on me. Length in sleeves is perfect. I have the Red, which is a not a bright red but a darker red just like the color on the webpage. Cons, wish it was more wind resistant. Wind seems to pass right through. Great for days where it can be a little chilly but still comfortable to wear if temperature rises in the 70's.
February 14, 2013
Rated

2

out of

5
 by
Jimbodini
Color is off!
I was expecting the color to be red. Like your basic red. Maybe a little darker than basic red. But red, nonetheless. It's more like a dark, dirty, brown/red. Really unattractive. Does not match the color of previous red Columbia jackets I have purchased - not even close.
February 11, 2013
Rated

5

out of

5
 by
flower50
Good looking jacket
I bought this for my husband. He doesn't like big bulky jackets, and this one is wonderful. It looks great on, and keeps him warm. This jacket has style to go with a pair of levis, to kahkis. He loves it!
January 18, 2013
Rated

5

out of

5
 by
DG4life
Great Jacket. Perfect for 40 degrees and above
I am 6 FT, 220lbs. 36" Waist 44" Chest. I got the XXl only because the XL felt a bit small. Great quality, Great construction. Gets the job done easily during a long trek through the Hill Country ;-)
January 11, 2013
Rated

4

out of

5
 by
ColumbiaJacket1
Great jacket
Love this jacket because it is warm and not bulky at all. Arms seem a little extra long but other than that a good fit.
January 3, 2013
Rated

4

out of

5
 by
Adventure43
Great jacket
Ascender™ II Softshell jacket is perfect to keep you warm while providing excellent freedom of movement. The chest pocket is perfect to keep valuables at the ready without worring about losing them. The size is true to fit and the jacket is a bit longer than I wanted but still a great value for the money.
January 2, 2013
Rated

4

out of

5
 by
Verified Reviewer
Tusk is tan, not white or off white
I already owned a black one of these and love it and I wanted a white one. I saw the "tusk" color online, which looked very close to white. When it came to my house, it was tan/light brown - nowhere near white. It depends on your computer because I pulled it up on my smartphone and it did look tan there. Both of my laptops that I own showed it as being very close to white. The quality of this coat is awesome, I absolutely love it. Also, it runs a bit small. I usually wear a medium but for this coat, I wear a large and it fits pretty good. Just might want to keep that in mind.
December 28, 2012
2017-01-22
bvseo-cps-pl-PRR
2017-01-22 T12:44:17.963-06:00
bvseo_lps, prod_bvrr, vn_prr_5.6
cp-1, bvpage1
co_hasreviews, tv_76, tr_76
loc_en_US, sid_WM6645, prod, sort_default
Size & Fit Guide
Size & Fit Guide
Men's Fit Guide
Performance
Body contouring fit conforms to movement.
Performance
Active
Body skimming fit with end-use mobility in mind.
Active
Modern Classic / Regular
Universal, easy fit for comfortable range of motion.
Modern Classic / Regular
Relaxed
Most generous fit for a full spectrum of movement.
Relaxed
Men's Body Measurement (Inches)
Size
Pant Size
XS
28-30
S
32
M
34
L
36
XL
40
XXL
44
Neck
14-14.5
15-15.5
16-16.5
17-17.5
18-18.5
19-19.5
Chest
32-35
35-38
38-41
42-45
46-49
50-53
Sleeve Length
32
33
34
35
36
37
Waist
26-29
29-32
32-35
36-39
40-43
44-47
Hips
32-34
35-37
38-40
41-43
44-46
48-50
Inseam
Varies by Item
Size
Pant Size
L
36
XL
40
XXL
44
Neck
17-17.5
18-18.5
19-19.5
Chest
42-45
46-49
50-53
Sleeve Length
35
36
37
Waist
36-39
40-43
44-47
Hips
41-43
44-46
48-50
Inseam
Varies by Item
How to Measure
1.

Neck:

Measure at the base or thickest part of your neck.
2.

Chest/Bust:

Measure at the fullest part of the chest, under the armpits and over the shoulder blades, keeping the tape measure firm and level.
3.

Waist:

Measure around the natural waistline, allowing the tape measure to sit comfortably.
4.

Sleeves:

Start at the center back of your neck and measure across the shoulder and down to the wrist. Round up to the next even number.
5.

Inseam:

Measure from the top of the interior leg to the bottom of the ankle.
6.

Hips:

Measure around the fullest part of your hips.
How to Measure
How to Measure
Fold up at dotted line.
Place against a wall or other 90 degree surface.

Place heel against fold/wall on flat level surface.
Mark the end of the longest toe with a pen or pencil.
Measure both feet and use the larger measurement.
Read measurement and compare to size chart.
When comparing on the size chart, determine the closest larger measurement and use that number to determine your shoe size for your country's shoe measurement standard.
Shipping & Returns
Shipping & Returns
Shipping Information
Shipping Method
Rate
Expected Delivery Time
UPS Ground
$6.00
3-7 Business Days

UPS 2-Day Air
$12.00
2-3 Business Days
UPS Overnight
$19.00
1-2 Business Days
Free Standard Shipping
Available for Greater Rewards members. Learn more
Return Policy
Returns are accepted within 60 days of the purchase date online or in-store. Your apparel must be in original and unworn condition, with tags still attached. Footwear returns must also include the original box.
Still Have Questions
See our Customer Service section for more details. Visit Customer Service