Men's Bugaboo™ II Pant
Details
http://www.columbia.com/mens-bugaboo-ii-pant-SM8360.html
SM8360
Greater Rewards
members earn

699

points with purchase
Variations
Product Actions
Features
With waterproof-breathable construction and critical seam sealing, these lightly insulated pants provide an ergonomic fit and the perfect amount of warmth, comfort and protection for active days in cold and wet conditions.
Features:
Omni-Tech waterproof/breathable critically seam sealed
Adjustable waist tabs
Internal adjustable leg gaiter
Exterior adjustable waist
Reinforced cuff guard
Articulated knees
Imported
Fabric
:
OMNI-TECH SHELL
100% nylon Legacy twill, 100% polyester
LINING
100% polyester tricot
INSULATION
100% polyester 40g Microtemp Insulation
Omni-Tech™
Waterproof. Breathable. Guaranteed.
Technology Videos
Omni-Tech™
BREATHABLE &
GUARANTEED WATERPROOF.
Air-permeable protection that's waterproof and breathable guaranteed.
Reviews
Rated

4.2

out of

5

 by

57

reviewers.
Rated

4

out of

5
 by
MikeinKCMO
Bugaboo II Ski Pants - A great choice!
I purchased the Bugaboo II Ski pants on a recommendation from a friend. Overall, the pants are of good quality, especially for the price paid. The seems are straight and strong. I particularly like the built-in gators that keep snow out. I used them several times on a recent trip to Colorado both for snow skiing and snowmobiling. The kept my legs warm and dry. I recommend these ski pants for the average weekend skier.
February 1, 2017
Rated

5

out of

5
 by
LUCAS14
Product rating
AWESOME!! FITS GREAT
January 31, 2017
Rated

5

out of

5
 by
NCPLS4444
Ski Pants
Great product, great fit.
January 25, 2017
Rated

5

out of

5
 by
Robrad30
Great pants
I picked these pants up for my 1st ever skiing trip. It was pretty cold (in Banff, at the end of January) and these pants were honestly all I needed. Size was exactly as expected, and they were roomy enough so that mobility wasn't an issue at all.
January 8, 2017
Rated

5

out of

5
 by
skeetsboy928
This product was good for the winter days
the pants were very good for the weather i live in.
January 8, 2017
Rated

4

out of

5
 by
Nesha05
Product quality is good
I love the quality cause it will keep you warm and dry
January 2, 2017
Rated

5

out of

5
 by
Toppmomof3
Great fit
I got these for my son and they fit great! He likes how he can move around in them and they keep him warm and dry!
December 27, 2016
Rated

1

out of

5
 by
eric53
Shocked at what happened
I have these in a M Short. The legs are quite long. More importantly, I wore them once and when taking them off, the top snap pulled out of the material. Not sure why you didn't use Velcro as opposed to these snaps. The broken snap along with the overly long legs renders them useless for me. A waste of money.
December 10, 2016
Rated

4

out of

5
 by
SusanLam
Bugaboo Pants
Rich Colour. Nice Quality. It is True to size.
December 9, 2016
Rated

1

out of

5
 by
DRamp
Plain
Plain Jane sums these up. No venting, not enough pockets (for me, anyway) and even look like Kmart brand. I sent them back for a refund...I believe in Columbia products but this is just poor.
November 20, 2016
Rated

3

out of

5
 by
Coolsocks
Warm but baggy
These pants are warm enough but baggy for active use. Shoveling snow, ice fishing ok but snowshoeing, etc too baggy for use.
August 20, 2016
Rated

5

out of

5
 by
bnbmike
Great winter wear
These are great. I was out on a nicer weather day, but I was plenty warm. I'm tall and with ski boots on the mediums were fine, I'm on the lean side.
May 2, 2016
Rated

4

out of

5
 by
DawnE12345
Great pants
I volunteered at the Iditarod in Alaska in March. It was a little unseasonably warm, so I actually only used these pants on the days I would be outside for extended periods of time. I wore just long johns underneath as was plenty toasty in 20-35 degrees. They held up well too while I kneeled in them to work with the dogs. I got wet once when I was in a puddle for about 15 minutes and the knee soaked through. Otherwise, I love them.
April 6, 2016
Rated

4

out of

5
 by
drfadobsa
One thing to improve
When I ordered it, the representative told me they run about 2 sizes bigger, although this is a good quality item, you can not use any regular clothing underneath it. It will only give room for some thermal clothing. Besides of that, it is a good quality item.
March 23, 2016
Rated

4

out of

5
 by
avponds
Ski Pants
Worried they would be a bit too big but they fit perfectly. Can't wait to try them out.
March 2, 2016
Rated

4

out of

5
 by
Diego2016
It is very good but does not say it is so warm
It is very good but does not say it is so warm
February 26, 2016
Rated

5

out of

5
 by
Davisharmon
Waterproof indeed
Ran these pants through the full gauntlet while backpacking, the expected snow storm was rain for two days, during which these pants held up so well. When the snow(slush) did begin to fall the insulation was the perfect amount. Pair with some good leggings and their even better. Very satisfied with these pants, only thing they could use is another pocket or two..
February 8, 2016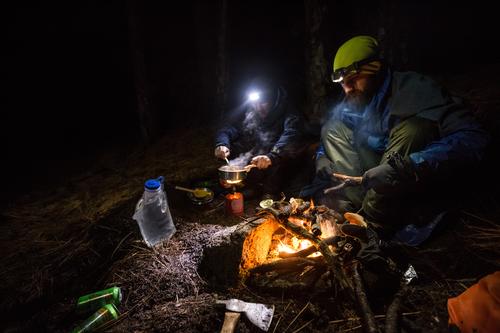 Rated

4

out of

5
 by
Presdune
Bugaboo II
Like the pants from all aspects of warmth and function I would like to know what the inseam length should be on size L short as they seem to be very long. I will need to shorten by at least another two inches to fit my 5' 8" height.
January 28, 2016
Rated

5

out of

5
 by
JKS805
Men's Bugaboo II Snowboard Pants
Nice product. Kept me dry during three days of heavy snow.
January 24, 2016
Rated

4

out of

5
 by
Love2ski
Great option for women
I needed a pair of ski pants, but women's xl is a bit too small. The men's xl short fits perfectly. Thank you!
January 21, 2016
Rated

5

out of

5
 by
Jamestibs
Great pair of pants.
Been waiting on these to go on sale, well worth the money, use them snow shoeing, hiking, camping, great pain of pants.
January 10, 2016
Rated

2

out of

5
 by
KeystoneJosh
Inside seam split after less than a season of use
I purchased these pants because I had a 20 year old pair of Columbia shell pants that had held up great and it was time for an update. The waterproofing works well and the fit is true to size with the length being a little baggy. The bad is that after less than a season of use the inside seam of the pant is coming apart. There is also no reinforcement on the bottom inside cuff of the pant so I am starting to get small cuts in the fabric from my skis.
January 8, 2016
Rated

4

out of

5
 by
DAVIDjr
shipping time
product is what you would expect from columbia.but shipping could be a bit faster
November 6, 2015
Rated

2

out of

5
 by
shivy
great for cold weather not for snowsports
After 20-25 days out skiing the seem on the side of one of the legs failed and started to fall apart. Also I would still find myself getting cold after about 4-6 hours out skiing unless i put a 2nd layer of insulation between the pant and base-layer. Outside of snow-sports the pants would keep me warm just fine. also, reguardless of time spent sitting in the snow the only time water made it thru was a early spring ski when i went thru a puddle.
October 21, 2015
Rated

4

out of

5
 by
baldy50
nice ski pants
nice fit, warm and lightweight.....for skiing or musky fishing, keeps you dry and warm
September 10, 2015
Rated

5

out of

5
 by
CinnAmon
Length
These pants are fantastic. FYI...Regular length is fine if your inseam is 34"-36". Short is good for those with an inseam of 33" or less. It would be nice if these were not seasonal items.
March 14, 2015
Rated

4

out of

5
 by
Picvic
Ski pants
Two of the buttons on the pants broke when I first unsnapped them.
January 22, 2015
Rated

5

out of

5
 by
jons123
Nice Product
These are very warm and nice to wear. The quality seems good and perfect for skiing. I wear 38 waisted jeans and bought the XL size and it fits well. I think you want to error on the larger side given you'll have layers underneath, and the waist has adjustable straps to tighten them up a bit. Only issue with size to be aware of is the length. These seem to run kind of long in length. The extra length won't hurt you, but it does seem like you're dragging the bottom of your pants everywhere. Perhaps the short model is better suited for those of us that need the larger sizes, like XL, for our waist, but 32 and under inseams.
January 4, 2015
Rated

5

out of

5
 by
ngergov
Just perfect!
These pants are just perfect. They fit very good, the insulation material is soft, comfortable and very warm. They have just enough room to perform all kinds of movements without being too lose or baggy. I couldn't be more happier with my purchase.
December 18, 2014
Rated

5

out of

5
 by
Jeff11111
great ski pants
these pants are great. i use them for skiing and they have a lot of maneuverability. the pants feel very light and thin but they are very warm. i wear them with a pair of fleece lined long underwear or underarmour type pants and i am plenty warm even when sitting on a cold lift
October 19, 2014
Rated

5

out of

5
 by
cheltara
Bugaboo pants
Bought with jacket for Scotland and Ryder cup golf. Very warm and dry. Very good product
September 24, 2014
Rated

5

out of

5
 by
fixnkev
Comfortable and warm
Very nice ski pants.
March 25, 2014
Rated

5

out of

5
 by
Jomez97
Two Thumbs Up!
These pants are great! They work well for snowboarding and sledding and just snowy conditions. They keep you dry and warm and look pretty snazzy too! I would totally recommend these pants!
February 24, 2014
Rated

4

out of

5
 by
Garyindiana86
Solid ski pants.
Went skiing for two days with the temps being around 30. I wore these pants with a base layer and kept warm. Sizing was as expected, I am 5' 10' 175 and the pants fit fine. The only thing I would do different would be to add some zippers on the legs to allow for cooling.
February 24, 2014
Rated

5

out of

5
 by
MarkInMd
Great pants, but watch the sizing
These are great pants. They are "true to size" meaning that mine fit the same as a pair of jeans of the same size. However, if you intend to wear them over another garment, like a pair of jeans or sweat pants then you may want to go one size larger. The adjustable waistband will help you take in any excess room. The pants have a nice soft lining, but that can make them a hassle to get on over fleece pants as they tend to grab them. The length is nice and they are not very bulky. Shipping however, left something to be desired. If you are used to Amazon levels of shipping expediency you will be sorely disappointed. I ordered my pants 12 days before my trip thinking that they would arrive in plenty of time. Even with the 1-7 business days quoted I would still have one day to spare. I got an email the day after I ordered saying that they had been shipped. Unfortunately was about as far as they got for 5 days! On the 6th day my package was finally scanned at the origin. The delivery date was the day I was supposed to leave on my trip. Fortunately I was able to have UPS hold the package at the station and I was able to pick it up first thing in the morning. Had I waited for delivery I would not have had the use of the pants on my trip.
February 21, 2014
Rated

5

out of

5
 by
aRod88
Awesome
Dry. Warm. Comfy. Fashionable. Enough said.
February 17, 2014
Rated

4

out of

5
 by
Jimbo1087
Overall a good ski pant
The first time I wore these ski pants it was 4 degrees and I was surprise how well they did. Wearing a base layer I was warm. I ordered the large and overall fit is good.
February 6, 2014
Rated

5

out of

5
 by
HoundofUlster
Men's Bugaboo™ II Pant
I use these in the upper Midwest for snowshoeing and snow blowing. The soft shell exterior sheds snowy buildup easily and helps keep the legs dry. The fit for large-short works very well over hiking boots and my frame. Suggestion - reinforce the legs at the cuffs (inside) for abrasion resistance from snow shoes.
February 2, 2014
Rated

5

out of

5
 by
Sleepingbagguy
Great ski pants
I have recently purchased these and love them. Good for cold days, breathable enough for warmer days on the hill. Ride all day and stay comfy - just what I wanted.
January 30, 2014
Rated

4

out of

5
 by
Pauli
heavy pant
a little large and bulky but still works great!
January 23, 2014
Rated

4

out of

5
 by
pep1213
good quality
The only small issue I had with these pants is that they are a touch to long. Everything else is great . Keeps you warm and dry just like it should
January 22, 2014
Rated

5

out of

5
 by
MrCH
Another great Columbia product
These pants are great! Wore them snowboarding this past weekend and they kept me warm and dry all night long. I am a short guy and I have a hard time finding pants that are a good fit lengthwise. I was very pleased to find that they offered these pants in a short option, and the pants actually fit. And for only $95, its a great value for your money.
January 19, 2014
Rated

1

out of

5
 by
Flyers75
Good for the first day . . .
I received these pants as a gift over the holiday season. I'm pretty disappointed in the quality and durability of these pants. I use them for snowboarding and after the first day, the seams of the pant legs are already separating. I expected more from Columbia, and will not be purchasing any snow offerings from Columbia in the future.
January 13, 2014
Rated

5

out of

5
 by
Laura77
Great skiing pants
I bought these pants for my son, he loved them. It was -1 F at copper mountain CO, he wasn't cold at all.
January 13, 2014
Rated

4

out of

5
 by
VailSkier67
Bugaboo Ski Pant
This item is excellent quality material and construction that I have come to expect from Columbia. The fit was true to size as past purchases while I have noticed that some newer styles have been sized a little tighter in waist and hip. This is a medium weight insulated pant which I prefer versus the heat reflective styles. The one thing lacking which I would have liked to have is the zippered side pocket at mid thigh thus a 4 rating in function. I would recommend this pant to anyone who prefers to wear a light base layer with a medium weight insulated ski pant. Ideal for Colorado skiing in any conditions other than warm spring.
January 9, 2014
Rated

4

out of

5
 by
mom4
Nice and warm
Easy to move in while snowboarding and does the job of keeping warm!
January 2, 2014
Rated

5

out of

5
 by
Mikieskis
Great ski pants for a reasonable price.
I wore the Bugaboo ski pants for 5 consecutive days of hard skiing and they performed exactly as I hoped they would. They were comfortable, but more importantly, they kept me warm and dry with only a base layer underneath. If I would change anything, I would suggest making them a little shorter. I am 6' tall and they were about 2 inches too long.
January 2, 2014
Rated

5

out of

5
 by
Wjbe
Great Pant
Great overall pant. They run a bit long so I went with a s v reg. the pant performed well in rainy cold conditions. There is good insulation to keep you warm.
December 31, 2013
Rated

5

out of

5
 by
HLH8789
He Loved Them
I bought these for a friend that is a skier and he loved them. They are thin enough that you can move and wear a base layer under them. They are perfect!
December 30, 2013
Rated

5

out of

5
 by
201Jeff
Great fit
Of course I was dry and warm but I'm amazed at the fit of the pants. They don't drag on the back cuff and the waist was true to my size.
December 17, 2013
2017-02-01
bvseo-cps-pl-PRR
2017-02-01 T14:27:42.484-06:00
bvseo_lps, prod_bvrr, vn_prr_5.6
cp-1, bvpage1
co_hasreviews, tv_57, tr_57
loc_en_US, sid_SM8360, prod, sort_default
Size & Fit Guide
Size & Fit Guide
Men's Body Measurement (Inches)
Size
XS
S
M
L
XL
XXL
Pant Size
28-30
32
34
36
40
44
Waist
26-29
29-32
32-35
36-39
40-43
44-47
Hips
32-34
35-37
38-40
41-43
44-46
48-50
Inseam
Varies by Item
Size
L
XL
XXL
Pant Size
36
40
44
Waist
36-39
40-43
44-47
Hips
41-43
44-46
48-50
Inseam
Varies by Item
How to Measure
1.

Neck:

Measure at the base or thickest part of your neck.
2.

Sleeves:

Start at the center back of your neck and measure across the shoulder and down to the wrist. Round up to the next even number.
3.

Chest/Bust:

Measure at the fullest part of the chest, under the armpits and over the shoulder blades, keeping the tape measure firm and level.
4.

Waist:

Measure around the natural waistline, allowing the tape measure to sit comfortably.
5.

Hips:

Measure around the fullest part of your hips.
6.

Inseam:

Measure from the top of the interior leg to the bottom of the ankle.
Men's Fit Guide
Performance
Body contouring fit conforms to movement.
Active
Body skimming fit with end-use mobility in mind.
Modern Classic / Regular
Universal, easy fit for comfortable range of motion.
Relaxed
Most generous fit for a full spectrum of movement.
How to Measure
How to Measure
Fold up at dotted line.
Place against a wall or other 90 degree surface.

Place heel against fold/wall on flat level surface.
Mark the end of the longest toe with a pen or pencil.
Measure both feet and use the larger measurement.
Read measurement and compare to size chart.
When comparing on the size chart, determine the closest larger measurement and use that number to determine your shoe size for your country's shoe measurement standard.
Shipping & Returns
Shipping & Returns
Shipping Information
Shipping Method
Rate
Expected Delivery Time
UPS Ground
$6.00
3-7 Business Days

UPS 2-Day Air
$12.00
2-3 Business Days
UPS Overnight
$19.00
1-2 Business Days
Free Standard Shipping
Available for Greater Rewards members. Learn more
Return Policy
Returns are accepted within 60 days of the purchase date online or in-store. Your apparel must be in original and unworn condition, with tags still attached. Footwear returns must also include the original box.
Still Have Questions
See our Customer Service section for more details. Visit Customer Service