Men's Bugaboo™ Interchange Glove
Details
http://www.columbia.com/mens-bugaboo-interchange-glove-SM7939.html
SM7939
Greater Rewards
members earn

350

points with purchase
Uses:
Winter, Ski / Snowsports
Variations
Product Actions
Details
Uses
Winter, Ski / Snowsports
Features
The long gauntlet and burly synthetic palm grip make this waterproof-breathable interchange glove incredibly protective and durable. A fully-featured nylon shell is pre-curved for an immediately comfortable, broken-in fit and the thermal reflective lining beefs up the warming power of Omni-Heat insulation. Inside, the stretchy glove liner is touch screen compatible and is ultra-smooth to slide easily into the more protective, weather-defying shell.
Features:
Omni-Tech waterproof/breathable bladder
Omni-Heat thermal reflective
Durable synthetic grip palm
Removable touch screen compatible glove liner
Long gauntlet
One hand shock cord hem adjustment
Webbing strap adjustment
Removable safety leash
3-Point precurve™
Nose wipe on thumb
Imported
Fabric
:
Omni-Tech Shell
Nylon legacy twill
Palm
Axe synthetic grip palm.
Omni-Heat lining
Omni-Heat thermal reflective
Omni-Heat Insulation
60gsm Omni-Heat
Liner
Smooth thermo stretch, woven conductive fabric
Omni-Heat™ Reflective
Thermal Reflective Warmth
Omni-Tech™
Waterproof. Breathable. Guaranteed.
Technology Videos
Omni-Heat™ Reflective
Magic in a little
silver dot.
Breathable material with little silver dots that reflect body heat.
Omni-Tech™
BREATHABLE &
GUARANTEED WATERPROOF.
Air-permeable protection that's waterproof and breathable guaranteed.
Reviews
Rated

3.6

out of

5

 by

44

reviewers.
Rated

1

out of

5
 by
Jason997
Seams torn and frayed after 2 days of use
All of the seams around the thumb and fingers on both gloves began to fray after one day of use. A tear formed at the base of the thumb after the second day. I like the removable inner liner with the touchscreen-capable fingers, but because of the premature wear, I'll need to return these.
February 11, 2016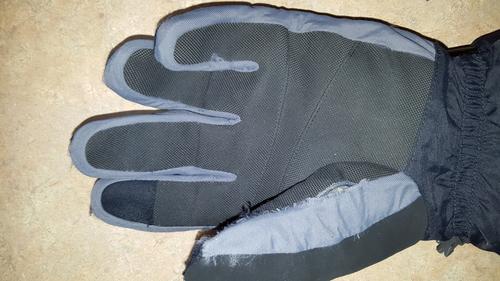 Rated

4

out of

5
 by
wattyp
Nice layered system
I bought these for skiing. As noted, they do run small and I bough the largest size available. The 2 layer system is nice and actually too warm for me. I have been wearing just the outer glove. I really like the form fit, the palms, the upper with the sinch cord. The liners are very tight on me, and it would be a problem getting them over my hands if I really wanted them on and off quickly. I really bought them for the outers, so for me they work very nicely. I had rewards to use, or the price would have been high for just a outer shell.
February 9, 2016
Rated

4

out of

5
 by
John5912
Comfortable but not warm enough
They are comfortable. The touch-screen compatible liners are useful. However, I wish the gloves were warmer. In high 30s, my finger tips get cold when riding ski lifts.
February 1, 2016
Rated

5

out of

5
 by
JAHJAHJAH
perfect gloves
These gloves are exactly what I needed.
January 22, 2016
Rated

5

out of

5
 by
CamB
They do the Job Well
I use these gloves for everything Winter and outdoors during then, including skiing. The gloves are warm for me when I DON'T use a liner which makes no sense, but it works for me - If I wear a liner, my fingers don't generate heat and they get cold quickly. So the gloves work well. The only problem I have is that I use them frequently at a time and they are hard to dry out because of the insulation in them, even when using my girlfriend's hair-dryer. They are sometimes a little damp when I use them as such, but it's not a huge problem as they are still warm. I got them as a gift from my mother for Christmas before a trip, and I wear a medium glove, and these were medium. They fit great on me.
December 31, 2015
Rated

5

out of

5
 by
PIMP
Nice gloves
These feel nice, though I haven't tried them in cold weather yet. I love the interchange, with the inner glove having touchscreen fingertips. They do run small, usually I would wear a Large glove and fit perfect but these were too snug and I exchanged them for the X Large.
December 14, 2015
Rated

5

out of

5
 by
semaJ
Warm and dry
This glove is very warm and keeps your hands dry from melting snow. The inner glove is great because you can use your phone or GPS without freezing bare hands! I've tried on other gloves that fit well as a large, but I read the reviews for this and people said it runs small so I got an XL and it fits great!
December 7, 2015
Rated

3

out of

5
 by
kayaker105
Toasty hands!
Although these gloves run small, they do keep your hands warm. Was skiing in Whistler in mid winter and had to take them off as I overheated. They were perfect for snowmobiling as the ride was faster than skiing.
May 30, 2015
Rated

3

out of

5
 by
RKUSA
Inner Gloves fits perfectly
I have been using the gloves since last three weeks, its comfortable to wear. I bought the large size since I knew there would be two gloves(inner and outer) that I need to wear. These keep my hands warm during temps around 10F, but felt cold in sub zero temps. I needed it to protect my hands during those brutal cold conditions. When removing the gloves, the inner gloves need to be removed separately, which I was not used to. One minor annoyance is there are several plastic tags associated to the inner gloves which scrape the hand. There were four tags which could have been combined to one.
March 10, 2015
Rated

4

out of

5
 by
mrbungle
little snug
I ordered the XL size of these. They're a little snug, from the cinched strap around the wrist to the end of the fingers. Only worn a few times now so maybe they're stretch out some.
March 6, 2015
Rated

4

out of

5
 by
Westfieldgreg
Worked well
I was taking my first ski trip in many years and purchased these gloves. They were great! Kept my hands warm and were very easy to put on and cinch to keep snow out. My only complaint is that at the end of two days of skiing the seams on the little fingers of both gloves were coming apart slightly.
February 28, 2015
Rated

5

out of

5
 by
Peter99
Order a size up
I find that Columbia has a tendency to make their products on the small size. Order a size up from what you think your hands might be. Awesome double layer glove, I found that I ended up hooking the right glove with the string to my jacket, and whenever I needed to use my phone, or get on the lift and use my hands, I would just take off the bigger glove (can't do anything with them on, just like any big glove) and continue with business of snap chatting or Instagram with the lighter more functional glove. Have the string attached to my jacket the whole time was nice because I never worried about losing the glove on the lift
February 25, 2015
Rated

2

out of

5
 by
paddy156
Not Warm
I just used these gloves for the first time. First day temp was 35 gloves were fine however they do run small and tight. 2nd day was 5 with wind chill about -10. Hand were freezing with in 1 hour had to switch to mittems.
February 24, 2015
Rated

5

out of

5
 by
Eagleye
Great gloves and versatile
These gloves are the best I have bought. The fact there are three ways to wear them makes them so versatile for any kind of weather. Lightweight and warm.
February 23, 2015
Rated

1

out of

5
 by
MPski68
Poor manufacturing quality
I was very disappointed in these gloves. Almost immediately the material in the fingers of the gloves began to fray, leaving lots of "loose end" fibers hanging off in all directions. At first I thought this was a minor cosmetic problem only but then the seams on two entire fingers quite literally fell apart halfway through only the 2nd season of use (approx. 15-20 total ski days). The exterior material completely separated leaving a thin white plastic and cotton-like layer as the only remaining covering on my fingers. I was stunned last week to feel cold in my fingers on a very warm ski day and to look at my gloves while on the lift and see that my right one had come apart in 2 places and the left was not far from doing the same. Prior to that I had thought the gloves did a decent job of keeping you warm with the Omni-Heat insulation but were sized a bit small for me (I have worn a "large" ski glove for 20+ years). I normally like Columbia products and find them a good value but due to the very poor construction quality and lack of durability here I would strongly recommend against buying these gloves. I wish I had thought to take some pictures to post here but I was so aggravated that I threw them in the trash at the end of day.
February 22, 2015
Rated

5

out of

5
 by
ToeKnee
Great for Snow
I hope if you buy these gloves you really need warmth, they kept my hands dry and very hot. They are so warm, my hands almost started to sweat before the rest of my body. They will keep you dry and warm for sure
February 19, 2015
Rated

4

out of

5
 by
Danci
Warm Gloves
The Omni-Heat which I call "magic dots" really does keep in your body temp. I wore these out in 8-below F, My hands actually did sweat with medium activity. Not to worry the sweat was wicked away so fingers stayed comfortable. The only concern I have is the fabric on the back side of the thumb. I had columbia gloves in the past with this felt like finish. After one season the felt wore off with moderate use. That's the only part I would change.
February 19, 2015
Rated

5

out of

5
 by
JoeyGSTL
Warm and Functional
Loving the two layers to this pair of gloves. When I was skiing, I would have the base layer on and the larger, warmer glove over the base layer. The material is awesome. My hands were never sweaty but never cold. The ability to take off the outer bigger glove and still stay warm with the base layer AND use your smartphone is a great function of this!
February 3, 2015
Rated

1

out of

5
 by
AlpineClimb
Very disappointed in Columbia..
These gloves are a mess, I bought them thinking I would get the quality I usually expect from Columbia and I was sadly very disappointed. We will start with the sizing, the inside liner is a great fit (I ordered the Large) but the outer shell is wayyy too small! The fingers cut off about 3/4 of the way down and when I have the liner inside the glove I can barely make a fist. The seams at the end of the fingers are huge and very bulky so they constantly irritate my fingertips. The quality of the gloves is not too great either as the first day I wore them I already had stitches coming out and the outer shell again just doesn't seem to fit correctly at all. It's like the liner and she'll do not match up. If I had the L liner and the XL shell I think it would be a better fit... If you are not active in the gloves and you are staying still at a belay station your hand will freeze!! This was only in about 3 degrees and it seems this is the warmest glove Columbia makes. I may be mistaken. The overall look of the glove is great and I wouldn't have minded paying the money that I did for them but I just can't get past the sizing, they are just plain uncomfortable. This is not at all what I expected from Columbia as I have a whole bunch of their gear and love it!! Very surprising to say the least. I would not recommend this product. I will say however that the adjustable cuff system is awesome and I can tighten or loosen the glove very easily with one hand, 5 stars on that aspect, I also really like how long the cuff is and that it has the detachable drawstring so I can attach them to my wrists or just take it out. The smart phone system works very well and I was impressed with that as I like to take pictures throughout my climbs and don't always want to take my gloves off.
January 7, 2015
Rated

5

out of

5
 by
TXsnowbum
Great pair of gloves
Just got off the mountains in Colorado from a couple of days of boarding in negs and single digits. Had no problem keeping my hands warm. Very impressed with the omni heat. Glove liners slid into the gloves easily and data tip function worked well also. The outer gloves are already starting to show a little wear on a couple of the fingertips, but other than that I am very pleased.
January 5, 2015
Rated

1

out of

5
 by
Olsh
Horrid quality
I bought these gloves last season and wore them snowboarding on a three day trip. I did not fall or crash, climb any rocks, dig in the snow, or do anything other than sit down/stand up to strap in. The gloves had threads coming out on multiple fingers and the palm panel actually began to separate, showing the white insulation material. I absolutely would NOT recommend these gloves based on their construction. They did manage to keep my hands warm, but were falling apart after three easy days.
January 2, 2015
Rated

4

out of

5
 by
PeachHunch
Small!
Those gloves run small!
December 22, 2014
Rated

1

out of

5
 by
HSC86P
Returning
The fingers of the glove are extremely small making it very uncomfortable. I returned the gloves for a refund.
December 18, 2014
Rated

5

out of

5
 by
Rwool53
Great Purchase
These are a great glove for skiing. The liner makes it easy to keep hands warm when taking the gloves on and off to deal with children. At -20 my hands stayed warm. They fit well, are comfortable and dry quickly. The built in retaining strap is an awesome feature. I would buy them again when this pair wears out.
December 7, 2014
Rated

5

out of

5
 by
Hank412
Runs small
Picked these gloves up at the end of the season, so I haven't had a chance to truly test them, but they seem very warm. I normally wear a Men's Large glove, so I ordered the Extra Large. The glove liners are a little loose, but the outer glove is nice and snug. Although minor, I'd prefer a Large glove liner and an XL glove. Otherwise, the gloves are nice and well insulated, the gauntlet is thinner than the hand portion, but still lightly insulated. Overall, a great glove that interfaces well with my Columbia ski jacket.
March 28, 2014
Rated

4

out of

5
 by
scubaelk
Warm Gloves
These gloves run a little bit small. The liners run slightly large. If I could have gotten a large liner and x-large glove I think they would have fit great. They are very warm and comfortable. Seem to be pretty waterproof as well. I've worn them on 2 ski trips now and worked great, but have also used them on the 4 wheeler plowing snow and hands got a little cool. Overall I am happy with them.
March 14, 2014
Rated

2

out of

5
 by
odubum
Build Quality is Poor
These gloves have done a good job at keeping my hand warm during some pretty frigid temperatures. Sadly, that is really all I can say good about these gloves. I have had these gloves just over two months and already the seam are coming apart. It's not like I have abused these gloves. I mainly wear them while commuting to work or shoveling snow. I would not expect that after only two months of normal use the gloves would already be coming apart at the seams. St this rate I will be lucky if they make it through this season and the next.
March 4, 2014
Rated

4

out of

5
 by
Jon123
Great Glove above 0
I wear the gloves every day and they keep my hands warm and comfortable. The only time my hands get cold is when I am running the snow blower in below zero temps since my hands aren't doing anything besides holding the handles. Overall a great glove.
February 28, 2014
Rated

1

out of

5
 by
Aef129
Poorly constructed
I bought these gloves to wear for a few days of skiing. I found the construction is surprisingly poor for winter gloves at this price. By my second day of wearing them, they were already starting to fall apart (i.e. threads coming out and holes forming). I would expect this level of wear after a few months or years of use, not just a weekend.
February 23, 2014
Rated

3

out of

5
 by
Shadowman73
Poor Workmenship on gloves
I ordered these gloves because of the quality I expect from Columbia. When these gloves arived I was very dissappointed. The inner liner of the gloves had threads that were pulled and coming apart, the outer shell had a couple spots that were fraying. I was going to return them but had to use them for 20 min. the day I got them because car got a flat and I had to walk a little and they were the only gloves I had. This was my first time ordering online and that was a mistake. I normally get Columbia products in the store to be able to see what I am getting.
February 20, 2014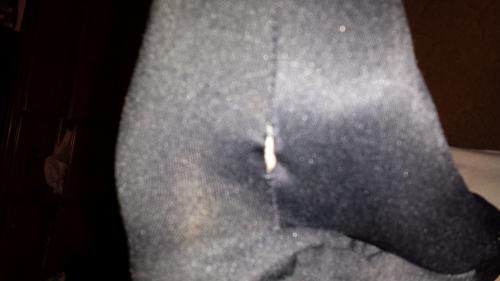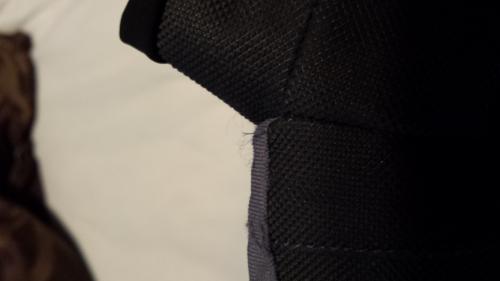 Rated

3

out of

5
 by
Levin
Odd Size
The gloves do keep my hands warm, which is good. But the size of the gloves is just strange! I usually wear L size gloves and before I bought this pair I had noticed a common problem mentioned by other reviewer that the gloves run small. So I decided to buy XL ones. It turned out that the inner liner with touch screen compatible tips is about true size and is too large for me but the outer shells is still a little bit small on my hands. I just have no idea how can these two parts get together. LOL ! I do love the idea of being able to using the smart phone occasionally while keep my hands warm. But I probably will not recommend this product
February 20, 2014
Rated

5

out of

5
 by
PPKK
Great gloves
These are great warm, yet lightweight gloves. Would definitely recommend.
January 29, 2014
Rated

5

out of

5
 by
johniew398
Omni Heat Gloves
I knew the gloves would be warm since I have a coat from Columbia made out of similar materials. I like the liner gloves that you can use or not use.
January 25, 2014
Rated

1

out of

5
 by
Dwight55
Not as good as expected
The gloves were warm but the outer shell was tearing and fraiding after the first day of use. Some of the seams were coming unstitched. This was my second pair of ski gloves. I wanted another pair to have two pairs available. My first pair was more durable and was half the price.
January 22, 2014
Rated

2

out of

5
 by
Drulea
Run Small
I ordered the XL and they were way too small.
January 16, 2014
Rated

3

out of

5
 by
Mookie
Runs small
I really like the two gloves in one. Unfortunately if I try to wear both the gloves together as intended I can't even make a fist. Individually they both fit like a normal Large glove. Just don't cut the tags off before you try them or you won't be able to return them. They do seem like their constructed well, my concern is if I get the XL will the inner glove be to big when worn alone?
January 15, 2014
Rated

4

out of

5
 by
Tedzilla
Surviving the Cold Weather
My first time to use the gloves were in 20 degree F weather and the base layer did well with keeping my hands warm; however, the index finger and thumb tips with the touch screen material did get colder than the other areas of the thin glove. I then used the base layer and the thick external glove while Hunting in 5 degree F weather. My hands did not get cold at all and I was able to properly operate a shotgun with ease.
January 5, 2014
Rated

4

out of

5
 by
ChicagoRunner
Good gloves, multi function
I really like the gloves, they are full featured and warm. I like the multi function capabilities, really three gloves in one, and the fact that the inner gloves have touch screen enabled pointer and thumb is great. My only reason to give them 4 stars not 5 is that the clove is a little small in the large size.
January 2, 2014
Rated

5

out of

5
 by
RoadRunner1
Omni-Heat Rocks and Keeps Your Fingers Warm
Omni-Heat Rocks and Keeps Your Fingers Warm. This is a 3-in-1 pair of gloves that will keep your hands and fingers warm, dry, and feeling good after spending the day in the winter Colorado Rockies. I use these gloves shoveling snow, hiking 14ers, and the usual snowball fights with the kids. As always, Columbia makes great products and will always recommend them to family and friends.
January 2, 2014
Rated

5

out of

5
 by
MommaM
Great Pair of Gloves
I ordered these gloves for my son. He was going skiing with his sister for the first time in 8 years and his move to Texas. His cold weather gear was limited and these gloves helped him hit the slopes with confidence. Thanks Columbia for helping my son have a great vacation.
January 1, 2014
Rated

1

out of

5
 by
Sam3895
A little disappointed
These gloves definitely run small and the seams around the thumb starting coming apart after one day of skiing.
December 19, 2013
Rated

5

out of

5
 by
201Jeff
Best gloves ever
After about two hours shoveling snow my hands were just as warm and dry as when I walked out of the house. The thing I love about the gloves is that the outside can be wet but I didn't feel any dampness in the inside. I plan on keeping these gloves for a very long time.
December 17, 2013
Rated

5

out of

5
 by
CTJohn
The key is interchange
I bought this glove, not realizing for some reason, that this was actually three gloves in one. The quality is typical of Columbia, solid materials and construction, but the thing that makes it better than any other glove I bought is that you're essential buying 3 gloves in two. The light inner glove is great for running and if necessary changing songs or accessing a phone or any touchscreen. My only complaint for this glove is that the material for touch screens on the fingers could be moved a little more to the inner finger for better use. Besides this, having the ability to "create" three different types of gloves (just inner, just the outer, or both together) is great. It's also nice to be able to work outdoors with both and then take off the outer glove and answer a phone with the inner. I've ben really impressed with the gloves so far. Still waiting for some snow to see about the waterproofing for the outer glove. Overall, great glove and you can't go wrong when you're basically paying for three gloves for the price of one. I live in CT and work retail for a sporting goods store and although I've worn just about every brand, I've been extremely happy with these gloves in comparison.
November 30, 2013
Rated

5

out of

5
 by
Verified Reviewer
Great Gloves
I love these gloves! They are warm and easy to tighten with one hand. The glove liners allow me to easily use my Iphone 5 touch screen. Just great.
September 11, 2013
2017-01-22
bvseo-cps-pl-PRR
2017-01-22 T12:44:13.407-06:00
bvseo_lps, prod_bvrr, vn_prr_5.6
cp-1, bvpage1
co_hasreviews, tv_44, tr_44
loc_en_US, sid_SM7939, prod, sort_default
Size & Fit Guide
Size & Fit Guide
| | | | | | | |
| --- | --- | --- | --- | --- | --- | --- |
| Glove Sizes | XS | S | M | L | XL | One Size |
| Unisex Length (Inches) | | 7 1/2 - 7 7/8 | 7 7/8 - 8 1/4 | 8 1/4 - 8 5/8 | 8 5/8 - 9 | |
| Men's Length (Inches) | | 7 1/2 - 7 7/8 | 7 7/8 - 8 1/4 | 8 1/4 - 8 5/8 | 8 5/8 - 9 | |
| Women's Length (Inches) | | 6 7/8 - 7 1/4 | 7 1/4 - 7 5/8 | 7 5/8 - 8 | 8 - 8 3/8 | |
| Youth (Equivalent to Apparel Sizing) | 4 - 6X | 7 - 8 | | 10 - 12 | 14 - 16 | |
| Youth Length (Inches) | 4 1/2 - 6 3/8 | 6 3/8 - 6 3/4 | 6 3/4 - 7 1/8 | 7 1/8 - 7 1/2 | 7 1/2 - 7 7/8 | |
| Toddler (Equivalent to Apparel Sizing) | | | | | | 2T - 4T |
| Toddler Length (Inches) | | | | | | 3 3/4 - 4 1/2 |
| Infant (Equivalent to Apparel Sizing) | | | | | | 0 - 18 Months |
| Infant Length (Inches) | | | | | | 3 1/2 - 4 |
| | | | | |
| --- | --- | --- | --- | --- |
| Glove Sizes | M | L | XL | One Size |
| Unisex Length (Inches) | 7 7/8 - 8 1/4 | 8 1/4 - 8 5/8 | 8 5/8 - 9 | |
| Men's Length (Inches) | 7 7/8 - 8 1/4 | 8 1/4 - 8 5/8 | 8 5/8 - 9 | |
| Women's Length (Inches) | 7 1/4 - 7 5/8 | 7 5/8 - 8 | 8 - 8 3/8 | |
| Youth (Equivalent to Apparel Sizing) | | 10 - 12 | 14 - 16 | |
| Youth Length (Inches) | 6 3/4 - 7 1/8 | 7 1/8 - 7 1/2 | 7 1/2 - 7 7/8 | |
| Toddler (Equivalent to Apparel Sizing) | | | | 2T - 4T |
| Toddler Length (Inches) | | | | 3 3/4 - 4 1/2 |
| Infant (Equivalent to Apparel Sizing) | | | | 0 - 18 Months |
| Infant Length (Inches) | | | | 3 1/2 - 4 |
How to Measure
How to Measure
Fold up at dotted line.
Place against a wall or other 90 degree surface.

Place heel against fold/wall on flat level surface.
Mark the end of the longest toe with a pen or pencil.
Measure both feet and use the larger measurement.
Read measurement and compare to size chart.
When comparing on the size chart, determine the closest larger measurement and use that number to determine your shoe size for your country's shoe measurement standard.
Shipping & Returns
Shipping & Returns
Shipping Information
Shipping Method
Rate
Expected Delivery Time
UPS Ground
$6.00
3-7 Business Days

UPS 2-Day Air
$12.00
2-3 Business Days
UPS Overnight
$19.00
1-2 Business Days
Free Standard Shipping
Available for Greater Rewards members. Learn more
Return Policy
Returns are accepted within 60 days of the purchase date online or in-store. Your apparel must be in original and unworn condition, with tags still attached. Footwear returns must also include the original box.
Still Have Questions
See our Customer Service section for more details. Visit Customer Service