Men's Bugaboo™ Interchange Jacket
Details
http://www.columbia.com/mens-bugaboo-interchange-jacket-1561181.html
1561181
Greater Rewards
members earn

1299

points with purchase
Uses:
Winter, Ski / Snowsports
Size & Fit Guide
|
Reviewers rated this product
True to Size
|
Fit
Modern Classic
Variations
1. Select Color:

Graphite

Out of stock
Product Actions
Details
Uses
Winter, Ski / Snowsports
Features
We've added our patented thermal reflective technology to this classic winter Interchange jacket, delivering an even warmer winter weather fighter with layering options galore. The technical outer shell is waterproof breathable, with adjustability at the hood, hem, and cuffs, and the new zip-in fleece liner features thermal reflectivity, which reflects your body heat for warmth while maintaining a high level of breathability. Each piece works as an outer layer on its own during moderate conditions, or wear them together when you need the jacket's full storm-fighting power.
Features:
Omni-Heat™ thermal reflective liner
Omni-Tech™ waterproof/breathable critically seam sealed
Modern Classic Fit
Zip-in and 3-point Interchange System
Dots warm fleece liner
Removable, adjustable storm hood
Drawcord adjustable hem
Interior security pocket
Zippered hand pockets
Media pocket
Chin guard
Adjustable cuff tabs
Imported
Fabric
:
Shell: 100% nylon plain weave Ultra Touch
Lining: 100% nylon 210T Taffeta
Liner: 100% polyester Dotswarm fleece
Omni-Heat™ Reflective
Thermal Reflective Warmth
Omni-Tech™
Waterproof. Breathable. Guaranteed.
Technology Videos
Omni-Heat™ Reflective
Magic in a little
silver dot.
Breathable material with little silver dots that reflect body heat.
Omni-Tech™
BREATHABLE &
GUARANTEED WATERPROOF.
Air-permeable protection that's waterproof and breathable guaranteed.
Reviews
Rated

4.4

out of

5

 by

91

reviewers.
Rated

3

out of

5
 by
hollygolly
Defective product
The jacket arrived with only half of the bottom snap. Other than that, it's a great jacket.
January 22, 2017
Rated

5

out of

5
 by
tray5900
Love it!
I absolutely love this jacket. I use it for everything from skiing to farm chores around home. It always keeps me warm, dry, and comfortable. One evening, it was about -5F, rainy, and winds averaging 40mph and the jacket did a miraculous job at keeping me warm and dry. Later when I took it off and pulled out the liner, I noticed that the chest was wet. The wind had blown the rain up into the chest pocket which is not water proof. It didn't affect me at that point and I doubt it would have, even with another couple hours outside. That would be the only thing I would like to see fixed. I would recommend this jacket to anyone. The versatility and performance it offers is amazing. Thanks for a great jacket Columbia!
January 13, 2017
Rated

5

out of

5
 by
Tom83
Exceeded expectations
This is the best winter coat that I have ever owned. It is light, but very warm. I am now half-way through my 2nd winter with this coat and couldn't be more pleased.
January 8, 2017
Rated

4

out of

5
 by
pdxmichael
Bugaboo bugs
I ordered this online and didn't realize it didn't have a double zipper. I find that when you are using a coat that you drive with, you need that lower zipper to allow for comfortable sitting/driving.
January 4, 2017
Rated

4

out of

5
 by
JeromeB
great jacket but needs one more feature
I love the jacket and had a chance to test it here in Iowa on below zero windy day. Does everything but one thing I desire. Those of us who have grown in years and a bit around the middle who wear hip length jackets need one thing. A two way zipper. when getting in and out of vehicles it affords a lot of comfort to be able to split the bottom of the jacket. Not sure what Columbia has against 2 way zippers but the are a great feature you should consider on any hip length jacket.
December 23, 2016
Rated

5

out of

5
 by
NHNMONTESANO
Warm and dry
The Pacific Northwest has been cold and wet the last 3 weeks now and wanted a versatile jacket to stay warm and dry!!! Very satisfied with performance of jacket and should make a good rain jacket this spring with heat liner zipped out!
December 22, 2016
Rated

5

out of

5
 by
Kale
Phenomenal product.
I love this jacket. I wear it as much as I can because it is comfy, warm, and looks good. I didn't know the inside of the fleece thermal reflectivity was as shiny as it was. It took a day to get use to it, but now I flash it and tell everyone about it.
December 15, 2016
Rated

1

out of

5
 by
jboogie
Worst mistake buying this product
i purchased this product last year. i read thru reviews and it was rated as a high quality jacket. WRONG! ITS NOT WATERPROOF! not only that but its not even warm. If the weather drops past 45F you freeze you butt off. ive only used the jacket maybe on and off for 2 months, that's not even a full winter. now i have to buy a new winter jacket. i should of just bought a northface, i never had regrets about that brand.
November 30, 2016
Rated

3

out of

5
 by
adn12
Warm coat, wets out
Warm coat, not very water proof after one Syracuse winter, the fleece is the best part about this coat
November 28, 2016
Rated

4

out of

5
 by
Esra
Price
I bought this product aprrox. 15 days ago with a price of 175 usd as a gift for my close friend WHO lives in Miami Beach . We are satisfied about the quality and product. But I am really very sorry about your price strategy. Because you made a discount on 20th of November around 25% and now the price of this product is 131,25 usd . I really feel very very sorry and if possible I kindly ask you to return difference 43,75 usd to my account . Thank you for your return in advance, best regards,
November 24, 2016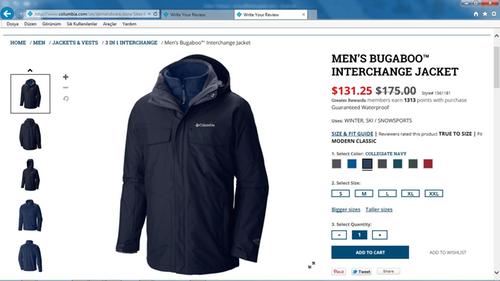 Rated

5

out of

5
 by
Mc2016
Good
Comfortable warm and dry. Was my primary coat on a trip to iceland with a lot of 30-40* weather with lots of rain and i was very and dry. My only complaint is how the fleece sleeves attach to the shell sleeve. It is only a single bottun and when I pull my arm out the fleece sleeve tend to come out of the shell sleeve but that is minor and i just have to remember to grab the shell and fleece sleeve at the same time
September 27, 2016
Rated

4

out of

5
 by
Jeffingbmich
Excellent value
This is a very nice jacket at the sale price I paid, but it lacks some of the features (pit zips, powder skirt) of more expensive (Titanium) jackets. I was disappointed that I felt cold skiing in the mid-20's without a vest under the two layers. It doesn't seem as warm as I expected. I would still buy it again and plan to get another one in a different color.
August 12, 2016
Rated

4

out of

5
 by
Alfredsonny
Great jacket but
The sleeves of the lining appeared to be too tight even tho my arms aren't muscular.
May 22, 2016
Rated

5

out of

5
 by
Sooch
Excellent Columbia Quality
Great winter coat. Top notch value for your money. Has all the features you look for in a Columbia jacket. Runs true to size. Comfortable, even in the arms. Rain repellent.
April 20, 2016
Rated

4

out of

5
 by
Buglady
Quality Construction
We were looking for a year round coat system for the new guy when we stumbled across this coat. It's lightweight and yet flexible and warm. It's durable and the is of quality construction. The only down side is the fleece liner is not black, it's grey.
April 16, 2016
Rated

5

out of

5
 by
MrsD
Perfect
I personally had never owned a Columbia jacket before, but it's the only brand my kids and grandkids but. So I surprised my hubby with one. He loves it. Thank you, Michelle
March 24, 2016
Rated

4

out of

5
 by
JuanPoe
Great jacket
With the liner in, the Bugaboo™ Interchange Jacket is warmer than I'll ever need here in San Francisco. It'll be great for traveling to the Sierra and the East Coast in winter. My only complaint--and it's a minor one--is that the sleeves are a little too long. I'm 6 feet tall, 180 pounds and on the medium jacket the sleeves extend a bit far onto my hands. The cuffs can be tightened with velcro, but they still hang a bit low. The body of the jacket fits fine, so I hesitated to say it runs big. But there's no two ways about the sleeves. I really like the Surplus Green/Graphite color. With the liner in the shell completely blocks the wind. I've walked through some wet, windy weather in this jacket and felt nothing but warm and snug.
March 22, 2016
Rated

5

out of

5
 by
jjaws
Great coat
Bought this to replace my husbands old Columbia coat. We like this one b/c of the versatility of the solid black color we chose, it can be dressed up or use for everyday. Always love your products! Couldn't beat the price either.
March 20, 2016
Rated

5

out of

5
 by
TexMac
Fits true to size
I usually wear size Large but I ordered an XL thinking it ran small, but once it came in I tried it on and realized it was too big. I sent it back and reordered a Large, the Large fit perfectly. I would say this jacket is true to your normal size. Returning it was super easy also, they received it in 2 days and reimbursed me a few days later. Jacket it very nice for rain, really cold weather, and even if it's a little bit chilly. Great customer service and product, I would recommend this.
March 18, 2016
Rated

5

out of

5
 by
msy1973
Super Nice Jacket
Great jacket. Kept me warm and dry during a hiking trip in the Utah mountains. Great quality and plenty of room to keep you comfortable with your pack on.
February 27, 2016
Rated

4

out of

5
 by
ChnKync
Good quality and fits well
Quality is okay and also it makes you warm while you are walking. It is good for trekking though. I would reccomend for it but not for high season of winter.
February 27, 2016
Rated

5

out of

5
 by
Supersonic
Exactly What I Hoped For
This is my first Columbia coat and I am very happy with it. I usually wear XL or 2XL, so I was a bit apprehensive on size after looking at the reviews here saying that it fit slightly small, but I got the XL anyway. Perfect fit, a 2XL would have been way too big. It's definitely waterproof and is very warm. I love the fact that you can remove the inner lining if it's not too cold out and it still looks great. If I had to pick one negative, it would be that the sleeves are a little long (I'm only 5'10"), but that is easily fixed with the adjustable cuffs. Getting it on sale only made it better. Very happy with my purchase.
February 26, 2016
Rated

5

out of

5
 by
TheWayof3
Great coat!
Love the coat! The bottom draw string is not my favorite design, but overall...2 thumbs up!!
February 25, 2016
Rated

5

out of

5
 by
Rolly
So good I have 2
I purchased this coat last winter and loved it so much I purchased a second one this winter. Very warm, withstands harsh temperature and winds. I wore only a polo in minus degree temps and was very warm. The only gripe I have is my shirt sleeves get caught to the reflective material when puttin on the coat causing them to ride up.
February 18, 2016
Rated

4

out of

5
 by
DLTMTZ
Future Investment
I bought this for my son who is 12. Of course it is a little big but he will be wearing it next year.
February 17, 2016
Rated

2

out of

5
 by
brasko
disappointing
The velcro on the shell that runs down the length of the jacket has become frayed and separated from the shell. The jacket itself doesnt seem or feel cheap. so maybe it was a quality control issue. If this were after a couple of years of use, I would understand. but I purchased the jacket at the beginning of December.
February 10, 2016
Rated

5

out of

5
 by
Stumpy
Great jacket
This jacket is awesome. Keeps you warm and toasty.
February 6, 2016
Rated

3

out of

5
 by
romeo
Warmth
I bought this jacket hoping to get rid of a big bulky parka for packing purposes. It indeed fits the bill for packing, however it is not as warm as the parka, which is insulated with thinsulate. I guess if you wear enough base layers it will do, but don't expect good insulation from really cold and windy weather. And, the hood has absolutely no protection at all.
February 6, 2016
Rated

5

out of

5
 by
mixer43
New Bugaboo Jacket
Great jacket for travel to wet and colder places on same trip. Can remove fleece liner and use as a rain shell and wear fleece on colder dry nights. And when it is cold put it all together to keep dry and warm. I would have liked to see a zippered pocketg in the outside front chest area as on the Alpine. There is one on the inside but can't get to it with the fleece liner in.
February 5, 2016
Rated

5

out of

5
 by
1pastor2013
bugaboo jacket
It is a nice jacket, it looks good and fits good.
February 5, 2016
Rated

2

out of

5
 by
Robert111
mens bugaboo jacket
I currently have a Columbia winter jacket very similar to the bugaboo but I wanted a red one. I placed the order in the same size as my first jacket regretfully it is much smaller than my present jacket. I have not returned the new in hopes it will be offered in 2xl so I can exchange it. It has been weeks so I probably will return it very soon.XL
February 4, 2016
Rated

5

out of

5
 by
GohWen
Live up to expectations.
With some layerings, this jacket serves its purpose. Its keeps me warm and the being waterproof and windproof allow me to exhibit freedom to do the activities without worries
January 31, 2016
Rated

5

out of

5
 by
Oregonian1944
Fabulous All-Purpose Jacket
I'm a woman, but prefer the fit of the men's jackets. This jacket is roomy, has 3 layers which I put to the test yesterday. It was pretty cold and I wore all 3 layers and was toasty warm. I've worn it also without the inside fleece layer and was comfortable in 40-50 degree temps. It is also water-proof which in Oregon is much needed. I love that the hood can be adjusted so it stays above the eyes and fits the head better. My other jacket doesn't have that and I rarely wear it in the rain for that reason. I highly recommend this all-weather all-purpose jacket.
January 31, 2016
Rated

3

out of

5
 by
Yorkie3
Functional Disappointment
Absolutely love the color, ordered gloves and hat to match in separate order. Two points: Most important is liner problem, which is most annoying. The coat can't be removed without liner snagging clothing under it, binding up, and making very embarrassing to remove. Sleeves have to be peeled off. Product isn't as warm as presented.
January 30, 2016
Rated

5

out of

5
 by
Tanner
Excellent Jacket!
This jacket is fantastic! The outside shell is truly waterproof, the water just beads off. The fleece interior has the omni-heat material and keeps me very warm by itself in very cold, windy weather. Both pieces are easily worn separately and together and are connected by metal snap pieces which make it easy to put together and take apart. Living in the PNW it rains nearly everyday in the winter and this jacket has proven its worth! I normally wear larges and this jacket fits me fine in a Large. I had ordered an extra-large at first after reading previous reviews and found that was WAY too big. I am 5'10" and about 210 lbs - the large fits me perfect.
January 26, 2016
Rated

5

out of

5
 by
Rockstar250
Great coat!
My husband can't wait to hit the slopes!
January 18, 2016
Rated

5

out of

5
 by
Cort
Favorite jacket!
This is my go to jacket when it's cold and rainy....or just really cold. I love the ability to swap out the liner with other ones. I also have the columbia mighty lite jacket that zips into this one as well. Nice and warm combo. This jacket is very durable and comfortable. You can tell from the quality that it will last a very long time. I'm 5'8" and 160lbs. I bought the small and it fits very well. If anything it's a little large, but it keeps me warm, dry, and looks good in the process. Love the hyper blue color!
January 12, 2016
Rated

4

out of

5
 by
Madhanraj
Surprised with the weight and Amazed with the performance
I used much heavier jackets in the past and was expecting this jacket to be of the same. When I received this product I was surprised and worried that did, I am going to be frozen with this product, however, I was amazed with the lightweight performance jacket that I bought. The size was perfect, light, able to withstand the wind here.... I would surely recommend this product to my friends.
January 7, 2016
Rated

2

out of

5
 by
icecardinal
Not What I Expected
I got my "Bugaboo" coat in October 2015 and it has been a disappointment since I got it. The inner sleeve material catches on every long sleeve shirt I have worn with it. That makes putting it on and taking it off more work than it should be. The velco fasteners don't always work...but worst of all it's not that warm. I was told this would be as warm as my 20 year old Columbia Challenge Series coat which it clearly is NOT. If you want a light spring or fall coat this might be ok, but it is NOT ok for winter in Wisconsin.
January 7, 2016
Rated

5

out of

5
 by
KevinPate
PERFECT FOR COLD WEATHER
The jacket is great, i wear the thermal insert when I am a little chilly and I add the shell when it is windy and wet. It is a good all-in-one jacket.
January 6, 2016
Rated

2

out of

5
 by
Bountyhunter
Unsatisfied customer
I specifically asked about the fit when I ordered as I am aware that sometimes sizes vary. I was told that fit was regular. The coat is fine for fall weather but when cold weather is an issue you cannot layer . The coat itself is not warm enough for winter weather. It does look very nice just too bad I can't wear it for what I bought it for.
January 6, 2016
Rated

5

out of

5
 by
DrewWV
Hesistant, but Wowed
I read several reviews on winter jackets that I could go skiing with on the weekends and wear to work during the week. After comparing many jackets, I selected this one. Once it came, I almost sent it back immediately. I thought, there is absolutely no way this fleece and uninsulated shell are going to keep me warm. I even went to my nearest Columbia outlet store to look for one to exchange it with. The employee at the store told me I should give the current coat a try because the Omni-Tech fleece really does work. So, I decided to give the coat a chance and if I was dissatisfied, I would return it before the 30 days were up. I am extremely glad I gave the jacket a chance. It feels like it adjusts the amount of heat it absorbs based on the outside temperature. I have worn this jacket in temperatures ranging from single digits to the mid-40s and have been comfortable at all times. I am now a believer in the omni-tech fleece. It also fits very well and looks great. As a former review stated, I also wish the collar was not quite so high, but it does help with extra warmth on the colder mornings.
January 5, 2016
Rated

5

out of

5
 by
Humberto
Excellent buy!
I've had my share of jackets, work jackets, and Interchange jackets, and this one is the best by far and my favorite at the moment. It's not too heavy and the Omni-heat makes it warm yet not to hot that you sweat. And the best part is that you get three combinations with the sweater and a jacket in one.
January 4, 2016
Rated

5

out of

5
 by
Shawn2
great quality
My son loves this coat he says it keeps him warm in the morning's while waiting on the school bus.
January 4, 2016
Rated

5

out of

5
 by
BigDad
Loves it.
Purchased this as a gift for our son and he loves it. Omani-Heat is excellent and jacket is light weight and has great move ability.
December 31, 2015
Rated

5

out of

5
 by
CDogg
Just returned from the glaciers and national parks in Chile and Argentina
The functionality, quality and durability of the jacket greatly exceeded my expectations during a recent 11-day trip in remote Chile and Argentina. Layers are essential for warmth, comfort and safety in that part of the world. The outer jacket is 100% waterproof. The interior fleece lining has an added/built-in warmer insert that kept me toasty warm during freezing temps and fierce Patagonian winds. The four exterior pockets were large enough for everything needed for day trekking and photography. I was also pleasantly surprised that the interior fleece lining was removable and had two zippered hand pockets of its own. My only complaint is that the outer jacket's chest pockets have two Velcro tabs each under the flaps, instead of zippers; that made it slightly challenging keeping some snow and rain out of them if the flaps weren't just right. Overall, though, the jacket is exceptional.
December 30, 2015
Rated

5

out of

5
 by
Leslie5913
Great Jacket for the Price
I bought this jacket for my son-in-law for Christmas this year and he loved it. Very warm not to heavy and loves the color.
December 26, 2015
Rated

4

out of

5
 by
JWRIGHT
Nice jacket
I wish I would have gone with a medium but the large has plenty of room. The zipper seems a bit weak we will see how it holds up. The jacket could use more pockets. With zippers. Seems plenty warm.
December 17, 2015
Rated

1

out of

5
 by
GCMCH
Runs a little large and not as warm
I was unable to test this jacket in really cold conditions because I had to return it because the Fit was a bit large. I'm usually an M but this seems to be a fit for an L. In terms of warmth it doesn't seem as warm as other Columbia jackets I've purchased before. I wouldn't recommend this jacket as the warmest one. In terms of color and design it's great. It looks elegant and the black color matched perfectly with the inner grey fleece layer.
December 14, 2015
Rated

5

out of

5
 by
tdboot
Very impressive
I bought this jacket a year ago. Great fit, looks good and keeps me warm on the ski hill. My only wish would be a more convenient pocket for the ski pass.
December 12, 2015
2017-01-22
bvseo-cps-pl-PRR
2017-01-22 T12:43:17.324-06:00
bvseo_lps, prod_bvrr, vn_prr_5.6
cp-1, bvpage1
co_hasreviews, tv_91, tr_91
loc_en_US, sid_1561181, prod, sort_default
Size & Fit Guide
Size & Fit Guide
Men's Body Measurement (Inches)
| | | | | | | |
| --- | --- | --- | --- | --- | --- | --- |
| Size | XS | S | M | L | XL | XXL |
| Neck | 14-14.5 | 15-15.5 | 16-16.5 | 17-17.5 | 18-18.5 | 19-19.5 |
| Sleeve Length | 32 | 33 | 34 | 35 | 36 | 37 |
| Chest | 32-35 | 35-38 | 38-41 | 42-45 | 46-49 | 50-53 |
| Waist | 26-29 | 29-32 | 32-35 | 36-39 | 40-43 | 44-47 |
| Hips | 32-34 | 35-37 | 38-40 | 41-43 | 44-46 | 48-50 |
| | | | |
| --- | --- | --- | --- |
| Size | L | XL | XXL |
| Neck | 17-17.5 | 18-18.5 | 19-19.5 |
| Sleeve Length | 35 | 36 | 37 |
| Chest | 42-45 | 46-49 | 50-53 |
| Waist | 36-39 | 40-43 | 44-47 |
| Hips | 41-43 | 44-46 | 48-50 |
How to Measure
1.

Neck:

Measure at the base or thickest part of your neck.
2.

Sleeves:

Start at the center back of your neck and measure across the shoulder and down to the wrist. Round up to the next even number.
3.

Chest/Bust:

Measure at the fullest part of the chest, under the armpits and over the shoulder blades, keeping the tape measure firm and level.
4.

Waist:

Measure around the natural waistline, allowing the tape measure to sit comfortably.
5.

Hips:

Measure around the fullest part of your hips.
6.

Inseam:

Measure from the top of the interior leg to the bottom of the ankle.
Men's Fit Guide
Performance
Body contouring fit conforms to movement.
Active
Body skimming fit with end-use mobility in mind.
Modern Classic / Regular
Universal, easy fit for comfortable range of motion.
Relaxed
Most generous fit for a full spectrum of movement.
How to Measure
How to Measure
Fold up at dotted line.
Place against a wall or other 90 degree surface.

Place heel against fold/wall on flat level surface.
Mark the end of the longest toe with a pen or pencil.
Measure both feet and use the larger measurement.
Read measurement and compare to size chart.
When comparing on the size chart, determine the closest larger measurement and use that number to determine your shoe size for your country's shoe measurement standard.
Shipping & Returns
Shipping & Returns
Shipping Information
Shipping Method
Rate
Expected Delivery Time
UPS Ground
$6.00
3-7 Business Days

UPS 2-Day Air
$12.00
2-3 Business Days
UPS Overnight
$19.00
1-2 Business Days
Free Standard Shipping
Available for Greater Rewards members. Learn more
Return Policy
Returns are accepted within 60 days of the purchase date online or in-store. Your apparel must be in original and unworn condition, with tags still attached. Footwear returns must also include the original box.
Still Have Questions
See our Customer Service section for more details. Visit Customer Service