Men's Bugaboot™ Plus III Omni-Heat™
Details
http://www.columbia.com/mens-bugaboot-plus-iii-omni-heat-1626251.html
1626251
Greater Rewards
members earn

949

points with purchase
Variations
Product Actions
Features
This super-warm boot features 200g insulation, thermal-reflective liners and is rated at -25F/-32C, perfect for building snowmen, and also pretty great for kicking them over and stomping them into extra snowballs for the fight that said action might trigger. Play fair, play safe. But above all, play.
Features:
Combination of leather, nylon, webbing and metal hardware
Techlite™ shell
Waterproof seam-sealed construction
Omni-Heat™ reflective lining
200g insulation
Rated -25F/-32C
Techlite™ lightweight midsole for long lasting comfort, superior cushioning, and high energy return
Omni-Grip™ non-marking traction rubber outsole
Weight: size 9, ½ pair = 23.2 oz / 660 g
Imported
Material
:
UPPER
Combination of leather, nylon, webbing and metal hardware
SHELL
Techlite™
LINING
Omni-Heat™ reflective
INSULATION
200g
MIDSOLE
Techlite™
OUTSOLE
Omni-Grip™ non-marking traction rubber
Omni-Heat™ Reflective
Thermal Reflective Warmth
Omni-Tech™
Waterproof. Breathable. Guaranteed.
Techlite™
Cushioning midsole
OMNI-GRIP®
Advanced Traction
Technology Videos
Omni-Heat™ Reflective
Magic in a little
silver dot.
Breathable material with little silver dots that reflect body heat.
Omni-Tech™
BREATHABLE &
GUARANTEED WATERPROOF.
Air-permeable protection that's waterproof and breathable guaranteed.
Techlite™
Superior cushioning for impact absorption and high energy return.
Omni Grip™
HOLD TIGHT
ON ANY TERRAIN.
Advanced traction outsole treads grip every environment.
Reviews
Rated

3.9

out of

5

 by

54

reviewers.
Rated

1

out of

5
 by
Lou19
Good but don't make you feet worm
I bought this boots two weeks ago after I read the features on it it's said rated as -25F . The first day cold it's 10F this boots didn't handle the cold my feet it's cold so cold I have to change to my old boots I think I wasted my money . I am not happy at all .
January 13, 2017
Rated

5

out of

5
 by
Asmodeus
Comfortable, warm boot
I got these to replace my bugabootoo boots that finally wore out. Love them. Warm, dry, and comfortable.
January 12, 2017
Rated

2

out of

5
 by
Jcool
COLD FEET
This is a quality made boot, BUT, it does not have the proper temperature rating! I bought these for a trip to Jackson Hole and wore these boots with Smartwool socks and liners for 2 days in °15 to °20 temperatures and my feet were freezing the whole time. I had to break down and buy new boots.
January 9, 2017
Rated

4

out of

5
 by
Wulf
Not great for Cold weather
There are a lot of good things I like about this boot, waterproof, comfort, well made. What I was extremely disappointed in, was that the boot is by no means functional for warmth at its temperature rating. I bought the boot intending to wear in Lapland and Iceland, but I had the opportunity to test them out in -15 degree weather this winter in Montana. My feet were absolutely frozen, even wearing Smart wool liners and smart wool socks. The boot would be great in moderate temperature with wet conditions, but if you're looking for a warm boot with a below zero rating, this isn't for you.
January 7, 2017
Rated

4

out of

5
 by
Rabidcyclist
Nice looking boot, but....
not as warm as I had expected.
December 30, 2016
Rated

4

out of

5
 by
Den1977
Waterproof
Water comes inside of boots through the breathable top.
December 29, 2016
Rated

4

out of

5
 by
OldKingColeH
As Advertized
This boot seems to be made of quality materials and the glue between the boot and the sole has held up so far. They do not have extensive use, but I have worn them for hikes in Colorado (10-20 degrees, 10,000 ft elevation) and my feet were comfortable. I normally wear a 8.5-9, but sized up to 9.5 in these boots and like the little extra space in the toe box that the .5 size gives me.
December 28, 2016
Rated

1

out of

5
 by
sargedp
love/hate
I absolutely loved these boots for the first 2 months. Hands down the best fitting,warmest,lightest boot I have ever worn.But the cloth eyelets ripped in half after 2 months and I tried every fix even wrapping all around with velcro but besides looking ridicules all fixes would fail. I broke down and bought a leather punch and put holes through with metal eyelets that came off and now water gets in.If you could make the eyelets as good as the rest of the boot I would be a customer for life. If you fix this design flaw please let me know. Other than that, great boot!
December 28, 2016
Rated

5

out of

5
 by
PhotographerMan
Great Men's winter boot!
Another great Columbia product! This boot fits perfectly. The boot is built to be very supportive of your ankle. I love the grip on the sole. The insulation is outstanding. I have been using these boots in very cold weather and deep snow. They perform very well. They keep me warm and dry. I highly recommend them.
December 16, 2016
Rated

4

out of

5
 by
Moaz
Perfect for snow but really heavy
The boots are perfect, they keep my feet warm but I hope if they were lighter than that a little bit. One more thing is that it is hard for taking on or off.
December 13, 2016
Rated

2

out of

5
 by
tyson32
cold and wet
I received these boots as a gift a few years ago and have given it time before writing a review. The only time my feet have stayed warm and dry in these boots is when conditions are perfect outside, otherwise my feet are either cold, wet, or both. I have been very disappointed with these boots and will now only wear them when it is dry and relatively warm outside. On the plus side, they are comfortable when I am able to wear them
December 6, 2016
Rated

5

out of

5
 by
JB87
Nice boots
Used these to hunt in GA. It was just above freezing they kept my feet warm.
November 24, 2016
Rated

2

out of

5
 by
Grace101
Didn't work
Bought these for my husband. They were too long and too tight. He has pretty average feet so it seems like they run narrow.
November 14, 2016
Rated

5

out of

5
 by
Leiva
Great boots
I bought these boots about four or five years ago. I used them for hunting, fishing, and hiking. I took them to Europe, the Middle East, and China. They kept my feet warm and dry in all elements. They finally died on me and will be making another purchase of these boots.
September 24, 2016
Rated

5

out of

5
 by
MAHN
Nice quality boot and lightweight
I bought these for my husband and he normally wears a 10 in Columbia shoes but when reading reviewers comments I decided to go with a 10.5 and glad I did. I would recommend going up half a size. If wearing super thick socks then maybe one size up with these boots you don't need thick socks. The boot is lightweight and comes up the leg to a good height.
September 13, 2016
Rated

1

out of

5
 by
Tdog36
Lace eyelets started breaking within the first month
I bought these boots from local retailer due to the colombia name, but, i couldn't be more disappointed. I work in a wet environment, so finding waterproof boots is a necessity. As far as waterproof, they are actually one of the best pair I've ever had. However, the cloth lace eyelets started breaking the first month i owned them. It is now 3 months, and, no lie, i have only 4 not broken, out of 10 on one boot, and only 3 left out of 10 on the other. I'm afraid to drill holes for the shoe strings for fear that it will compromise the waterproofness of the boot, and have resorted to wrapping the shoe strings around the boot like the Romans did with their sandals. I have finally realized these boots are a lost cause, and will switch to a different brand. I would have taken them back for a refund, but, the vendor requires a receipt, which i unfortunately did not keep.
May 29, 2016
Rated

5

out of

5
 by
galvan71
columbia product
all perfect the product is amazing
May 18, 2016
Rated

5

out of

5
 by
kevbrad44
Very Satisfied
I have worn these boots in temperatures ranging from -5 to 40 degrees Fahrenheit. They keep your feet from being cold but don't keep them hot. Comfortable.
April 1, 2016
Rated

5

out of

5
 by
nixdorf
Awesome boots
I picked up these boots for fishing in the Southeast in cold weather (20F and above). I am not disappointed. They function well. The only minor complaint I have is that the sole was very stiff when the boots were new, and it took approximately 20 hours of wearing them for the sole to "break in". Again, a minor complaint. I would buy these again in a heart beat if I were in the market.
March 28, 2016
Rated

5

out of

5
 by
Superman42093
Love my new boots
I've had Columbia boots before I prefer them and these new boots don't make me regret my decision
March 28, 2016
Rated

5

out of

5
 by
Johnny586
Great boot
Love these boots. Bought a brown pair for my son because he out grew what he had and was using my older Columbia duck style. When I tried these out snowblowing I knew I needed a pair. So much lighter, flexable , warmer and comfortable then my duck boots. I got the grey ones, like the brown better. Can even wear while driving. 1 season so far
March 20, 2016
Rated

1

out of

5
 by
dom888
left boot !
My left boot is smaller than my right boot. It hurts my first and fifth toes on the left side. My left boot made a 'bad fold' on the left side that keeps hurting me. It did that right on the first day. My right boot did the same after a few gentle walks. I emailed Columbia several times in order to get them replaced or refunded. And they kept answering me that they would look at the boots and if they look fine to them, they would send them back to me exactly as they are ! I have been a returning client to Columbia for years...in retail stores and online. But I am done with them. They lost a good client for 120$ can...
March 18, 2016
Rated

1

out of

5
 by
acesoft
Does not compare to my original Bugaboot
I purchased these boots to replace my original 3 (or maybe 4) year old Bugaboots. My originals were the best, longest lasting boots I have ever owned. With putting 3 plus miles per day, 7 days a week every winter and some spring and fall days, it was a no-brainer to replace them with the Plus III. First impressions were not bad, although lighter than my originals the quality seemed fair. The lighter weight may not be an attribute though. The thinner rubber on the vamp (the top of the foot part) collapses and pinches you as it bends up when you walk. On very cold days the rubber is stiff enough not to pinch. I found the Omni-heat insulation as warm as my old boots except at the toes. The one deal-breaker for me as to why I would not recommend these boots is the stiffness of the collar (the very top of the boot). Even with the fairly comfortable padding, my left calf was so bruised after my first walk that I had to park the boots for a week until I healed. Both left and right boots have an unnatural V shape at the collar with the left being the most out of shape. I tried stretching them around a plastic pipe and placing them near a heat register, hoping that this would help but it didn't. Boot season is nearly over for this year, maybe I'll try again next fall...Or maybe I'll just donate these and try something different.
March 13, 2016
Rated

5

out of

5
 by
kolson18
comfortable and warm
i have had other high topped boots that were painful to wear and i was concerned these would be the same. i have found them to be supportive and very comfortable, even when wearing them all day. although the outsole can be squeaky on my hardwood floors, i bought them to wear outside in the winter so it isn't an issue. i am very happy with my purchase, they keep my feet warm without the bulk of other boots.
March 2, 2016
Rated

5

out of

5
 by
Heywood
Cool Boots....
These are a great pair of boots. They are very comfortable and easy to walk in. They are a little bit on the tall side, but that can be good for deeper snow. They are warm and soft on the inside. An all around great purchase for anyone who needs a good pair of boots for their outdoor trekking....
February 26, 2016
Rated

4

out of

5
 by
Chuck86
Good waterproof shoes
Shoes are very warm and are waterproof. They are a little tight for wider feet
February 24, 2016
Rated

5

out of

5
 by
headnorth
Warm, Dry and Grippy
Very comfortable! They do what they say plus they have great traction.
February 22, 2016
Rated

5

out of

5
 by
Nateflyguy
Winter boots have come a long way
Very good looking and one of the best features is lightweight! Easy on and off boot! very comfortable for all day use or commuting in the snow to and from school or work.
February 21, 2016
Rated

4

out of

5
 by
kw07645
Great winter boots
Much improved over the previous version, which were very stiff, very heavy. I ordered my regular boot size (10.5) and they fit fine with a thick hiking sock. They are lighter than I expected, and while not as flexible as a pair of sneakers, do a good job keeping your feet dry and warm.
February 19, 2016
Rated

5

out of

5
 by
Butchie43
Bugaboot
Excellent boot. Very comfortable. Very satisfied with the purchase and great sale price.
February 17, 2016
Rated

4

out of

5
 by
rach12345
The shoes run large
The shoes run large and seems like they would be better for someone with a wide foot
February 17, 2016
Rated

5

out of

5
 by
Eddie157
Good Boot
good boot keeps feet very warm nice fit durable
February 13, 2016
Rated

5

out of

5
 by
Kalaybab
Great boots
The black is by far the best looking of all of them. The construction is excellent. But I had to return it because it was a half size too small.
February 10, 2016
Rated

5

out of

5
 by
Carlo
Great product
Excellent product. Lightweight but sturdy construction. Designed pretty well. Kept my feet warm and dry during winter/snow storm conditions.
February 10, 2016
Rated

3

out of

5
 by
Therealace
Too stiff for a Columbia
I am not new to Columbia products. With that being said, I ordered these boots online thinking that all Columbia shoes are a true fit. Not the case here. These boots fit rather on the tight side so a 9.5 is more like a 9. They are very stiff all throughout the boot especially in the ankle and shin area. The laces are too short for you to loosen them up to make them hurt less so you're stuck with a sense of uncomfort for the entire period you have them on. They are very warm and waterproof so I guess that's a plus.
February 10, 2016
Rated

5

out of

5
 by
TGMasse
Men's Bugaboot Plus lll Omni-Heat
Excellent Boot. Warm and lite weight. One minor issue is lacing the boot to the very top can restrict full ankle movement. This is alleviated by lacing to the second hole from the top.
February 5, 2016
Rated

1

out of

5
 by
WillB
Cold feet
I bought these boots at Gander Mountain. They were rated for 65 below zero, so I got them for my Alaskan trip in January. The temp rating is so far off as to be fraudulent. Even at 20 degrees above zero, my feet get cold on a one hour walk. Fortunately for me, this Alaskan winter has been very mild. In a typical winter, I would have been house-bound or would have lost toes to frostbite in these boots. This experience makes me doubt all of Columbia's ratings from now on. DON'T BUY THESE BOOTS!
February 4, 2016
Rated

4

out of

5
 by
RICOSTAR
VERY COMFORTABLE
I WAS SURPRISED HOW COMFORTABLE THE BOOTS WERE WHEN I PUT THEM ON. THEY FEEL VERY WARM, BUT WILL NOT BE ABLE TO TELL UNTIL I WEAR ON SNOWY STREETS. I THINK THE MATERIAL, EVEN AT $90 IS KIND OF CHEAP BECAUSE THEY HAVE SQUEAKY SOUND WHEN WALKING ON HARD FLOOR IN HOME. THEY HAD TO REDUCE THE PRICE! I CAN'T STAND SQUEAKY SHOES OR HEARING WOMEN WALK IN HIGH HEELS! I WILL BE PUTTING THEM THROUGH THE SNOW TEST AND TRY NOT TO WALK IN UNDERGROUND STORE AREA TOO MUCH. I WILL BE LOOKING FOR A BETTER PAIR SOON.
January 29, 2016
Rated

5

out of

5
 by
PattiW
Customer Service
I just talked to BJ in Oregon and he was so helpful. He was very patient and kind to me. this was a Christmas gift for my son and i ordered the wrong size. BJ makes it sound like this is going to be a very easy return process. Thank you so much and Happy 2016. Patti Wilcox
January 5, 2016
Rated

4

out of

5
 by
pleeman
Great light boot
I wear a 9.5 in every other shoe I wear so I purchased the same size in this shoe. I was hesitant they would be too small, but even wearing medium weight wool socks they fit great. I really like how light the boots are. The laces seem a little short, but that's really the only slight negative.
January 1, 2016
Rated

5

out of

5
 by
BigM
Great product
First pair of waterproof boots I have ever owned, I will be a return customer these boots keep your feet warm and dry in rain, and snow worth every dollar spent
December 31, 2015
Rated

1

out of

5
 by
UnhappyCamperToo
Good for a disposable boot
I own the previous version of this boot. It was reasonably comfortable and warm the first winter, so I was reasonably happy. However, before the second winter the top had begun separating from the bottom on one boot. That problem became worse, and by the end of that winter both boots were essentially separated. The bottoms are now disintegrating slowly - large cracks at the toe joint and along the sole have developed on both boots, and large chunks are missing from one of them. This seems pretty unsatisfactory to me, particularly for boots that are worn only a few times per year. This degradation seems to happen when the boots are not being worn, so I think there is something wrong with the material. I wrote to Columbia asking for some consideration and relief, and they offered me 15% off another pair. (Not a great deal in my mind, as I can probably find that discount or more every single day from Columbia retailers in the local area.) Anyway - this version might be better than the version I have, but for me I think I'll send my money to companies who build a better boot and stand behind their stuff better.
December 30, 2015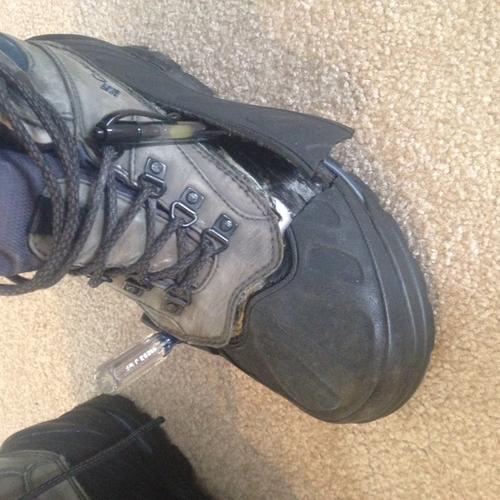 Rated

3

out of

5
 by
Goose91
Buywr Beware
I purchased these boots back in the summer knowing that the Minnesota winter might be terrible and wanted my feet warm and dry, as advertised. For a little background information- I am on my feet nearly 10 hours a day 6 days a week in every single element that nature can throw at me. I wanted boots that were up to the job and wouldn't quit. This last November I finally broke them out and gave them a field test of roughly a month and a half and put them through some vigorous situations. My feet had gotten wet in puddles as small as a 1/2" and the boots did not keep my feet dry and some snowy days. That being said they are pretty comfortable for a work boot and your feet will thank you if you have to go out on an all day adventure. Just don't go anywhere that moisture might be. It might be that I have a defective pair of boots but I would certainly return them given the chance.
December 21, 2015
Rated

4

out of

5
 by
zyxw
great for snow weather
Pros Great product. Well made Feet warm Perfect for snow weather and hicking Cons Sole stiff, so not good for everyday Stiff around the leg, so not good for everyday Felt close to a ski boot. Those aren't really cons, if snow is where one will be, but cons if one wants it for everyday life without snow Great boot for what it is
December 9, 2015
Rated

1

out of

5
 by
Nothappycampers
Too much money to pay for defected boots!
All of the eyelets that the shoestrings thread through have busted out! Only wore twice!!
December 8, 2015
Rated

5

out of

5
 by
ZLeng
good product
feels very warm, like it
December 8, 2015
Rated

5

out of

5
 by
Holly1977
Happy Husband
My husband says they fit good and they're the most comfortable boots he's ever had.
December 2, 2015
Rated

1

out of

5
 by
Bearsly1
Sweaty feet frozen feet
Boots dont work in cold weather if your feet sweat and then you sit in 30 degree or colder weather you will freeze had to buy a size bigger because my size to tight first time i wore them hunting they were fine in morning but after walking back to camp my feet sweat then in the afternoon after about 2 hrs my feet hurt from the cold if your walking or moving around there fine just dont try to sit they are also to stiff never broke in after three weeks
November 29, 2015
Rated

5

out of

5
 by
Rickster
Wonderful
Wonderful and fits amazingly.
November 25, 2015
Rated

5

out of

5
 by
Grady81
Excellent
Just picked a pair up and couldn't be more satisfied. Was surprised upon trying them on that I needed a half size smaller than all my other Columbia shoes I've worn but oh man are they comfy! Warm, good looks, great traction, waterproof, what more could you ask for?
November 22, 2015
2017-01-16
bvseo-cps-pl-PRR
2017-01-16 T13:36:47.091-06:00
bvseo_lps, prod_bvrr, vn_prr_5.6
cp-1, bvpage1
co_hasreviews, tv_54, tr_54
loc_en_US, sid_1626251, prod, sort_default
Size & Fit Guide
Men's Shoes
| | | | |
| --- | --- | --- | --- |
| USA | UK | EU | CM |
| 7 | 6.5 | 40 | 25 |
| 7.5 | 7 | 40 ⅔ | 25.5 |
| 8 | 7.5 | 41 ⅓ | 26 |
| 8.5 | 8 | 42 | 26.5 |
| 9 | 8.5 | 42 ⅔ | 27 |
| 9.5 | 9 | 43 ⅓ | 27.5 |
| 10 | 9.5 | 44 | 28 |
| 10.5 | 10 | 44 ⅔ | 28.5 |
| 11 | 10.5 | 45 ⅓ | 29 |
| 11.5 | 11 | 46 | 29.5 |
| 12 | 11.5 | 46 ⅔ | 30 |
| 13 | 12.5 | 48 | 31 |
| 14 | 13.5 | 49 ⅓ | 32 |
| 15 | 14.5 | 50 ⅔ | 33 |
| 16 | 15.5 | 52 | 34 |
| 17 | 16.5 | 53 ⅓ | 35 |
How to Measure
How to Measure
Fold up at dotted line.
Place against a wall or other 90 degree surface.

Place heel against fold/wall on flat level surface.
Mark the end of the longest toe with a pen or pencil.
Measure both feet and use the larger measurement.
Read measurement and compare to size chart.
When comparing on the size chart, determine the closest larger measurement and use that number to determine your shoe size for your country's shoe measurement standard.
Shipping & Returns
Shipping & Returns
Shipping Information
Shipping Method
Rate
Expected Delivery Time
UPS Ground
$6.00
3-7 Business Days

Free Standard Shipping
Available for Greater Rewards members. Learn more
Return Policy
Returns are accepted within 60 days of the purchase date online or in-store. Your apparel must be in original and unworn condition, with tags still attached. Footwear returns must also include the original box.
Still Have Questions
See our Customer Service section for more details. Visit Customer Service