Men's Platinum 860 TurboDown™ Down Jacket
Details
http://www.columbia.com/mens-platinum-860-turbodown-down-jacket-1567851.html
1567851
Greater Rewards
members earn

1349

points with purchase
Size & Fit Guide
|
Reviewers rated this product
True to Size
|
Fit
Modern Classic
Variations
1. Select Color:

Black

Out of stock
Product Actions
Features
Packing serious heat for the active winter adventurer, this progressive men's jacket is outfitted with our performance-enhanced down—a combination of 60g Omni-Heat® synthetic insulation and 800-fill goose down means 860 TD of ultimate lightweight warmth and heat retention, even when wet. The rich, water-resistant shell fabric has a lovely sheen, and the clean, fine-tuned design will take you from mountain to street with ease.
This product is made with 100% responsibly sourced down. We are committed to ensuring the highest industry animal welfare guidelines.
Learn More »
Features:
860 TurboDown™ Insulation
Responsibly-sourced down insulation
Omni-Heat™ reflective lining
Water resistant fabric
Binding at collar and cuff
Drawcord adjustable hem
Zippered hand pockets
Center back length: 28"
Imported
Fabric
:
Shell: 100% nylon 30D Micro Rip-Stop
Lining: 100% polyester Omni - Heat™ Reflective Microtex DP
Insulation: 800 fill goose down + Omni-Heat™ synthetic insulation, 60g
Insulation: Responsibly-sourced down
Omni-Heat™ Reflective
Thermal Reflective Warmth
Technology Videos
PERFORMANCE
ENHANCED DOWN.
Like a down jacket on steroids.
But it's legal.
Omni-Heat™ Reflective
Magic in a little
silver dot.
Breathable material with little silver dots that reflect body heat.
Reviews
Rated

4.3

out of

5

 by

78

reviewers.
Rated

5

out of

5
 by
JulieB
Loved the gift
I gave this to a relative who drives with the top down on his car year round and he called all excited about it. He absolutely loves it and says it is incredibly warm.
January 20, 2017
Rated

5

out of

5
 by
rangeman
Excellent Coat
I really like this coat. It keeps out the wind exceptionally well and I was quite surprised at how well it repels water. Very warm. The only thing I wish it had would be an inside pocket or two and a maybe a zipper chest pocket. Other than that I am greatly impressed.
January 4, 2017
Rated

4

out of

5
 by
SEZ60089
Nice jacket, just not functional
This is a nice jacket -- unless you need functionality. The lack of pockets make it hard to do more than use the jacket for causal activities. I will be returning mine today because I need greater flexibility than two side pockets.
January 4, 2017
Rated

1

out of

5
 by
KeepMeWarmPlease
Decent but not warm
If I had paid full price I would have been terribly disappointed. You would expect with a down fill power of 800 that the jacket would be warm but it is not. This jacket did not keep me warm under 45 degrees while I was wearing two layers underneath. It is also stiff. The Columbia products I've purchased to date have been mediocre; I've had much better results with other brands and this will probably be my last Columbia purchase. I am returning the jacket.
January 4, 2017
Rated

5

out of

5
 by
DougW
Warm Jacket
I am 5'9, 180 lbs and purchased a Medium. I love this jacket. It fits well. It is just a tad big on me, but honestly, it's perfect because I typically wear a fleece underneath it so it ends up being perfect with that extra layer. I have worn this with just a t-shirt on underneath in 40 degrees F and have been comfortable while walking. I have worn this with a fleece underneath in 25 degree F weather while sitting and will be slightly cold. However, once I get up and about and start walking, I feel warm. Perfect for hiking and casual wear. Will likely wear this (with a t-shirt underneath) under my ski jacket when snowboarding.
January 3, 2017
Rated

4

out of

5
 by
squider78
Nice jacket, color not like photo
This jacket is good quality. I bought it for my husband for Christmas. He liked the fit and warmth. However, the New Cinder color looked like a deep brown in the photo on the website. When it arrived, it looks more like a deep purple-brown. My husband really disliked the color. Unfortunately, this jacket is not made in black or grey. We will return it for another option.
December 25, 2016
Rated

4

out of

5
 by
LW68
Great product
This product kept me really warm under minus temperature. Would have been even better if it comes with a hood. Ordered according to my body measurement against the size chart. However, size runs a little big .
December 16, 2016
Rated

5

out of

5
 by
Martin1789
Keeps you warm
I bought this jacket because I was taking a trip to the Windy City of Chicago. I hate to put on a big coat because they are so bulky. This coat is light weight and keeps you warm. I had a long sleeve shirt under my coat and was just fine in the 40 degree weather that Chicago had that weekend.
December 14, 2016
Rated

3

out of

5
 by
diegoh
size problem
using the size reference in columbias web i order an XL size and is to big L size is the right size take this into account when you order on line.
December 13, 2016
Rated

4

out of

5
 by
MNJAY
Good For MN Winter
I struggled with deciding between the 590 and 860 for a Minnesota winter. I originally purchased the 590 as I liked the added features, but returned it after trying it on in 15 degree temperature. Since wearing the 860, it's been as cold as 8 degrees (below zero windchill) and has kept me plenty warm with only a light sweater underneath! As with a couple other reviews, I gave it 4 stars because of the lack of inner pockets, and wishing it had a hood (have not been able to locate any with a hood in store or online). I'm just under 6 ft and 175 pounds and the medium fits well. If not for the "dad bod" I could probably fit in to a small.
December 8, 2016
Rated

5

out of

5
 by
Lookooo
Excellent!
Perefect,,,, ,,,,,,,!
July 18, 2016
Rated

4

out of

5
 by
Jairo
Good purchase
To me, it fits really just great. I had used it for 2 months and felt confortable and I felt it as a very warm gear. I do recommend it
May 21, 2016
Rated

5

out of

5
 by
andreag
Excellent!
This jacket is awesome! I wore it with 50 degrees and just a t-shirt below and I was sweating, super warm!
May 17, 2016
Rated

5

out of

5
 by
ram74
Great jacket for price.
Kept me very warm at temperatures as low as 5 degrees F. Have not used it below this temp. Keeps me very dry in light rain. I wish it had inner pockets.
May 3, 2016
Rated

5

out of

5
 by
jacketdl
Men's Platinum 860 TurboDown™
product fits great,and functional. Jacket moves well and does a great job trapping body heat keeping me warm. I have actually slept in this jacket during a camping trip! love this jacket
April 21, 2016
Rated

5

out of

5
 by
waco
Men's Platinum 860 Turbo Down Jacket
A wonderful jacket - light, but will keep you warm on the coldest day. It easily can allow for layering - but with the warmth you really don't need to layer. Another winner from Columbia.
March 2, 2016
Rated

5

out of

5
 by
sabacek78
great product
fit true to size, very warm, thin, comfortable, fashion, simply really great jacket. I would totally recommend to everyone....
February 22, 2016
Rated

5

out of

5
 by
Geov
Jacket
Very warm and comfortable
February 20, 2016
Rated

4

out of

5
 by
Lebo43
Great lightweight jacket
This is a great lightweight jacket that keeps you warm my only complaint is why doesn't it have two inside pockets and a pocket for your cell phone.
February 20, 2016
Rated

3

out of

5
 by
RCJC
850 Down
I was stunned when I received this jacket as the package was so small. I expected a down jacket with 850 fill down to be much thicker. I thought perhaps it was compressed, it wasn't. Apparently I did not read the description well enough and ended up with a thinner down jacket than expected. It is lightweight but may be acceptable warmth wise as it has not been tested in very cold weather yet. Appears well made of quality materials. Could use an internal pocket or two. Jacket is very comfortable and may work well under a shell. On it's own I am not sure yet if it is up to a winter storm on it's own. Jackets material is more shiny than it appeared online.
February 15, 2016
Rated

5

out of

5
 by
crwill98
First Quality
Very nice, true to size.
February 13, 2016
Rated

4

out of

5
 by
JimmerDubya
Only Change 3 things
Quality is good but did have a few loose stitches near the pockets. Fit is as described, does not taper towards bottom, although it would be better if it did. My only actual issues with the jacket are the pockets. The two pockets are not insulated and the zippers go all the way past parallel with the ground, so when you sit, things fall out of unzipped pockets. The addition of an arm or inside or outside chest pocket would have made a significant difference for me. Extra pocket would be worth a 1 star increase.
February 11, 2016
Rated

5

out of

5
 by
JohnnyS
Excellent Jacket!
I love my Columbia Platinum 860 Turbo Down jacket. I am wear it everywhere (snow, daily) and it has served me well. It is very warm and stylish, so I am very pleased. Thanks, Columbia!
February 10, 2016
Rated

5

out of

5
 by
JimWV
excellent jacket
I bought this jacket on a whim based on good reviews. I am quite pleased with this jacket overall. Sleeve length and fit in the shoulders is good, but the torso is larger than I expected... Would be better if it was more fitted. The jacket is really lightweight but really warm. It kept me warm working outside in below freezing temps but I don't get overheated if I am wearing it indoors. The black color has a slight bluish tint in fluorescent light but it is definitely black. Would definitely buy again... Wish I had bought it sooner.
February 8, 2016
Rated

3

out of

5
 by
Shartnado
Warm but awkward...
I'm a fairly typical semi-athlectic size (6'1- 170- 32" waist), and the midsection on this jacket is really bulky. The shoulders fit nicely, but I'd love for the middle to fit more naturally. When fully zipped, I can pull the jacket nearly a foot away from my body. I looks great when unzipped, but the extra bulk is unnecessary and atypical of any of my other Columbia jackets.
January 28, 2016
Rated

4

out of

5
 by
NHNative
Don't let the light weight and thin design fool you!
Let me just start by saying that the ONLY reason I didn't give this jacket 5 STARS was the lack of an internal phone pocket. I've seen comments about these TD Jackets being thin, and they are VERY thin considering the amount of protection they provide. I actually can't understand how this jacket keeps me this warm and is this light and thin. VERY comfortable jacket!
January 25, 2016
Rated

2

out of

5
 by
Jessie2008
the down feather has been keeping coming out
I am very unhappy with this product, the down feather has been keeping coming out which makes , and it doesn't warm up very well. I definitely won't buy it again, I would have returned it if I was in USA ( Customer from China )
January 24, 2016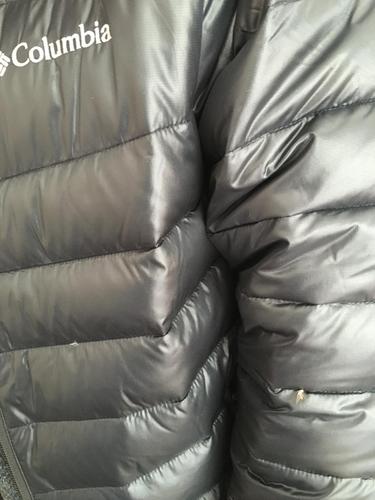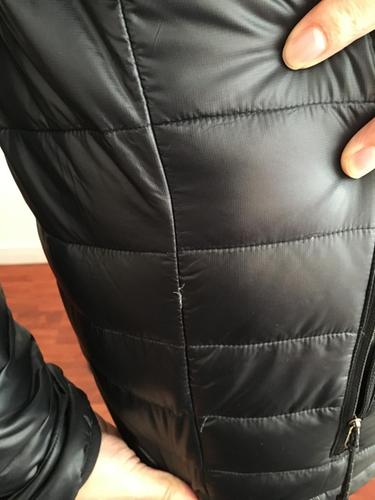 Rated

2

out of

5
 by
RickInIndy
Surprisingly big
I wear large shirts and jackets. Ordered this in a large and it was way too big. I returned it.
January 15, 2016
Rated

5

out of

5
 by
Bert47
Great Product!
Warm, durable, and light weight. Fits well over a mid-layer. Highly recommend this jacket.
January 12, 2016
Rated

5

out of

5
 by
kelly1985
Perfect down jacket
I like this jacket very much and i like Columbia's Omni-heat! I bought Size S and it fit to me well!
January 11, 2016
Rated

2

out of

5
 by
WestTenn
Disappointed
I've been buying Columbia products for 15+ years. I was very disappointed in this jacket because of the fit. It was true to the large size in the arm length and coat length, but the chest and circumference of the body of the jacket fit like and extra large. When I had my husband try on the medium in the store the arms were too short but the body fit perfect. I've never had this problem with Columbia products, but this one is being returned.
January 9, 2016
Rated

4

out of

5
 by
Jerry73
My first down jacket
With this being my first down jacket I have little to compare it to. Size: I'm 5'11" 175lbs athletic build and the size large fits well in the shoulders and sleeves. It's obviously not designed for an athletic body with a tapered torso as the body of the jacket is baggy. Very warm jacket but needs a inner or outer chest pocket.
January 7, 2016
Rated

5

out of

5
 by
Ecowarrior
Turbo 860 td jacket
Had an opportunity to wear in both warmer and clear cold weather with cold wind. Super weight and wind protection in that I was wearing merely a dress shirt, without layers. I compared to north face and other similar coats, this was the best choice. Bring the snow and cold.
January 7, 2016
Rated

4

out of

5
 by
jboeck6
Great Jacket
This is a great warm jacket. I'm 6'3" 200 lbs athletic build and got a large. It's a bit tight in the shoulders and too baggy/big in the stomach. Other than the fit being a little off for my body type I love it!
January 4, 2016
Rated

5

out of

5
 by
Chefrza
Great all around jacket.
I received this jacket for Christmas to replace another dearly loved Columbia down jacket that lasted me a good 7 seasons. Anyway I got to clean off the cars and shovel the driveway in a steady drizzle today. It kept me warm and did not get to the overheating stage. It also kept me dry for the whole time I was out in the elements. It dried off fast and easy too. I will definitely purchase again. I own many Columbia products and have never been let down yet.
December 29, 2015
Rated

5

out of

5
 by
Chaleyao
This product has great technology
This product has great technology. I like the TURBODOWN and OMNI-heat very much. But the style of the down jacket should be improved.
December 29, 2015
Rated

5

out of

5
 by
CoachMac
SO GREAT IT SCARED WINTER
I purchased this coat so that I would finally please my wife by having a coat that is in style when I wear it........HOWEVER, WITH A LITTLE LUCK PERHAPS I WON'T GET A CHANCE TO WEAR IT THIS WINTER AS THE TEMPERATURES ARE OUTSTANDING! I live near Lake Placid NY, and our forecast for Christmas Eve day is 62 degrees! I have worn shorts almost every day, and honestly I love it! The jacket is awesome, although I wanted Blue and this is far from Blue, actually more of a Teal, although my wife says that this color is "HOT AND TRENDING"? I told her I was not hot as I was wearing shorts and not the coat, to which she just shook her head and walked away! Make your wife walk away too, buy this coat!
December 22, 2015
Rated

4

out of

5
 by
DAVIT
Turbodown
Very nice product, very hot inside
December 17, 2015
Rated

4

out of

5
 by
barryvon
Great but could use two things
Great warm jacket. For this to be a great jacket it needs an inner pocket for storage of wallet, glasses, iphone, etc. Needs an outside zipper pocket at the top of the jacket to store iphone, wallet, or tissue. I would be willing to pay $20-$30 more for this jacket if it had these low cost features. For skiing or walking, most people have earbuds in their ears. Where do you store the phone? Bluetooth headgear is one option. Just add a pocket or two and this can be a great jacket! other reviews ask for the same features.
December 15, 2015
Rated

2

out of

5
 by
kremesko
Material, size and color disappointing!
The jackets runs way to large for medium and it looks cheap. I returned the whole package of 4 jackets that i purchased online. All looked so much better from pictures and they are not true to sizes!
December 9, 2015
Rated

4

out of

5
 by
TheMartian
Good...nay, great jacket!
This jacket by far exceeded my expectations. For the price point it's literally dollars ahead of competitors like North Face's thermoball products and offers better performance than REI down insulation only products in a similar price range. It however doesn't compress near as well as a thermoball making it a somewhat less versatile if you're serious about pack-ability, but from a value point this is an easy compromise to live with. The inside reflective lining covers every surface minus the collar and has a noticeable effect in adding to the warmth the jacket provides...omni-heat isn't just a clever marketing gimmick; it's surprisingly effective. I'm six feet tall, 170lbs and a size medium fits me well. The sleeve and torso length fall just right and I could easily gain several more pounds before the jacket would become too snug. Some minor drawbacks I see is that it has no further pockets aside from the two front ones and the zipper constantly wants to get caught on the inside liner. The cuffs also only have a small elastic band as their final finish. Nice to have details would have been to include loops on the sleeve ends and collar giving one the option to zip it into an outer shell like a 3 in 1 jacket. Overall I'm very happy I picked this one. The value proposition is indeed very good, it does everything it says it will do and looks wise is pretty handsome as well (i.e. not having the 'puffer jacket' appearance). So go ahead and give it a closer look; I'm glad I did.
December 8, 2015
Rated

5

out of

5
 by
Diana9
Lightweight AND Warm!
Purchased this as a gift last year and it has held up wonderfully to daily wear and tear. Incredibly warm for it's weight (must be those silver dots!) and super breathable.
November 19, 2015
Rated

5

out of

5
 by
Mccom786
Y.E.D
I love it. It's my favorite. I had to get it fitted for me. The small was super WIDE. This is not the warmest jacket I own. It is, however, the best mix of light weight, packable, wind blocking, and fashionable that I own. I can go out on a cold night in just a tshirt and this jacket and I'll will be sweating. It's great. It's very very very warm for the weight. I've worn is on 15F hikes and been /fine/. Again, love.
March 14, 2015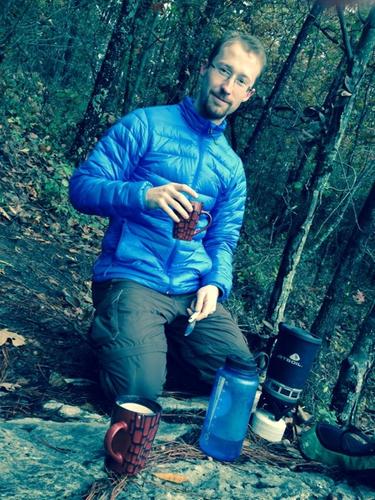 Rated

5

out of

5
 by
Heather26219
Quality jacket
Bought this for my 14 y/o son, looks great on him. He likes the black color and cool space material inside. We got it for a week long hiking trip and it looks like a great choice for warmth and pack ability.
March 11, 2015
Rated

5

out of

5
 by
PanosDX
EXCELLENT JACKET
I bought the 860 platinum turbodown online along with a 650 gold turbodown. Both are excellent jackets, lightweight and warm. I liked the 860 so much, I went back and purchased a second in different color. Very impressed! I only wished the both had an internal pocket for phone or wallet storage.
March 6, 2015
Rated

5

out of

5
 by
Courageous1
Chicago Dock Worker Loves Turbodown!
Last night it was -18 outside. I work on a 46-door dock with constantly opening and closing doors. The winds FIND their way through the smallest cracks and you can hear them whistling inside. I had on midweight baselayers top and bottom, sweat pants, a long sleeve tshirt, north face etip gloves, an omni heat skull cap, and a HOODED 860 Turbodown jacket and I felt great, NEVER got the least bit cold. This will be the only jacket I'll ever work the docks in EVER!!! As for improvements, hood drawstrings would be great, along with a sturdier zipper and an inner zipping breast pocket. Also, add about 4 more inches longer and this jacket would be perfect.
February 28, 2015
Rated

4

out of

5
 by
Rima710
Perfect for chilly cold ...
It's perfect for chilly cold n u don't need 2-3 layer .... But I order men black xl , they send me men black xl but on jacket they attached women black xl.. So I called to customer service n make sure with jacket code for , men or women I got ... So they said for some mistake they put wrong gender scan code n attached with jacket .... So double make sure after order it guys .... Outside matrial is ok coz lint sticks on it .. I don't know why .. I did not washed yet still , lint sticks on it ... Overall , ok .... Runs little large too ...
February 28, 2015
Rated

5

out of

5
 by
Jackfr
Good Jacket
Have worn the jacket just a few times. The temperature was in the 20s and somewhat windy. I was very comfortable. The jacket appears to be easy to pack. Plan on taking it around the northern tip of Norway.
February 25, 2015
Rated

5

out of

5
 by
Chinny8
Compact Insulation
This coat is excellent at providing warmth and cutting the wind. The coat does take a little breaking in to conform to your body. The armpits are a little tight. There is a huge difference in sizes. I ordered the large first - after trying on all styles of Columbia coats in a store - but it was way too big. The medium fits well, except for the armpits.
February 22, 2015
Rated

4

out of

5
 by
RisingSun
Great Winter Coat!
Standing at 6'0 and 189 muscular build, a size large fits very good. The red coat is very lightweight and yet very warm in below 20 degree weather. From running to the store, work or shoveling snow my upper body does not get cold. Glad I purchased at the first sale price of $119. I guess more people are buying this coat vs paying over $200 because I see sale price is now $134. Still worth it!!!
February 22, 2015
2017-01-23
bvseo-cps-pl-PRR
2017-01-23 T13:19:53.362-06:00
bvseo_lps, prod_bvrr, vn_prr_5.6
cp-1, bvpage1
co_hasreviews, tv_78, tr_78
loc_en_US, sid_1567851, prod, sort_default
Size & Fit Guide
Size & Fit Guide
Men's Body Measurement (Inches)
| | | | | | | |
| --- | --- | --- | --- | --- | --- | --- |
| Size | XS | S | M | L | XL | XXL |
| Neck | 14-14.5 | 15-15.5 | 16-16.5 | 17-17.5 | 18-18.5 | 19-19.5 |
| Sleeve Length | 32 | 33 | 34 | 35 | 36 | 37 |
| Chest | 32-35 | 35-38 | 38-41 | 42-45 | 46-49 | 50-53 |
| Waist | 26-29 | 29-32 | 32-35 | 36-39 | 40-43 | 44-47 |
| Hips | 32-34 | 35-37 | 38-40 | 41-43 | 44-46 | 48-50 |
| | | | |
| --- | --- | --- | --- |
| Size | L | XL | XXL |
| Neck | 17-17.5 | 18-18.5 | 19-19.5 |
| Sleeve Length | 35 | 36 | 37 |
| Chest | 42-45 | 46-49 | 50-53 |
| Waist | 36-39 | 40-43 | 44-47 |
| Hips | 41-43 | 44-46 | 48-50 |
How to Measure
1.

Neck:

Measure at the base or thickest part of your neck.
2.

Sleeves:

Start at the center back of your neck and measure across the shoulder and down to the wrist. Round up to the next even number.
3.

Chest/Bust:

Measure at the fullest part of the chest, under the armpits and over the shoulder blades, keeping the tape measure firm and level.
4.

Waist:

Measure around the natural waistline, allowing the tape measure to sit comfortably.
5.

Hips:

Measure around the fullest part of your hips.
6.

Inseam:

Measure from the top of the interior leg to the bottom of the ankle.
Men's Fit Guide
Performance
Body contouring fit conforms to movement.
Active
Body skimming fit with end-use mobility in mind.
Modern Classic / Regular
Universal, easy fit for comfortable range of motion.
Relaxed
Most generous fit for a full spectrum of movement.
How to Measure
How to Measure
Fold up at dotted line.
Place against a wall or other 90 degree surface.

Place heel against fold/wall on flat level surface.
Mark the end of the longest toe with a pen or pencil.
Measure both feet and use the larger measurement.
Read measurement and compare to size chart.
When comparing on the size chart, determine the closest larger measurement and use that number to determine your shoe size for your country's shoe measurement standard.
Shipping & Returns
Shipping & Returns
Shipping Information
Shipping Method
Rate
Expected Delivery Time
UPS Ground
$6.00
3-7 Business Days

UPS 2-Day Air
$12.00
2-3 Business Days
UPS Overnight
$19.00
1-2 Business Days
Free Standard Shipping
Available for Greater Rewards members. Learn more
Return Policy
Returns are accepted within 60 days of the purchase date online or in-store. Your apparel must be in original and unworn condition, with tags still attached. Footwear returns must also include the original box.
Still Have Questions
See our Customer Service section for more details. Visit Customer Service