Men's ROC™ Pant
Details
http://www.columbia.com/mens-roc-pant-AM8142.html
AM8142
Greater Rewards
members earn

249

points with purchase
Size & Fit Guide
|
Reviewers rated this product
Fits Slightly Small
|
Fit
Relaxed
Variations
Product Actions
Features
With initials that stand for Rugged Outdoor Chino, the Columbia ROC Pant is just that. Built from durable, 100% cotton Granite Cloth™, these handsome trousers are buttery soft but tough enough to handle any outdoor activity from raking leaves to off-trail hiking.
Features:
100% peached cotton, garment enzyme sandwashed
FEATURES
:
Omni-Shade UPF 50 sun protection
Gusset detail
Right-thigh gear/tool pocket
Touch-fasten back pockets
Side zip-closed security pocket
Inseam length: 30", 32", 34"
Imported
OMNI-SHADE®
Sun Protection
Technology Videos
Omni-Shade™
Blocks UVA and UVB rays to help prevent sunburn and long-term skin damage.
Reviews
Rated

4.2

out of

5

 by

228

reviewers.
Rated

3

out of

5
 by
Reid
Hate the snap closure
Great pants topped with a snap closure that does not stay snapped given the slightest pressure when moving. With a belt it is nothing more than annoying, but a slight change to a button would improve these pants 100%!
January 2, 2017
Rated

5

out of

5
 by
bama57
I WANT MY ROC BACK!!
ROC's are great for everything I do from work at the office to play on the weekend. They are durable, comfortable and affordable. The ROC II's are *rap. They are lighter weight material, tighter fit and ugly patch pockets in the rear. Please, Columbia, don't make me go somewhere else to buy pants.
August 8, 2016
Rated

5

out of

5
 by
Neal
Please Bring Back the REAL ROC!
I have worn ROC pants for a number of years and have 8 pair hanging in my closet. I recently bought the new ROC II to replace a badly torn pair of my old ones. I can't tell you how totally disappointed I am. The ROC II is nowhere near the quality and comfort of the original ROC pants (cheap thin fabric, too tight in the legs and butt). The only good thing I can say about them is that the button waist is much better than the snap. As my old ROCs get more tattered and stained I will eventually have to replace them. But I will NOT replace them with ROC IIs. Come on, Columbia, listen to your long-time customers and bring back the original ROC. But do use the button waist instead of the snap. Please.
June 10, 2016
Rated

5

out of

5
 by
Kellync
Please Bring Back the Original ROCs
I love these pants. The only pants that I wear. I think I have had at least forty pair of these pants. They are great for business casual, working in the yard, hiking and camping. The originals will be missed. The ROC II are just too tight. Columbia I did not leave you, you left me.
February 21, 2016
Rated

5

out of

5
 by
TDub68
Ominous signs??? Bring back the ROC!!!
These pants have been my staple for years. Having trouble finding these pants lately and by the selection on your website it looks like you are not making them anymore. That's too bad! I've tried the newer ROC styles but I don't like skinny pants!!! Huge disappointment if these pants are being discontinued. I will have to search other manufacturers for pants if these go away.
January 7, 2016
Rated

4

out of

5
 by
Tristen
ROC Pant
These pants are best suited for outdoor use. This pant is just a little too baggy for business casual wear. The fabric is very comfortable and this is a solid outdoor pant. I am happy with the quality of the pants but if you are looking for business casual this may be a little too relaxed.
December 15, 2015
Rated

5

out of

5
 by
Deanjemmy
Rock Pant
Good pants, sizing is about right, sale prices are about right. Wish pants were 4 Lefties, more. Pockets on left side. Leg length 28".
December 12, 2015
Rated

5

out of

5
 by
Cowboy1
Feel and Fit
would take the other 3 colors,send ASAP!
December 7, 2015
Rated

4

out of

5
 by
CoachK24
Great Pair of Pants
I had been on the hunt for a nice pair of casual khakis for sometime now, and the ROC was my holy grail. Absolutely love these pants except for the button on the fly, it comes undone almost every time I sit down, maybe I just need a bigger size.
December 3, 2015
Rated

5

out of

5
 by
SSDD
Great Pockets
My Dad is 86 and frequently has things falling out of his pockets. I had bought him a pair of the ROC style Columbia pants this past spring and he loved them. I tried to get another pair this fall and couldn't find them anywhere due to his size 44 x 32. I finally found them online and ordered them. I didn't ask for rush shipping and they arrived in 2 days by courier. Very easy and the exact product I was looking for
November 19, 2015
Rated

5

out of

5
 by
MMW35
TRUELY AWESOME PANTS
By far my favorite pair of pants - I like them better than jeans. Thanks to these pants my wife and daughters are not always on me for wearing jeans. These pants are a good compromise between a dress/casual pant and blue jeans. The look is very nice and they wear very well because of the material... I can even get a nice crease which dresses them up. The durability of the pant and the comfort makes them ideal for some rough environments where I work. I used to wear a numbered brand and no longer do after finding the Columbia "ROC" pants.
November 15, 2015
Rated

4

out of

5
 by
Outdoor4Me
Roc Pant
One of my favorite pairs of pants. Finally wore out the seat after three years of use with bike commuting. Very comfortable and the gussetted legs seams add to the function and comfort.
November 11, 2015
Rated

4

out of

5
 by
Richard48
ROC pant
Great pants.Like them a lot. Wish you had more colors like green. You was also out of the darker color in my size.
November 5, 2015
Rated

5

out of

5
 by
Dsantan39
Durable and stylish
Great pants. Hold up well. God color selection. The only complaint is that to ship them back ( I needed a different color) you have to pay full price.
October 30, 2015
Rated

3

out of

5
 by
AHYS
Be careful - The new version is not as good as the old one.
I have ordered 2 ROC pants - same fossil color, same 32 x 32 size, both made in Sri Lanka. Unfortunately, when you order online, you don't get to hand pick your purchase. One of the two pants ended up to be a newer version, which is slightly darker in color and has a cheaper front button compared to the other one and the two I have bought last year in a store. In the photo below, the pair on the left is the older version with the better front button, the pair on the right is the newer version with what appears to be a cheaper button. This happened to me previously on another Columbia product where I purchased 3 pair of supposedly identical pants online and 2 pairs made in one country had a nicer belt buckle and fit truer to size than the 3rd pair made in another country. I am not against value engineering and understand the need to keep costs in check, but regardless of where the item is made, size should stay the same for the same product, and color should stay the same too.
October 30, 2015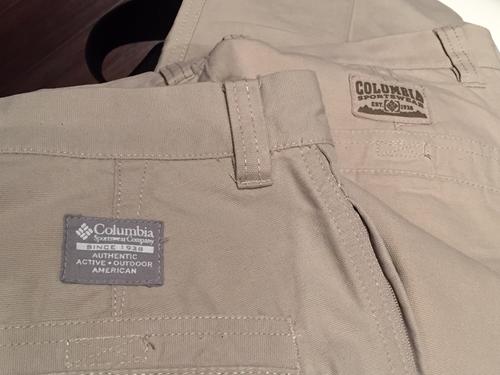 Rated

2

out of

5
 by
EricH
Build consistency problems
Love utility of pants when made correctly (or after alteration), but wish they were consistent in size & manufacturing. Size: A 32L/32W is too short in this model; possibly due to excessive shrinkage in wash. A 32L/32W is perfect for me in the ROC Ultimate. Means I'm forced to go with 34L for ROC, which ends up a bit long. Manufacturing: Different colors made in different places. Side pocket length & width varies from one to the next, even at same manufacturing plant/color. Means my phone does not always fit in side pocket. For pants having acceptable side pocket depth/length, I can just remove the stitching for the (essentially worthless# pen section in side pocket. For those with side pocket length problems, I have been donating those... #Yes, expensive donation.)
October 24, 2015
Rated

3

out of

5
 by
ROCKYII
Roc Pant
This pant would be good, however the snap button on the front is useless and does not stay closed. Also runs small. Its worth it to go up to the ROC II pant as it has a standard metal button. I prefer the ROC II Pant.
October 23, 2015
Rated

4

out of

5
 by
RES50
Pants are good quality.
Pant length is long compared to others, but seems to measure correctly. Would prefer button rather than snap closure. Side thigh pocket is a bit small for my phone in gel case. Overall meets expectation.
October 8, 2015
Rated

5

out of

5
 by
larry106
Pants fit great and feel great
These pants are made of quality material, and they fit great. I was able to order the size that I normally order. I already have Roc shorts, and I like them a lot, so I decided to try the pants. Great price too.
September 17, 2015
Rated

5

out of

5
 by
JHC2015
Perfect pants for causal wear and work.
Very comfortable. Perfect for many occasions. Wish we had these when we traveled to hot climate this summer.
September 15, 2015
Rated

5

out of

5
 by
MindfulOne
Great pants. Great value
A wonderful all-around, every day pair of pants. True to size. Casual, yet sharp enough to wear to work. I currently have four pair...and no complaints whatsoever.
September 5, 2015
Rated

5

out of

5
 by
MargaritaMan
Comfortable and Cool In Hot Weather
This is a great casual pant made of a lightweight cotton cloth having a unique weave that provides flexibility and softness. The utility pocket with Velcro closure is perfect for a small cell phone. The zipper pocket is where I keep my folding knife. Right front pocket is for car keys and the small change pocket inside the right front pocket is where, of course, I deposit loose change. Wallet goes in left front pocket. SO, what to do with those two rear pockets, each with Velcro closure? Hah! My wife likes me to keep stuff for her sometimes. Also, good for handkerchiefs, folded brochures, odds and ends like storing the rubber tip from my hiking pole so it does not get lost. Very practical pants that can go anywhere. The shark color is great for wearing to clubs at night. Only one thing to watch. When wet, do not sit down and stress the knees of these pants. After some washings and when wet, the knee area can split apart and it is not pretty. I liked them so much, I bought four more pair on sale.
August 19, 2015
Rated

5

out of

5
 by
ernst4u
Great pants
I bought a pair to test them out and loved them so much that I came back for 2 more!
August 15, 2015
Rated

3

out of

5
 by
JAU10
More like reg khakis
I was expecting more of a durable fabric. This pant wears and functions more as an everyday pair of khakis. Very comfortable however.
June 5, 2015
Rated

4

out of

5
 by
jallen
Rockin Roc
The Roc pant is a super tough outdoor/casual workhorse. I wear them to my day to day 9-5 job and they look great and are very comfortable. I also go straight to the hiking trail with them and they are great. A true pair of pants that are perfect for work and hard play.
June 4, 2015
Rated

2

out of

5
 by
kzimmy
Not my old ROCs
They are indeed at least an inch longer than other styles of the same size. The snap is worthless, it will not stay snapped. And the material is thinner than my ROCs of old. If you want old style Granite Cloth and a waist that stays secure, go with the Rugged Pass. The articulated knee is a little tricky to iron, but they have a button (although I wish it was the rivet style instead of sewed), and the material is sufficient for field as well as office wear. These new ROCs are going back for exchange.
May 18, 2015
Rated

4

out of

5
 by
BWhit
Roc Pants
Great product,reasonable price.
May 17, 2015
Rated

5

out of

5
 by
GeoFish
Love my pants
Here is the only issue, and it is an issue with ALL Columbia pants-including shorts. After just a couple of months, the snap closure integrity is compromised allowing for the pants or shorts to become unsnapped. I have used my pocketknife to go in where the flange is located (that causes the snap to work) and narrow its width by bending it so that the rivet will stay in place.
April 19, 2015
Rated

5

out of

5
 by
DaveBQuick
my main pants for work and play
Somebody gave me a pair in 2008, and I've bought several pairs since then. I wear them for professional tree-climbing because they give me more range of motion than jeans. The cotton material is very tightly woven so it is stronger and more puncture-resistant than denim even though it is thinner and lighter. I use the thigh pocket a lot to keep a knife and a sharpie marker within reach even when the other pockets are blocked by my climbing harness. I hope Columbia never takes these out of production, they are my best pants ever.
March 13, 2015
Rated

1

out of

5
 by
Karaka29211
Poor fit-lightweight material
I thought I was getting a similar product previously bought, however this material is lightweight, not hardwearing and the fit is mis-leading.Not slightly small, classic fit seems to be at the other end of the scale, certainly not the same quality I had previously from Columbia.
March 8, 2015
Rated

5

out of

5
 by
Cruisenal
Great everyday slacks
Got on time. Great fit. Had 2 older pair and just got these. Washed and put on. Fit is correct and comfortable just like the other two. Will keep buying as long as you make them!
February 12, 2015
Rated

3

out of

5
 by
DMB58
Eliminated best feature
I've owned 3 pairs for 2 years and hoped to buy more. However I realized that Columbia has eliminated their best feature, the right hip "gear pocket", which should have been called the "smart phone" pocket. I don't now how anyone can carry an iPhone in any other pant's pocket comfortably. The lesser Roc pant has a similar pocket but it is just 1/2" too small to allow easy access. The Ultimate Roc pants also have a reliable button rather than snap closure. Had Columbia seen fit to leave well enough alone I would have given them 5 stars, and bought 5 more pairs today.
February 7, 2015
Rated

5

out of

5
 by
DGC123
The "Just Right" causual pant
Bought one pair to try. Instantly ordered eight more pairs to have good supply at my main home and my mountain home. My pants pocket contents every day include: car keys, small Bluetooth headset, ink pen, notebook stylus, pocket knife, multi tool, and small flashlight. I also have a concealed carry permit, so oftentimes also carry handgun and spare magazine. I am a serious Jeep rock crawler, dirt biker, backpacker, outdoorsman. The pockets have ample room for everything I carry, while at the same time distribute contents so well that they completely avoid the "squirrel with full cheeks" effect. These are hands down the most versatile casual pants I have ever owned. Their style is casual outdoor, but not so rugged that my wife won't let me wear them to dinner at our country club. Complete "tactical" function with zero "tactical" look. Fabric and construction are plenty tough for brambles in wood and field, but also plenty supple for comfort . Dear Columbia, PLEASE DO NOT STOP MAKING THESE PERFECT "GOLDILOCKS JUST RIGHT" ROC PANTS!!
January 12, 2015
Rated

5

out of

5
 by
tropicalpunch
Favorite Pant
My husband loves these pants and I can't find them in our local store anymore. However, when I ordered the same size as he is currently wearing, they were too small and had to be returned for the next size. Other than that, they are great!!!
December 18, 2014
Rated

3

out of

5
 by
woodjunky
slightly disappointed
I have to say, I am a little disappointed. I've had the Roc pants for several years. The quality was outstanding, the fit was perfect and I wouldn't change a thing. With that in mind, I saw the opportunity to replace my pants with new ones at a great price. I received the pants last week and noticed the huge difference. The fabric was lighter weight, the snap changed to a cheaper snap, they fit tighter than the original design, the inseam was no longer a double inseam but a single inseam. Why would you fix what wasn't broke???? Why the changes. Was it just for price? I would pay the full price for the real deal. Shame on you Columbia for changing this design.
October 30, 2014
Rated

3

out of

5
 by
Buzzly
Not as good as the older Rocs
These pants are still my favorite pant, but the fabric is much thinner. They also ran almost a size small. No, I have not gained weight. The delivery time was painfully slow.
October 1, 2014
Rated

4

out of

5
 by
Beelong
ROC pants
Great pant that is light comfortable and stain resistant...also I like that it releases wrinkles easily.
August 13, 2014
Rated

5

out of

5
 by
Katmandoux
A Home for my Phone...
I have been wearing Columbia Roc pants for over 10 years. They wear like iron, wash like a dream, and best of all have a pocket for my cell phone...I have never had an issue with these pants. I have in my closet these and the Ultimate Roc's.
July 26, 2014
Rated

1

out of

5
 by
CHHouston
comfortable IF the button stayed snapped
a snap button above the zipper instead of a traditional button? what were they thinking. No matter what size you are, they stay snapped until you sit down then "pop". I would return but I already cut the tags and worn them (once).
July 5, 2014
Rated

5

out of

5
 by
DiP57
Great features, lasting quality
My husband bought a pair of these many years ago (5+) and refused to throw them away until I just replaced them with a new pair that he absolutely loves. Great fit, comfortable, great quality -- loves the front hidden zipper pocket. thank you for producing such good quality merchandise.. waiting for his his size available in the darker color.
June 11, 2013
Rated

5

out of

5
 by
hopsdog
ROC Pants Rock!
These pants are very functional and durable. Can be worn for dress or just casual.
May 30, 2013
Rated

5

out of

5
 by
Andreus68
Excellent fabric which is very convenient.
Excellent goods. I love Colombia. Always I carry it. I will continue to use further. Thanks.
May 19, 2013
Rated

5

out of

5
 by
NDEE
Comfortable Casual Pants
I found the ROC pants very comfortable. They are cut full with plenty of room. I plan on using these pants as part of my casual wardrobe. I found the fit a bit generous although it says they run a bit small in the description. The fabric seems to be good for both warm and cold.
May 15, 2013
Rated

2

out of

5
 by
QueetsOutdoor
Roc Pant
These things run ridiculously small. The sizing is also inconsistent. My buying two pr, I now have a wide array of sizes I can diet or expand into- NOT what I was looking for, for an upcoming 3 week trip
May 13, 2013
Rated

5

out of

5
 by
Seakayak
Great for cool season travel
This is my third pair of ROC pants. I like them for travel as they are rugged but can go for most city travel as well. I liked the first pair I had but the seam-zipper pocket was too low on the leg, so my wallet was very visible and in my way. The second pair had this pocket perfectly placed behind the front pocket. These were unfortunately 2 inches smaller in the waist than they should be. The pair I have now are 2 inches bigger on the label and fit right. The zip pocket is still well placed. Be aware that no pocket is pick-pocket-proof. At least not on the Rome, Italy underground.
May 9, 2013
Rated

5

out of

5
 by
AaronD
Excellent pants!
These are the best fitting most well made pants. They really are about perfect. But I gotta vent: there is this thing that ALL pants makers do - not just Columbia - with the little keys pouch within the right, front pocket. When that little inner pocket is at the bottom of the main pocket (like they all are) it's more than just useless; it keeps your keys out of reach when you're rummaging around amongst the other junk that's in there. If that inner pocket were 2" higher than the bottom of the big pocket, then you could find your keys immediately because they're held above the other junk. I don't know why that's such a mystery.
May 9, 2013
Rated

4

out of

5
 by
bikieboy
Same as the last pair
I purchased these pants for travel in Europe. They fit well (true to size) and are the same size as a pair I bought 5 years ago (a minor miracle these days). Very functional and comfortable.
April 21, 2013
Rated

5

out of

5
 by
stewjohn
Love The ROC
These pants fit perfect (I'm a 36-32). They are the quality I expected and the phone pocket has been widened enough to accept my Moto Razor with no problem. I love the security pocket for holding my pocket knife. I'm glad I took the leap and ordered on-line as I couldn't find any in the retail stores I shopped. I'm happy!
April 15, 2013
Rated

2

out of

5
 by
Prairiecaster
Bad Trend
Been wearing these pants for years. Reduction in quality with lighter weight fabric. Inconsistent fit between the two pair of exact size I purchased. Fit was the biggest issue.
April 14, 2013
Rated

4

out of

5
 by
IDHATN
Excellent pants; baggy crotch.
This is my second pair of these pants in this color (khaki) They wear great and are a great fit and very comfortable. I must note though, that they're a great fit after I made a slight alteration. I turned the pants inside out and sewed a one inch seam from knee to knee. This helped tremendously with the baggy crotch and overall fit and look of the pants.
April 8, 2013
2017-01-21
bvseo-cps-pl-PRR
2017-01-21 T13:01:38.373-06:00
bvseo_lps, prod_bvrr, vn_prr_5.6
cp-1, bvpage1
co_hasreviews, tv_228, tr_228
loc_en_US, sid_AM8142, prod, sort_default
Size & Fit Guide
Size & Fit Guide
Men's Fit Guide
Performance
Body contouring fit conforms to movement.
Performance
Active
Body skimming fit with end-use mobility in mind.
Active
Modern Classic / Regular
Universal, easy fit for comfortable range of motion.
Modern Classic / Regular
Relaxed
Most generous fit for a full spectrum of movement.
Relaxed
Men's Body Measurement (Inches)
Size
Pant Size
XS
28-30
S
32
M
34
L
36
XL
40
XXL
44
Neck
14-14.5
15-15.5
16-16.5
17-17.5
18-18.5
19-19.5
Chest
32-35
35-38
38-41
42-45
46-49
50-53
Sleeve Length
32
33
34
35
36
37
Waist
26-29
29-32
32-35
36-39
40-43
44-47
Hips
32-34
35-37
38-40
41-43
44-46
48-50
Inseam
Varies by Item
Size
Pant Size
L
36
XL
40
XXL
44
Neck
17-17.5
18-18.5
19-19.5
Chest
42-45
46-49
50-53
Sleeve Length
35
36
37
Waist
36-39
40-43
44-47
Hips
41-43
44-46
48-50
Inseam
Varies by Item
How to Measure
1.

Neck:

Measure at the base or thickest part of your neck.
2.

Chest/Bust:

Measure at the fullest part of the chest, under the armpits and over the shoulder blades, keeping the tape measure firm and level.
3.

Waist:

Measure around the natural waistline, allowing the tape measure to sit comfortably.
4.

Sleeves:

Start at the center back of your neck and measure across the shoulder and down to the wrist. Round up to the next even number.
5.

Inseam:

Measure from the top of the interior leg to the bottom of the ankle.
6.

Hips:

Measure around the fullest part of your hips.
How to Measure
How to Measure
Fold up at dotted line.
Place against a wall or other 90 degree surface.

Place heel against fold/wall on flat level surface.
Mark the end of the longest toe with a pen or pencil.
Measure both feet and use the larger measurement.
Read measurement and compare to size chart.
When comparing on the size chart, determine the closest larger measurement and use that number to determine your shoe size for your country's shoe measurement standard.
Shipping & Returns
Shipping & Returns
Shipping Information
Shipping Method
Rate
Expected Delivery Time
UPS Ground
$6.00
3-7 Business Days

UPS 2-Day Air
$12.00
2-3 Business Days
UPS Overnight
$19.00
1-2 Business Days
Free Standard Shipping
Available for Greater Rewards members. Learn more
Return Policy
Returns are accepted within 60 days of the purchase date online or in-store. Your apparel must be in original and unworn condition, with tags still attached. Footwear returns must also include the original box.
Still Have Questions
See our Customer Service section for more details. Visit Customer Service