Men's Steens Mountain™ Full Zip Fleece 2.0 — Tall
Details
http://www.columbia.com/mens-steens-mountain-full-zip-fleece-2.0-%E2%80%94-tall-WT3220.html
WT3220
Greater Rewards
members earn

400

points with purchase
Variations
1. Select Color:

Cypress, Peatmoss

Out of stock
Product Actions
Features
The next generation of a Columbia classic, this outdoor staple features a finely tuned fit and a soft-yet-rugged filament-fleece fabrication to keep you warm when temperatures plummet.
Features:
Modern Classic fit
Zippered security pocket keeps small items secure
Imported
Fabric
:
100% polyester MTR filament fleece
Reviews
Rated

4.2

out of

5

 by

102

reviewers.
Rated

3

out of

5
 by
Ralph1
Mountain Classic
The coat is not very warm and the zipper seems to be failing after a few weeks of use. I expect Columbia will take care of the zipper issue. It is otherwise well made. In above zero weather it is a great coat.
January 6, 2017
Rated

3

out of

5
 by
Kitsap
Black Color A Little Off
The black isn't very black like you'd expect... more like a dark grey. Other Columbia fleece jackets I've owned for a long time are way blacker, even when several years older.
January 5, 2017
Rated

5

out of

5
 by
JPinKC
Leave the sweaters in the closet
Once winter gets here, I just basically live in these things. Over a lightweight Merino baselayer, they're the perfect winter sweater without the hassle and with pockets.
January 3, 2017
Rated

5

out of

5
 by
Deekers77
Awesome jacket
This jacket runs a little large but it does what it's supposed to do. I wear it daily. It's a really nice jacket.
January 2, 2017
Rated

5

out of

5
 by
Mellie45
This jacket is great for all ages
I bought this jacket style for all the guys in my family, from my husband to my grandson. They all love it. The fit is good and true to size. Would absolutely recommend this jacket!
December 30, 2016
Rated

1

out of

5
 by
Kamal
Had multiple holes
I ordered this item for my husband and this jacket had a small hole on back and poor stitching on the back of the neck making another hole near the collar.
December 18, 2016
Rated

5

out of

5
 by
Bigsaint
Love my jacket.
Perfect size and color.
December 8, 2016
Rated

4

out of

5
 by
auntiehaha
My mom lives in these
I get her a new supply every Christmas... She seriously lives in them Fall till summer... every day... Got her three colors this year!
November 16, 2016
Rated

3

out of

5
 by
stevie0505
steve henning
fits well but not warm at all
November 9, 2016
Rated

2

out of

5
 by
Apollo
Runs a little short
Ordered a tall, because I have a long torso. It's a bit short and fits like a normal. I'd hate to see how a normal length would fit.
November 3, 2016
Rated

5

out of

5
 by
Hiitsdebi
Fits a tall gal for a change
I am a 6 foot tall woman, weighing around 280 pounds with a large bust. This jacket (3XT) has sleeves that are actually long enough for me. Sleeves fit past the wrists, just to the hand which I prefer. I wanted a jacket that was light weight enough to wear indoors at my work when it gets chilly from the air condition, but warm enough to grab on cool autumn days. It is also long enough to cover my torso to the hips. I did not find that the sleeves were too narrow like I read on other reviews. It is not lined, so it will not be warm enough for a cold winter night, but it's perfect for chilly autumn days or as a spring jacket. It is super soft. I also liked the color "Super Blue" because it matched my required work uniform color. I'll be buying another one in adifferent color for my off work days.
October 31, 2016
Rated

5

out of

5
 by
HackerCraft
Very versatile
This is a comfortable and lightweight sweater-jacket for 2-3 season use.
October 30, 2016
Rated

5

out of

5
 by
gf140502
It's a nice light jacket
The jacket is comfortable and does a great job keeping you warm.
October 6, 2016
Rated

5

out of

5
 by
Conny
Columbia zip up fleece
Fabulous fit for a thin, tall man (bought L Tall). Fleece of high quality/ thick. Looks and feels great!
August 24, 2016
Rated

4

out of

5
 by
cool86
Very comfortable
Its a very good fleece those cold chilly mornings to keep u warm. And the nice thing about this fleece if u have 3 in 1 columbia coat u can put the hard shell over it.
July 27, 2016
Rated

4

out of

5
 by
Parabolon
Great, but size not consistent
I like the style and function. Works well and light weight for fall and spring. One of the few companies that still produces tall sizes. However, i ordered a black/blue and a gray/red, both in large/tall size. The black/blue sleeves are just right length. The gray/red is just a bit short for some reason. Also, the red color seems a bit faded (not sure if that's intended). I almost returned it for those reasons. Otherwise great choices for tall guys like me.
March 19, 2016
Rated

5

out of

5
 by
Leelee1
Great product
Great product. Love the fit and style.
March 1, 2016
Rated

5

out of

5
 by
Breediepie
Comfortable fleece
The fleece jacket is warm, good looking and it feels so soft and comfortable.
February 24, 2016
Rated

2

out of

5
 by
gkintl
drooping pockets
Unlike my other Columbia fleece jackets that have the inner liner (which forms the pocket) sown on all sides, the inner liners of these new jacket are not attached to the outer layer along the top edge. The result is that the pockets sag dramatically when I place anything (e.g. a small cell phone) in the pockets. Please advise if I need to purchase a different model jacket to get fully sown pockets?
February 13, 2016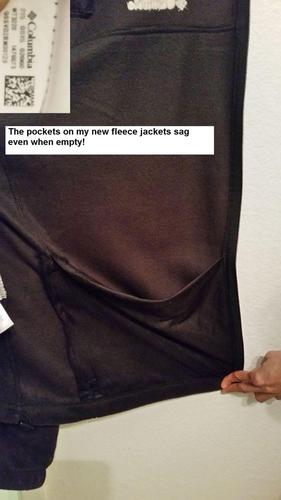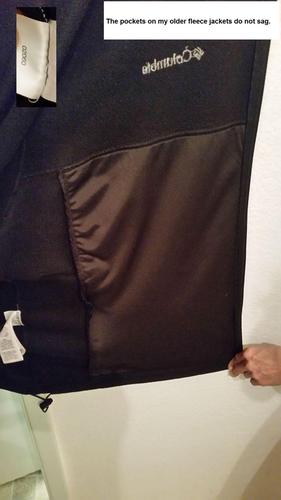 Rated

3

out of

5
 by
Philzim
Full zip fleece
The quality is good, but I wish the size was a bit smaller, runs a bit large. However my biggest criticism is that I really wish that the Columbia logo was not so large on the front. It almost makes me not want to wear it. If the logo was really small and maybe on the back collar where it wasn't so visible I would be a lot happier. I do not want to pay money and be a walking advertisement for Columbia.
February 11, 2016
Rated

5

out of

5
 by
Vicki54
Hubby's Go-To Jacket
The Steens Mountain Full Zip 2.0 has become my husband's go-to jacket. He wears it to work, on the trails and even around the home. My spouse loves how the polyester fabric of this fleece is able to keep him cozy and warm, even when the desert temps are dipping into the thirties. Another plus is that the jacket only requires machine washing and drying then it's ready to be worn once again.
January 14, 2016
Rated

4

out of

5
 by
Mikeboston555553567
Very warm
Very warm. only complaint is material inside pockets doesn't work with dry cold hands
January 6, 2016
Rated

5

out of

5
 by
Linzy
Perfect fit !
My husband is a true size large but is also 6 ft 4, he has long arms and we can never find anything that fits him length wise without being too big. This jacket is AMAZING it fits him like a glove, not too big and arms and body are PERFECT length. If you have a tall but not "big" person on your Christmas list I highly recommend this jacket. We will be purchasing more for his friends for Christmas presents this year who also are talk and have the same problem finding well fitting clothes.
December 13, 2015
Rated

1

out of

5
 by
Dbloc
Could have bought the same quality from Walmart or Old Navy
VERY DISSAPPOINTED...I purchased 2 of these about 2 years ago and the quality was thick and outstanding. WOW what a degrade in quality with these newly purchased items...VERY THIN FLEECE...didn't keep me very warm. Could have bought the same quality from WALMART or Old Navy.
November 26, 2015
Rated

4

out of

5
 by
Pat46
STEENS FLEECE JACKET
Nice product... but the sleeves are tight. I think that they sized regular sleeves onto a XXXL jacket.
November 19, 2015
Rated

4

out of

5
 by
westcoastresponder
Great color, nice feel, WEAK ZIPPER!
The zipper is weak, the anchor part slips out of the base and then throws of the zipper function. It can be reset but these are not the highest quality zippers. It is warm and a great color, definitely soft. Very disappointed in the zipper.
November 16, 2015
Rated

5

out of

5
 by
amiller320
A nice, basic fleece
This is very nice, basic fleece. Great for wearing around the house on a chilly day or for running errands. Somewhere between lightweight and heavyweight (I guess that would be middleweight?). My only complaint is that the wrist cuffs are rather tight. Good for keeping the wind out, but they catch on my watch. A minor annoyance. The tall size is fits me well -- I'm 6'4" with long arms.
November 15, 2015
Rated

5

out of

5
 by
Hass
Warmer than Jacket Liner
The R-factor is constantly increasing as the garment is worn Almost a snow shield!
November 12, 2015
Rated

5

out of

5
 by
oldsurfer
good deal
looks good, fits good and a great price enough said
October 18, 2015
Rated

4

out of

5
 by
ColoTXn
Nice light weight jacket
If I was to buy it again I think I would go with the regular length instead of the tall. Otherwise a nice light jacket
September 16, 2015
Rated

4

out of

5
 by
GDunc
Small in the arms as always
I ordered this fleece to replace my years old go-to fleece. As with every other Columbia jacket I have had, the arms are snug. Especially the forearm. The jacket otherwise fits very well. Being it is so hard to find jackets that fits as well as Columbia's (besides the arms) I keep coming back. If this is your first go at a Columbia jacket keep this in mind. I won't be able to comfortably wear a long sleeve shirt under this jacket, just like my other jackets.
August 16, 2015
Rated

5

out of

5
 by
Angel5683
Perfect for Warmer Climates
This jacket is perfect for Southern Winters. Warm enough to handle those few days when the temperature gets down into the 30's but not too hot for days in the 50s-60s. The fleece if very soft and comfortable. My husband didn't want to take it off when he first got it!
February 12, 2015
Rated

5

out of

5
 by
DanielR
Nice!!!!
I got this coat for my winter adventures mostly fly fishing and hiking and I absolutely love it!!! It is a great layer to put under your outer shell that will keep you warm and toasty. It fits great and is long in the body and arms which at 6'7'' with long arms I really appreciate. If your looking for a warm nonbulky layer get this!!!
February 10, 2015
Rated

5

out of

5
 by
cotton
Jacket functionality
The best light weight jacket I have ever owned, light and warm without the bulk of most coats. Very functional and considering purchasing another. A jacket for varying ranges of temperature while keeping comfortable.
January 27, 2015
Rated

4

out of

5
 by
cll88
STEENS MOUNTAIN™ FULL ZIP FLEECE 2.0
This coat is well made and works above and beyond what it is intended for. I wear this all year round...only requires a little under layering in the coldest parts of winter...in Oregon! In the warmer months it breathes well so I'm not sweating all the time. All in all...great product. I should know...this is my fourth.
January 21, 2015
Rated

5

out of

5
 by
Rosa916
Great Jacket
I bought this jacket for my husband in a large and it looks good on him. It does run a bit longer but the regular length is too short for his longer torso. He is 5'10 and he'd rather it be longer than shorter. My husband loves the quality!
January 14, 2015
Rated

4

out of

5
 by
JeffB80
Good looking but fit and thickness could be better
I love the look and length of these jackets and have owned 5 of these over the years. But the sizing and thickness of the material seems to have changed 2 years ago. There XL tall used to fit me perfectly, now the mid section is just way too baggy and I had to start buying large tall. But in doing so makes the neck uncomfortably tight. These jackets are warm but they used to be even thicker and warmer.
January 14, 2015
Rated

5

out of

5
 by
tkbeitz
Great product
My son loves it, great coat
January 13, 2015
Rated

5

out of

5
 by
SandyR
Length
I was looking for a longer fleece and this one is ideal.
January 11, 2015
Rated

2

out of

5
 by
Port1
4xt not a tall
I ordered the 4xt for my son, this is not a tall. It was plenty big enough around but very short, especially in the back. If he lifts his arms up the jacket turns into a half shirt. I also purchased a Lt, this jacket was great in the length.
January 2, 2015
Rated

1

out of

5
 by
geegee17
Happy
Love the way it fit.
January 2, 2015
Rated

5

out of

5
 by
MRoussin
Excellent Product
This jacket is perfect for fall days. I've now owned 2 of these and just bought one for my wife. It's not a winter jacket so don't expect it to keep you warm and dry in snow and rain. Excellent quality and exceptionally warm for mild temperatures.
December 23, 2014
Rated

3

out of

5
 by
TravelDude
Pretty Good
Decent jacket. Fits the size advertised. Decent construction. A little thinner fabric than I wanted. It was hard to tell what weight/conditions each item had/serviced.
November 21, 2014
Rated

5

out of

5
 by
Morg
Repeat buyer
I purchased five of these in XLT but gained weight. So I purchased three more in 2XLT. Needless to say, I'm a fan. I'm also 6'4" with a 34" sleeve. Other coats don't fit me in the sleeve. These do. Older models had a larger outside pocket for my Kindle and the newer ones have an inside pocket for it. I prefer the expanded outside pocket but the inside one works okay. Not great but good enough. The big thing is they fit and look good. I've been wearing these for a couple of years now and they hold up with numerous washings and they continue to look good.
November 20, 2014
Rated

3

out of

5
 by
kstamper
Very Short
I am about 6'6'' and have to buy tall clothes and I though this would be a good fit. Well I get it and turns out its not long at all. It barely came to my waist and was very tight.
November 18, 2014
Rated

5

out of

5
 by
Tellitlikeitis
The perfect fit
I bought this for my son-in-law. The steen's mountain jacket fit him perfectly and looks amazing. Nice quality.
October 22, 2014
Rated

3

out of

5
 by
explorerx
sweatshirt
Its nice fashionably, but not the warmest jacket I've ever had.
October 16, 2014
Rated

5

out of

5
 by
KCRich
Great Fleece
This is a great light to med fleece. Super soft and looks great. Only had it for about a month but worn it almost everyday. Love it.
September 24, 2014
Rated

2

out of

5
 by
Rand
MUCH LARGER THAN THE OLD ONE, AND NOT AS WELL CONSTRUCTED
I recently purchased this jacket in an XLT as a replacement for a well worn earlier version. The sleeve length is nice, but the body length is uncomfortably long at times. This jacket should sit at or just a little below the waist. Instead it rides at or below the middle of my butt. It's annoying in the car. I am 6'5" with a longish torso, and I don't know how tall someone would have to be in the body in order for this jacket to fit them correctly. My earlier model of this jacket is an XLT as well, and it fits normally. This new one is also bigger around in the body. In addition, the detail work on the stitching is pretty poor. There are numerous areas of over runs/overstiching on the zippers, etc. And, I spent about 20 minutes with some small, sharp scissors trimming off the excess threads hanging all over the jacket. I have never had to do this to any Columbia product previously, so it is fairly disappointing. They have apparently changed vendors and patterns for this jacket.
April 6, 2014
Rated

5

out of

5
 by
TheDza
Love it
Excellent fit for my size. Excellent quality. Prompt shipping.
February 20, 2014
2017-02-01
bvseo-cps-pl-PRR
2017-02-01 T14:27:48.176-06:00
bvseo_lps, prod_bvrr, vn_prr_5.6
cp-1, bvpage1
co_hasreviews, tv_102, tr_102
loc_en_US, sid_WT3220, prod, sort_default
Size & Fit Guide
Size & Fit Guide
Men's Fit Guide
Performance
Body contouring fit conforms to movement.
Performance
Active
Body skimming fit with end-use mobility in mind.
Active
Modern Classic
Universal, easy fit for comfortable range of motion.
Modern Classic
Relaxed
Most generous fit for a full spectrum of movement.
Relaxed
Men's Body Measurement (Inches)
Men's Tall Sizing

Pant Size
Waist
Chest
Hips
Sleeve Length
Neck
Inseams
LT
36–38
36–39
42–45
41–43
37
17–17.5
34–36
XLT
40–42
40–43
46–49
44–46
38
18–18.5
2XLT
42–44
44–47
50–53
48–50
39
19–19.5
3XLT
46–48
48–51
54–57
52–54
39
20–20.5
4XLT
48–50
51–54
57–60
55–57
39
21–21.5
Men's Big Sizing

Waist
Chest
Hips
Sleeve Length
Neck
Inseam Regular
1X
40–43
46–49
44–46
36
18–18.5
32
2X
44–47
50–53
48–50
36.5
19–19.5
3X
48–51
54–57
52–54
37
20–20.5
4X
51–54
57–60
55–57
37.5
21–21.5
5X
55–58
61–64
59–61
38
22–22.5
6X
59–62
65–68
63–65
38.5
23–23.5
How to Measure
1.

Neck:

Measure at the base or thickest part of your neck.
2.

Chest/Bust:

Measure at the fullest part of the chest, under the armpits and over the shoulder blades, keeping the tape measure firm and level.
3.

Waist:

Measure around the natural waistline, allowing the tape measure to sit comfortably.
4.

Sleeves:

Start at the center back of your neck and measure across the shoulder and down to the wrist. Round up to the next even number.
5.

Inseam:

Measure from the top of the interior leg to the bottom of the ankle.
How to Measure
How to Measure
Fold up at dotted line.
Place against a wall or other 90 degree surface.

Place heel against fold/wall on flat level surface.
Mark the end of the longest toe with a pen or pencil.
Measure both feet and use the larger measurement.
Read measurement and compare to size chart.
When comparing on the size chart, determine the closest larger measurement and use that number to determine your shoe size for your country's shoe measurement standard.
Shipping & Returns
Shipping & Returns
Shipping Information
Shipping Method
Rate
Expected Delivery Time
UPS Ground
$6.00
3-7 Business Days

UPS 2-Day Air
$12.00
2-3 Business Days
UPS Overnight
$19.00
1-2 Business Days
Free Standard Shipping
Available for Greater Rewards members. Learn more
Return Policy
Returns are accepted within 60 days of the purchase date online or in-store. Your apparel must be in original and unworn condition, with tags still attached. Footwear returns must also include the original box.
Still Have Questions
See our Customer Service section for more details. Visit Customer Service