Men's Tango™ Sandal
Details
http://www.columbia.com/mens-tango-sandal-BM4077.html
BM4077
Greater Rewards
members earn

250

points with purchase
Variations
Product Actions
Features
This durable leather sandal has a high traction Omni-Grip® rubber sole and lightweight molded EVA midsole to keep you comfortable and stable during relaxing days in warm weather.
Features:
Non-marking Omni-Grip high traction rubber compound
Nubuck upper and lining
Molded EVA
Weight: size 9, ½ pair = 9.8 oz/275 g
Imported
Fabric
:
UPPER
Nubuck
MIDSOLE
Molded EVA
OMNI-GRIP OUTSOLE
High traction rubber
OMNI-GRIP®
Advanced Traction
Technology Videos
Omni Grip™
HOLD TIGHT
ON ANY TERRAIN.
Advanced traction outsole treads grip every environment.
Reviews
Rated

4.6

out of

5

 by

59

reviewers.
Rated

2

out of

5
 by
dubler
broke them
Had them less then a year only used them 6 times and then they where broke.
August 8, 2016
Rated

3

out of

5
 by
Jerald
Good but heavy
It's a good quality sandals but it's very heavy to wear for everyday use.
August 6, 2016
Rated

5

out of

5
 by
LoungingCowboy
Ahhhhh....
This is the second pair of Columbia sandles I own. They are for me true to size, well constructed, look great and feel wonderful! I just personally like Columbia sandles and wear them in the house and to 'bump' around town. Got them on sale which enticed me to make another purchase. Please continue to offer these Tango sandles...happy walking!
April 6, 2016
Rated

4

out of

5
 by
WalterDog
Nice Flip
Good arch support, fit true to size, comfortable footbed but the toe thong was very hard and painful to wear so I returned them and will try a different one of Columbia's. If you don't mind softening up the toe thong somehow these are a good buy.
February 16, 2016
Rated

5

out of

5
 by
SEL1
Great Everyday Sandal
This is my second pair over 6 years. This pair seems to run a bit on the small side, but with stretch they are fine. This is a comfortable sandal with good arch support for shopping, trail walking and general everyday wear. Durable and reliable.
February 10, 2016
Rated

4

out of

5
 by
Kwaz
Get One
This is my run around the house and summer footwear. It came with an arch support which made me look more carefully. I really like this sandal, they should last a very long time. I have one dislike, the thong part is leather so it needed to be softened to keep from hurting my feet, otherwise these are outstanding.
February 2, 2016
Rated

5

out of

5
 by
Kungfumaster
Great Flops!
This my my fifth pair. I only ever had an issue with one and that was after a season of heavy outdoor use. These are super comfortable.
November 4, 2015
Rated

5

out of

5
 by
CaptJim
Awesome
Great quality. Fells great and comfortable.
October 6, 2015
Rated

5

out of

5
 by
Ann56
Super comfortable
Bought these for my husband to have a casual but trendy looking pair of footwear. He swears they are super comfortable and often wear them out in really warm weather. He usually wears a size 10.5 but since they were described as running slightly small, I got him a size 11, which fit perfectly without any of his heel hanging out. If you are between sizes, perhaps a half size up is not a bad idea.
August 21, 2015
Rated

5

out of

5
 by
Hopper
Extremely comfortable
These are my favorite flip flops! Extremely comfortable, great grip, and holds up to all kinds of wear and tear.. I've had two pairs over the past three years
July 4, 2015
Rated

5

out of

5
 by
runoprun
Great!!
The Tango Sandal is very comfortable. So many other flips are just boards with a strap. These are supportive and provide great traction. I went up a size from my normal and they fit great.
June 17, 2015
Rated

5

out of

5
 by
nixdorf
Great sandal for big feet
I ordered these in size 14. They arrived quickly (two business days). I've worn them for a few days now. They're well built sandals. If you're looking for flimsy flip flops, look elsewhere. If you're looking for sandals that hold up to light offroad use while staying comfortable, these are for you.
June 13, 2015
Rated

5

out of

5
 by
Jhtravel
Great Sandals
I have warn these sandals for several years and I think they are the best on the market. This is about my fifth pair and I hope Columbia continues selling them in the future.
June 7, 2015
Rated

5

out of

5
 by
Billy4769
Great sandals
I have been wearing these for over 10 years and they are like no other flip flop. They have support, they hold up. I have some of my older ones, still good tho worn out, for going into the water and gardening in the dirt.
May 25, 2015
Rated

5

out of

5
 by
Rocky05
Best ..but need it back in Grey
Best Sandal but I had to go to another company as I need this sandal back in Grey or Charcoal. I love this sandal but I need it in more colors. Black Grey and Brown would be nice. By far the best sandal I have ever worn. Grey Sandals Strap broke and I am so dissapointed that they don't have the grey sandal back.
May 22, 2015
Rated

5

out of

5
 by
eric01
awesome!!!!!!
These are by far the best I have ever worn, home run !!!!
May 14, 2015
Rated

5

out of

5
 by
shoaltide
The best
Have been wearing these for years...I am on my 3rd pair. Withou a doubt the most comfortable and durable flip flop I have ever worn.
May 13, 2015
Rated

5

out of

5
 by
bobs123
Great Sandals
This was my 3rd pair. I have literally wore them out. The first pair eventually broke the strap and I was really worried I would nto get them again because it had been several yes. Thankfully I did and I now have 2 pair.
May 13, 2015
Rated

4

out of

5
 by
Paul69
Real nice sandals
This may be a little confusing, but... I like these sandals. They look and feel great. My problem is the sizing. The information page states they run a slightly small. I measured my foot at 273 which is a 10.5 by the table. The sandal comes in 10 and 11. Since they 'run slightly small' I thought 11 would be a perfect size. I was wrong. The strap on the 11 is a little too loose, I am acclimating, and I really like the shoe anyway. I would be happier if the strap was tighter. PS. I selected 'runs a little large' above, but I have no idea. Maybe a 10.5 would fit perfectly.
April 8, 2015
Rated

5

out of

5
 by
USMCJOE
A little heavy but good fit.
As the title says they run a little heavier than others but will probably last longer.
February 25, 2015
Rated

5

out of

5
 by
ErnestoV
The Best Shoes EVER
These sandals are THE BEST EVER, I have purchased these sandals for over 8 years now and they are the absolute best ever, I use them EVERY DAY, and they are awesome, you need to get yourself a pair of these you will love them
December 12, 2014
Rated

2

out of

5
 by
Aleksandr
Way too heavy for wearing every day.
I bought this pair of sandals, the quality is excellent, but I found that it's too heavy for me. In the summer I want something lighter on my feet instead of heavy clogs. I returned them immediately. Instead I would like to buy a different model.
December 3, 2014
Rated

5

out of

5
 by
Larry47
simply the best
Had a pair for eleven years, toe piece gave way. didn't wait more than a day to find and order a new pair. they were comfortable in two minutes, felt like I'd had them for months. will never be without them again.
September 7, 2014
Rated

5

out of

5
 by
UplandGuide
Functional sandal....
As a Fly Fishing guide I am in and out of waders and boats every day. These sandals are comfortable, durable and make it easy to transition from land to water. Nice.
August 13, 2014
Rated

5

out of

5
 by
Striperguy
Great fit and good traction
I recently bought a pair of these flip flops, and to my surprise they were actually wide enough for my feet. I spend most of the time barefoot running around the deck of my boat and loathe wearing any footwear due to my wide feet. The fit was snug at first but they soon loosened up and fit perfect.
May 7, 2014
Rated

5

out of

5
 by
Coastout
Ergonomically Correct!
Finally, a sandal that conforms to your foot and provides good support. After taking off your hunting boots, you will enjoy these around camp. Great buy!
April 24, 2014
Rated

5

out of

5
 by
Yoshi
Great sandals
Awesome flippers. The quality is there, and the color is nice and neutral, goes with just about anything. I love the feel of these when wearing them, and I have to say this was my first pair of sandals that actually had tread on the bottom and they are great!
April 22, 2014
Rated

5

out of

5
 by
Trout11
hard to find 15
They look great odered another pair
February 5, 2014
Rated

5

out of

5
 by
skatz
Men's Tango™ Sandal
My first Columbia sandal. I have officially worn them in all four seasons (even winter taking out trash). They remain stink free and show no sign of wear. I love these and I will be ordering several new pairs.
January 12, 2014
Rated

1

out of

5
 by
MarkM
Too small, too tight, too narrow
I wear a 11 1/2 shoe. I ordered a size 12 sandal. I could wear it without socks on. If I put on thin or thick socks it would not longer fit. Most of the time I would be wearing these outside or inside the house while wearing socks to do errands. These aren't beach sandals for me. They were not very wide. I returned them and decided not to buy a larger size. It's too much hassle to return and buy a replacement item. In addition, I had to pay for return of this item even though it is really Columbia's mistake for advertising a 11 1/2 sandal which is really size 11 or even 10 1/2.
January 10, 2014
Rated

5

out of

5
 by
fitzstop
These sandals offer excellent arch and heel support
These are the best sandals for people who wear sandals all day in their line of work because of the extra arch and heel support that is not usually found in sandals. It is like wear a walking shoe that has an open top and I have been wearing only this style of sandal for the past 5 years.
October 15, 2013
Rated

5

out of

5
 by
RoadRunner1
Flip-Flops
Comfortable to wear all day long.
September 30, 2013
Rated

5

out of

5
 by
Jag12
My 12th pair
I have been wearing Tangos for years. Normally purchase a new pair each year, last year's become the work in the yard pair, and the two year old pair becomes the car washing pair. I retired 48 days ago, and have not worn shoes or socks since, only Tangos. Therefore, this year have purchased two pair. Great sandals, they really don't wear out, just get faded.
September 17, 2013
Rated

5

out of

5
 by
HobieYakFisher
Tango Flip Flops
Most comfortable pair of outdoor shoes Ive worn. Ive had these shoes for a couple months now and have worn them on the water, cleaning fish, in the sand, heat, humidity.....with out any type of color change or Odor. Thanks Columbia!!!
September 15, 2013
Rated

5

out of

5
 by
Clarkie
This product really lasts!
I purchased a pair of the Tangos five or six years ago and worn them alot. I needed to replace the shoes and checked our local store and they didn't carry them, which I think is a sales mistake of behalf of Columbia, as they are great. I found them on the web site ordered them and received them very quickly. I'm set for five or six years, wearing the great looking and comfortable shoes!!!!
August 5, 2013
Rated

3

out of

5
 by
valky
size
The Columbia Tango is the only sandal I have ever been able to find that runs a little narrow for my size. With a B width foot size, this is the one that's fits well.
August 5, 2013
Rated

4

out of

5
 by
CaptRon
Good solid sandal
Good construction and materials; good gripping power from sole. I've been buying for several years and bought these as a gift.
July 27, 2013
Rated

5

out of

5
 by
ljwb4610
nice sandals
Bought these for my husband. They fit great and he loves them! Very comfortable
July 9, 2013
Rated

4

out of

5
 by
jean0
flip flops
good mens shoe looks nice sizing good
July 8, 2013
Rated

4

out of

5
 by
Bob12
Good product, bad color
Have had this same sandal in flax before and ordered the same. Received dark brown instead of flax - too much trouble to return, so I kept the dark brown.
July 8, 2013
Rated

5

out of

5
 by
Tn98
Tango Sandal is just a great sandal all around
The tango sandal is one if not the best sandal to wear on my feet. So, now I have an old pair and new pair and the both still fit great.
July 6, 2013
Rated

5

out of

5
 by
Kansas
I am pleased.
I have purchased the Ladies' sandal, like this, and it was a tad narrow. I ordered the men's, in a size smaller, for a better fit.
June 28, 2013
Rated

4

out of

5
 by
Kaye11
Nice selection
We purchased these for our son however the run a little smaller than we would have like. Rather than send the back again, we have decided the next order will be two sizes larger.
May 31, 2013
Rated

5

out of

5
 by
Verified Reviewer
Best Flip Flop
Had to order online, unable to find in local stores. I like the fact that it has a great sole of the shoe, memory foam type for comfort and very durable.. Also hides dirt great
May 31, 2013
Rated

5

out of

5
 by
FlipFlopHappy
Best Ever Made
This flip flop cannot be topped! Arch support, nonskid sole, and approved by my Podiatrist. I own six pair. I have worn one pair through one Spring and Summer most anywhere I go, light yard work, (not for mowing) and now wearing the second Spring and Summer. Have worn them to and walked the beach. They will hold up to water and look great after washing them. Did I say, you cannot beat this flip flop. The only way not to like these is to not like a flip flop.
May 26, 2013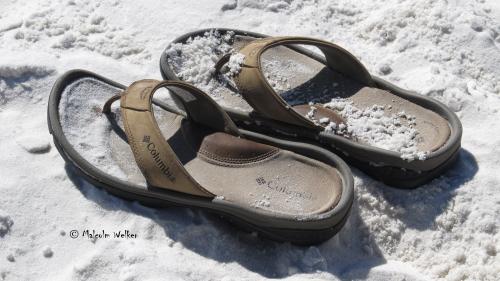 Rated

5

out of

5
 by
THEZIM
GREAT GREAT SHOE AND VERY COMFORTABle
great comfort and nice looking all your sandals are GREAT
May 14, 2013
Rated

5

out of

5
 by
fishtale
Men's Tango sandal
These are replacing Columbia sandals that I have used for over 10 years. The new ones look exactlly the same. Other than trying them on and wearing around the house, the weather has not been (and probably won't be for a month) conducive to wearing routinely. The fit was perfect (unlike other reviews I read, happy I didn't listen), quality top notch, and I look forward to wearing these for another 10 years (still wearing the old ones for some activities).
April 15, 2013
Rated

5

out of

5
 by
jkimball360
Excellent find
I bought a pair of these seven years ago, used them frequently, and they are just now falling apart. I recently bought a new pair. They run small (I wear a size 12 but I will return the pair I bought for a size 13). Other than that, they are great.
March 18, 2013
Rated

5

out of

5
 by
jasper
perfect fit
high quality & comfortable
January 16, 2013
Rated

5

out of

5
 by
Pinny31
Quality you can feel
I've been looking for decent sandals to wear throughout the year since I'm in Southern California that are durable and comfortable; a hard combination to find. But, I won't have to look anymore. The Tango's are AWESOME!
January 14, 2013
2017-01-22
bvseo-cps-pl-PRR
2017-01-22 T12:43:59.786-06:00
bvseo_lps, prod_bvrr, vn_prr_5.6
cp-1, bvpage1
co_hasreviews, tv_59, tr_59
loc_en_US, sid_BM4077, prod, sort_default
Size & Fit Guide
Men's Shoes
| | | | |
| --- | --- | --- | --- |
| USA | UK | EU | CM |
| 7 | 6.5 | 40 | 25 |
| 7.5 | 7 | 40 ⅔ | 25.5 |
| 8 | 7.5 | 41 ⅓ | 26 |
| 8.5 | 8 | 42 | 26.5 |
| 9 | 8.5 | 42 ⅔ | 27 |
| 9.5 | 9 | 43 ⅓ | 27.5 |
| 10 | 9.5 | 44 | 28 |
| 10.5 | 10 | 44 ⅔ | 28.5 |
| 11 | 10.5 | 45 ⅓ | 29 |
| 11.5 | 11 | 46 | 29.5 |
| 12 | 11.5 | 46 ⅔ | 30 |
| 13 | 12.5 | 48 | 31 |
| 14 | 13.5 | 49 ⅓ | 32 |
| 15 | 14.5 | 50 ⅔ | 33 |
| 16 | 15.5 | 52 | 34 |
| 17 | 16.5 | 53 ⅓ | 35 |
How to Measure
How to Measure
Fold up at dotted line.
Place against a wall or other 90 degree surface.

Place heel against fold/wall on flat level surface.
Mark the end of the longest toe with a pen or pencil.
Measure both feet and use the larger measurement.
Read measurement and compare to size chart.
When comparing on the size chart, determine the closest larger measurement and use that number to determine your shoe size for your country's shoe measurement standard.
Shipping & Returns
Shipping & Returns
Shipping Information
Shipping Method
Rate
Expected Delivery Time
UPS Ground
$6.00
3-7 Business Days

UPS 2-Day Air
$12.00
2-3 Business Days
UPS Overnight
$19.00
1-2 Business Days
Free Standard Shipping
Available for Greater Rewards members. Learn more
Return Policy
Returns are accepted within 60 days of the purchase date online or in-store. Your apparel must be in original and unworn condition, with tags still attached. Footwear returns must also include the original box.
Still Have Questions
See our Customer Service section for more details. Visit Customer Service