Men's Ultimate ROC™ Pant
Details
http://www.columbia.com/mens-ultimate-roc-pant-AM8564.html
AM8564
Greater Rewards
members earn

369

points with purchase
Size & Fit Guide
|
Reviewers rated this product
True to Size
|
Fit
Modern Classic
Variations
Product Actions
Features
A rugged outdoor pant in a soft, sandwashed fabric, the Ultimate Roc is outfitted with UPF 50 sun protection and an advanced water repellency treatment that shields you from rain and stains alike.
Features:
Omni-Shield advanced repellency treatment wards off rain and stains
Omni-Shade UPF 50 protects you during long hours in the sun
Zip-closed security pocket
Hand pockets
Inseam length: 30", 32", 34"
Imported
Fabric
:
100% Omni-Shade UPF 50 Omni-Shield cotton canvas, garment enzyme sandwashed
Omni-Shield™
Water and Stain Repellent
OMNI-SHADE®
Sun Protection
Technology Videos
Omni-Shield™
GO AHEAD.
TRY AND GET DIRTY.
Helps you stay clean and dry by resisting absorption of liquids.
Omni-Shade™
Blocks UVA and UVB rays to help prevent sunburn and long-term skin damage.
Reviews
Rated

4

out of

5

 by

299

reviewers.
Rated

4

out of

5
 by
Jamee
Great sturdy pants for everyday wear
My husband loved these pants! They fit to size and had lots of extra pockets. He especially loved the zippered pocket on the leg.
January 15, 2017
Rated

5

out of

5
 by
Paddy667
EXCELLENT PANT, SUPERIOR TO ROC II
I purchased both the ROC II and the Ultimate ROC pants. The Ultimate ROC is, in my opinion, far superior to the ROC II pants. The Ultimate ROC fits better and the pant legs are normal sized. The ROC II pants are good but they fit a little looser (I purchased same size both pants) and the pant legs are way wider than the ultimate ROC. With the wider leg, the ROC II is almost uncomfortable. I'm going to have the ROC II pants tailored so that the leg size is similar to the Ultimate ROC. However, both pants are great for work and casual wear. They're very comfortable and the fabric is durable. Overall, great pants!
December 10, 2016
Rated

4

out of

5
 by
orrink
Very Small
I wear these all the time. The new ones are at least 2 in smaller in the waist compared to old worn ones.
December 7, 2016
Rated

5

out of

5
 by
DruZ
Excellent Pants
Great Pants for Spring, Summer, and Fall. These and the RoC II are among the greatest Pants. I have ever owned.
November 18, 2016
Rated

5

out of

5
 by
Timmy86
Great pants, tough to tell the color
I like the pants a lot. They are tough and feel very high quality. The fit is good, sits a little higher on the waist than I have in other pants. I ordered the fossil color, and because I know, it came as green, but online it looks more like brown. Just FYI.
November 9, 2016
Rated

4

out of

5
 by
Steve1978
Quality pants - wide cut bottoms
I'm 6'4" and I got a 36x34, which is my go-to size for pants. These fit great in the waste and inseam, meaning that they are sized as described. They do have an extremely wide boot cut, which makes them look funny when worn with "office shoes", but they look OK when I where them with my boots. The problem is...I bought them as office pants because I would destroy these in the field (I walk through thorns and thick vegetation all day). I'm going to take them to a tailor to get the leg bottoms narrowed. Bottom line...narrow the leg bottoms and they're perfect.
November 3, 2016
Rated

5

out of

5
 by
Basserjim
Ultimate ROC Pant
Was looking for that in between pant....between jeans and a dressy pant. Found it in this very functional outdoor pant. Love the side zippered pocket perfect for cell phone, keys etc. Like this pant so much I'v purchased most all colors.
October 19, 2016
Rated

3

out of

5
 by
Bhab
inseam size is too long
great pants. But I wear a 30-32. These got to run at 34 + be careful
October 18, 2016
Rated

4

out of

5
 by
TDTF
Ok
This a decent casual outdoor pant. However I was recently in a retail store and found the same pant for $19.95. So I do think they are overpriced in my opinion. I'd also like to add the first pair I purchased was a 34-30 and that is my regular size. These pants have an issue with shrinking a lot in the dryer. So I purchased 34-32 this time and they fit better and shrunk to my size. Overall I really do like them.
October 13, 2016
Rated

3

out of

5
 by
Hacker
Sri Lanka quality better than India
The width of the pocket of the Indian product was cut down by 2 inches from the width of the Sri Lanka pocket. When you are 6'11" with big hands this Is a problem. There are no other pants that have a 36" inseam from which to choose.
September 11, 2016
Rated

5

out of

5
 by
Opickles
PatriciaS
I love these pants. They give enough warmth in the chilly morning and cool enough when it warms up. We were in Oregon in August. They can also be dressed up with a nice blouse.
August 19, 2016
Rated

5

out of

5
 by
MrsTexasTuma
Great Option for Professional Men who work outside
My husband is a project manager and spends a lot of time in the field but also in the office. We have searched for the perfect pant and I beleive we finally found it! The pants hold up to long, hot days in the sun and transition to client and his home office well. We will be buying more of these pants in different colors.
August 16, 2016
Rated

5

out of

5
 by
ace296
HAPPY (eventually)
I like these pants. The zip pocket on the right leg is great for cell phone. Light weight and comfortable. One issue : I ordered 4 pair. 2 were labeled 30 W but were really at least 32W and I had to send them back. Unfortunately I had to pay for shipping which was not fair. I ordered 2 more to replace those and the size that came was correct.
August 10, 2016
Rated

5

out of

5
 by
Rene1791dotcom
The best desk-jockey pants!
With the best phone pocket!
July 14, 2016
Rated

4

out of

5
 by
mary50
Roc pants for men
My husband loves these pants. He is normally a blue jean guy but these are comfy for our active outdoor lifestyle yet great for every day. This is a good price and we hope this style will be around for a long time.
June 29, 2016
Rated

5

out of

5
 by
Oldmanretired
Ultimate roc pant modern classic fit
I have been wearing this style of pants for the last six years they're great for recreation or semi-dress a good value. They have become hard to find at any local stores so we have to buy them online at Columbia.
June 13, 2016
Rated

5

out of

5
 by
bassmahn
Excellent pants!
I have at least 10 different pairs of the ROC pants, they are pretty much all that I wear. They look great in the office, and they are loose enough that I can get around in the field if I need to.
June 10, 2016
Rated

5

out of

5
 by
Jamie23
Great everyday pant
Excellent work pant, comfortable, and durable. I recommend these pants to anyone that is looking for a causal everyday pant
June 7, 2016
Rated

1

out of

5
 by
NameTaken
sent back immediately
Others rated this item as true to size but the pair I received was way too small. I could not close the snap at the waist. Also the legs had a slight flair that made them look somewhat like bell bottoms. I ordered India Ink which is not black but a faded looking off black.
June 7, 2016
Rated

5

out of

5
 by
Daemyn
Great product
I was using these pants on fishing vessels when it was a little cooler. Great pants to wear under waterproof gear. All of the stains and fish guts have easily come off in the wash. The pants dry quickly so no worries if you do get wet.
May 30, 2016
Rated

3

out of

5
 by
campdude
change back to button fly instead of snap
Prefer the older pant construction with button fly closure above zipper instead of current trend to go to snap. Sometimes doesn't stay closed.
May 21, 2016
Rated

4

out of

5
 by
FloridaBob
Good
Overall this is a good pair of pants. As far as the pockets go, the zippered pockets hangs a little low. If I put anything in this pocket, it hits at the knee. It would be nice if it was a little higher up. It would also be nice if the opposite pocket would accommodate a cell phone, like the Roc II. The legs seemed to run a little longer than the Roc II. But I do like the fact they had this in gray and like the lighter weight fabric.
May 11, 2016
Rated

5

out of

5
 by
philcomm
The ultimate pant
It's what I wear every day-can't say anything better. I have them in various colors and really don't need any other type of pant-works all season.
May 1, 2016
Rated

4

out of

5
 by
Jim27
Traveler
I like the slacks and they fit well. I have three pairs and one of them is tearing out in the crotch due to the seam being poorly sewn. The other two are fine. I like to wear them for hiking, yard work and traveling.
April 27, 2016
Rated

4

out of

5
 by
Ron56
great fit
comfortable and last a long time/ I wear these pants everyday
April 9, 2016
Rated

2

out of

5
 by
Chadward
Love the fit but quality and durability suffer
When I first got these pants I was contemplating buying several more in different colors for my work pants. I work in the water resources field and Loved the water resistance and pockets. After only 2 washes the pants no longer bead water very well and the seams are coming apart. The Columbia Tag on the back has only a few threads holding it on. This is the second pair of Columbia pants I have bought that have manufacturing defects. Quality control and durability just isn't what I would expect from an "Outdoor oriented" company like this.
March 18, 2016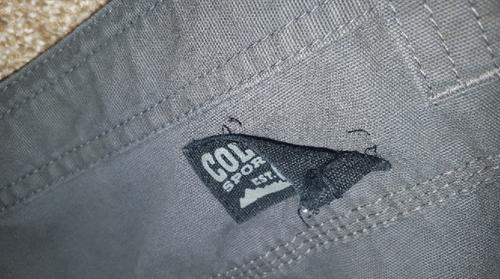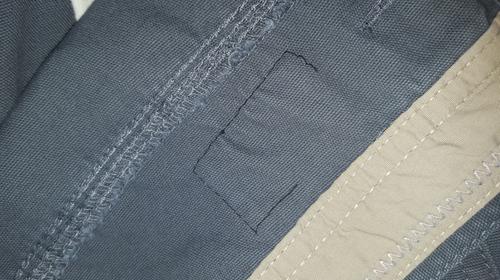 Rated

1

out of

5
 by
Liam1694u
Embarrassment to the Columbia brand
I really wanted to like these pants. I tend to be an odd size, and have a really hard time finding pants that fit well. So when I find pants that fit me good I get excited and buy a few pairs. I really like and Columbia stuff and have had a lot of success, but these pants fell far short of my expectation. They are not rugged at all, they attract dirt and grim like a magnet and pears are thinning and wearing out way too early. Every pair I own in thinning out at the crotch. And it isn't a fit issue. They fit good and have plenty of room to move around. I don't even wear them running around the outdoors. I just wear them for day-to-day wear around the house, at work, out shopping, etc. I've had these pants for for less than a year. I usually wear pants 2-3 times between washes to avoid over exposure to the harsh environment of the washer and drier. So my efforts should be helping to extend their life, but the fabric itself just sucks. It is a poor quality weave. It thins out and expands turning more into a mesh material. Holding them up to the light you can see where they thin out. The weave likes to separate. There is no interlock to the fabric, so the slightest flaw and it just unravels. one misplaced stitch near a seam and it causes the whole thing to fall apart. And as I said, the fabric just attracts dirt and grim and seems to hold onto it. Overall I am extremely disappoint and won't be buying any more pairs. The ROC line stinks.
March 18, 2016
Rated

5

out of

5
 by
mountain181
Great pants
Have worn these pants for several years now. They are comfortable and durable. Highly recommend this for everyday use.
February 18, 2016
Rated

5

out of

5
 by
NaughtyN
Best pants in the history of the world
These are like wearing scrubs. if you ever wanted to wear scrubs to work every day, but don't work at a doctors office, but do work somewhere you can wear khaki's, buy these freakin pants!! BEST PANTS EVER!!! I bought 4 pair!! I usually wear a 34/36, had to get a 38.
February 16, 2016
Rated

1

out of

5
 by
Danimal264
WRONG, WRONG, WRONG!!
The pants I received are about an inch too long in the waist and 2 inches longer on the inseam. They are of a cheaper quality than the Columbia pants sold in Belk's Department Store under the same name.
February 11, 2016
Rated

3

out of

5
 by
WayneT
Construction Quality
The legs are very full as it the seat except in the "butt crack" area where the seams are very poorly done and are tight. Had previous problem with ROC II where pocket area was poorly constructed. Wrote to Columbia Customer Service on 2/9 about need to revisit the overall "quality control" for construction and sizing.
February 11, 2016
Rated

4

out of

5
 by
Julianus
Nice, comfortable pants
I like how they feel and how comfortable these pants are. Also, they seem to be pretty durable. I found them true to size. The only feature I did not like much is that they are baggier than I could tell from the picture. Overall, these are great everyday and for outdoor activities pants
January 30, 2016
Rated

5

out of

5
 by
js249
Great casual pants
I liked the first pair so well, I bought another one.
January 30, 2016
Rated

5

out of

5
 by
SierrasHiker
Very versatile.
Having four pair of Ultimate ROC pants, I can tell you they are comfortable, durable and versatile. They are sized right. I am a bit on the chunky side and these pants fit me well. These pants are perfect for everyday wear around the house, yard work, and casual wear around town. I especially like wearing Ultimate ROC pants when hiking in the mountains.
January 22, 2016
Rated

2

out of

5
 by
Rod2016
Men's Ultimate ROC™ Pant
I have mixed feelings about the Men's Ultimate ROC™ Pant. I own many items from Columbia including a few pairs of these same pants, which have provided great service. The recent pair I ordered were much smaller than normal. Unfortunately, I took the tags off and threw the pants in the dryer with a wet load of laundry before trying them on. The new paints don't fit over my legs and certainly don't fit my waist despite the fact that the size listed on the tags was correct for me. Perhaps the size was improperly marked. Anyway, I'm stuck with them since I didn't try them on first.
January 22, 2016
Rated

5

out of

5
 by
Kdcm4v
This is it!
Finally found the perfect pant! I live in the South and this is good for all seasons here and wears well! I like the fact it is all cotton. When wet it dries quick. I also vacation in the West and it holds up there as well. Comfortable to wear while driving, walking, biking or just lounging.
January 15, 2016
Rated

2

out of

5
 by
philipg14
Alternate pants
I have purchased a similar pant in the past. The older version of the pants is not available. Not sure why. The newer version seems to be of a lesser quality, lighter in weight and seems to have fewer pockets.
January 14, 2016
Rated

4

out of

5
 by
Daveman
Good pant but a little ight around the lower backside
I'm a pretty tall guy's at 6' 8" 220 lbs., so I was looking for a good fitting durable pant with a good amount of utility with cargo style pockets. For the most part I enjoy the design, quality, and feel of the pant, but the lower rearend needs a bit redesign due to it being much tighter than it should be (should be more like the SilverRidge pant). It does loosen up a bit and I've gotten used to the feel, but the designers need to loosen that area up a bit. Other than that, the pockets are nice (although again I wish they were more like the SilverRidge style) and the material is comfortable and of good quality. Overall a good pant and comfortable to wear in most activities. I primarily wear them to a casual office/work environment and running around town etc.
January 10, 2016
Rated

1

out of

5
 by
rjb93
Terrible quality control!
I ordered 2pairs of these pants, to replace a pair I had bought at a store, and liked. 2 pair, same size 34x34. One pair received has an extra inch in waist, and inch less in inseam, as well as being extra wide in legs! The other pair is inch too long in inseam. Pairs labelled identically.
January 9, 2016
Rated

3

out of

5
 by
PaulDangerSelig
Decent Pants - Tight in the Butt!
I am an average sized fellow, about 6 foot and 175 lbs. My pants are a little loose in the waist, as this is how I like to wear them. I have worn my 2 ROC pants throughout backpacking trips to Central America. My only complaint is that they are terribly tight in the rear, and this is made worse if anything is placed in the front pockets. A diamond gusset crotch might fix this. They give me a slight wedgie and are embarrassingly snug. I'd say try before you buy, but as they are 100% cotton, they may shrink in the rear!
January 4, 2016
Rated

4

out of

5
 by
gobbler11
pants
tight around the crotch
January 3, 2016
Rated

2

out of

5
 by
jaremy11
Legs are too big
The sizing is right on, but the diameter of the legs is unnecessarily large. I returned them right away.
January 3, 2016
Rated

1

out of

5
 by
Lynx36
Ultimate ROC Pant
I ordered a 36/32 and either the pants I received were mislabeled or these pants fit way to big. It fit more like a 40/34. Other pants I have ordered with 36/32 fit fine?
December 31, 2015
Rated

5

out of

5
 by
Goodie
Zippered security pocket
These pants have zippered security pocket on the thigh and I returned these pants and reordered the "ROC II" pants which have the zippered security pocket on the front hip behind the regular front pocket. If the pictured pants on the web page were more detailed, then I wouldn't have ordered the wrong pants. Otherwise, these pants are good quality and I do recommend these pants. They're good for both outdoor activities and casual wear. These are the pants I wear 95% of the time because of the concealed security pocket on the front hip.
December 30, 2015
Rated

1

out of

5
 by
ThumbStateGuy
Tears apart quickly in crotch area
These pants are very comfortable and they are loose fitting on me but the crotch wears out waaaaaaaaaaaaay to quickly! Had to throw them away after wearing to work for only 4 months doing general warehouse work. Columbia fix this now please.
December 24, 2015
Rated

4

out of

5
 by
Spud334
Comfortable
These are comfortable pants. Just wished they had a 28 inseam for those with shorter legs.
December 24, 2015
Rated

1

out of

5
 by
Brooksie3257
Ultimate ROC
I blew the crotch out after about 12 uses. They didn't tear at the seam either, so I can't repair them. I wasn't even hard on them, just some casual wear.
December 21, 2015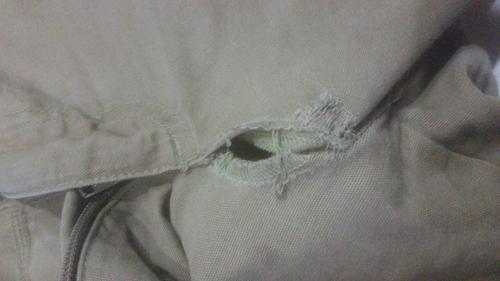 Rated

5

out of

5
 by
MrDLT
My Go-To Pants
Going For A Hike, A Trip To The store Or Out To The Movies, When They Are Clean, These Are My Go To Pants! Great Fit, With Enough Room To Do Some Climbing On More Aggressive Hikes.
December 20, 2015
Rated

5

out of

5
 by
Tony57
Better Than Jeans
I work in agriculture and I find these pants so comfortable that I no longer have jeans in my wardrobe. They wear well and to me, look nicer than jeans. I love them!
December 1, 2015
Rated

5

out of

5
 by
MMW35
The "Ultimate" Outdoor Utility Pants
I got my first pair of these pants in 2006 in the Arabian Gulf - they still look great and going strong. It is the material and it no kidding "ROC's." The neutral colors allow you to the option to wear these pants with just about evey imaginable color shirt. I mention outdoors utility but they look good enough to wear on "casual Friday." They are not you typical cargo pants. I am a 34" inseam and have them tailored - perfect fit.
November 15, 2015
2017-01-21
bvseo-cps-pl-PRR
2017-01-21 T13:01:38.450-06:00
bvseo_lps, prod_bvrr, vn_prr_5.6
cp-1, bvpage1
co_hasreviews, tv_299, tr_299
loc_en_US, sid_AM8564, prod, sort_default
Size & Fit Guide
Size & Fit Guide
Men's Fit Guide
Performance
Body contouring fit conforms to movement.
Performance
Active
Body skimming fit with end-use mobility in mind.
Active
Modern Classic / Regular
Universal, easy fit for comfortable range of motion.
Modern Classic / Regular
Relaxed
Most generous fit for a full spectrum of movement.
Relaxed
Men's Body Measurement (Inches)
Size
Pant Size
XS
28-30
S
32
M
34
L
36
XL
40
XXL
44
Neck
14-14.5
15-15.5
16-16.5
17-17.5
18-18.5
19-19.5
Chest
32-35
35-38
38-41
42-45
46-49
50-53
Sleeve Length
32
33
34
35
36
37
Waist
26-29
29-32
32-35
36-39
40-43
44-47
Hips
32-34
35-37
38-40
41-43
44-46
48-50
Inseam
Varies by Item
Size
Pant Size
L
36
XL
40
XXL
44
Neck
17-17.5
18-18.5
19-19.5
Chest
42-45
46-49
50-53
Sleeve Length
35
36
37
Waist
36-39
40-43
44-47
Hips
41-43
44-46
48-50
Inseam
Varies by Item
How to Measure
1.

Neck:

Measure at the base or thickest part of your neck.
2.

Chest/Bust:

Measure at the fullest part of the chest, under the armpits and over the shoulder blades, keeping the tape measure firm and level.
3.

Waist:

Measure around the natural waistline, allowing the tape measure to sit comfortably.
4.

Sleeves:

Start at the center back of your neck and measure across the shoulder and down to the wrist. Round up to the next even number.
5.

Inseam:

Measure from the top of the interior leg to the bottom of the ankle.
6.

Hips:

Measure around the fullest part of your hips.
How to Measure
How to Measure
Fold up at dotted line.
Place against a wall or other 90 degree surface.

Place heel against fold/wall on flat level surface.
Mark the end of the longest toe with a pen or pencil.
Measure both feet and use the larger measurement.
Read measurement and compare to size chart.
When comparing on the size chart, determine the closest larger measurement and use that number to determine your shoe size for your country's shoe measurement standard.
Shipping & Returns
Shipping & Returns
Shipping Information
Shipping Method
Rate
Expected Delivery Time
UPS Ground
$6.00
3-7 Business Days

UPS 2-Day Air
$12.00
2-3 Business Days
UPS Overnight
$19.00
1-2 Business Days
Free Standard Shipping
Available for Greater Rewards members. Learn more
Return Policy
Returns are accepted within 60 days of the purchase date online or in-store. Your apparel must be in original and unworn condition, with tags still attached. Footwear returns must also include the original box.
Still Have Questions
See our Customer Service section for more details. Visit Customer Service