Men's Zero Rules™ Short Sleeve Shirt
Details
http://www.columbia.com/mens-zero-rules-short-sleeve-shirt-AM6464.html
AM6464
Greater Rewards
members earn

289

points with purchase
Size & Fit Guide
|
Reviewers rated this product
True to Size
|
Fit
Modern Classic
Variations
1. Select Color:

Out of stock
Product Actions
Features
A super-cooling tech tee with stretch and sun protection, this soft and lightweight men's shirt sports our industry-leading cooling technology, which reacts with your sweat to lower the material's temperature and keep you cool during dynamic aerobic activity in the heat.
Features:
Omni-Freeze ZERO™ sweat-activated super cooling
Omni-Wick™
Omni-Shade™ UPF 30 sun protection
Modern Classic Fit
Comfort stretch
Antimicrobial treatment protects this product from bacteria growth
Center Back Length: 28 in
Imported
Fabric
:
100% polyester ZERO interlock
Omni-Freeze™ ZERO
Sweat-Activated Cooling
OMNI-WICK®
High-Performance Wicking Fabric
OMNI-SHADE®
Sun Protection
Technology Videos
Omni-Freeze™ ZERO
Blue rings react with sweat to lower the temperature of the fabric, so you feel cooler.
Omni-Wick™
Pulls moisture away from the body so sweat can evaporate quickly.
Omni-Shade™
Blocks UVA and UVB rays to help prevent sunburn and long-term skin damage.
Reviews
Rated

4.5

out of

5

 by

59

reviewers.
Rated

5

out of

5
 by
Momo0527
Great Warm Weather Shirt
This is a wonderful shirt for those hot days. Fits great, keeps you cool and dry. I had 2 of these shirts which I wore in the summer in both Disney World and Las Vegas. Have since bought another one. I would recommend this product.
December 18, 2016
Rated

5

out of

5
 by
BigWorm
Lov'em
These are by far the lightest, most comfortable shirts I have ever worn!! I absolutely love them!!
November 28, 2016
Rated

5

out of

5
 by
suesafari
Breathed in Africa
This shirt served me well on my recent safaris in Africa. October is the hottest time in the Okavango Delta and I was as cool as could be in this shirt.
October 15, 2016
Rated

5

out of

5
 by
leejia
As if it's 5-10F cooler...
Based on the name of the fabric, I'd (skeptically) hoped for a wonder-material that somehow feels cold even in the heat. For me, that was not the case, but I was pleasantly surprised. I put this to the test by playing tennis on a sunny, 90F day with 65% humidity and hardly any breeze. Of course it was hot outside and I was sweating profusely. My uncovered arms and legs felt hot. Under my shorts, socks and tennis cap, I felt hot. However, my upper body was reasonably comfortable...not cool, but not hot either. It was like my upper body was playing tennis on a day that was 5-7 F cooler. The cooling effect works better if there's a good breeze...then maybe feels like 10 F cooler than ambient. One other unexpected benefit. After tennis, my shirt is usually soaked with sweat so I take it off and change into a dry t-shirt for the drive home. I often have to wrestle and contort my body to remove a soaked shirt since it sticks to my skin. However, even when wet, this shirt lifts off of skin easily and can be removed with minimal effort. For the above reasons, I bought a second shirt. Up to this point, I've been buying synthetic tennis t-shirts from Adidas, Nike and Under Armour. Those are still nice products, but if I know it's going to be really hot outside, I'll reach for my Omni-Freeze Zero shirt.
September 23, 2016
Rated

5

out of

5
 by
wahootiger
So far, so good
After several weeks of using this shirt on my rowing machine outdoors in Arizona in the summer, I have to say that it is all it's cracked up to be. The material is comfortable. The shirt sizing is accurate. It has come through 20+ washes just fine. And yes, it is a lot cooler than a sweaty cotton t-shirt.
August 23, 2016
Rated

5

out of

5
 by
GoldCountryWalker
My husband's go-to everyday shirt
This is a perfect all-summer-long, easy-to-wear, easy-to-launder shirt for my husband. He wears it to work out or for a run to the hardware store, for home office work or to relax on the patio. It wicks to keep him cool, and it's comfy without an undershirt. He has several of this shirt. The only issue is that it is easily snagged, so it's not for wearing under a day pack for our short-to-mid-length hikes.
August 19, 2016
Rated

4

out of

5
 by
2L8IWON
Great shirt but.....
Love the shirt, however within a month both the "logo" and the "C" on Columbia started peeling off. Bought 5 shirts and so far the other 4 are doing OK so I'll watch and see how they hold up.
August 6, 2016
Rated

5

out of

5
 by
TheVinnyRater
Perfect
I was looking for these types of shirts for the longest time but never had any luck with them. Other brands would be too short/tight on the sleeves, shoulders, or stomach area, too thin, too thick, etc. These are perfect. Great material not too thin/thick, perfect length in the sleeves, and general overall fit. About the fit, however, they do run large. I bought large and medium based on the reviews here and returned the large as the medium fit perfect with just enough room to not have me go the size up. So happy with these I bought up every color I could find!
August 3, 2016
Rated

5

out of

5
 by
Environmentor
Great Shirt
A comfortable shirt composed of great fabric at a nice quality. Will likely purchase more.
July 29, 2016
Rated

1

out of

5
 by
Johnathon44
disappointed
I sent the entire shipment back. did not like anything about the shirts. material is bad and the shirts had no structure.
July 27, 2016
Rated

3

out of

5
 by
Pridellc
Not thrilled
Bought on premise that the shirt will use sweat to cool my body by 10 degrees and I feel no difference in this shirt and any other shirt. $30 wouldn't be a bad price if it held to its claims.
July 24, 2016
Rated

5

out of

5
 by
Jhosem
Nice shirt
Nice and good quality
July 24, 2016
Rated

5

out of

5
 by
CrazyBuffalo
This shirt really is designed to keep you outside!
I live in a high desert so being outside for extended periods can be challenging given the heat and sun intensity. I purchased two of these shirts in black and grey. I've had these on in 90+ degree heat at altitude as well as at sea level and both kept me cool and outside. Since I have purchased one in each color and naturally the lighter colors are a bit cooler, but only a bit. This fabric is amazing stuff. One side note though I walked into a grocery store from 93 degree heat and absolutely froze in there, so take a fleece - no joke. The fabric pulled all the heat off my body it was trying generate to balance its self. Beyond that this T worth having as a summer go to shirt.
July 22, 2016
Rated

5

out of

5
 by
princessjg
amazing product
I brought this shirt for my husband, father and father in law.....as they all work outdoors. They are very impressed with the shirt and how great it works.
July 21, 2016
Rated

5

out of

5
 by
JimSt
Zero Rules Short Sleve Shirt
This shirt is very comfortable and appears to wick perspiration as well or better than any other shirt I have worn.
July 3, 2016
Rated

2

out of

5
 by
nwfmike
If you like a tighter fitting exercise shirt, look elsewhere
Never fails. Companies get it just right with a shoe, shirt, or shorts and then decide to change it. Columbia had it *just right* with their old Titanium shirts. I bought quite a few back in 2010 and I STILL use them...and I have been really tough on them. Perfect material, strong, but lightweight and most importantly a great fit. These shirts are definitely not Titaniums. They run really big. OK for an outside shirt that you like a little loose I suppose. I attached a pic showing one of my old Titanium shirts (red) laid on top of the new Zero Rules shirt. You be the judge. I bought two of these shirts, but I will not be buying more. If Columbia brought back the old Titanium shirts, I'd probably buy 20.
June 30, 2016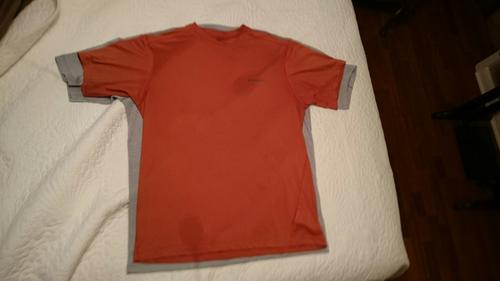 Rated

5

out of

5
 by
BC2dogs
Zero tee
Great tees. Good true fit, keeps you cool. I only wish there were more colors.
June 23, 2016
Rated

5

out of

5
 by
Merzoo
Cooling Shirt
I ordered this for my husband who has MS and it helps him with the heat. I need to save up to get some more for him.
June 20, 2016
Rated

5

out of

5
 by
dbcassidy
Great for the Texas heat
This is a great shirt for wearing in the Texas heat. Kept me cool all day.
June 16, 2016
Rated

5

out of

5
 by
MD6288
Best shirt out there
I own 8 of these shirts, both short and long sleeve. They are hands down the best shirts I have ever worn. They don't stretch or loose shape after repeated washings. They don't retain odor after working out. They dry fast. The logo stays put and doesn't peel off. I haven't been able to find a shirt that fits as well as these or keeps performing in everyday use, from work to workout, then to weekend hiking. PLEASE COLUMBIA DON'T EVER STOP MAKING THESE!!!!
May 25, 2016
Rated

4

out of

5
 by
midnightfred
Wrong climate
Really like the feel of this shirt. Super comfortable! I'm not sure how it does in the hot weather. It is 40 degrees outside.
December 24, 2015
Rated

5

out of

5
 by
Whoajoe
Very Happy !!
Just got the shirt and have worn it several times. I use it to run in and I am very pleased with the results, so far. Size was perfect and sweat was absorbed well by the shirt. Very Happy !!
December 14, 2015
Rated

4

out of

5
 by
Mikevegas
Size and colore
The large is substantially larger than the PFG's 2 years ago. The white has faint small blue squares through out the material taking away from the all white look.
December 3, 2015
Rated

5

out of

5
 by
james07
This shirt fits well and non-restrictive
The product fits true to size, which I have not always found with other Columbia shirts. The lightweight material is non-restrictive to allow free movement in all activities
November 9, 2015
Rated

5

out of

5
 by
mboe
Jungle tested
recently purchased this item and wore it on a jungle trek in Thailand riding Elephants. Works like a charm and kept me cool the entire time! Love Columbia tech products.
November 5, 2015
Rated

1

out of

5
 by
Zarmike
Poor fit and bad color
I order two of the same shirt same size and they have a completely different fit. one is very tight and the other is very lose. There is is no consistency to the fit. Also the color I purchased was a dark charcoal color and the shirts arrived in a light grey.
November 4, 2015
Rated

5

out of

5
 by
Enough
Outstanding Shirts
Fit well, feel good, wick well, and dry fast.
November 2, 2015
Rated

5

out of

5
 by
kusa
Good when big
Im a bigger guy who wears scrubs to work and with traditional cotton style shirts i would sweat all the time. But now with the cool tech shirts i stay cooler with scrubs on and with moisture wicking if i do sweat i dont feel like i just out of a swamp.
October 7, 2015
Rated

5

out of

5
 by
L1VinInParadise
Keeps you cooler in hot weather
While training for a 13 mile paddleboard race in SW FL; I was constantly battling 90 degree heat and 70% humidity and overheating was a constant concern. After wearing the shirt; I noticed a substantial difference in my body heat and ability to push through the race without being extremely fatigued in spending 3 1/2 hours in the heat in the race. This definitely made the difference in my ability to perform and I would recommend this product to anyone who is an endurance athlete and needs cooling abilities
September 25, 2015
Rated

5

out of

5
 by
FishGuy
Awesome shirt!
Comfortable fit, lightweight, and cool! I wear this shirt everywhere! If you are looking for a high quality shirt at a great price, look no further!
September 21, 2015
Rated

4

out of

5
 by
John4321
Very Good Product:
To Whom It May Concern, I was asked for my review of your "award winning Omni-Freeze Zero" shirts that have the following sweat activating gel packs, omni-wick fabric, and omni-shade 30 UPF fabric. During this summer when I wore it, the 7 Omni-Freeze shirts + 1 PFG (sweat activating gel packs / omni-shade 30 UPF fabric shirt) shirt I purchased performed up to their standards. I felt cool when I began to perspire, and left me feeling comfortable and drier than had I not wore those shirts. From that perspective that they made me feel comfortable during hot and humid days, these shirts are everything I could have hoped from them. Absolutely lives up to Columbia's advertisements. I would also add that after normal cleaning and drying, that they still perform as advertised. Now I'm going to tell you why I'm not going to purchase any more until this is corrected:. They don't have pockets. Now this may not seem like a big deal, but there were soooo many times I normally would have put a pen or a my hotel card in a shirt pocket……………..but I didn't have a pen to write down something important, or if I had a pocket, I would have immediately put my hotel card in my pocket – instead of being locked out – yes, this happened. No pocket equals no purchase…………… Now this isn't a make or break, but how about adding some more colors? How about brown and or burgundy? Dark colors versus white or light colors – because white shows the blue gel pack rings when activated. Or how about producing the typical white V neck under shirt gel pack T-Shirts? Omni-Freeze Zero shirts are a great products. Hopefully you'll start producing them with pockets so I can purchase more of them. John
September 5, 2015
Rated

5

out of

5
 by
UmpirePaul
It works.
This shirt keeps me cool. I forget I'm supposed to be hot. I marked "true to size". But who knows? I got an extra large and it fits me the way I want. Size depends on what you want. Will be getting more for next season.
September 3, 2015
Rated

5

out of

5
 by
YakSushi
Great casual shoes
These shoes are great, they are comfortable and look good perfect for the boat or bar.
August 7, 2015
Rated

5

out of

5
 by
tcincis
Great Shirt
Shirt keeps you cool, drys fast, fit is athletic on top and little more room around lower half which work great if you stomach is little bigger then you like.
July 30, 2015
Rated

3

out of

5
 by
EazyE
Nice Shirt, Weird Color
Carbon Heather apparently means Purple! Luckily the nice folks at Columbia were easy to deal with for the return!
July 24, 2015
Rated

4

out of

5
 by
CecilCMonster
very comfortable shirt
The material is great for someone who is always warm.
July 16, 2015
Rated

5

out of

5
 by
Martin1320
This shirt does it all
Very pleased. Amazing technology good price
June 28, 2015
Rated

5

out of

5
 by
Basserjim
Mens Zero rules Short Sleeve Shirt
What can I say....I love these shirts so much I have several colors! I fish about 100 days a year and these are light weight, wicking, and protect you from the sun.
June 27, 2015
Rated

5

out of

5
 by
TopNotch
Very Comfortable
This shirt is very comfortable and feels good on you. Nice and cool. True to fit sizes.
May 30, 2015
Rated

5

out of

5
 by
Raptor
Omni-freeze Zero
Awesome shirts & shorts!
May 27, 2015
Rated

5

out of

5
 by
GD09
Just plain Works
This is a fantastic shirt, I drive a go Kart, it keeps me very cool in hottest weather. It cools great with the slightest braze.
May 10, 2015
Rated

5

out of

5
 by
jonf1
What a great product
This is a great product for all you outdoors individuals. Cool to wear even in hot humid Florida weather. Great on the boat as well.
April 21, 2015
Rated

4

out of

5
 by
Iggs
Zero Rules Short Sleeve T
I purchased this shirt in a large and if you are looking for a great shirt that will keep you cool and fit comfortably then I recommend this shirt. The sleeves a a tad bit long for my personal liking, but not to the point where its a make it or break it. Overall a great shirt. You can probably find similar shirts that do most the same thing for a bit less money, but if you don't mine spending the extra buck than this shirt will live up to its potential. I have only recently purchased this shirt so I cannot comment about its overall durability yet.
April 11, 2015
Rated

5

out of

5
 by
JDMurray
Great Shirt
Love it. My husband and father both have one. It's perfect. Fits well, feels great.
April 6, 2015
Rated

5

out of

5
 by
Inukshuk
Comfortable
Very comfortable and surprisingly warm. Not a thermal base by any means, but distinctly warmer than two other Columbia "cooling" shirts I bought. Its nice to have this as a base layer offering a little variety over the other synthetics' feeling of cool.
March 25, 2015
Rated

3

out of

5
 by
MiniZ238
DON'T GET THE WHITE
I like this shirt a lot so I got it in multiple colors, including the white shirt. But what you don't see in the picture is the little "cooling" beads or whatever they are can be seen through the white. So instead of it being solid white, it looks like a white shirt with blue polka dots. Wish the picture was correct!
March 24, 2015
Rated

5

out of

5
 by
Nscott
Great
Great I love this shirt
February 12, 2015
Rated

5

out of

5
 by
JayCasey
Just what I needed!!
I have a neurological illness that prevents me from sweating and therefore my body overheats easily. My wife bought this shirt for me hoping it would work to keep me cool. I wet the shirt in the sink, wring it out gently, and wear it to play golf or anything else that is strenuous. It keeps my body cool and has been great in allowing me to have a more normal life.
November 7, 2014
Rated

5

out of

5
 by
DBrooke
Good value and very functional
This is my second Zero Rules shirt. My wife and I bought these for overnight hikes with limited laundry facilities. It's great to be able to hand wash them and be able to wear them the next day. Lightweight, durable, and comfortable. Great go-to shirt for active people.
November 6, 2014
Rated

1

out of

5
 by
columbiafan6854
Not the same quality as previous versions
I originally wanted to purchase the Men's Total Zero T-Shirt, but as I understand, this line has been replaced by Zero Rules. The sku of the T-Shirt I wanted to buy is 1521521 - but couldn't find it on Columbia.com or anywhere else so I purchased the new version - Zero Rules T-Shirt (sku 1533311). The Zero Rules line is a complete disappointment. The shirt is stiff, itchy, feels like a plastic trash bag, and worst of all...is hot (despite the Omni-Freeze tech). After looking at the labels, I realized that my older Total Zero shirt is 92% Polyester & 8% Elastane - whereas the new Zero Rules shirt is 100% Polyester. I assume this is the difference and what makes the new Zero Rules line so disappointing.
October 21, 2014
2017-01-23
bvseo-cps-pl-PRR
2017-01-23 T13:20:30.841-06:00
bvseo_lps, prod_bvrr, vn_prr_5.6
cp-1, bvpage1
co_hasreviews, tv_59, tr_59
loc_en_US, sid_AM6464, prod, sort_default
Size & Fit Guide
Size & Fit Guide
Men's Fit Guide
Performance
Body contouring fit conforms to movement.
Performance
Active
Body skimming fit with end-use mobility in mind.
Active
Modern Classic / Regular
Universal, easy fit for comfortable range of motion.
Modern Classic / Regular
Relaxed
Most generous fit for a full spectrum of movement.
Relaxed
Men's Body Measurement (Inches)
Size
Pant Size
XS
28-30
S
32
M
34
L
36
XL
40
XXL
44
Neck
14-14.5
15-15.5
16-16.5
17-17.5
18-18.5
19-19.5
Chest
32-35
35-38
38-41
42-45
46-49
50-53
Sleeve Length
32
33
34
35
36
37
Waist
26-29
29-32
32-35
36-39
40-43
44-47
Hips
32-34
35-37
38-40
41-43
44-46
48-50
Inseam
Varies by Item
Size
Pant Size
L
36
XL
40
XXL
44
Neck
17-17.5
18-18.5
19-19.5
Chest
42-45
46-49
50-53
Sleeve Length
35
36
37
Waist
36-39
40-43
44-47
Hips
41-43
44-46
48-50
Inseam
Varies by Item
How to Measure
1.

Neck:

Measure at the base or thickest part of your neck.
2.

Chest/Bust:

Measure at the fullest part of the chest, under the armpits and over the shoulder blades, keeping the tape measure firm and level.
3.

Waist:

Measure around the natural waistline, allowing the tape measure to sit comfortably.
4.

Sleeves:

Start at the center back of your neck and measure across the shoulder and down to the wrist. Round up to the next even number.
5.

Inseam:

Measure from the top of the interior leg to the bottom of the ankle.
6.

Hips:

Measure around the fullest part of your hips.
How to Measure
How to Measure
Fold up at dotted line.
Place against a wall or other 90 degree surface.

Place heel against fold/wall on flat level surface.
Mark the end of the longest toe with a pen or pencil.
Measure both feet and use the larger measurement.
Read measurement and compare to size chart.
When comparing on the size chart, determine the closest larger measurement and use that number to determine your shoe size for your country's shoe measurement standard.
Shipping & Returns
Shipping & Returns
Shipping Information
Shipping Method
Rate
Expected Delivery Time
UPS Ground
$6.00
3-7 Business Days

UPS 2-Day Air
$12.00
2-3 Business Days
UPS Overnight
$19.00
1-2 Business Days
Free Standard Shipping
Available for Greater Rewards members. Learn more
Return Policy
Returns are accepted within 60 days of the purchase date online or in-store. Your apparel must be in original and unworn condition, with tags still attached. Footwear returns must also include the original box.
Still Have Questions
See our Customer Service section for more details. Visit Customer Service