Women's Alpine Action™ Omni-Heat™ Jacket - Plus Size
Details
http://www.columbia.com/womens-alpine-action-omni-heat-jacket---plus-size-1562242.html
1562242
Greater Rewards
members earn

1399

points with purchase
Size & Fit Guide
|
Reviewers rated this product
Fits Slightly Small
|
Fit
Modern Classic
Variations
Product Actions
Features
A cozy beauty of a winter coat crafted with advanced waterproof breathability, 100g of toasty insulation, and our thermal reflective technology which conserves body heat. A set of ski-and-snowboard-ready features get you ready for the mountain while unique line-dye coloration stands out in a crowd.
Features:
Omni-Heat™ thermal reflective
Omni-Tech™ waterproof/breathable critically seam sealed
Active Fit
Wind proof
Insulated
Removable, adjustable storm hood
PU Zip on chest
Drawcord adjustable hem
Adjustable, snap back powder skirt
Interior security pocket
Zippered chest pocket
Zippered hand pockets
Media and goggle pocket
Center Back Length: 28"
Imported
Fabric
:
Shell: 72% nylon/ 28% polyester Legacy Dobby
Lining: 100% polyester Omni-Heat™ Reflective Microtex Light
Insulation: 100% polyester microtemp XF II, 100g
Omni-Heat™ Reflective
Thermal Reflective Warmth
Omni-Tech™
Waterproof. Breathable. Guaranteed.
Technology Videos
Omni-Heat™ Reflective
Magic in a little
silver dot.
Breathable material with little silver dots that reflect body heat.
Omni-Tech™
BREATHABLE &
GUARANTEED WATERPROOF.
Air-permeable protection that's waterproof and breathable guaranteed.
Reviews
Rated

4.3

out of

5

 by

55

reviewers.
Rated

5

out of

5
 by
Beckoslovakia79
Great jacket
Love this jacket but it does fit smallish. I am not as comfortable if I have thick layers underneath like a hoodie. However, if you have thin layers, you will stay warm in even the coldest weather. I love the built in half glove things with the thumb hole. I find it provides just enough coverage. Also love the fleece lined pockets. They get nice and toasty if you keep your hands in them or especially if you use hand warmers like I do. If you tend to wear bulkier layers, I would strongly recommend going up a size.
January 17, 2017
Rated

4

out of

5
 by
Angel09
warm but not heavy
Warm Coat with enough room to layer on really cold day-- I like to wear underarmour hoodies and the coat fits great with them--also fits with sweaters with cuddle duds underneath --very nice if you like to be able to move around and not feel like you are suffocating or be constricted
January 15, 2017
Rated

5

out of

5
 by
MrsThompson0704
LOVE LOVE LOVE
Per all the reviews I ordered one size up and it fits perfect! I am very broad for a girl and this is the first coat for a girl I have been able to purchase and wear and I LOVE IT!
December 29, 2016
Rated

5

out of

5
 by
arc4
Love this coat!
Love the fit and the colors. It was true to size. My only complaint is the hand/thumb part doesn't stretch well and I end up ripping it when I reach for something.
December 18, 2016
Rated

3

out of

5
 by
csdogmom
Buy the Lhotse for warmth
My goals with this purchase: (1) A coat that's comfortably warm over two long-sleeve shirts in 20-degree weather, and that I can wear over a sweatshirt in colder temps. Something I can quickly toss on for three-a-day dog walks and numerous errands. (2) Velcro sleeve adjustment, a necessity as I have short arms. (3) Something flattering. (4) Versatile, easy-to-keep clean main color, i.e., black or dark gray. (5) Collar color that does not drain color from face or need frequent washing. I prefer fleece linings, but who wants to remove and wash a lining every time its baby blue collar shows a little dirt? I ordered the Alpine Action in a 1X, and found it too large for my build (38-35-45). It might have been more flattering in an XL, but I decided the reflective lining wasn't warm enough. In 45-degree weather in high humidity, with a couple layers, I could still feel a bit of a chill. For vigorous activity it might be fine, but for a brisk dog walk it was lacking. Based on the reviews regarding warmth, I switched to an XL Lhotse Interchange. More flattering. Insulated lining could stand to be a little warmer, but it was sufficient over a single long-sleeve tee in 35-degree weather. And I think the "pit vents" could improve motion and comfort when layering over a sweatshirt. A feature I appreciate: If you unzip the faux fur collar trim, the zipper on the hood stays hidden. I'm keeping the Lhotse and returning the Alpine. See Lhotse review for a photo of that item.
December 13, 2016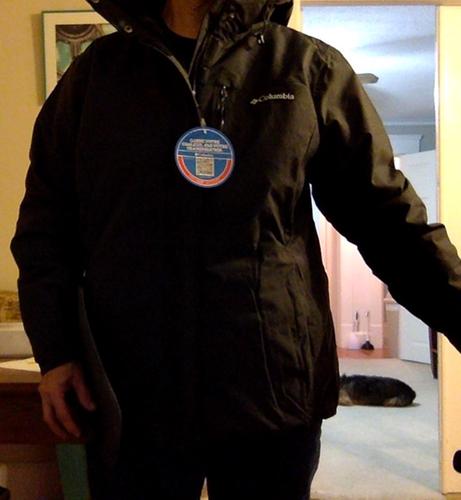 Rated

1

out of

5
 by
Chrisy
Waste of money
Ordered several sizes larger than normal after reading reviews and coat was still too small. Sizing is way off. It cost me $12.71 to return the darn thing! Won't order from Columbia ever again!
December 13, 2016
Rated

3

out of

5
 by
KathyF
Stylish jacket.
I bought this jacket as ski jackets are normally very warm. This one is not, because of the "Breathable" fabric means the cold gets through the sleeves when there is any breeze. Maybe waterproof but disappointed in not being warm unless you already warm. Other when that, the coolness in the sleeves it is a nice jacket.
December 10, 2016
Rated

5

out of

5
 by
Ebonim5
Perfect
I'm so glad I bought this ! You will not feel one bit of cold in this jacket . Has plenty of pockets . 5 stars
December 8, 2016
Rated

5

out of

5
 by
Dems
I love my new jacket!
I can't remember the last time I had a real winter jacket but with recent below 0 wind chills in the last 2-3 years I decided that I really needed one this year and I decided to treat myself. I'm so happy I did! I normally would wear a 2x but I had to go up a size and i am still able to wear a hoodie or a sweater underneath. I love that it has to many pockets outside and in. I got the black one which isn't really black it's more of a charcoal grey but it still looks great. It also has these hand sleeves which I find handy so the sleeves doesn't move up in case your ever reaching for something. So far I've been kept warm and I really love my new jacket.
December 7, 2016
Rated

5

out of

5
 by
amberc
I love this coat!
I received this coat last week and since then it has been really cold in Minnesnowta. It has been awesome. Very well made and warm. I love all of the pockets!
December 7, 2016
Rated

2

out of

5
 by
sQualie
No Pit Vents?!!
This is a great jacket, seems like a nice level of warmth for those colder days on the slopes. Cut is nice and the powder skirt stays in place through the full range of motion BUT, prepare to sweat on those warmer days as there are no pit vents. Regardless of how breathable it's advertised to be, it can never make up for vents. Sadly, I've had to return this jacket as it isn't suited for true skiers.
November 30, 2016
Rated

5

out of

5
 by
Lulu865
Great Jacket if you know what you're looking for!
It can get well below freezing here in Denver. I was looking for something that would keep me warm as I walk around while at the same time keep the wind and snow out. This jacket is thermal reflective, meaning it keeps your body heat inside. This is great as long as you're moving around or for someone like me that generates a lot of heat naturally! If you're not moving around and not your own heater, then you'll need to layer if you want to stay toasty warm. The hood could be better. I found that the shape/structure of it was annoying. It does stay in place though. Overall, great purchase to wear alongside a fleece for those especially chilly days!
November 22, 2016
Rated

4

out of

5
 by
mxy402
Alpine Omni Heat
Jacket arrived quickly and I was surprised at how light weight it is. It hasn't been cold enough to wear yet but my cousin noticed that the velcro on the cuff was coming off...so I'll have to get that fixed...
November 17, 2016
Rated

4

out of

5
 by
YorkyRose
Really Warm.
Nice jacket that is exactly like the product picture. As reviewers recommended I too ordered a size up and it fits comfortably and with room for a layering should the weather get frigid. Nifty inner elasticated hip band with snaps to hug the body and stop the wind penetrating. Light and comfy but warm. Smart and fashionable with great color selection. The only complaint I have with this jacket which is really well made is that it would benefit from a two way heavier weight zipper. Not the single nylon zipper that it has. For the price of this item this should be addressed. Quick and very reasonable shipping cost.
November 16, 2016
Rated

5

out of

5
 by
NativeMom
Lovin' it!
Run a little small in the arms only! In action it's really keeping me warm. But if I'M in Montreal waiting for the bus, sitting for more than 15 minutes I have to wear a midlayer because I'M getting cold slowly but for sure... I normally wear XL or 18 and I bought 2x to be able to put a midlayer under. Nice choice!!!
November 15, 2016
Rated

4

out of

5
 by
RlcinNorCal
Very nice but runs big
This jacket is beautiful. I love the color combo, the look of the fabric, the shaped fit, all the pockets and the nice seams. However, the jacket runs quite large compared to the size chart. I normally wear a 16, sometimes 18 in streetwear, and I have a 49" bust measurement. I ordered a 2x based on it running small, but I found the 2x to be huge. The waist is low, the arm holes and shoulders are too big, even the bust, which is normally snug on me, was very roomy. I have to exchange this jacket for a smaller size. Oftentimes I don't bother with exchanging but this jacket is so nice it will be worth the hassle.
November 5, 2016
Rated

4

out of

5
 by
oduckfan
Sporty!
Alas, my jacket is not likely to see any "Alpine Action", but I sure look and feel like a skier when I'm wearing it! I love the all of the slimming and cool features of this jacket. Thank you, Columbia for putting a PU zippered pocket on the front! Okay, I don't really know what a PU zip means, but it seems to be a super-rare feature on plus-sized jackets and it looks so darned cool. This jacket looks so sporty, fits like a dream, if not a tad snug (go up a size if you wear sweaters!), and looks like a super high-end coat costing twice its price. Dear Columbia, thank you and please bring this back next year in some super fun colors or patterns and I might just show it off in or near a ski resort...on my way to a mall.
October 20, 2016
Rated

5

out of

5
 by
Wanderbug
Yippee!
I am so thrilled with this jacket! For the first time in years I have a stylish jacket in my size , most jackets made for my size and shape are frumpy well not this coat ,it's cute & fashionable that is also drumroll Warm!!! I love the colour! I got nocturnal and hot coral the coral was brighter in the hood area than I anticipated but not in a bad way and in the front zipper pocket the colour is more muted so it's perfect! I just received my jacket today & went for a walk wearing it this evening and it monsoon rained with extreme wind ,I stayed warm & dry ! This coat repels water ! Can't wait for snow and skiing ! Thank you so much Columbia for making this in my size which is 2x and I'm Apple shaped with large chest and the fit is perfection !
October 18, 2016
Rated

5

out of

5
 by
Kkienberger
Awesome
I live in rural Alaska and my mode of transportation is a quad. I needed something that is wind and waterproof. I normally wear a 1x but purchased the 3x based on reviews and the fact I wanted to be able to wear a hoodie or fleece underneath to make sure I stay warm. This size was perfect so I could layer if needed and still have room and be comfortable. This last week I was able to put the jacket to the test as we have had nothing but rain and high wind. This jacket exceeded my expectations. It not only keeps me dry and warm but it absolutely wind proof also. I am 100% positive it will hold up the same once the snow hits. I also love the style, color and fit of the jacket and o course all the zippered pockets. I would love to see Columbia make this jacket with some reflective stripes....that would make it even better!
October 2, 2016
Rated

5

out of

5
 by
Nanna
Best Ever Jacket
I am very impressed with the quality of this jacket. The detail is very well made and I love the sleeve cuffs with the half glove that keeps the sleeve in place all the time. The fit is perfect. I rec'd my jacket 5 days earlier than expected. Thanks
September 14, 2016
Rated

5

out of

5
 by
Silver1Gran
Excellent Product
Bought this jacket for my daughter who spends a lot of time outdoors. She had owned a Columbia jacket before and loved it. She gave it to a charity and was searching for a new one. She was so happy with the new one I purchased one for myself also. Awesome product
February 25, 2016
Rated

3

out of

5
 by
Chicagoiscold
Nice Jacket
I am normally a size 16, but this coat runs small around the hips. It is nice in person and great material, so from a 1X i have to go up to a 2X. This surely makes me feel even more self conscious to know I have to go even more up a size, because name brand companies only make these jackets for skinny no booty girls, even for something that states its Plus Size!
February 19, 2016
Rated

5

out of

5
 by
dls915
Lightweight, warm and figure flattering
Love my new jacket. It's warm but lightweight and is very fashionable. I'm a plus size and this jacket has seams that hug my curves but not in a tight way.
February 6, 2016
Rated

4

out of

5
 by
Mbeach
Nice looking jacket
The jacket is nice looking, fits good. My only two wishes for it, is that it to be warmer and longer. I'm 5'11" and I know I have a long torso, but it's unfortunately a tad short for me.
February 5, 2016
Rated

5

out of

5
 by
Hazel13
Love this jacket
I have been looking for a jacket that fits right and keeps me warm, and this one is perfect. I love it!
February 4, 2016
Rated

5

out of

5
 by
CJ10wisc
Love this jacket
I like everything about this jacket, especially the omni heat feature and the cleverly placed pockets. The omni heat makes it warm without bulk. I would buy another in a slightly longer back, as this one just comes to the back of the butt. Only feature I might add is double zipper so you could open the coat around the hips while riding in the car.
January 31, 2016
Rated

5

out of

5
 by
1GreatauntLora
You Gotta Love It!
I bought this Jacket to prepare for the worst belated winter. At work I have to be outside shoveling and plowing as needed. And all I had under was a thermal and a tee shirt. And let me tell you the first snowstorm New York had this year I was outside til 3:00am and I was warm. Normally I wear a XL to a 1X , I bought a 2X and it was perfect. I Love all the pockets inside and out. Its very form fitted.
January 30, 2016
Rated

5

out of

5
 by
evie1952
love it
i love this jacket this is my second one I have purchased over the years I loved my first jacket so well had to order a new one when the old jackets zipper broke.
January 27, 2016
Rated

5

out of

5
 by
Jennster
Good Jacket
The jacket is warm, stylish and comfortable on and off the slopes. As for size, the jacket in the chest and arm area are good, but the jacket is a bit short, however, I am a taller person. Recommend this jacket to those loving winter sports.
January 27, 2016
Rated

3

out of

5
 by
MotherRed
Learning to love it or list it
I ordered a larger size as recommended by others. Fit in hip area was OK - but can't wear a sweater under this garment. Has to be re-adjusted after rising from sitting. Sleeves and upper torso large..too much bulk around the neck area...a problem when driving. It is warm and lightweight - so there is that. Not sure of the functionality of the inner wind-blocker - it bunches up when driving or walking- may need to cut it out for a better fit.
January 23, 2016
Rated

3

out of

5
 by
Kels1
Nice jacket, but not very warm
This jacket is not as warm as I expected, but has a nice outer shell for blocking wind. Need to layer underneath if you want to be warm in temperatures below 30 degrees or so unless you are doing a vigorous activity. I normally wear a 2x or size 20, but ordered 3x based on other reviews. Is roomy enough to fit needed layers for warmth underneath. 2x would have fit if extra layers weren't needed. Would have expected a warmer jacket for the cost.
January 17, 2016
Rated

5

out of

5
 by
Jettekins
Love it
Color is gorgeous and bright. Very true to picture. I ordered the purple. I wear a 20-22 ontop because of big boobs and the 3x fitted well with room around the waist.
January 16, 2016
Rated

5

out of

5
 by
Adge
Warm
Sleek but does the job of a bulky coat. Ready for winter now!!*
January 14, 2016
Rated

5

out of

5
 by
New2Colorado
Love it!
Well after reading everyone else's reviews, I ordered this jacket. Mind I'm 5'7" @ 225 lbs. so I ordered the 3X thinking it would be just right. Well when I received it, it was way too big. I chose to give it to my sister who is 5'4" @ 250 lbs. and more bustier than I am and it fit her perfectly. So I'm off to order a 2X for myself. But love the jacket, very light weight, super nice material and color. Plenty of pockets. The sleeves are my favorite with the thumb holes and attached to inner sleeve.
January 8, 2016
Rated

2

out of

5
 by
No2OmniHeat
Disappointed with warmth of jacket
My son bought me this jacket for Christmas. Was so excited as I have two other Columbia jackets that I've had for 18 and 20 years. The new Omni Heat does not keep me warm. Was very disappointed. Like the old style fleece lining in the older Columbia jackets.
January 1, 2016
Rated

5

out of

5
 by
Biznay
Fits well and keeps you toasty
I like that the coat gives you enough room to move without restriction while also not being boxy or baggy. There is some movement noise, but it is not obnoxiously whoosh-whooshy. There are plenty of pocket options and most peripheral parts are adjustable, which is nice. The thumb loops is something I appreciate in layers, but have never had in a coat. I do like them, but your wrists can be crowded if you have a lot of long layers. The hood is nice, but I do find it a tad bulky in the back and catch myself tilting my head forward, so that's a thing to consider. I appreciate that I can remove the hood. The lining and interior of this coat do an amazing job of keeping you warm. So far I have greatly appreciated being both dry and warm this year. Additionally, the slight pattern in color [creates a heathered appearance] makes the coat seem less boring, but not garishly different. It's very subtle, but I like it a lot.
December 29, 2015
Rated

4

out of

5
 by
TTTC
Great Coat
Sheds water and cuts the wind. Layer for warmth though.
December 28, 2015
Rated

5

out of

5
 by
winter
love it
love this jacket but it is a little bigger in the upper chest and arm area but i dont mind that.
December 26, 2015
Rated

5

out of

5
 by
taboonff
anonymous
I purchased this coat to wear for our harsh winters and I am so glad I did. It does run small so if you normally wear a 2x (like me) you should purchase the 3x. It is so very warm and has so many pockets. I also love how it is more of a contoured feminine coat so it actually looks cute too!
December 23, 2015
Rated

5

out of

5
 by
Sal74
Women's Alpine Action™ Omni-Heat™ Jacket - Plus Size
Love this jacket- Light weight yet very warm- fits well (I did buy a size larger than I usually take). Love the color (Hyper Purple)
December 21, 2015
Rated

5

out of

5
 by
Olguita
Very nice jacket
I love everything about this jacket! It keeps me warm, but it's not too heavy or bulky. The thumb holes are a very nice feature.
December 18, 2015
Rated

5

out of

5
 by
jen30
Great coat
I would've like an plus size down fill jacket option as I wanted a warmer jacket but worksbjust fine. I just add an extra layer.
December 16, 2015
Rated

5

out of

5
 by
Leah2325
Great Coat
It's very warm and keeps moisture away. I actually sweated in it while shoveling snow. It does run small as I'm an xl but had to get a 2xl. I highly recommend it.
December 15, 2015
Rated

5

out of

5
 by
klr345
Great jacket!
This jacket is warm and keeps me dry. It isn't bulky at all an allows me plenty of range of motion when driving as well.
December 14, 2015
Rated

5

out of

5
 by
tv488
Runs pretty small but great fit once you find your size
I usually wear and extra-large due to my bust size. I had to order a 2x in this jacket but the cut/fit is really flattering. Great quality.
December 7, 2015
Rated

5

out of

5
 by
Myksmom
Beautiful color, beautiful coat.
I love this coat! The color is gorgeous (hyper purple). For me it runs true to size. It is very comfortable and very warm. The only thing I would change is the fabric on the inside of the pockets. I have 'working hands' that are very rough. The fabric on inside of the pockets catches on my skin, I would prefer slick fabric. Other than that, I wouldn't change a thing!
December 2, 2015
Rated

5

out of

5
 by
MsBMW
Warmest Jacket Ever!
I decided to purchase a Columbia jacket because a roommate, after moving out, left behind their Columbia jacket which I have been wearing now for 15 years. It was the warmest jacket I have ever owned and even though it still kept me warm it was starting to look worn out and the zipper had broken. I wanted another jacket that would keep me just as warm if not warmer and I have never found another that came remotely close to the left behind Columbia. Since I received my new Columbia jacket I wear it all the time. I got the purple Alpine Action omni-heat jacket and it is just as warm as my last one. I could not be happier with my purchase and feel it is well worth the money I spent on it because I know it will last at least 15 or more years. Thank you Columbia for making a great jacket!!
December 1, 2015
Rated

5

out of

5
 by
ACMc
Worth every penny!
I absolutely love my coat. It has so many great pockets for storage. The comfort and warmth it provides makes it worth every penny. I only wish it came in pink too.
December 1, 2015
Rated

4

out of

5
 by
leech
Great Coat
Love this coat.. Like the fact that I don't have to wear a heavy sweater under it to keep warm outside.. Just wish that it was a little looser in the arms
November 30, 2015
Rated

1

out of

5
 by
alimison
This jacket was not waterproof
I purchased this jacket to take on one of New Zealand's great walks, the Kepler Track, in the mountains of Fiordland, because I really needed something that was waterproof, warm and would fit me - it's a volatile environment where storms can come up really quickly. I assumed it would be fine because it was "guaranteed waterproof". I was really disappointed to find this was not the case. We were walking through rain, snow, hail and high winds, and I became soaked through within a couple of hours. This meant whenever I paused I became really cold and I think this was dangerous. Needless to say, this is very disappointing, especially as the product is advertised as a jacket that is suited to alpine conditions, which it clearly is not.
November 29, 2015
2017-01-19
bvseo-cps-pl-PRR
2017-01-19 T14:14:21.830-06:00
bvseo_lps, prod_bvrr, vn_prr_5.6
cp-1, bvpage1
co_hasreviews, tv_55, tr_55
loc_en_US, sid_1562242, prod, sort_default
Size & Fit Guide
Size & Fit Guide
Women's Fit Guide
Performance
Body contouring fit conforms to movement.
Performance
Active
Body skimming fit with end-use mobility in mind.
Active
Modern Classic
Universal, easy fit for comfortable range of motion.
Modern Classic
Relaxed
Most generous fit for a full spectrum of movement.
Relaxed
Women's Body Measurement (Inches)
Women's Plus Sizing

Size
Bust
Waist
Hips
Short Inseam
Regular Inseam
Long Inseam
1X
16W–18W
43–45
36–38
45–47
29.5
32
34.5
2X
20W–22W
47–49
40–42
49–51
3X
24W–26W
51–53
44–46
53–55
How to Measure
1.

Chest/Bust:

Measure at the fullest part of the chest, under the armpits and over the shoulder blades, keeping the tape measure firm and level.
2.

Waist:

Measure around the natural waistline, allowing the tape measure to sit comfortably.
3.

Hips:

Measure around the fullest part of your hips.
4.

Sleeves:

Start at the center back of your neck and measure across the shoulder and down to the wrist. Round up to the next even number.
5.

Inseam:

Measure from the top of the interior leg to the bottom of the ankle.
How to Measure
How to Measure
Fold up at dotted line.
Place against a wall or other 90 degree surface.

Place heel against fold/wall on flat level surface.
Mark the end of the longest toe with a pen or pencil.
Measure both feet and use the larger measurement.
Read measurement and compare to size chart.
When comparing on the size chart, determine the closest larger measurement and use that number to determine your shoe size for your country's shoe measurement standard.
Shipping & Returns
Shipping & Returns
Shipping Information
Shipping Method
Rate
Expected Delivery Time
UPS Ground
$6.00
3-7 Business Days

UPS 2-Day Air
$12.00
2-3 Business Days
UPS Overnight
$19.00
1-2 Business Days
Free Standard Shipping
Available for Greater Rewards members. Learn more
Return Policy
Returns are accepted within 60 days of the purchase date online or in-store. Your apparel must be in original and unworn condition, with tags still attached. Footwear returns must also include the original box.
Still Have Questions
See our Customer Service section for more details. Visit Customer Service