Women's Alpine Action™ Omni-Heat Jacket
Details
http://www.columbia.com/womens-alpine-action-omni-heat-jacket-1562241.html
1562241
Greater Rewards
members earn

1199

points with purchase
Uses:
Winter, Ski / Snowsports
Size & Fit Guide
|
Reviewers rated this product
Fits Slightly Small
|
Fit
Active
Variations
Product Actions
Details
Uses
Winter, Ski / Snowsports
Features
A warm winter coat with a sophisticated air—the waterproof Alpine Action Jacket is crafted with our patented thermal-reflective technology and 100g of synthetic insulation for all-day warmth. The jacket's premium cross-dye fabric features a lovely texture and full waterproof breathability, while a suite of ski-and-snowboard-ready features anticipate your other on-mountain needs.
Features:
Omni-Heat™ thermal reflective
Omni-Tech™ waterproof/breathable critically seam sealed
Active Fit
Wind proof
Insulated
Removable, adjustable storm hood
PU Zip on chest
Drawcord adjustable hem
Adjustable, snap back powder skirt
Interior security pocket
Zippered chest pocket
Zippered hand pockets
Media and goggle pocket
Ski pass pocket
Center back length: 26"
Imported
Fabric
:
Shell: 72% nylon/ 28% polyester Legacy Dobby
Lining: 100% polyester Omni-Heat™ Reflective Microtex Light
Insulation: 100% polyester microtemp XF II, 100g
Omni-Heat™ Reflective
Thermal Reflective Warmth
Omni-Tech™
Waterproof. Breathable. Guaranteed.
Technology Videos
Omni-Heat™ Reflective
Magic in a little
silver dot.
Breathable material with little silver dots that reflect body heat.
Omni-Tech™
BREATHABLE &
GUARANTEED WATERPROOF.
Air-permeable protection that's waterproof and breathable guaranteed.
Reviews
Rated

4.4

out of

5

 by

83

reviewers.
Rated

5

out of

5
 by
KDENIM129
LOVE THIS JACKET
NOT ONLY IS IT LIGHT AND WEIGHTLESS, AS SOON AS YOU PUT IT ON YOU'RE WARM!! NO RAIN PENETRATES AND THE FIT IS TRUE TO FORM. I WOULD DEFINITELY RECOMMEND FOR THE WINTER
January 17, 2017
Rated

5

out of

5
 by
Mom2teens
Love this coat!
This is the best coat I have ever purchased! It keeps me warm and protected from the wind. I love the detachable hood for the rain in the Pacific North West!
January 15, 2017
Rated

4

out of

5
 by
AM921
I love it!
I asked for this for Christmas for a new Snowboarding Jacket. I like to snowboard in spring so the weight of this jacket will be perfect. I usually wear a small in Columbia jackets but the reviews said this jacket ran small, so I got a medium and it's perfect. (I'm 5'3/132lbs)... The features of this jacket are great for mountain sports (pocket for goggles/eyewear, zipper pockets etc)... I can't wait to wear it - it's so comfortable and will be great for active wear. I only rated the function a 4/5 b/c I have yet to wear it on the mountain but I anticipate it being perfect. I've worn it outside here at 30 degree temperatures and been warm so I think snowboarding in it with layers should be warm enough too.
January 2, 2017
Rated

5

out of

5
 by
Toppmomof3
Love this Jacket!
I love this product! Fits great, isn't to puffy and awkward. Is so warm! The Omni Heat feature really makes a difference. I have been wearing this jacket for just about everything!
December 27, 2016
Rated

5

out of

5
 by
Liz37
Love This Jacket
This jacket kept me warm through the subzero weather last weekend. Love that it's wind proof. Also like all the zippered pockets, and it looks sharp.
December 22, 2016
Rated

4

out of

5
 by
STEF1808
Very warm and comfortable
Love this jacket so far, have not worn it in the snow yet but from the omni heat tech I can tell it will keep me warm. I ordered the red it is definitely not red it's more of a coral color. Overall loving my new jacket:)
December 22, 2016
Rated

5

out of

5
 by
Bd123
Fits great
Finding the right size took me awhile. I am 5'2", 108 lbs. the sizing put me between XS for the bust and hips but my waist size in Small. I got the Small and it fits great. I can layer a pack able down vest and polar tech jacket under it without tightness. The jacket kept me warm in 30 degree weather. The detachable and adjustable hood helped keep the cold off my head. There is one large mesh pocket inside and a small one with a zipper at the inside flap. I would have liked another large pocket inside. Haven't worn this while snowing yet but I think it will be great for hiking and skiing.
December 21, 2016
Rated

5

out of

5
 by
tedwards70
Love It!
I bought this for a trip to Colorado next month. However Wisconsin has gotten seriously cold wind chills the last couple days. This jacket is amazing. It is warm fits great and is definitely waterproof. I love my purchase and will buy this jacket again I'm hoping this one lasts a long time.
December 21, 2016
Rated

5

out of

5
 by
Sandy1243
AMAZING
I've had this jacket for over a year now, 2 winters! By far the best jacket I have ever bought! I love the extra pockets and it really does keep me warm! Even in below zero temperatures!! It's not super bulky and overall a great winter jacket.
December 20, 2016
Rated

4

out of

5
 by
NikkiTang
casual ski trip
Pro:my first ski trip at Colorado at keystone mountain. The jacket is prefect. It keep me dry any warm with three layer system clothes (base, middle layer and this jacket) high quality jacket. comfortable to wear, Con:one down side is that I have smith helmet (Gage version) the hood cannot really go over that helmet. I try to put the hood over the helmet,jacket became very uncomfortable to wear at that point, cannot zip up the jacket after the hood go over the helmet. Columbia need a bigger hood. conclusion : Columbia need to make a bigger hood to support the helmet in market better.
December 13, 2016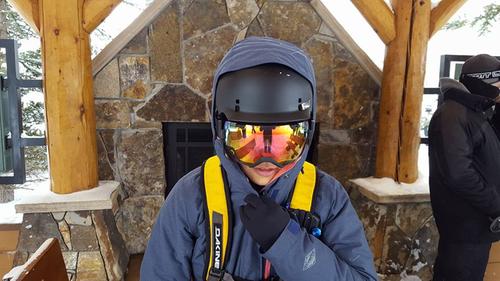 Rated

5

out of

5
 by
Kelliefowl79
Perfect!!!!
This jacket is on the thing side but the Omni shield takes care of that!!! If it's super cold I just throw a sweatshirt on with it!!! I absolutely love this jacket!!!
December 12, 2016
Rated

5

out of

5
 by
Nickk
New coat
I love the color and it's so warm.
December 12, 2016
Rated

4

out of

5
 by
Akas8703
Great features
This jacket would be perfect if it was a little warmer, had vents and the skirt buttons were actually tight. Loose skirt buttons don't do much good when you're trying not to get snow in your pants. :(
December 11, 2016
Rated

5

out of

5
 by
TaraB93
Excellent in every way
This jacket was purchased in the medium light mossy color for my 13-year-old daughter, and we both loved it so much that I went back and purchased the large charcoal / black color for myself. The thumb holes are a favorite feature, as well as the two inside pockets. It is a warm, stylish jacket that we will both enjoy for years to come. When taking it off and people notice the silver omni-heat lining inside, they stop to ask what it is and where they can get a jacket like it! Highly, highly recommend!
December 7, 2016
Rated

4

out of

5
 by
Joannm22
Nice jacket!
Jacket was for my 10 year old daughter who,is normally a women's small but the medium fit nice will allow sweaters underneath. Not bulky but warm equals happy daughter and mom!
December 6, 2016
Rated

5

out of

5
 by
amack923
Warm
This jacket is warm, and comfortable. I usually dislike winter jackets because they are so bulky, but I feel like I can move in this jacket! True to size. The extra pockets are a nice addition as well.
December 5, 2016
Rated

5

out of

5
 by
Sweets38
Satisfied Customer
Definitely a great coat for this Chicago weather.
December 5, 2016
Rated

5

out of

5
 by
Shifra
Perfect!
This jacket is perfect for outdoors activities in the winter and for everyday. I love it. It keeps me warm and fits great :)
December 4, 2016
Rated

3

out of

5
 by
Jamie1028
Alpine jacket
Was so excited when the jacket came but was very disappointed when it didn't fit.
November 25, 2016
Rated

5

out of

5
 by
MLE2014
Through the grocery store & sledding adventures!
This jacket is perfect for all winter activities! From grocery hauls to sledding with the kids you'll be warm and able to function! It also has multiple zipped pockets. I am very happy with my purchase and know this jacket will be awesome for the off season and even during the season when it's chilly!
November 7, 2016
Rated

3

out of

5
 by
arcticmushergirl
not good for extreme weather
This is a nice kick around town coat but not for extreme temperatures due to the omni tech lining. review is more for the omni technology. I am a dog musher and winter camper. I am outside daily and in extremely cold temperatures. I purchased omni wear for warmth and found that it works as long as you are wearing it. if the garment is removed and exposed to coldtemperatures the omni lining becomes extremely cold and is counter productive and causes chilling if you put the garmet back on.
October 24, 2016
Rated

5

out of

5
 by
inbal
Amazing coat!!!!
Im 5'1'' 104lbs ordered size small ( usually Im xs) and the size is perfact!!!! very light weight! Very comfortable! just LOVE it!!
September 20, 2016
Rated

5

out of

5
 by
melvapo
I just love it!
Light weight, very comfortable. Perfect insulation and waterproof. I used it for hours in the snow: playing and skiing. Never got cold or wet. Smaller than the other ones I have for travel.
August 23, 2016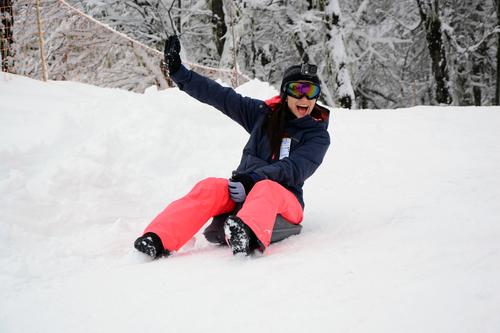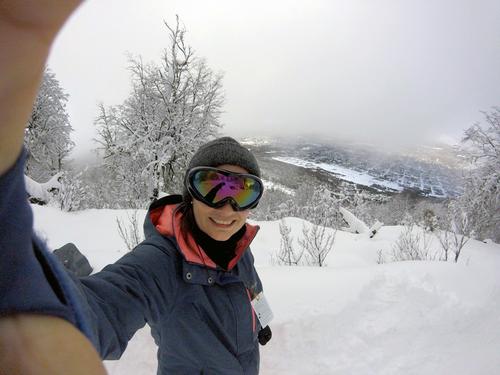 Rated

5

out of

5
 by
allisont45
AMAZING!!
This jacket is perfect!!!
July 14, 2016
Rated

5

out of

5
 by
SWD0102
Size Up at least one size
This jacket is warm (no, HOT, actually!) and very stylish. Definitely a great purchase. I purchased an XL and am pretty much a TTS XL, but this jacket (and almost all Columbia jackets, actually) runs a size small. I would need an XXL in order to wear this coat, and would probably be better off with a 3XL if I wanted to wear a sweater under this coat. Buy this coat, but size up at least one size. Note to Columbia - please offer your jackets in 2XL, 3XL sizes.
June 16, 2016
Rated

5

out of

5
 by
YNPC
Good product
I live in Southern Ontario, Canada, this is warm enough for our winter, good product!
May 2, 2016
Rated

5

out of

5
 by
MVP70
Great jacket
I bought this for my wife. She does not like being cold. This jacket kept her warm skiing in cold, foggy and windy weather. It was 10-15F. It fits comfortably. Not bulky! The sleeve has a nice pocket for RFID pass cards. Sleeves are nice with the thumb slit. She is 5'2" 115
February 18, 2016
Rated

5

out of

5
 by
Trimk10
Awesome product
Perfect for skiing or cold weather in general. I was warm all day.
February 15, 2016
Rated

5

out of

5
 by
Mari23
My Favorite Jacket!
I've worn this jacket in below zero degree weather and it has kept me warm. I am usually a small on top, but I ordered a Medium after reading reviews and it fit me perfectly. This is the best jacket I have ever owned and I definitely recommend purchasing it. It has a ton of pockets and it keeps me so warm! Love, love, love it !!!!
February 13, 2016
Rated

4

out of

5
 by
Melissa03
elbows small
I am 5ft5in 130lbs. I returned the medium sized jacket. I was love with this jacket!! The body fit nicely, but the arms of the jacket was way too small, especially in the elbows. it was not a jacket you could layer. Im sure it will fit somebody, their sizing is a bit off. I am normally a size small.
February 13, 2016
Rated

5

out of

5
 by
ems90
Good quality and function
Great for outdoor snow activities...lightweight and warm. Wore it in 4F weather...not warm enough for just walking, but good for skiing/boarding
February 13, 2016
Rated

5

out of

5
 by
Koko925
Perfect for DC Metro Area Winter
I ordered this jacket after our last blizzard to make sure I was well equipped if mother nature decided to throw us another. It keeps my upper body nice and warm and I love that the pockets are lined/insulated. I'm 5'3 135 lbs and the medium fit perfectly (enough room for bulky sweaters underneath). If you're looking for a jacket to keep you warm in <21° temps, this is the one.
February 10, 2016
Rated

4

out of

5
 by
al1414
Great jacket, but...
I bought this jacket a few months ago and initially loved the jacket. I frequently buy products from Columbia and am typically very satisfied. Everything about this jacket seemed great: very warm, not too heavy, stylish, etc.. After only wearing the jacket about 10 days, the zipper broke and i'm no longer able to zip the jacket at all :(
January 25, 2016
Rated

5

out of

5
 by
Lee77
satisfied customer
One minor note: When zipping up the coat my wife has trouble getting the zipper started.
January 25, 2016
Rated

2

out of

5
 by
amanda387
bulky, too small
this may be a great coat for someone with a smaller bust, but for me- size med, but a 34DDD- this coat is terrible. it makes me feel super bulky, theres no range in motion, and i cant layer under it. the worst is if i sit, by lower back is exposed. it sat a my natural waist, which made me feel even more top heavy. like i said, if you have a small bust, this coat may work for you, but as someone with big breasts, this is not the coat you are looking for.
January 21, 2016
Rated

4

out of

5
 by
WalkingGal3
Great jacket
This is a great jacket. Not intended for temps below 35*, unless you have room for a sweater or sweat jacket underneath. At first was a little stiff, but with use loosened up.
January 13, 2016
Rated

5

out of

5
 by
LoveaBargain
Great ski jacket
bought this coat for my daughter. fits her beautifully and is very warm. another great Columbia product.
January 4, 2016
Rated

4

out of

5
 by
slar
Great!
This is exactly what I was looking for, a little thicker than I expected, but it was actually perfect once I got used to it. My only mark down is the hand/thumb holes are a bit rough and not the most comfortable to wear if stretching out at all.
January 2, 2016
Rated

4

out of

5
 by
EveB
Great but the color is NOT accurate.
I ordered this for my daughter because she wanted a red jacket. The Ruby Red color is a dark pink. It is NOT red. Although it is great quality, I am returning it because it isn't what I thought I was ordering.
December 26, 2015
Rated

4

out of

5
 by
Josie8
Very warm coat!
Coat runs a little small. I can still get a sweatshirt on underneath it but it's a little more snug than I would like. The coat has been very warm so far. Living in MN I wanted a warm coat. I got the ruby red color coat and it is more of a pink color. Not exactly want I was hoping for but it will work.
December 25, 2015
Rated

5

out of

5
 by
Karen12
Overall an awesome jacket
I bought this jacket to use for snowboarding but completely fell in love with it and use it as much as possible. It keeps you super warm and is incredibly light weight. It allows for plenty of movement. The only problem I have had with it so far is that when I completely zip it up its a little uncomfortable on the neck. Overall definitively worth it. I love it!
December 25, 2015
Rated

5

out of

5
 by
Sienna
Love it
This is my first jacket from Columbia and I am so glad I bought it. It truly does keep you warm and free of water. It is also very comfortable, I wear it around the house as a blanket!
December 18, 2015
Rated

3

out of

5
 by
Ihatebeingcold
Alpine Action
Omni heat may be warm if you are moving, but it isn't when you are standing still. I had also ordered the 650 turbo heat jacket and returned it as I thought the wind would blow up the bottom. Living in Minnesota I want a warm coat as I am a freeze baby. My 20 year old Columbia is warmer than this. Think I'll go back to a big down jacket. The fit is nice so am keeping for a fall coat.
December 18, 2015
Rated

1

out of

5
 by
Alpine
Too small.
Usually wear a large and read reviews about jacket running small so I ordered an X-large which was entirely too tight, so I returned this jacket which of course is an additional expense.
December 17, 2015
Rated

5

out of

5
 by
lolyfe
Great Coat
Perfect for the cold. Couldn't ask for more.
December 16, 2015
Rated

3

out of

5
 by
mines
Ruby red is not red, its pink
I like it anyway but I was expecting another colour and its clearly not red.
December 16, 2015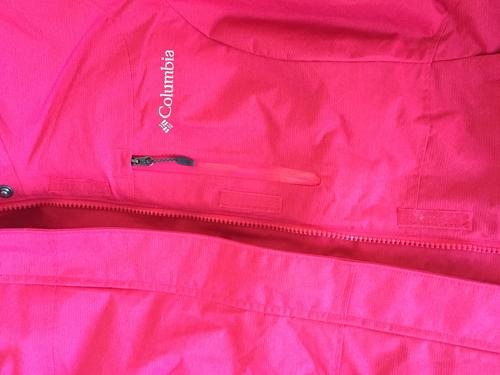 Rated

5

out of

5
 by
cljordan115
I'M FINALLY WARM
I have been searching for a winter jacket that would actually keep me warm in the winter with no luck. Finally, I found this wonderful jacket! The Omni heat is awesome and really works! Absolutely love this jacket! If you have long arms like me, go with a size bigger than you would normally wear and the sleeves fit perfect.
December 15, 2015
Rated

4

out of

5
 by
Dryden
Great looking jacket but runs small in chest
My daughter loves the coat, but it is a tad small in the chest area. She is only 13 with an average sized chest, but I would have liked the coat to be a tad bigger. If I would have ordered a size larger, I think it would have been huge.
December 15, 2015
Rated

5

out of

5
 by
Justina
5 stars
I've always loved Columbia products and this jacket certainly does not disappoint me! It's true to size, keeps me really warm, and water resistant. One reminder I'll give is that please get a size bigger than your normal size. I'm 5' 1" and 112 lb. I got XS - it fits me really well and looks stylish. But the thing is during winter I wear more layers than usual. When I have more layers, its a little tight. I should've thought of it when I bought it. But it looks really stylish when it fits you perfectly. So its kind of a dillema.
December 14, 2015
Rated

4

out of

5
 by
Mommyof5
Satisfied
Bought this Jacket to replace a jacket I had for 8 years, I am satisfied with my purchase. It keeps me warm, so far. We haven't had cold enough temps here to really test it out.
December 13, 2015
2017-01-19
bvseo-cps-pl-PRR
2017-01-19 T14:14:21.797-06:00
bvseo_lps, prod_bvrr, vn_prr_5.6
cp-1, bvpage1
co_hasreviews, tv_83, tr_83
loc_en_US, sid_1562241, prod, sort_default
Size & Fit Guide
Size & Fit Guide
Women's Body Measurement (Inches)
Size
XS
2
S
4-6
M
8-10
L
12-14
XL
16-18
Bust
32-33
34-35
36-37.5
39-40.5
42-44.5
Waist
25.5-26.5
27.5-28.5
29.5-30.5
32-33.5
35.5-37.5
Hips
34.5-35.5
36.5-37.5
38.5-40
41.5-43
45-47
Size
L
12-14
XL
16-18
Bust
39-40.5
42-44.5
Waist
32-33.5
35.5-37.5
Hips
41.5-43
45-47
How to Measure
1.

Chest/Bust:

Measure at the fullest part of the chest, under the armpits and over the shoulder blades, keeping the tape measure firm and level.
2.

Waist:

Measure around the natural waistline, allowing the tape measure to sit comfortably.
3.

Hips:

Measure around the fullest part of your hips.
4.

Sleeves:

Start at the center back of your neck and measure across the shoulder and down to the wrist. Round up to the next even number.
5.

Inseam:

Measure from the top of the interior leg to the bottom of the ankle.
Women's Fit Guide
Performance
Body contouring fit conforms to movement.
Active
Body skimming fit with end-use mobility in mind.
Modern Classic / Regular
Universal, easy fit for comfortable range of motion.
Relaxed
Most generous fit for a full spectrum of movement.
How to Measure
How to Measure
Fold up at dotted line.
Place against a wall or other 90 degree surface.

Place heel against fold/wall on flat level surface.
Mark the end of the longest toe with a pen or pencil.
Measure both feet and use the larger measurement.
Read measurement and compare to size chart.
When comparing on the size chart, determine the closest larger measurement and use that number to determine your shoe size for your country's shoe measurement standard.
Shipping & Returns
Shipping & Returns
Shipping Information
Shipping Method
Rate
Expected Delivery Time
UPS Ground
$6.00
3-7 Business Days

UPS 2-Day Air
$12.00
2-3 Business Days
UPS Overnight
$19.00
1-2 Business Days
Free Standard Shipping
Available for Greater Rewards members. Learn more
Return Policy
Returns are accepted within 60 days of the purchase date online or in-store. Your apparel must be in original and unworn condition, with tags still attached. Footwear returns must also include the original box.
Still Have Questions
See our Customer Service section for more details. Visit Customer Service