Women's Anytime Casual™ Skort
Details
http://www.columbia.com/womens-anytime-casual-skort-AL4071.html
AL4071
Greater Rewards
members earn

400

points with purchase
Variations
Product Actions
Features
A feminine warm-weather basic that will keep you comfortable and protected during outdoor excursions and everyday activities.
Features:
Omni-Shade UPF 50 sun protection
Omni-Shield advanced repellency
2-way comfort stretch brief
Length: 17"
Active fit, mid rise
Imported
Fabric
:
OMNI-SHIELD and OMNI-SHADE SHELL
96% nylon/4% elastane Summiteer Lite
LINING
85% polyester/15% elastane Anytime jersey
Omni-Shield™
Water and Stain Repellent
OMNI-SHADE®
Sun Protection
Technology Videos
Omni-Shield™
GO AHEAD.
TRY AND GET DIRTY.
Helps you stay clean and dry by resisting absorption of liquids.
Omni-Shade™
Blocks UVA and UVB rays to help prevent sunburn and long-term skin damage.
Reviews
Rated

4.6

out of

5

 by

102

reviewers.
Rated

2

out of

5
 by
lmtOkie
Skort
I really loved this skort, but the ties come out after a few washes. Disappointed that it didn't last - because it was a favorite!
January 18, 2017
Rated

5

out of

5
 by
Trailgoddess
Not just for warm weather!
I bought this skirt looking for something to wear in the warmer months that would be just as comfy as my running shorts but look more put together (think concerts at the local park, running errands around town or even a short unplanned hike!). However it came in handy this past weekend when we had snow and single digit temps and needed a layer over my running tights to keep my bum warm and dry on a run and playing in the snow. Didn't have a problem with the shorts bunching but I dont think they will be a substitute for running without the tights. The build of the shorts is more active-casual than long run/race worthy. Still a great purchase! Looking forward to wearing it in warm weather without the tights!
January 12, 2017
Rated

5

out of

5
 by
QueenBee
Happy customer
I don't normally purchase online clothing but I took a chance and am very happy I did. My item fits just right and it was delivered within 3 days.
December 28, 2016
Rated

5

out of

5
 by
EleanorRigby
Skort
I love this skort. I wear it to work in the summer. The elastic waist band makes it extremely comfortable.
December 28, 2016
Rated

5

out of

5
 by
dawnchill
Love love love it
This skirt has a great fit, wears and wash as well. The added extra is I get a lot of compliments on it.
December 1, 2016
Rated

5

out of

5
 by
Sunshine72
Best Ever!
This is the cutest, most comfortable, most flattering skort EVER. I am enjoying wearing it at home (in SW Florida) and will take it with me on travels.
September 23, 2016
Rated

5

out of

5
 by
PMADRR
Love the fit
I'm 5'2" and a size 7/8... the medium fit perfectly in length and waist. I can't wait to use it on the golf course :-)
September 11, 2016
Rated

4

out of

5
 by
Spud2012
Great skort - but could use improvement...
I have this and another skort from Columbia. I also bought this for a gift for my friend and we both agree - these skorts would be AMAZING if they had one additional feature: the silicone on the inside of leg band to keep it from riding up. Please, please, Columbia, add this one teeny feature to your skorts! I saw other reviews noting the same issue. I have an Eddie Bauer skort that does have the no-ride shorts and they are fabulous.
September 3, 2016
Rated

2

out of

5
 by
Bmansmom826
Where are the shorts????
I bought these to avoid chafing. The shorts were not tight enough to stay down on my thigh. They rolled up, became uncomfortable, and I constantly had to reach up and pull down the shorts on my legs.
September 2, 2016
Rated

5

out of

5
 by
gato93
Great Skort
I love this skort. It is perfect for kayaking, walking, or even as swim bottoms for those who want a bit more coverage. Very comfortable.
August 18, 2016
Rated

4

out of

5
 by
Swimdoc
Skort
Great skort but the panties are a bit small and I am thin and definitely a "Medium" so they need to correct this. A large would be too big.
July 25, 2016
Rated

5

out of

5
 by
Abbs
Love this skort!
Very figure faltering with the cinched draw string sides. Also it has pockets a plus for me! I have gotten many complements. I purchased 4 in different colors I love it so much. It is so comfortable! I wear it with dress heals as well as walking shoes, you can dress it up or down.
July 23, 2016
Rated

5

out of

5
 by
SusanDixon
Skort
This skort is very comfortable, great fit
July 21, 2016
Rated

5

out of

5
 by
Sherr
favorite skort
love's it! fits great, great quality, comfortable, wash & dry wear that easy.
July 17, 2016
Rated

5

out of

5
 by
coastal
Looks nice and great comfort-
Nice color. Bought to wear for summer golf and love the side pockets for tees and markers. The length is good the comfort is also good. Summer mornings at the coast can be foggy and a bit wet. This skort wicks away the moisture and drys well. I also travel (by car) 200 miles a couple of times a month and find these travel well and offer good driving comfort. Nice to pop out of the car after the drive and feel dressed up enough for a casual lunch or appointment. Pack well for overnight. The draw string is a nice touch. Got blue too!
July 14, 2016
Rated

5

out of

5
 by
SwEnglish
Great skort!
This skort is great for hiking or any sport activity really. It's comfortable, the material is really nice and the shorts underneath has a good length.
July 13, 2016
Rated

5

out of

5
 by
Kath248
Anytime casual skort
Love it. It has a nice comfortable fit and fabric. The length is great and the waistband can accommodate your waist and avoid that awful muffin type that some of us dread. I have two sizes in a medium and large in two different colors. Like both sizes and colors. The medium fits spot on and the large hangs off my waist a little lower. Only complaint would be that the shorts underneath don't stay put.
July 13, 2016
Rated

5

out of

5
 by
DubBeaMama
Go For It
I love, love, love this skort! It is cute and comfy, and goes great with my Columbia Tamiami shirts! I work outdoors in a hot, dusty climate, but we are not allowed to wear shorts...this skort is my workaround! Very light, and has nice roomy pockets. I got black to start with, but am planning to get at least one more color! Fit is great, and the waist is not at all squeezy or pinchy, so if you are a little squishy around your middle (like I am), it is still quite flattering.
July 10, 2016
Rated

5

out of

5
 by
Nonna
great quality
I bought this item for playing golf. Light weight and comfortable to wear.
July 9, 2016
Rated

5

out of

5
 by
StaceyRush
Great for golf
I wanted this skort for golf. I live in the south and tend to sweat a lot and in very unflattering places. Although the built-in shorts got wet, the sweat did not show on the outer skirt. The stretch and cut are perfect for golf movements.
July 6, 2016
Rated

5

out of

5
 by
Barbie41
skort
Exactly as described. Fits perfectly. Fabric wonderful. Love it!!
July 2, 2016
Rated

5

out of

5
 by
MKAES
Anytime Casual Skort
This skort is so cute and comfortable!
June 17, 2016
Rated

5

out of

5
 by
Sheri517
Super Comfy
More comfortable than shorts with a much better look. Bought it in several colors. Has become my new summer uniform!
June 16, 2016
Rated

5

out of

5
 by
BWCABlogLady
Buy One in Each Color
This is a great skirt for casual hiking or wearing to church. It's comfortable, fits nice and looks terrific.
June 16, 2016
Rated

4

out of

5
 by
PCBGirl
Color Issue
I was disappointed in the color "everblue". It does not look like the color online. The color online looks more like a cobalt blue. The actual blue of the skort is entirely different than what is pictured online.
June 5, 2016
Rated

4

out of

5
 by
Lison
Women's anytime casual skort
Just love this skort last year purchased it very nice stylish and comfortable, just recently purchased again in a different color, great for everyday, golf and on trips
May 18, 2016
Rated

5

out of

5
 by
JazzBJay
Great skort you won't be disappointed
I love this skort and the colour selection is great I have 4 different colours. The only complaint I have is that I had to come to the American web site to get the great colour selection. I don't know why Columbia only sells half the colour selection to Canadian market on there products that is available to the American market. That's my only complaint I have of Columbia and this product. One review talked about the inner short riding up, I've never found that a problem but maybe it has to do with the shape of her leg that is causing this rare problem. This skort wears beautifully and washes up like a dream. It looks great on young and old. I bought a pair for a friend as well and she loves them, looks great in them and she is in her mid 60's. This skort is great for any activity and is easily dressed up. I would recommend this product to anyone.
May 8, 2016
Rated

5

out of

5
 by
JazzBJay
Best skort you will find anywhere
Both a friend I bought these skorts, they fit perfectly. The inner short will never runs up your leg or show itself when you sit down. They look great on young and old. My friend is in her mid 60 and loves them so I speak from experience on her behalf. The color mix Columbia has put out this year is a fantastic mix. They fit so well that you can do any activity wearing this skort and never be disappointed. I would definitely recommend this skort to friends and family
May 8, 2016
Rated

5

out of

5
 by
EmiB
Love it!
I have three of these and love them! So versatile and comfortable I wear one almost everyday I am not at work. My only minor complaint is the ties at the hem do not stay tied. I would prefer a bungee style tie. If they make more colors, I will buy them!
May 1, 2016
Rated

5

out of

5
 by
CoolGrandma
Grandma's Cool
Love this skirt/short and love Columbia's design. Columbia is an excellent resource for fit, quality, materials.
April 28, 2016
Rated

5

out of

5
 by
CarrieO
Perfect skort
Just love this skort, it's perfect really anywhere. Traveling hiking laying by the pool lake or beach. I love the drawstrings on the sides great when you want to adjust the length. Would love it in white.
April 27, 2016
Rated

1

out of

5
 by
Travel1
Shorts under skirt ride up constantly!
I am really disappointed in Columbia's skorts. I am an Oregon native who moved to Florida last year. I travel all over the world and I rely on my Columbia wardrobe when I do. I have worn Columbia for years. Love their products but the skorts don't work! I bought one last year and loved it except for the shorts underneath the skirt. Have to pull it down constantly! So annoying! I tried three different kinds of skorts this year and have returned two already and now getting ready to return two other designs I decided to try. I have been working on the one I bought last year adding rubberized elastic to the shorts. That really works! At the price I paid and the reputation of Columbia I shouldn't have to reconstruct the product. Besides Columbia running on the small size, I love all their other products. Quality made and last for years!
April 25, 2016
Rated

5

out of

5
 by
Lakegirl85
Great Skort!
Comfortable, cute on, I will wear this all of the time! S/P was perfect. I am 5ft 2in, 120lbs. Nice alternative to shorts!
April 22, 2016
Rated

4

out of

5
 by
Lillybetlilly
Great skort for active lifestyle
Figure flattering multi purpose skort. Running errands, out to lunch, hiking - it works. It was little short for someone my age (57) and height 5'8". The inside shorts ride up on me and so I am constantly tugging them down.
April 20, 2016
Rated

5

out of

5
 by
Monkita
cute skirt, super soft
I bought this skirt in bright geranium. The color is a little more pink than it appears on screen, but not too pink. It's a little sheer but not too much. I love that you can pull the sides to make it more sporty or pull them down for casual days at work --- depending on your job. It fits true to size. Im petite and it fits me well above the knee.
April 19, 2016
Rated

4

out of

5
 by
tinkmsp
Great item for every day wear or for travel
Brought this skort (black and khaki) on my recent trip to Cuba. Temps were in the high 80s/low 90s with 85% humidity. This skort worked like a champ! The material stood up to several washings in the hotel sink and looked great the next day. It's casual and yet dressy enough to wear to dinner. I cut off the side elastic ties because they were constantly tickling my leg and I kept thinking it was a bug or mosquito. I flattened the elastic out before cutting it and then sewed the ends closed. My only complaint is that the shorts underneath should be a little bit longer. I experienced a lot of heat rash because the shorts constantly rode up my thighs and then the shorts would only stay in place for a couple minutes. (It's really hard to discretely pull down the shorts when everyone thinks you're wearing a skirt). Other ladies in my travel group that wore golf skorts didn't get heat rash because their shorts were several inches longer and the material didn't ride up.
April 13, 2016
Rated

5

out of

5
 by
JessW
Could wear every day!
This is my new favorite piece of clothing. It is perfect for any outdoor activity, looks great dressed up, and is SO comfortable! Highly recommend it!
April 7, 2016
Rated

5

out of

5
 by
Fife
Finally, the perfect hiking/active lifestyle skirt
I absolutely adore this skirt. I am actually going to buy another, since I've been wearing it for literally everything (running, hiking, backpacking, everyday wear, running errands, etc.). It is so cute that I even pair it with a fitted top & "go out" for drinks with my friends in it. I ride my bike almost everywhere, so the hidden shorts are perfect. I am 29-years old, 135 lbs, 5'3" with a 28" inseam and every other quick-dry hiking skirt I've tried goes to my knees (or lower) and makes me look stocky/poorly proportioned. I got this skirt in a small and it seems like it was made for me. This skirt is long enough to be modest and covered, but short enough to allow movement and look modern. I especially recommend this skirt for those with normal to petite frames. Other reviews mentioned that the Everblue is nothing close to the color pictured, and they are right. It's more of a subdued teal. That being said, I LOVE the color, as it compliments most of the other items in my wardrobe, which are mostly earth tones. I honestly couldn't recommend this skirt enough!
March 31, 2016
Rated

4

out of

5
 by
AO2008
Lovely skort!
I work at an agency that is more business casual, so I rarely dress up and I've gotten accustomed to comfortable clothing. This skort is perfect at the office or around town on the weekends. Looking forward to wearing it once the weather warms up!
March 29, 2016
Rated

5

out of

5
 by
Blondeinabmw
The cutest! Perfect skirt!
This skirt is wonderful! Fit is true to size. I am 5'7" and a 14 in most clothing, and the large is just perfect. The length is mid-thigh - not too short or too long. The wide elastic waistband doesn't roll or pinch, so no muffin-top anywhere! Underneath, the shorts are very lightweight, and do not bunch or ride up. Love the slightly "dressier" feel of the fabric, especially compared to other skorts. These are sure to be a staple
March 22, 2016
Rated

5

out of

5
 by
CarolH
Wonderful Skort
LOVE skorts & this one is no exception! Since I have worn out some of my current ones, I decided to replace them with these. Got them in Tusk, Black & Everblue (the blue in mine is actually more of a denim color rather than a brighter blue & is very nice). If you like skorts, this is for you :-)
March 17, 2016
Rated

5

out of

5
 by
dentaldiva
Sexy skort
Love this go anywhere skort. Looks fantastic and a little sexy, very comfortable as well. I liked my black one so much, that I ordered another one in light grey. Pair it with a tank top, casual t shirt.
March 16, 2016
Rated

3

out of

5
 by
Towrygirl
Don't believe your eyes Color isn't blue
I love these skorts. I have one in every color. I am sorely disappointed with this so called Everblue. Is isn't anywhere near blue. I would call it evergreen. Very disappointed in the color as it is nothing like the picture!
March 7, 2016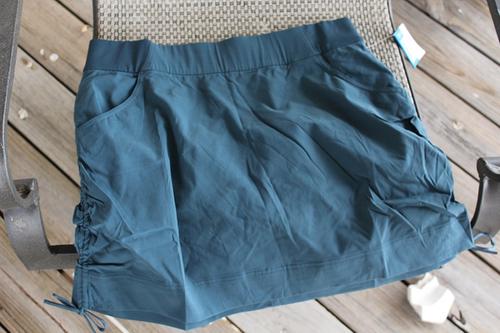 Rated

5

out of

5
 by
KelB
Perfect for Florida
Very comfortable for active lifestyles. Material is very soft. Good for lounging or athletic activity.
February 12, 2016
Rated

4

out of

5
 by
CRSoyla
Overall Good
I had one of these skirts in black and liked it so much I wanted more so I order the taupe colour and the blue. The blue is NOT like the blue that is shown but rather a grey blue that doesn't match anything other than a white top. I'm disappointed but will still get some wear out of it. The ties never seem to stay tied either so I just give up tying them.
January 17, 2016
Rated

4

out of

5
 by
LBoone
Ever blue
I was so excited to see the blue color. I had been waiting all season for a blue color to come available. The color I received is not what is advertised. It is a ugly greenish color that matches nothing Columbia offers. All the other colors are great and match as advertised. If you are looking for a nice blue color don't order this one.
January 15, 2016
Rated

5

out of

5
 by
Shearwater
Another quality product from Columbia
Fiance' loves them. Extremely comfortable
January 6, 2016
Rated

5

out of

5
 by
sgibson
Love it!
I love it! I've tried it on the stores before purchasing online, so I knew what size to buy. Would recommend to anyone!
December 30, 2015
Rated

4

out of

5
 by
Callie88
Nice and comfy
Very useful and attractive skirt that can be used for golf, shopping, etc. Material is soft and stretchy. Pockets are good for golf. Agree with other reviewer that skirt looks much better without scrunching the sides. I cut the ties off also, but there is elastic that runs up the entire side of the skirt so you need to flatten out the elastic once in a while because there is slight puckering.
December 28, 2015
Rated

5

out of

5
 by
BassetMom
Nice skort
I bought all three colors of this. I need to wear something on the ankles either loose or nonexistent due to a surgery I recently had. I can zip around on my knee scooter while wearing this when I return to work in a couple weeks as a Special Education teacher. The waist fit great, perhaps a little loose but I can tuck in a turtleneck or something to help with that.
December 19, 2015
2017-01-22
bvseo-cps-pl-PRR
2017-01-22 T12:43:50.138-06:00
bvseo_lps, prod_bvrr, vn_prr_5.6
cp-1, bvpage1
co_hasreviews, tv_102, tr_102
loc_en_US, sid_AL4071, prod, sort_default
Size & Fit Guide
Size & Fit Guide
Women's Body Measurement (Inches)
Size
XS
2
S
4-6
M
8-10
L
12-14
XL
16-18
Waist
25.5-26.5
27.5-28.5
29.5-30.5
32-33.5
35.5-37.5
Hips
34.5-35.5
36.5-37.5
38.5-40
41.5-43
45-47
Short Inseam
29.5
Regular Inseam
32
Long Inseam
34.5
Size
L
12-14
XL
16-18
Waist
32-33.5
35.5-37.5
Hips
41.5-43
45-47
Short Inseam
29.5
Regular Inseam
32
Long Inseam
34.5
How to Measure
1.

Chest/Bust:

Measure at the fullest part of the chest, under the armpits and over the shoulder blades, keeping the tape measure firm and level.
2.

Waist:

Measure around the natural waistline, allowing the tape measure to sit comfortably.
3.

Hips:

Measure around the fullest part of your hips.
4.

Sleeves:

Start at the center back of your neck and measure across the shoulder and down to the wrist. Round up to the next even number.
5.

Inseam:

Measure from the top of the interior leg to the bottom of the ankle.
Women's Fit Guide
Performance
Body contouring fit conforms to movement.
Active
Body skimming fit with end-use mobility in mind.
Modern Classic / Regular
Universal, easy fit for comfortable range of motion.
Relaxed
Most generous fit for a full spectrum of movement.
How to Measure
How to Measure
Fold up at dotted line.
Place against a wall or other 90 degree surface.

Place heel against fold/wall on flat level surface.
Mark the end of the longest toe with a pen or pencil.
Measure both feet and use the larger measurement.
Read measurement and compare to size chart.
When comparing on the size chart, determine the closest larger measurement and use that number to determine your shoe size for your country's shoe measurement standard.
Shipping & Returns
Shipping & Returns
Shipping Information
Shipping Method
Rate
Expected Delivery Time
UPS Ground
$6.00
3-7 Business Days

UPS 2-Day Air
$12.00
2-3 Business Days
UPS Overnight
$19.00
1-2 Business Days
Free Standard Shipping
Available for Greater Rewards members. Learn more
Return Policy
Returns are accepted within 60 days of the purchase date online or in-store. Your apparel must be in original and unworn condition, with tags still attached. Footwear returns must also include the original box.
Still Have Questions
See our Customer Service section for more details. Visit Customer Service