Women's Anytime Outdoor™ Boot Cut Pant
Details
http://www.columbia.com/womens-anytime-outdoor-boot-cut-pant-AL8088.html
AL8088
Greater Rewards
members earn

500

points with purchase
Size & Fit Guide
|
Reviewers rated this product
Fits Slightly Small
|
Fit
Active
Variations
Product Actions
Features
Treated to resist stains, rain and harmful UV rays, this durable and flattering stretch-nylon boot cut pant keeps you protected and comfortable during outdoor excursions or everyday errands.
Features:
Omni-Shade UPF 50 sun protection
Omni-Shield advanced repellency
2-way comfort stretch
Inseam: 32" regular, 30" short
Active fit, boot cut, mid rise
Imported
Fabric
:
OMNI-SHIELD and OMNI-SHADE
96% nylon/4% elastane Summiteer Lite
Omni-Shield™
Water and Stain Repellent
OMNI-SHADE®
Sun Protection
Technology Videos
Omni-Shield™
GO AHEAD.
TRY AND GET DIRTY.
Helps you stay clean and dry by resisting absorption of liquids.
Omni-Shade™
Blocks UVA and UVB rays to help prevent sunburn and long-term skin damage.
Reviews
Rated

4.7

out of

5

 by

203

reviewers.
Rated

5

out of

5
 by
neisann
Great pants for multiple activities
This is my second pair of Columbia outdoor pants, and I have really liked both pairs. Sizing was spot on (I'm a 9/10 and the 10 has a great fit and the regular length works great for me, at 5'4"-so if you have long legs, Regular may be too short). The material is lightweight and stretchy. I have worn them camping, hiking and at work. I actually bought them for work instead of wearing scrubs-they fit so nice and look professional at the same time. Plus, they're so comfortable!
January 20, 2017
Rated

5

out of

5
 by
Vivi11
Comfortable
Tusk color true. Fit very comfortable. Great fabric.
January 20, 2017
Rated

5

out of

5
 by
JojoO
Survived the Papago Wall
I wore these on a 35 mile backpacking trip in the Grand Canyon that required descending a boulder field whose angle of repose was nearly 90% and which was the equivalent of descending from a skyscraper from the top to the river. I ended up sitting on my butt and scooting over the rocks as standing up presented too many opportunities to fall or dislodge a boulder. I fully expected to have holes in my pants when I got to the bottom. Instead, these pants only suffered minor pilling. It was nothing short of a miracle. I also wore them in 90+ degree temps and never felt hot. They offer incredible mobility with awesome stretch in all the right places. I love love love these pants. And plan to buy more!
January 17, 2017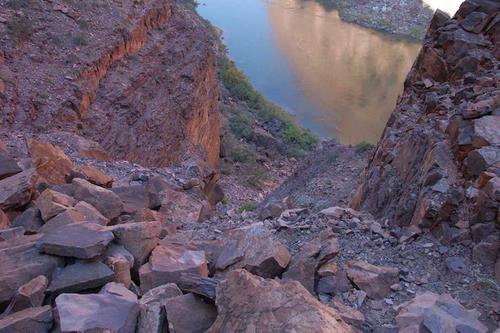 Rated

5

out of

5
 by
Wanderwomanpnw
Love these pants!
I ordered these to use for all weather hiking. I went on a cold, wet, icy hike in the Columbia Gorge and couldn't have been happier with them. Not only are they incredibly comfortable but also warm and dry. I will be buying more!
December 28, 2016
Rated

5

out of

5
 by
Emma333
Love Them
These are so comfortable I could live in them. They performed well for hiking and handled the rain well. Quick drying material was key. Buying them in other colors.
December 6, 2016
Rated

5

out of

5
 by
ccyoga
Work pants you can wear to yoga
I love these pants. They look nice enough to wear with a sweater in a casual office setting. They stretch enough to wear to yoga class at lunch. I agree with one reviewer that I wish they came in a slightly longer length. I have two pair that are true to size, I am usually an 8 but was able to buy a size 6 on clearance at the outlet.
December 3, 2016
Rated

5

out of

5
 by
Madonna
Tjis product has great features
These are the best pants ever. So comfortable.
December 1, 2016
Rated

5

out of

5
 by
Megj
love these pants
These are my favorite pants!! I bought them for work. They look professional!! They are extremely comfortable!! And I have gotten so many compliments on them !!
November 29, 2016
Rated

5

out of

5
 by
AmyEastCoast
Favorite Pants!
I love these pants so much I have bought a third pair. Great light weight hiking pants. I took two pairs with me to France this fall and they were perfect! Comfortable and dependable. Best of all, I could wash them in the sink and a they would be dry and ready to go the next morning!
November 7, 2016
Rated

5

out of

5
 by
kaba
Amazing product
I have these in every color. I love them! I use them for work (lab) and daily activities. They are comfortable and very versatile.
November 5, 2016
Rated

2

out of

5
 by
Tasha808
Great but too small...
Usually Columbia pants sizes are a little more fitted than other brands. I actually prefer that because I don't like to wear them super baggy. The size 10 that I purchased fit like it was barely an 8. Talk about a muffin top! I have 2 other Columbia styles in a 10 and they fit fine. All 10's waists should be the same...the only differences should be if they are slim fit, boot cut, etc. I am definitely returning these.
November 4, 2016
Rated

5

out of

5
 by
kmp1190
Most comrtable work and active pant I've ever had
I love these pants I will not buy any other style of dress pant now. You can be active in them or work in them they look great, wear well, and hold up nice too.
October 23, 2016
Rated

5

out of

5
 by
JanS123
Wish there were more inseam options
I originally ordered the short and it was 1 1/2" too short, so had to order the regular and take it in for hemming. Love the Anytime product - have the straight leg, capris and long shorts (4 pairs of the shorts). Use them to go to dog agility class and trials. I'm not into the legging look but these are form fitting and stretch as you move and I don't feel like I should be in a yoga class - plus these have nice pockets which I rank as a must have. I ordered a size 6, am 5'5" and 127 lbs.
October 6, 2016
Rated

5

out of

5
 by
Shannie
My ABSOLUTE FAVORITE pants!!!
These pants are my absolute favorite! They fit like a glove and are the best for outdoor activities and everyday wear.
October 5, 2016
Rated

5

out of

5
 by
Suzie21
Length is too short!
The pants are great, I love the fit and material, however Columbia needs to offer longer lengths.
October 5, 2016
Rated

4

out of

5
 by
DazzleMe
Not for handicapped with the tie closure
These seem to be made well, do run smaller than true to size, are too short for someone who is 5'9" tall, 134lbs, and needs a 32" inseam. This bootcut style needs to be longer so they are not ankle length. Being these pants have a snap and a tie at the waist it is Not for handicapped peps because if that tie gets into a knot -one gets stuck in the bathroom because ya cannot get the knot undone without help! I had to return all pants with a tie. I would recommend these nice pants - just not for me. I've read where other peps say they stretch out a bit so the that makes sense why the tie closure is there.
September 30, 2016
Rated

2

out of

5
 by
Mjt8604
Runs small in the legs
These pants ran too small in the legs and knee area. I have a pair in short length that fit great, but are just slightly too short. These were about 3-4 inches too long so the seam around the knee didn't lay right. The fabric was also itchy on these and that did not resolve after 1 washing.
September 23, 2016
Rated

5

out of

5
 by
Geli
Best Pants Ever
I got my first pair as a size 6 and they were a little big but they were really comfortable. The draw string waist helps with adjusting size. I wear them to work all the time. I wore them so much, I bought a size 4 pair as well. I love the comfort and stretch of the material and how they are water resistant. I'm 5'2" so they're a little long on me but I love them anyway. Best pair of pants.
September 22, 2016
Rated

5

out of

5
 by
Walksalot
I am back to buy more!
These are amazing! So comfortable! I have worn them twice so far, first running errands around town an then out on a trail walk. Very versatile and incredibly comfy without looking like workout wear. Definitely going to buy more!
September 20, 2016
Rated

5

out of

5
 by
Tabi77
I LOVE these!
I am 5'3",125lbs I got a size 2 regular length which fit perfectly. These are the most comfortable pants I have ever owned. I wear them casually as well as for work. They are soft, stretchy, and waterproof which are all absolutely amazing! I ordered another pair today!
September 17, 2016
Rated

5

out of

5
 by
LKinAK
LOVE LOVE LOVE!
I bought these for a 3 day thru hike because I wanted a comfortable pair of hiking pants. These fit the bill. I love the fit, which is very flattering. Fit true to size, which is more than I can say for other outdoor companies. The pants don't fit snug and have a nice stretch to them. I love them so much I am buying more! I also wear them to work and find them to be as comfortable as my scrubs. I am 5'7 and they do run a bit long on me. I got the regular.
September 17, 2016
Rated

4

out of

5
 by
katsudolady
Great,Comfy
These pants are very comfortable, they move with me. True to size. I have a 27' inseam so I ordered the short not regular, fits perfectly.
September 14, 2016
Rated

5

out of

5
 by
Villac
Women's Anytime Outdoor™ Boot Cut Pant
My wife loves these pants. She almost has ever color available. True to size and high quality product.
September 14, 2016
Rated

1

out of

5
 by
Comfort
Disappointed
I was looking for a good comfortable hiking and causual pant. I am more of a pear shape and usually go for a boot cut fit. The placement of the front pockets are not very flattering and the fabric is alittle scratchy and does not seem to be of great quality. I have only washed them once, but I can see these, per other reviews, pilling really quickly. Perhaps that is why they are on sale? Most companies offer a return label and resealable package but Columbia does not! Perhaps this is to make returns inconvenient? Disappointed.
September 11, 2016
Rated

5

out of

5
 by
Hides
Comfy and Long Lasting
I estimate I wore this pant 90 times before replacing it. Over time I have added 4 more to give the original pair a break. I wear it everywhere, hiking, to work, active weekends. It's comfy, shapely, and it holds its color and shape. It can be protective and cool in the summer and warm in the spring and fall.
September 9, 2016
Rated

5

out of

5
 by
Blossom10
Love these pants!!!
Love these pants! Fits well. Very comfy! Dressed up or casual......ordering more.
September 2, 2016
Rated

5

out of

5
 by
Beth94
Functional Yoga Pants
These pants are awesome! I ca wear them in the office, while giving cave tours, on road trips, or just out and about. They are so comfortable and functional.
August 8, 2016
Rated

1

out of

5
 by
Female
Runs Short
Comparing to other Columbia pants, this pair runs short
August 4, 2016
Rated

5

out of

5
 by
Missy907
Great pants!
Nice lightweight pants that could be worn for activities outdoors but also in the office. My first time wearing them was for a 4 hour flight. Very comfortable fit and fabric felt good while cooped up on a plane. Looked nice too. Will be buying more colors!
July 13, 2016
Rated

5

out of

5
 by
Mint
So comfortable!
I ordered a black pair, size 6 short. The length is perfect. For reference, I am 5'3", 128 lbs. I loved these so much, I ordered another pair in black, as well. They are so thin and they have some stretch. You can dress them up or down. I just wish they weren't so expensive, I would buy more. These are going to be my favorite travel pants, they will be so easy to pack.
July 8, 2016
Rated

5

out of

5
 by
Ruthanne
Perfect for work and outdoors
Love, love, love these pants! Bought them for work, but I also fish and wearing these while fishing keeps me dry I don't have to worry about being to close to the water while its rough. The water just beads off and I don't get soaked, it's amazing. Also perfect for work they look professional, and fit perfect. Definitely recommending your brand to friends.
July 6, 2016
Rated

5

out of

5
 by
Msank2
Great slacks!
Absolutely the most comfortable slacks I've ever owned!
June 24, 2016
Rated

5

out of

5
 by
Kimberly97
Favorite for summer and travel
Wore these camping and travelling. Feel great and look great. Wrinkles shake right out. Moves with me, never restricting. Dries FAST! I have 4 pairs now in every color. I rarely wear shorts and these are perfect for summer unpredictable weather when it's on the cool side and in the heat. Great for camping as I can wash out and they dry quick.
June 23, 2016
Rated

5

out of

5
 by
Tere1204
Light-weight! perfect for traveling!
Perfect for traveling. It is light-weight and very comfortable. the material is perfect can repel light rain.
June 21, 2016
Rated

5

out of

5
 by
Josa
Josa
Best pair of pants I have EVER found anywhere, hands-down. I'm a competitive weightlifter, so I have very muscular thighs with a small waist. My waist is a size 2 and my hips are a size 8. This big size discrepancy makes finding pants that fit a total NIGHTMARE. The stretchy material that these pants are made with fit me perfectly without making me feel confined like jeans do. Also, because the pants feature a drawstring, it easily accommodates my waist, which is a much smaller size them my hips. The material keeps its shape and doesn't stretch out, which is another plus. They are easily packable, you don't need to iron them, and they repel water easily. Although the pants are advertised as trail pants, they can be easily dressed up or down. Once I realized how well they worked for me, I bought a pair in every color and I regularly wear them to work (and my office has a pretty strict dress code). One thing to keep in mind, though, is that these pants are very thin - i.e., they're really for warm weather or temps above 50 degrees. They're too thin to wear in cold climates, or during the winter. But on the flip side, you could wear these pants in 120-degree weather and not get hot at all because the fabric lets your skin breathe. Perfect for wearing out in the desert or for doing touristy things during the summer months. Also, when I say the pants are "thin" I don't mean they are see-through or cheap. Ladies, you don't have to worry that your panties will show through, because they won't - I already checked :) Overall, a fantastic pair of pants that you won't beat at North Face, Patagonia, or other comparable brands - especially if you get these pants on sale as I did. Purchase them - you won't regret it!
June 18, 2016
Rated

5

out of

5
 by
Iwona
My favorites!
Love these pants!! Great fit, feel, function. I bought a first pair for hiking. Loved it. Now I have bought another for everyday use. My friend seeing me wearing them bought 2 pairs. :))
June 10, 2016
Rated

5

out of

5
 by
embzok
awesome
Love the four way stretch and the detail on the leg. They fi true to size and are just right for anytime. Can use for cycling, hiking or dress up for an evening affair.
June 8, 2016
Rated

5

out of

5
 by
pjp4life
love these pants
I got these to hike in Alaska. They were wonderful, now I even wear them to work - just wish they came in Tall, could use them an inch longer.
June 3, 2016
Rated

5

out of

5
 by
Jr55
Great pants
I already had a pair of black ones & loved them so much, I bought two more pairs in other colors! They're great for traveling - light weight & wash very easily.
June 2, 2016
Rated

5

out of

5
 by
Christinewel
Love these pants!
I love these pants and practically live in them. I hike in them, play in them, work in them, and wear them to go out or to events. The fit is great and they are super comfortable and flexible. I ordered 3 pairs in various colors back when and when those wore out I ordered more. My favorite pant!
May 28, 2016
Rated

4

out of

5
 by
AJ94
Great travel pant
These pants are perfect for any traveling. They can be dressed up or dressed down. Very comfortable. They do stretch a little with time.
May 27, 2016
Rated

5

out of

5
 by
FaithVB
Great pants!!
I work in the automotive industry in the service department. These pants are so versatile, look great with our uniform OR with more 'dressy' work tops. They are great in the HOT, HUMID summers that we have here in Georgia, they keep you cool and dry. Even when it rains, they dry extremely quick if you get soaked. They are a bit stretchy and allow full movement. These are THE most comfortable pants that I own! if you need a versatile pair of pants, these are it. they are great for golfing, errands, work (in a casual environment) etc.
May 26, 2016
Rated

5

out of

5
 by
tracy66
Most comfortable pants ever!
I have 2 pairs of these pants and absolutely love them. They are so comfortable and wear well.
May 26, 2016
Rated

5

out of

5
 by
MoeJHud
Cute Pants - not only for hiking!
Love them!! very cute - wonderful fit - I must say -- I will be wearing them all over town!
May 16, 2016
Rated

5

out of

5
 by
Sheamia
Best Pants For Multiple Functions!
I purchased these for hiking and my upcoming trip to Alaska. I wore them to Yosemite and they were extremely comfortable. So comfortable that I now wear them to work in a proffesional office setting! You can't tell they are hiking pants except for the logo at the top of the pants, which is generally concealed with tops. I am 5'3, 130 lbs and the size 6 regular fit perfectly!
May 11, 2016
Rated

5

out of

5
 by
Mann11
My number one pants
These pants are just fantastic. They are so comfortable. They feel light on the body. I got the black one size 10 and they make me feel slim. I wish Columbia would make more colours. I don't like the blue, I wish the blue would be darker. I will order another pair for sure because from all my pants, I always go back to my Columbia one.
May 11, 2016
Rated

5

out of

5
 by
Amanda111179
I love these pants
I bought one in every color and for every day of the week. I teach little children and these pants are wonderful for getting on the floor, they stretch, they don't pull down in the back when I am sitting on the floor. They are so comfortable and look amazing. I get compliments on them often. I am glad they are on sale right now!
May 3, 2016
Rated

5

out of

5
 by
Tara1212
Fit very well
5'4 140 lbs and a size 6 fit perfectly. Highly recommend the black. Very flatttering.
April 18, 2016
Rated

5

out of

5
 by
Tiff33
Perfect pant for outdoor activity
These pants are perfect for outdoor activity. They're light weight and easy to wear. I bought them to go boating b/c I get chilly and they're perfect as a wind breaker. I also found them to be great for yard work. I'm an avid gardener and constantly working in the yard and flower beds. The material is perfect because it's breathable and cleans easily. On a side note, they're also very flattering. Getting ready to order a couple more pairs in other colors. Highly recommend.
April 16, 2016
Rated

5

out of

5
 by
Becca956
I love these pants!
I love to fish and bought these pants for fishing......but they are so comfortable I find myself wearing them as much as possible.
April 15, 2016
2017-01-22
bvseo-cps-pl-PRR
2017-01-22 T12:43:52.390-06:00
bvseo_lps, prod_bvrr, vn_prr_5.6
cp-1, bvpage1
co_hasreviews, tv_203, tr_203
loc_en_US, sid_AL8088, prod, sort_default
Size & Fit Guide
Size & Fit Guide
Women's Body Measurement (Inches)
Size
XS
2
S
4-6
M
8-10
L
12-14
XL
16-18
Waist
25.5-26.5
27.5-28.5
29.5-30.5
32-33.5
35.5-37.5
Hips
34.5-35.5
36.5-37.5
38.5-40
41.5-43
45-47
Short Inseam
29.5
Regular Inseam
32
Long Inseam
34.5
Size
L
12-14
XL
16-18
Waist
32-33.5
35.5-37.5
Hips
41.5-43
45-47
Short Inseam
29.5
Regular Inseam
32
Long Inseam
34.5
How to Measure
1.

Chest/Bust:

Measure at the fullest part of the chest, under the armpits and over the shoulder blades, keeping the tape measure firm and level.
2.

Waist:

Measure around the natural waistline, allowing the tape measure to sit comfortably.
3.

Hips:

Measure around the fullest part of your hips.
4.

Sleeves:

Start at the center back of your neck and measure across the shoulder and down to the wrist. Round up to the next even number.
5.

Inseam:

Measure from the top of the interior leg to the bottom of the ankle.
Women's Fit Guide
Performance
Body contouring fit conforms to movement.
Active
Body skimming fit with end-use mobility in mind.
Modern Classic / Regular
Universal, easy fit for comfortable range of motion.
Relaxed
Most generous fit for a full spectrum of movement.
How to Measure
How to Measure
Fold up at dotted line.
Place against a wall or other 90 degree surface.

Place heel against fold/wall on flat level surface.
Mark the end of the longest toe with a pen or pencil.
Measure both feet and use the larger measurement.
Read measurement and compare to size chart.
When comparing on the size chart, determine the closest larger measurement and use that number to determine your shoe size for your country's shoe measurement standard.
Shipping & Returns
Shipping & Returns
Shipping Information
Shipping Method
Rate
Expected Delivery Time
UPS Ground
$6.00
3-7 Business Days

UPS 2-Day Air
$12.00
2-3 Business Days
UPS Overnight
$19.00
1-2 Business Days
Free Standard Shipping
Available for Greater Rewards members. Learn more
Return Policy
Returns are accepted within 60 days of the purchase date online or in-store. Your apparel must be in original and unworn condition, with tags still attached. Footwear returns must also include the original box.
Still Have Questions
See our Customer Service section for more details. Visit Customer Service