Women's Fast Trek™ II Full Zip Fleece Jacket — Plus Size
Details
http://www.columbia.com/womens-fast-trek-ii-full-zip-fleece-jacket-%E2%80%94-plus-size-AW6542.html
AW6542
Greater Rewards
members earn

600

points with purchase
Size & Fit Guide
|
Reviewers rated this product
Fits Slightly Small
|
Fit
Modern Classic
Variations
Product Actions
Features
Sweet in its simplicity, this über-soft all-season jacket features a flattering silhouette and stretch properties for supreme mobility during dynamic activity in the cold.
Features:
Modern Classic fit
4-way comfort stretch
Zippered security pockets keep small items secure
Imported
Fabric
:
100% polyester microfleece
Omni-Shield™
Water and Stain Repellent
Technology Videos
Omni-Shield™
GO AHEAD.
TRY AND GET DIRTY.
Helps you stay clean and dry by resisting absorption of liquids.
Reviews
Rated

4.4

out of

5

 by

88

reviewers.
Rated

3

out of

5
 by
AprilF
Runs small and SHORT
Nice product. I ordered two. Super impressed with quality and warmth but they run sooooo short. I sent them back and didn't even think twice. Too bad they are cute.
December 16, 2016
Rated

5

out of

5
 by
PlusSizeDresser
Finally A Great Women's Plus Size Jacket
For some reason clothing companies think there are no plus size people or they don't care or they think we don't care. I can tell you we care and we want to wear cute clothing also. I want to take my hat off to Columbia. Although the selection is still 10-20% if the offerings of normal sizes it's a start and I couldn't be happier. This jacket is very warm, versatile and really thoughtful in its design. It has the fabulous pocket on the left arm and it fits true to sizing; for us plus size women. Keep up the great work Columbia; your plus size choices are much appreciated.
November 19, 2016
Rated

3

out of

5
 by
JGold
Just wish it was a little longer
I'm 5'10, fit is great, sleeve length is great, just wish it was an inch or 2 longer.
November 18, 2016
Rated

4

out of

5
 by
Grams
Good quality fleece
I ordered two different jackets so I could choose and returned this one. Although it is a nice jacket I felt it was a bit short in length
November 3, 2016
Rated

4

out of

5
 by
mutgoo
So soft!
Comments said it ran a little small, so I bought one size up. However, I found it ran mostly true to size. I should have returned it for a smaller size, but I was so excited to get it I washed it before trying it on. The fleece is so soft and thick I love wearing it. The lining in the pockets are soft and cozy as well. I live near the pacific coast so it can get pretty cold and windy, but this jacket keeps me nice and warm. Great job Columbia!
June 13, 2016
Rated

3

out of

5
 by
Audreysmom
Its just "ok"
I ordered the sea salt color in a 1x. I am 5'7" and about 200lbs. I recently had a baby so my midsection is bigger than I'm used to and I also wear a 40 DD bra...The jacket fits great to hide belly and slims my shoulders but it is definitely not long enough overall! The sleeve length is perfect for me. I like my coat sleeves to come down a few inches past past wrist and these come down the the first knuckle of my thumb so, to me, the sleeve length is jut what I wanted. But like I said, the overall length of the coat is way to short. I probably could have fit into an extra large just fine, the width of the coat is pretty roomy but I ordered a size up after reading other reviews saying coat was short. I assumed that a 1x would be longer but it is not. Also, the "warmness" and thickness of the coat could be better. Material is a little thinner than what I expected. I have gotten a lot of compliments on the color though. In my opinion this coat is just "ok".
February 15, 2015
Rated

3

out of

5
 by
Brit360
Black is NOT Black!
It feels nice and soft and does the job of a lightweight jacket I assume(haven't worn it out). I specifically bought this item because I wanted a black fleece and this item is NOT black! Compared it in good lighting to two other more expensive, well known designer brand BLACK fleeces and this item is a weird cheap looking greenish charcoal that makes my skintone look sickly. I also dont like how pronounced the stiching is on the arm pocket.I will most likely return it if I cant get used to this color in my closet by this weekend.
February 2, 2015
Rated

4

out of

5
 by
SyrXX
I liked the jacket but it wasn't for me
The jacket wasn't for me so I will be returning it. The jacket rode up too easily and didn't stay in place. It might of helped if I didn't order a size larger than I normally do then maybe the jacket wouldn't seem so loose at the bottom. There is no draw string or elastic at the bottom of the jacket.
December 19, 2014
Rated

5

out of

5
 by
Char4411
Fast Trek= A+
I love the Fast Trek fleece. I bought one last year and I just purchased another color for this season. I live in the south and we have mild winters. This jacket is great over a long sleeve shirt and its all I need. The material is very high quality and defiantly worth the investment over other bargain fleece jackets. I have a feeling I may buy another color before the season is over. :)
November 6, 2014
Rated

3

out of

5
 by
Darlink
CORAL GLOW IS HORRID
The fleece is soft and the style is awesome. It's nice and cozy but it runs small. I sent mine back because the color represented on the Columbia site as Coral Glow looks pink on the web but in person is a gross, radioactive-looking peach. Beware of the color.
September 30, 2014
Rated

4

out of

5
 by
Tassie
Great jacket!
This is a great fleece jacket! Pros *fits good through body *nice weight *love the sleeve pocket Cons *sleeves are extremely long, had to cut 2" off *should have a double zipper
September 11, 2014
Rated

4

out of

5
 by
2014Seattle
Thin Comfy Fleece - fits average
* Groovy Pink Color is great - think T-Mobile Pink * Fits is average overall - however; across the chest and shoulder verges on tight even though its fleece fabric * Arm pocket is nice * Needs a double-zip * Fleece fabric feels cheap and thin but color compensates a little (hard to find nice colors in 3X) * I usually wear a 2X-3X but in Columbia clothing I always have to select 3X as they run small - I wish the company would hear their customers and adjust the dimensions across the chest, shoulders and adjust the arms - arms are a bit tight too
June 27, 2014
Rated

5

out of

5
 by
MarianneB
Good product!
Very affordable price. Size runs a little big so if you're going to order, order it for your actual size. Other than that it is a very good product it's cozy and warm.
March 15, 2014
Rated

5

out of

5
 by
PapPaw
Fills the bill toward being warm.
My wife needed something a little warmer than her sweatshirt but lighter than her coat. I found this on line and ordered it the same day. It was exactly what she wanted, light weight, warm and good looking.
March 10, 2014
Rated

4

out of

5
 by
MP1021
Great Sporty Jacket
Fits True to Size and has nice lines. Not too loose, or tight... It is just right. Great for layering under other jackets
March 6, 2014
Rated

5

out of

5
 by
Cataholic
This jacket is fantastic!
I own both the Benton Springs full zip fleece jackets and the Fast Trek fleece jackets. I like the Fast Trek jackets so much better. The fit and design is much more fitted and the style is more updated than the Benton Springs jacket. Both jackets are very well made and of excellent quality. In the Fast Trek jacket my only complaint is that the arms are a little too long for me. I am only 5'2" so that is a little annoying, but other than that I would fully recommend this jacket to anyone. I have several colors in both jackets. You won't regret or be disappointed in this jacket!
March 5, 2014
Rated

5

out of

5
 by
Marsha55
Great!
Sleeves are a little long and that is perfect. Overall fit is wonderful and very warm.
March 4, 2014
Rated

5

out of

5
 by
lynn24
Feels thin, but it is warm!
When I opened this up, all I could think was that this would not be warm. I wore it outside when it was 20 degrees to shovel and it was perfect. I normally wear a 2x, but I ordered a 3x in case I want to layer, so I do have extra room. I always worry about my hips and bust, but it works out perfect. Also, it is longer so it covers my hips. The pockets are deep too. I would definitely recommend this product!
February 17, 2014
Rated

5

out of

5
 by
martys68
Great gift
Bought as a gift for my wife and she loves it.
February 9, 2014
Rated

5

out of

5
 by
dogowner
Perfect jacket to run errands or walk the dog.
I've been looking for a jacket for a while my criteria was: 1. Short, I have trench coats and rain coats and they are cumbersome getting in and out of the car. This is perfect because it hits just below my hip, (I have a long torso so it's hard to find). 2. Casual, I needed something I could get dog hairs on and not worry about it. 3. Bright color so I could be seen at night walking the dog. I got it in the bright blue. 4. Relatively inexpensive. Perfect! 5. I needed it to keep me warm. I've been wearing it in 20-30 degree weather for short periods of time. 6. Last but not least a jacket that fits, I wear 2x normally but I ordered a 3x so I could wear sweaters or a sweatshirt underneath. It fits perfectly! Overall I love this jacket and my dog does too! lol :) Also the inside pockets are blue, just like the jacket. I'm not sure if they changed from the white (like a previous reviewer had shown) or if it is color specific.
January 26, 2014
Rated

5

out of

5
 by
Ladysapphire
Groovy pink Fast Trek II jacket
This jacket is a vibrant pink and looks great with jeans/pants. I ordered extended sizing 1X and it is a good fit particularly the sleeve length. I am 6'2" so sleeve length is important. I would have liked it a couple of inches longer in the body but it still looks great.
January 21, 2014
Rated

4

out of

5
 by
janetk
Love this jacket
Love this jacket! Ordered grey and only fix is inside pockets are darker than material. Would love to see inside pockets same color! Warm and holds to washings well! Will order a black one in my near future!
January 18, 2014
Rated

1

out of

5
 by
oggjeri
Columbia colors WAY, WAY OFF!
I will be sending my jacket back and am not sure I will re-order. I love the thickness, softness and the design of the jacket BUT the first one I got was two small even though it was ordered in the size I wear. I then reordered the jacket again and on the advice of your agent that they run small, I ordered two sizes up because I like a jacket to fit loose. I wanted and ordered deep blush which shows in your color squares as a deep purple. The color I received was "pepto-bismo" PINK!! So, NO, I'm not happy. I don't feel like I should have to pay once again to ship it back and then re-order and pay shipping back to me. Very sad. It was a Christmas present from my husband.
January 16, 2014
Rated

5

out of

5
 by
Lesue57
This product is just as promised
I love the jacket. It is soft and comfortable and the color is vibrant without being neon. I ordered my regular size and it fits great.
January 13, 2014
Rated

5

out of

5
 by
Molly123
Love it!
Great fleece jacket. Functional, fits great and washes up beautiful. I have Hibiscus - it is bright.
January 6, 2014
Rated

5

out of

5
 by
tattman
Excellent Product
Extremely comfortable,very soft and subtle but unbelievably warm. First Columbia product I've ever purchased but, it won't be my last .
December 29, 2013
Rated

4

out of

5
 by
JezebelBlue
Decent Fleece Jacket
The quality of the materials in this jacket are very good. However, the sizing was off in some ways. The sleeves are a little long and the length could be longer, otherwise the sizing was average. If these proportions work for you it should be an ideal pick.
December 27, 2013
Rated

5

out of

5
 by
stephaniejay
love it!
This fleece is very comfortable and warm. My only concern is that it's a bit short but not awkwardly short. Just could use an inch or two in the abdomen area. Boobs make it shorter. I still love it.
December 24, 2013
Rated

5

out of

5
 by
Flash
Great Fleece Jacket
I love this jacket! It's comfortable, looks great and has quickly become my go to fleece. I'm tall and the longer sleeves fit me well. I even love the Boulder color.
December 23, 2013
Rated

5

out of

5
 by
BadgerMountain
Keeps me warm....
Love these jackets....buy one or two every two years so I always have a work on and a nice one.
November 15, 2013
Rated

5

out of

5
 by
22Mommie22
Wearing it right now
Love this jacket. It's light weight but warm and comfy. I wear mine pretty much all day in my cold office and it wears well. The material is soft and it doesn't attract lint or dirt. The only thing I would change is the length, it comes about belt length and I like my jackets a bit longer. Other than that perfect purchase! I purchased a 3x to have some room (I normally buy a 1x-2x depending on brand), I have the wiggle room I like. If you like fixed jackets buy a size down.
November 6, 2013
Rated

4

out of

5
 by
Jensue
Great coat, arms a little long.
As a slightly round middle aged woman, I am so thankful to Columbia for offering plus-sized fleece wear. I have an older Columbia fleece that I have totally worn out. This is a very nice coat, just the right length and width, arms are wide enough to be comfortable over a T-shirt, and it washed nicely. The only problem is that the arms are too long, especially compared to the length. I can't imagine this coat fitting a woman tall enough to have arms that long! But it is a very nice jacket, nice enough that I will just roll up the sleeves and go ahead and wear it! I also bought a second Columbia fleece with elastic around the cuffs. It doesn't seem as high quality as this coat, but the sleeves are perfect.
October 29, 2013
Rated

5

out of

5
 by
Rainier
Great
I love this jacket. I have the Benton Springs and those are nice too, but this one is more fitted and seems more stylish. I got one in Boulder and one in Dark Compass. The Dark Compass is a bit bright, but a beautiful color nonetheless. I especially like the Boulder color. Smart looking, subtle and warm. A great look when its chilly out, for both shopping and playing.
October 24, 2013
Rated

5

out of

5
 by
SuzyR
My fourth coumbia fleece jacket!!!
I love these jackets and the new styling is wonderful.....the color I selected this year is absoulutely beautiful (Niagra).....They are so warm and cozy and easy to care for, If I had a negative comment it would be that I miss the elastic in the sleeves as I have short arms and have to hem the new jacket sleeves....plus the sleeve now lets in more cold. Of course all of us Columbia clothing wearers are good looking!!!
October 20, 2013
Rated

4

out of

5
 by
fleece
Nice, not as thick as you might expect
This is a nice jacket, and I recommend it. However, it is a very lightweight fleece. Don't buy it if you are expecting to stay warm with just this fleece in mid 50s or below temps. It seems designed for high 50s to low 60s temps. I wish the fleece were a bit more substantial. I have the deep purple one, and the pockets are lined with the same purple color (not the white that has been mentioned in other reviews)
October 10, 2013
Rated

5

out of

5
 by
kywWildcat
Great Fleece
I purchased this fleece and I was not disappointed. The color is so rich looking. I love these fleece. They are sized just right. Which I could purchase every color.
September 9, 2013
Rated

5

out of

5
 by
300Laura
Great jacket for all types of weather
The color is super and I will use the jacket all the time as the weather gets colder.
August 30, 2013
Rated

5

out of

5
 by
Sheila48
Great features - good quality - great for packing -- love the Kiwi Green color for jeans, etc. - use size chart for proper fit
Loved this jacket when I received it. The jacket is of good quality and has zippered areas. Great for vacation. Ordered this jacket to take to Alaska but encountered a heat wave when we arrived. Will get lots of use from this jacket.
July 2, 2013
Rated

5

out of

5
 by
plantgeek
None better
This is a great quality fleece. Fits well, roomy enough to wear a sweatshirt underneath if necessary. It is my "go to" jacket in all seasons but winter. I have several in different colors.
June 15, 2013
Rated

5

out of

5
 by
Shosh
Finally, it fits!
Other reviewers had noted that this item has long sleeves. As a woman who is six feet tall but plus size, I appreciate that the length is sufficient. I frequently purchase men's outerwear to get appropriate length, but men's outerwear is not tapered at the waist or cut to accommodate hips. Here's a tip: if your sleeves are too long, have them shortened or roll them up. You cannot add length to a sleeve nearly so easily. Also, there are many petite plus options out there, but finding plus size in a long is next to impossible. Functionally, I like that there is no elastic at the cuffs, and the zippered pocket on the arm will be great for my iPhone when I am listening to music while working out. The color (purple/fuschia?) is pretty and I'm sure this jacket with get tons of wear!
June 6, 2013
Rated

3

out of

5
 by
pppbbbb
Yes, but...
This is a good fitting jacket, good weight, well made. But the color in the photo in no way resembles the actual color of the garment. If I had known it was the color it is I would not have bought it. It is much lighter in color and really not a nice "green". All that said, it is hard to find a 1X to 3X jacket that fits well and is good quality. I also have a Columbia raincoat and I was very impressed with that. I cannot figure why the color is so off.
May 29, 2013
Rated

5

out of

5
 by
Monikers
First online Columbia purchase -- completely satisfied
I was hesitant about purchasing this item without first trying it on to determine the fit. After reading the many favorable reviews, I decided to give it a try. I am pleased with the accurate sizing, the quality of the material, the length of the sleeves, and the warmth the jacket provides.
May 24, 2013
Rated

3

out of

5
 by
ShoreGirl
Great Color Jacket-Bad Pocket Liners!
This is my 1st Columbia Fleece Jacket. I've always wanted one and I do like it, but I have to say I'm very disappointed in the overall quality. WHY, WHY, WHY are the pockets made with a thin white material instead of matching with the same color fleece?!!!! I have the color Zing (which is a great color by the way) But it looks horrible to leave your pockets unzipped with this big white lining showing inside. I like to put my hands in my pockets and I find it slightly annoying that I need to zip them up every time I take my hands out because otherwise the jacket looks defective or torn or that I patched my pockets at home! I think $55 for a fleece should have been all fleece or at least match the color on the pocket lining.
May 17, 2013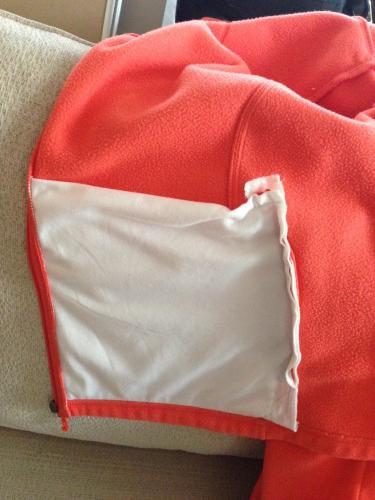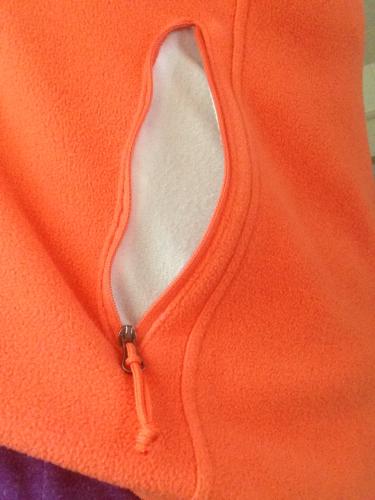 Rated

5

out of

5
 by
Lind
Exact as expected
It is perfect in every way.
May 15, 2013
Rated

5

out of

5
 by
Gatorchad
Soft and Warm
Warm and comfortable!! This jacket was purchased for my wife.
April 22, 2013
Rated

1

out of

5
 by
Springs
Not good fit for me!
I have 2 other jackets which fit fine and have elastic in the cuff. This jacket had a more fitted style that was hard to slide over other clothing and did not have elastic in the cuff-therefore too long in the arms. I really wanted a light colored jacket like my others that are dark but I was very disappointed and sent it back! This was the only style in purple. It was not too small but due to the styling, it was not good for me! Also hate to pay for the shipping and then return cost also!
April 4, 2013
Rated

5

out of

5
 by
Karalayn
Love this jacket!
Perfect jacket. Perfect fit and i Love the color:}
March 25, 2013
Rated

5

out of

5
 by
gogo96
Women's Fast Trek™ II Full Zip Fleece Jacket — Extended Size
Great Product! Fits tight, soft very durable! Wanted to be able to wear with my Omni Max coat also! Would recommend to anyone! Thank you Columbia for all the great products and clothes!!
March 4, 2013
Rated

5

out of

5
 by
babycat
GREAT!
Love the jacket - warm - the sleeves are long enough for me.
February 25, 2013
Rated

5

out of

5
 by
Maur1101
Nice Fleece
I bought this in Sea Salt, nice color, a little dressier. Fit is good, good length in body and sleeves, and nice shape to body. Not too bulky a fleece, a good weight like a sweater.
February 13, 2013
2017-01-23
bvseo-cps-pl-PRR
2017-01-23 T13:20:33.034-06:00
bvseo_lps, prod_bvrr, vn_prr_5.6
cp-1, bvpage1
co_hasreviews, tv_88, tr_88
loc_en_US, sid_AW6542, prod, sort_default
Size & Fit Guide
Size & Fit Guide
Women's Fit Guide
Performance
Body contouring fit conforms to movement.
Performance
Active
Body skimming fit with end-use mobility in mind.
Active
Modern Classic
Universal, easy fit for comfortable range of motion.
Modern Classic
Relaxed
Most generous fit for a full spectrum of movement.
Relaxed
Women's Body Measurement (Inches)
Women's Plus Sizing

Size
Bust
Waist
Hips
Short Inseam
Regular Inseam
Long Inseam
1X
16W–18W
43–45
36–38
45–47
29.5
32
34.5
2X
20W–22W
47–49
40–42
49–51
3X
24W–26W
51–53
44–46
53–55
How to Measure
1.

Chest/Bust:

Measure at the fullest part of the chest, under the armpits and over the shoulder blades, keeping the tape measure firm and level.
2.

Waist:

Measure around the natural waistline, allowing the tape measure to sit comfortably.
3.

Hips:

Measure around the fullest part of your hips.
4.

Sleeves:

Start at the center back of your neck and measure across the shoulder and down to the wrist. Round up to the next even number.
5.

Inseam:

Measure from the top of the interior leg to the bottom of the ankle.
How to Measure
How to Measure
Fold up at dotted line.
Place against a wall or other 90 degree surface.

Place heel against fold/wall on flat level surface.
Mark the end of the longest toe with a pen or pencil.
Measure both feet and use the larger measurement.
Read measurement and compare to size chart.
When comparing on the size chart, determine the closest larger measurement and use that number to determine your shoe size for your country's shoe measurement standard.
Shipping & Returns
Shipping & Returns
Shipping Information
Shipping Method
Rate
Expected Delivery Time
UPS Ground
$6.00
3-7 Business Days

UPS 2-Day Air
$12.00
2-3 Business Days
UPS Overnight
$19.00
1-2 Business Days
Free Standard Shipping
Available for Greater Rewards members. Learn more
Return Policy
Returns are accepted within 60 days of the purchase date online or in-store. Your apparel must be in original and unworn condition, with tags still attached. Footwear returns must also include the original box.
Still Have Questions
See our Customer Service section for more details. Visit Customer Service