Women's In Bounds 650 TurboDown™ Interchange Jacket
Details
http://www.columbia.com/womens-in-bounds-650-turbodown-interchange-jacket-1622501.html
1622501
Greater Rewards
members earn

1999

points with purchase
Size & Fit Guide
|
Reviewers rated this product
Fits Slightly Small
|
Fit
Active
Variations
Product Actions
Features
Whether your adventures take you off piste or not, the super-warm, fully seam-sealed and waterproof, breathable In Bounds 650 is coming prepared with a thermal reflective liner, underarm venting and pockets for your pass and your goggles. Let's push some boundaries this winter!
Features:
Omni-Heat™ thermal reflective liner
Omni-Tech™ waterproof/breathable fully seam sealed
650 TurboDown™ insulation
Zip-in Interchange System
Attached, adjustable hood
Underarm venting
Adjustable, snap back powder skirt
Ski pass pocket
Interior security pocket
Zippered chest pocket
Zippered hand pockets
Goggle pocket
Adjustable cuffs
Drawcord adjustable hem
Active Fit
Imported
Fabric
:
Shell: 72% nylon Legacy Dobby/28% polyester
Shell: 100% nylon Omni-Shield Legacy Twill
Lining: 100% nylon 210T taffeta
Liner: 100% nylon Omni-Shield 30D Micro Ripstop
Lining: 100% polyester Omni-Heat Reflective Microtex DP
Insulation: 550 fill power down, Omni-Heat Thermal Insulation, 100g
Omni-Heat™ Reflective
Thermal Reflective Warmth
Omni-Tech™
Waterproof. Breathable. Guaranteed.
Technology Videos
PERFORMANCE
ENHANCED DOWN.
Like a down jacket on steroids.
But it's legal.
Omni-Heat™ Reflective
Magic in a little
silver dot.
Breathable material with little silver dots that reflect body heat.
Omni-Tech™
BREATHABLE &
GUARANTEED WATERPROOF.
Air-permeable protection that's waterproof and breathable guaranteed.
Reviews
Rated

4.8

out of

5

 by

33

reviewers.
Rated

4

out of

5
 by
InThe406
Missing a couple features, but a great ski coat
I bought this to replace a North Face 3 in One that had served its time. I live in the Northern Rockies and ski almost every weekend in the winter. We get lots of snow and weeks at a time that don't see temperatures above zero. I've had a chance to ski in this coat several times, although I haven't skied in temps below 10 degrees Fahrenheit. I have, however worn the coat while walking my dog in temps anywhere from 20 below to 30 above zero, not accounting for windchill. It is a very warm coat. I've never felt cold. It's nice that the liner zips out, because when its warmer, I can just switch to a lighter liner. There is absolutely nothing wrong with the warmth factor. Even when I'm skiing in colder temperatures going 40mph down the hill, I don't get any drafts on the zippers (that's a problem I've had with other ski coats). Our snow is powdery enough that I haven't had a chance to wear it in really wet weather, but I trust that it'll be fine. As far as skiing features, pros are the length, warmth, and ease of adjusting layers for heat. Again, not having a drafty zipper is so, so nice. It was SUPER windy when I was skiing yesterday, and I only felt it on my face. It's a bit longer than any other ski coats I've had, but not as long as most snowboard coats, so they really got that right. I love the length. Stash pockets are abundant and large enough to fit things like fluffy mittens, hats, face masks, and goggles. I keep my phone in the inside zipper pocket and never feel like it's in danger of getting hurt or wet. I'm a size 12 in regular clothes. I actually went to a store & tried a few on, and the XL fit me best and left room for layers under the down liner for extra cold days, and was loose enough around the shoulders for me to not feel constricted in my movements when skiing. Most of the time I just wear a long sleeve base layer underneath. For cons, I like the pit zips, but, when the liner is in, they're really pointless because there's still a layer of down blocking any air from getting inside & cooling me off. A key hook or clip would be REALLY nice, and cheap and easy to attach. I don't know why this isn't a standard feature. I've actually been trying to think of a way to just attach one myself. It's just silly to not have a way to secure something as important as keys when you're skiing. I took a few tumbles yesterday, and the powder skirt did nothing. It may have actually done the opposite of what it was supposed to. The liner is actually longer than the powder skirt, so the skirt goes over that thick layer of down, instead of around your bum on your pants like it should. There's just no barrier blocking the snow from getting up inside the coat if you fall in powder, and there's no way to attach the skirt to pants because the liner is in the way. My shirt was wet around my waistband all day after my first fall because the powder skirt failed miserably. The liner is pretty bulky & makes me look a lot bigger than I actually am, but I'm not super vain about that stuff so it's not a deal breaker. If you want a slim profile though, this coat is not for you. The hood is pretty pointless when wearing a helmet, and I always wear a helmet when I'm skiing. It's not big enough to fit over a medium size women's helmet. And it's not detachable, so I'm stuck with it just flapping behind me. Overall this is a great jacket, but a few minor tweaks would make it the perfect ski coat.
January 16, 2017
Rated

5

out of

5
 by
Lululisa
Warmest coat on the planet!
I've had well known brand down coats before but this is warmer! I'm always cold, but not in this coat! It was 8 degrees the other day and I wasn't cold! I do homeless outreach so I need something warm and this does the trick. I like the length, the pockets, the color--I bought the red. I love this coat. I usually wear a medium, needed a large for shoulder and arm movement.
December 21, 2016
Rated

5

out of

5
 by
AnthonyLobato
Extremely happy and warm Mrs.!
My wife never had a coat like this for winter. We picked up competitors 3-in-1 and it was more like a wind breaker. thin external shell with super thin internal liner. But not the Columbia 3-in-1 Interchange with TurboDown!! This thing is friggin awesome and I am SUPER jealous of her awesome coat!! Every time she puts it on she has to tell me how much she loves it because she' never had a coat so warm in her life. She tends to run cold and her other coats just never had the warmth she needed. This one has broken the cycle. The shell is very well put together. Still fairly light considering this is the Mack-daddy of all outdoor jackets. The seams are all straight and sewn with great quality It's waterproof in the rain. We tested that already. The hood fits great and has several adjustments to get it just right. It has several pockets and the hand pockets look like they'll even accommodate hands with gloves on. There is a small pass pocket on the sleeve but she uses it for her lip-liner/gloss ;>} She loves the color too (Purple Dahlia). The real treat is the Turbo Down inner-liner. It's really a second jacket. Its compact in size and lightweight but has a lot of filled cells so that it retains warmth like nothing else. We had her test just the inner liner on a cold day (15-20 degrees) and it was warm enough on its own. Added the shell and she was snug as a bug in a rug. with the Omni-Heat, the Turbo Down and the quality and durability of the shell, this thing is like wearing a fire place on a cold winters night. Thanks Columbia! this is a great looking and extremely functional coat. She loves it!
December 15, 2016
Rated

5

out of

5
 by
Hannah0731
Wonderful coat
I really LOVE this coat. Even in 7 degree weather this coat keeps me nice and warm. I usually wear a small (5'7" 140 lbs) in tops but chose a medium so I could layer this with sweaters. The fit is great! Not too baggy on it's own and not too snug with layers.
December 14, 2016
Rated

5

out of

5
 by
letitsnow16
Great jacket!
I just purchased this jacket on Cyber Monday and absolutely love it! I was in the market for a warm jacket since the winters in Minnesota can be brutal. I can confidently say this jacket is just that! I spent two hours out in single digits this weekend shoveling snow (only wearing a t-shirt under my jacket) and I can't say I was ever cold! Had I been wearing a sweatshirt under this jacket as well, I might have been (dare I say?!) too warm! That is definitely a good problem to have in my book! I absolutely love that it's a 3-in-1 jacket. It will give me the flexibility to wear it year round if I want to, since I can choose which layers I want to wear. The jacket does run a little small, so keep that in mind. I am 5'4" and 150lbs and I ordered a "large" so that I would have enough room to wear a large sweatshirt underneath. Yes, it's a little roomy if I only wear a thin shirt, but that's okay with me.
December 12, 2016
Rated

5

out of

5
 by
JEWELS2604
Perfect for Minnesota Winters!
Just got this coat in black about a month ago...I absolutely love it! Tempatures have been in the low double digits with nasty windchill this last week here in Minnesota, this coat is warm! Blocks the wind and keeps me so nice and warm. This is the warmest winter coat I have ever owned! I am a pretty loyal Columbia winter jacket buyer...this one definitely beats all others that I have had! Plus it is super cute!!!
December 9, 2016
Rated

5

out of

5
 by
Bikisoucy
Great Jacket
This jacket is very warm and has great mobility. I appreciate the ability to wear the down jacket alone if I want to explore the city or throw on the shell for snowboarding. The jacket does run large. I am disappointed by the size chart. I took my measurements. I'm 5'2" with measurements 34" bust 28" waist and 36" hips and somehow I am swimming in a size small. I have at least another four inches of space even with layering. Buyer beware if you like your jacket close to your trunk. Otherwise it's a great jacket and have no complaints about functionality or quality. I'm just sad because it's sold out and can't get one in my own size.
December 8, 2016
Rated

5

out of

5
 by
Texasgirl
Best coat I have owned
I live near Canada. I needed a coat for negative temperatures. So I figure to get this one since other people were saying how awesome the coat is. I love the head piece and how it's designed. I can add a scarf or face mask to the head area when we get below 0. I love how I have the option to wear to wear a coat three different ways. I love how durable it is. The coat feels soft when wearing it. This coat is the best I have owned in my entire life.
October 28, 2016
Rated

5

out of

5
 by
ErinM
Above and beyond - 5 stars
I live in the Pacific NW so our winters are really mild, but I needed something practical and warm for a recent winter trip to Iceland. The weather there can swing from 0 to 45 degrees with snow and rain in a matter of hours and miles. This jacket did the trick of keeping me warm AND dry, which was super. We traveled for many hours by car and would pop out and see the sights, sometimes hiking for awhile. This jacket was great because I could choose what layer (or layers) I needed depending on the activity. The other great thing is that I can use the different layers back here in Portland, Oregon to protect me from the rain. I'm 5'3", 120#, 34B and bought the size small, which fits perfectly in terms of length and in the sleeves also. Love this jacket and highly recommend it. If this doesn't keep you warm and dry, I don't know what will!
March 20, 2016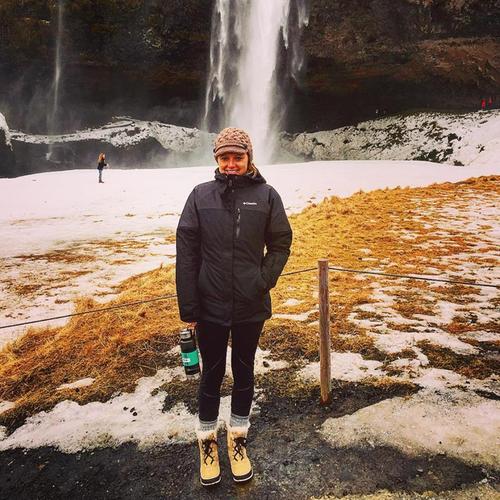 Rated

5

out of

5
 by
kato888
LOVE LOVE LOVE THIS COAT!
I bought this coat because my 10 year old Columbia exchange coat (which is nowhere near worn out) was not quite warm enough on days when the temp was below -20C. This morning when I left the house it was -27C with the windchill. I stood at the bus stop for 10 minutes and was not cold at all. I wear one less layer under this coat than I used to under my old coat and I am still warmer. However I find it is a little too warm for very vigorous exercise such as shovelling snow. But for walking the dog or waiting for the bus on a cold windy day, this coat is perfect. Fit matched the sizes shown on the sizing chart. It falls at the hip which keeps your lower core (kidneys) warm but allows sitting comfortably on the bus without having to hitch up the coat.
March 3, 2016
Rated

5

out of

5
 by
Blondie52
Warmest Jacket Ever!
Although I am a lifetime resident of Wisconsin, I have become a "winter Wienie" and am cold all the time - My comment: If this jacket combination doesn't keep you warm through a Northwestern Wisconsin winter, you should consider moving to a more southern clime. Extremely fine product - I generally wear a size Small, but need longer sleeves, so ordered a Large, which is nice and roomy. TurboDown is Ab Fab... okay, Columbia, where are the pants to match?
February 16, 2016
Rated

5

out of

5
 by
Momo0527
Warm, versatile, jacket
Excellent, warm, jacket. Have worn both the liner and jacket separately as well as together. Only criticism would be that I wish that it had an inside cell phone pocket.
February 14, 2016
Rated

5

out of

5
 by
COtrekker
Great Jacket
I love the versatility and fit of this jacket. I've been looking for the right jacket for awhile and I'm very happy with this purchase.
January 28, 2016
Rated

5

out of

5
 by
fuzzy4paws
love this jacket
I ordered a medium as I usually wear a 10 to 12. I am 5'6" 110-112 lbs. did fit snug but not tight, but I still wondered if I should have bought the large I am glad I kept the medium though as it holds the warmth in and the arm length is just perfect. I walk the dog twice a day so I wanted something to keep me nice and warm on those days that it was freezing out. I am pretty confident this jacket will do the trick.
January 26, 2016
Rated

4

out of

5
 by
Dakota701
Great jacket, a little small
This jack runs a little small and fits too close to the armpit. I feel like it is shoving in to my armpit half the time. However, I love the jacket. It's almost too warm when you're being active.
January 14, 2016
Rated

5

out of

5
 by
LawlessElf08
Warm, Warm, Warm
Hands down the warmest coat I have ever had and the quality is great. I am no longer hesitant to spend long periods of time outside in the winter!
January 8, 2016
Rated

5

out of

5
 by
Smiley57
Womens Turbodown Jacket
The interchangeable jacket is very light in weight and very warm.
January 8, 2016
Rated

5

out of

5
 by
Kate511
Warm, comfortable jacket
I bought this jacket for snowboarding. I haven't worn it yet in the snow but I have worn it outside in the cold and it is very and comfortable!
December 29, 2015
Rated

5

out of

5
 by
SparklesTheStripper
Love It!
I bought this coat for my trip to Alaska. I'm 5'4, and 130 pounds and thought my medium fit perfectly. I walked around Anchorage in December with an average of 20 degree wheather, and never got cold when wearing this coat. I like how I can have the down coat without the down look because I'm not a fan of the fluffy, shiny look. The shell of the coat was great for blocking the wind, and never once did I get wet when playing in the snow. I thought the length was perfect because it wasn't too long and hit me right on the front pockets of my jeans. There were plenty of pockets even though I used the breast pocket the most. I found it super easy to take out the inside down liner when I wanted to wear that part by itself, and just as easy to zip back in. The coat with both the inside liner along with the outside shell was never bulky feeling and I moved about very easily. I also really liked having the option of the drawcored adjustable hem at the bottom of the coat around my legs / lower torso. Before buying this coat I tired to look up about the omni heat and didn't find many useful reviews. There was nothing great or terrible that I noticed about the omni heat. I saw that some people said it made them feel colder but that was never a problem for me. The omni heat was fine but I wouldn't base by purchase of this coat around that because there are plenty of other great qualities I like much more. I went with the emerald and Tradewinds gray and they looked almost exactly the same in real life as the color does online. I did a lot of researching and looking around for the perfect coat for this trip. Although this was the most expensive option, I'm 100% happy with my purchase and would be more than willing to buy this coat again and suggest it to any friend.
December 25, 2015
Rated

5

out of

5
 by
tinkerbellz
Women's in Bounds 650 TurboDown interchange Jacket
I was amazed that I received the jacket the next day. I love the colors it 's just like the picture. I love how it fits..It's true to size I love how warm it is...I highly recommend this product Thank you so very much Columbia Sportswear...
December 25, 2015
Rated

4

out of

5
 by
Sbhdjjxjen
It's a nice jacket
This is a really nice jacket. I'm 5' 2'', 175 pounds and bigger chested and this fits comfortably. I do have trex arms so the sleeves are a little long but it doesn't matter. When I do wear it i look super fluffy! If you wear the outer jacket alone it does feel bigger, but it didnt bother me since i had a sweater on underneath. I am upset that after spending so much money on the coat that the stitching came off on one of the Velcro pieces. The inner jacket is a bit strange to wear alone, mostly because of the color. It is blue in the picture, but there are darker marks all over the jacket I'm guessing it's the inner stuffing that can be seen. When you wear it alone it looks like you washed your cold with an exopded pen or something.
December 18, 2015
Rated

5

out of

5
 by
Peggy28
This is a warm coat!
Because of the lining and a sweater, this coat feels a little tight, the size up is too big. However it's warm and looks great!
December 18, 2015
Rated

5

out of

5
 by
Kirsteny
Good performance of turbo down
Good quality, good performance
December 17, 2015
Rated

5

out of

5
 by
erikap
Great jacket
This is my first Coulmbia coat and I love it. The down lining is so warm and the shell is just right for everyday errands. Together they are perfect for cold days and skiing.
December 17, 2015
Rated

5

out of

5
 by
Ladybleu
I love it!
I absolutely love this jacket. The color is exactly as shown and the fit is good. In the short time that I have owned it, I have had a chance to use it in icy rain and snow. In both instances it kept me warm and dry.
December 17, 2015
Rated

5

out of

5
 by
Bearswife
Warm in Colorado!
Just moving to Colorado, I knew I needed a ski jacket. Not just any jacket mind you. I get cold very easily. It's no fun skiing if you are cold! First ski trip was to Telluride. 18 degrees F with windy conditions. I didn't get cold all day! Outside shoveling snow, perfect! I love my new coat! Only negative is that you don't have any inside pocket with the down liner zipped in.
December 15, 2015
Rated

4

out of

5
 by
Maggy
Bulky up top
There is no doubt that this coat is very very warm. However I found it bulky on the shoulder/bust area. I am 5'3", 125 lbs, ordered a small (black on black) and found the upper body bulky. Most of my weight are in the legs and I have a smaller chest so that may be why I found the shoulders/chest area roomy. Aesthetically, the inside jacket (for black) is more of a jet onyx/blue/black and shinier on the exterier than expected. The shoulders are beautiful but look more like gray in person. For being an active fit, it doesn't have a feminine cut and it's a bit puffy. If you don't care too much for aesthetic details, and want something super warm for those cold winters/adventures then there is no doubt this coat will do the job.
December 13, 2015
Rated

5

out of

5
 by
Dezzy
Perfect
Warm, just the right size, very comfy coat
December 13, 2015
Rated

4

out of

5
 by
Silver
Great Jacket, Miss the old version
I love this jacket, but it is missing a couple of features that the previous model had available. For example, the previous model had internal zipper pockets located in the chest region in both the inner and shell jackets. These were very convenient pockets if you wanted to store something more safely. The previous inner jacket also had the thumb loops which helped prevent snow from getting inside the sleeves. If this new model would of had the internal pockets, then I would have gave it 5 stars. This model does have the pocket on the sleeve, but I have yet to determine what should be kept in this pocket. Overall a great jacket and I hope there are similar jackets in years to come so I can replace my older ones.
December 10, 2015
Rated

5

out of

5
 by
WenWag
Super warm jacket
This coat is ultra waterproof and it's the warmest coat I've ever worn. I love it!
December 9, 2015
Rated

5

out of

5
 by
Fishcharleston
Great Jacket
This is probably my favorite jacket I've ever owned in my 29 years of life. Its super warm and has many pockets. The turbo down lining is like sitting in front of a fireplace on those cold days! Thanks for another quality product to keep me warm this winter!!!
December 4, 2015
Rated

5

out of

5
 by
LadyWinter
So warm!
I am a very cold-natured person and it has gotten so much worse as I have come into this winter 78 pounds lighter than I was last winter. I thought it was impossible to be warm in this freezing cold, or if I tried I'd have to spend thousands. I am so glad I found this coat. It's a nice feminine fit, doesn't restrict movement. I got the black one and I love the color and textured accent panels of material at the shoulders. I'm not enthusiastic about the industry's obsession with the shiny swishy/marshmallow-looking material for the down insulation layer if I were to wear it without the shell, but it's SO WARM! I'm baffled by the built-in snow skirt and such for snow sports, because when the interior layer (the one with all the warmth) is zipped in, it is covered up and impossible to snap around your waist? Doesn't seem well thought-out logistically how someone can use the coat for warmth and during snow sports. I am 5'4", 185 pounds, and a 36DD. I got the size XL so I can wear bulky sweaters under it without feeling like Mr. Roboto when moving. I highly recommend this!
November 21, 2015
Rated

5

out of

5
 by
Redheadedmissy
best ever
Our winters are cold and we get a really cold snap -40 or below for about a week. This is the best jacket ever. keeps me toasty warm and breathes really well so i don't overheat
October 6, 2015
2017-01-18
bvseo-cps-pl-PRR
2017-01-18 T11:52:12.153-06:00
bvseo_lps, prod_bvrr, vn_prr_5.6
cp-1, bvpage1
co_hasreviews, tv_33, tr_33
loc_en_US, sid_1622501, prod, sort_default
Size & Fit Guide
Size & Fit Guide
Women's Fit Guide
Performance
Body contouring fit conforms to movement.
Performance
Active
Body skimming fit with end-use mobility in mind.
Active
Modern Classic / Regular
Universal, easy fit for comfortable range of motion.
Modern Classic / Regular
Relaxed
Most generous fit for a full spectrum of movement.
Relaxed
Women's Body Measurement (Inches)
Size
XS
2
S
4-6
M
8-10
L
12-14
XL
16-18
Bust
32-33
34-35
36-37.5
39-40.5
42-44.5
Waist
25.5-26.5
27.5-28.5
29.5-30.5
32-33.5
35.5-37.5
Hips
34.5-35.5
36.5-37.5
38.5-40
41.5-43
45-47
Short Inseam
29.5
Regular Inseam
32
Long Inseam
34.5
Size
L
12-14
XL
16-18
Bust
39-40.5
42-44.5
Waist
32-33.5
35.5-37.5
Hips
41.5-43
45-47
Short Inseam
29.5
Regular Inseam
32
Long Inseam
34.5
How to Measure
1.

Chest/Bust:

Measure at the fullest part of the chest, under the armpits and over the shoulder blades, keeping the tape measure firm and level.
2.

Waist:

Measure around the natural waistline, allowing the tape measure to sit comfortably.
3.

Hips:

Measure around the fullest part of your hips.
4.

Sleeves:

Start at the center back of your neck and measure across the shoulder and down to the wrist. Round up to the next even number.
5.

Inseam:

Measure from the top of the interior leg to the bottom of the ankle.
How to Measure
How to Measure
Fold up at dotted line.
Place against a wall or other 90 degree surface.

Place heel against fold/wall on flat level surface.
Mark the end of the longest toe with a pen or pencil.
Measure both feet and use the larger measurement.
Read measurement and compare to size chart.
When comparing on the size chart, determine the closest larger measurement and use that number to determine your shoe size for your country's shoe measurement standard.
Shipping & Returns
Shipping & Returns
Shipping Information
Shipping Method
Rate
Expected Delivery Time
UPS Ground
$6.00
3-7 Business Days

UPS 2-Day Air
$12.00
2-3 Business Days
UPS Overnight
$19.00
1-2 Business Days
Free Standard Shipping
Available for Greater Rewards members. Learn more
Return Policy
Returns are accepted within 60 days of the purchase date online or in-store. Your apparel must be in original and unworn condition, with tags still attached. Footwear returns must also include the original box.
Still Have Questions
See our Customer Service section for more details. Visit Customer Service