Women's Kaleidaslope™ II Jacket – Plus Size
Details
http://www.columbia.com/womens-kaleidaslope-ii-jacket-%E2%80%93-plus-size-WW4045.html
WW4045
Greater Rewards
members earn

1199

points with purchase
Size & Fit Guide
|
Reviewers rated this product
Fits Slightly Small
|
Fit
Active
Variations
1. Select Color:

Black

Out of stock
Product Actions
Features
Offered in an array of dark, versatile neutral colors, this cozy jacket utilizes Omni-Heat® thermal reflective and insulation to provide superior warmth – it's beautiful baffling makes it as perfect for everyday as it is for staying warm during cold-weather adventures in the outdoors.
Features:
Omni-Heat thermal reflective and insulated
Omni-Shield advanced repellency
3-point Interchange System
Interior security pocket
Zip closed security pocket
Comfort cuffs
Thumb holes
Center back length: 26"
Imported
Fabric
:
OMNI-SHIELD SHELL
100% polyester Windowpane Triple ripstop
OMNI-HEAT LINING
100% polyester Thermal Reflective
OMNI-HEAT INSULATION
50% polyester/50% recycled polyester OH, 100g
Omni-Heat™ Reflective
Thermal Reflective Warmth
Omni-Shield™
Water and Stain Repellent
Technology Videos
Omni-Heat™ Reflective
Magic in a little
silver dot.
Breathable material with little silver dots that reflect body heat.
Omni-Shield™
GO AHEAD.
TRY AND GET DIRTY.
Helps you stay clean and dry by resisting absorption of liquids.
Reviews
Rated

4.3

out of

5

 by

105

reviewers.
Rated

2

out of

5
 by
SueKL
Not happy. It's going back today.
I bought a parka at the Columbia store last year and love it. It's light and warm. So I ordered this jacket, thinking that it would be as good as my parka. Nope. It runs very small. I normally wear a 2x. But I usually size up for winter outerwear so that there is room for a sweater or sweatshirt. And I have never had a problem with doing that. This is a 3x and barely fits WITHOUT layering. The color is very unflattering, as is the fit. It runs very short in the body and just doesn't really look good on a larger woman. I do love the cuffs (my parka has them too). And I am sure it is as warm as my parka. But unless you are small, this really doesn't work. Columbia needs to look at it's plus size clothing with a more critical eye. You can't just make things bigger. You have to design for a larger frame.
January 12, 2017
Rated

3

out of

5
 by
Beckbeckbeck
Runs really small
Very small. Order at least 2 sizes up. I liked the Pacific Post coat bettter in general
January 11, 2017
Rated

4

out of

5
 by
Angel09
Great to wear with Hoodies
This is as awesome coat to wear with performance hoodies to run errands or go shopping in ---with the omni heat inside and wearing a hoodie--keeps you comfortable in the midwest weather!! lightweight but warm! :) But you don't get overheated in the stores either.
December 31, 2016
Rated

1

out of

5
 by
JCnTN
TIGHT SLEEVES
I purchased this jacket in a plus size. The sleeve circumference isn't proportional to the jacket's size. Sleeves are too tight!!!
December 30, 2016
Rated

5

out of

5
 by
srich
KALEIDASLOPE™ II JACKET
The high collar is great! It is soft and cuts the wind out. The style is fun and different from every other "quilted" jacket. Still loving that Omni heat!
December 21, 2016
Rated

4

out of

5
 by
TheTwo78
New Winter Coat
Ordered during Thanksgiving sale as I wanted a new winter coat that was easy to travel with and drive while wearing. This fit the bill and after reading many of the reviews I made the purchase. The coat fits well but is a bit snug in the arms. I can get thin long sleeve layers in it, a long sleeve t-shirt and a fleece jacket (I purchased a fleece with the coat) but no bulky sweatshirts. so far That is the only negative for me. It is warm and waterproof and is comfortable to wear. We're heading into the below zero temps so the testing continues to see how well the jacket keeps me warm :)
December 16, 2016
Rated

5

out of

5
 by
Gail52
My favorite winter jacket
I bought this jacket last year and loved it so much I purchased another one this year to make sure I always have one around. It is light weight and comfy yet so warm. Perfect by itself or layering beneath a coat. I am tall and the length and sleeve length is perfect. Columbia clothes always fit my long limbs.
December 12, 2016
Rated

2

out of

5
 by
NurseRatched
RUNS TOO SMALL
This coat runs really small. I had to order 3 sizes larger. It also is a shorter coat with no draw string or toggle around the waist.
December 9, 2016
Rated

5

out of

5
 by
freqrider
Nice coat and fit
My wife bought a coat at Costco that was much bulkier and not at all flattering. I immediately went to the Columbia site to show her some other options, and we ordered this coat. It looks really great on her. The collar isn't stiff like some coats, so she can fold it down when she doesn't want it around her neck and chin. The collar is also lined with super soft fur-like fleece. The coat looks just like the photos. She says it keeps her warm now that we've had a few days where it hasn't gotten above freezing.
December 7, 2016
Rated

4

out of

5
 by
D2ThaIzzle
Great Jacket!
I got this jacket in the Tradewinds Grey. It's more of an ice blue-y grey than just grey. I still really like the color. In multiple reviews they said they wished the jacket was a few inches longer. I would agree with that after putting on the jacket. I sized up a little bit and it's still just an inch or two shorter than I would have liked (I'm 5'7"). I love how lightweight the jacket is. I don't feel claustrophobic or overwhelmed by this jacket, but it's an easy jacket to through on and wear, or to layer.
December 3, 2016
Rated

1

out of

5
 by
SusanLL
Is the same arm size being used regardless of coat size?
I tried the 1 X on at BassPro, but the arms were tight and the body ok, but I wanted it a little looser. I wanted to wear sweaters under the coat so I went with a 3x only to find that the arms were still soooo tight with the rest of the body being impossibly large and tent like. I am not sure who is designing for plus size women, but many of us do not have stick arms. TNF XL is just right in the arms, but a little tight around my hips. Is it much to ask for some uniformity in size? Needless to say this had to be returned.
November 30, 2016
Rated

5

out of

5
 by
Doc3
Excellent Jacket
Replaced daughter's Omni Heat Jacket from 7-8 yrs. ago, which still is in excellent shape. The Omni Heat feature, light weight, and all the other features makes this jacket an excellent buy. Highly recommend if you are looking for a jacket that will keep you warm, light weight, and great buy for this jacket.
November 29, 2016
Rated

5

out of

5
 by
Ljay
Love the thumb holes on jacket
I had this coat in blk for a few years. This is my favorite go to jacket. I work outside in the cold a lot and this does the job. It seems a little thin but don't be fooled, the lineing is what makes the difference
November 24, 2016
Rated

4

out of

5
 by
Lori2005
Nice jacket, but returned it
For a plus size jacket, I found it to be too short. The quality is great, and it's really light. I just wish it was a couple/few inches longer.
November 16, 2016
Rated

5

out of

5
 by
Allie223
Great coat!
Wanted a non bulky winter coat and I have the mighty lite vest and figured this would suit perfect. Held out too long before I ordered and missed getting the blue one so I ordered the green and love the colour!! Love the thumb holes and it's roomy enough I can fit a fleece under it on a super cold day. Almost looking forward to a cold day to wear it...almost
October 16, 2016
Rated

4

out of

5
 by
MsCali
Jacket Works For This Cali Girl
My alltime favorite winter jacket is the Exofficio Storm Logic. I own one in XL. It's lightweight, has interior pockets galore and looks great. Unfortunately Exofficio only makes women's sizes to XL and I no longer fit in an XL jacket. So as I've gone up in size, Columbia has earned my business. I applaud Columbia for realizing that Plus Size Women wear adventure gear too and that we want sporty and comfy clothes too. I already own the Mighty Light III vest so I wanted a jacket with a similar look and fit. Also I live in Los Angeles where it doesn't get too cold so I didn't want a jacket that would make me too warm on 60 degree days. I chose the KALEIDASLOPE™ II JACKET over the Mightly Light III because the silhouette looked a little more hourglass and the slightly higher and furry collar looked cozy. My hair is short in back, so having a little more collar length to keep the chill out is better. I ordered the jacket in black. While it doensn't really show up in the photos, the baffling on the chest and upper back part of the jacket isn't sewed flush, and it does look a little weird in my book. Maybe it serves a purpose, but I think it would have looked better flush and sewed down. The omni heat works very well and for So Cal temps is fine for me. I do prefer a jacket with primaloft because it regulates with your own body temp better in my opinion, but Columbia doesn't offer that in their clothes. I wish this jacket had an adjustable cord for the bottom, because i would like to be able to adjust the fit a little. I was between this and the Voodoo Falls Turbo Down (that has an adjustable bottom) but that jacket seemed a lot warmer so I chose this one. So here's why I'm going to rate this jacket 4 stars vs 5 - Columbia are you paying attention, this is important - you need to cut your sleeves wider in your Plus Sizes clothes across the line. I do fit in the sleeves in this jacket, but it's snug. I've found this to be a problem in their shirts as well and I've read many plus size women complaining about sleeve size in the jackets too. Not just this jacket, but other Columbia jackets too. If you're a plus size woman, you're not only bigger in bust, hips, and stomach, you're probably bigger in the arms too. I can only wear this jacket with a thin long sleeve shirt under and even then it's snug. There's no way I could wear a thicker shirt or sweater. I actually spent time on the phone with a Columbia rep so I could get the shoulder and sleeve sizes before I chose a jacket. It would be nice if those numbers were included on the website. This is a nice jacket and Columbia makes good quality products. Just please listen and start making the sleeves wider on Plus Size Womens clothes. Thanks.
October 15, 2016
Rated

5

out of

5
 by
Andyspethuman
Great coat.
Although it is lightweight, it is warm. It fits great. Just wish that it came with a hood.
October 7, 2016
Rated

5

out of

5
 by
oduckfan
Back for another!
So many new colors this year! I own this coat in black and came back for the white one, but I have my eye on the Nightshade color as well. Beautiful! This is my go to, super stylish jacket when I need something light, but toasty. I find this jacket to have a slight slimming effect too, so...bonus! Be warm! Be stylin'! Get this jacket and get ready to receive tons of compliments!
September 26, 2016
Rated

5

out of

5
 by
jmlammers5
Love
Love this coat. Fit is good. As stated may run a little small but not a big issue for me. Love how lighweight but yet the jacket is very warm.
March 3, 2016
Rated

5

out of

5
 by
Jerrysgirl
An excellent buy
This is a must have for anyone who's cold! I get wows and complements on this jacket all the time while staying warm without the bulk
February 28, 2016
Rated

5

out of

5
 by
Debdio
Great product
Lightweight, yet so warm, really comfortable and stylish. I would like one in every color. Love the inside collar it is so soft
February 25, 2016
Rated

3

out of

5
 by
TiaM
Not what I expected
I love the style and it fits true to size. Only thing I didn't like it was very a thin I thought it had at least a little puff to it. That would have been great
February 24, 2016
Rated

4

out of

5
 by
Wisc
Very nice jacket
Love it and did get a size up which I am glad I did. Comfortable and can wear thicker clothes underneath if needed. Only sad thing is I agree with many other people, if only it was a couple inches longer. 3 inches would even be good.
February 13, 2016
Rated

5

out of

5
 by
George8078
Love this Jacket
I love this jacket. I would of liked it to be a little longer, however it still is my favorite.
February 10, 2016
Rated

2

out of

5
 by
Carrie1002
Not worth the money
I live in Wisconsin and yesterday it was 10 out so I thought I'd wear my new jacket and I was not impressed. I was cold and it didn't keep the wind out. I have a jacket from J C Penney for half the price and it's much warmer. I will not recommend this jacket to anyone.
February 10, 2016
Rated

5

out of

5
 by
Cuppycake790
Perfect jacket for this Georgia girl
After having my Northface jacket for 6 years, I decided I needed a new one. I found this online after being disappointed with the selection in a local sports store. Being in Georgia, I was a little leary about buying a jacket online and it being too heavy to wear daily, but this is an awesome Jacket. It's super lightweight which makes it perfect for the south, but it's also very warm for those occasional freezing times. I got the teal color and it is gorgeous. It fits perfectly and isn't snug anywhere. I would definitely recommend this jacket no matter where you live.
February 5, 2016
Rated

5

out of

5
 by
MntMama
Great jacket
I am loving this jacket. I find that it may need a few minutes to warm up to your body heat and then it feels very warm and comfy. Love the extra wrist warmers with the thumb holes. I am 5'2" and size 18. i got the 2X and it fits perfect. Roomy without a sweater and not at all snug with a sweater. I can see if I were taller that the length of the jacket may be a bit short as it hits me just right where I am used to jackets being longer on me. The hem drops slightly in the back and is a bit longer. The collar is soft and warm and is just enough when I forget a scarf. Great buy overall.
February 2, 2016
Rated

5

out of

5
 by
CD12
Great Product
This is a great product, true to size, extremely functional, and keeps you warm!!!
January 29, 2016
Rated

5

out of

5
 by
lindalee23
Pretty Jacket
I love this jacket! I bought it in Plum for my daughter, she has very dark hair and the color looks so pretty on her. She says the thing is so warm that she ordered another in a size smaller because she is on a diet and is losing weight and wants one when she goes down another size. That is love! She isn't usually into clothes that much so I was surprised when she fell in love with it. It is such good quality and so well thought out in construction. She says you cannot even feel the wind in it and we live in the foothills of the Appalachians and trust me it gets very windy and this jacket does the trick. Getting one for me next … black!
January 28, 2016
Rated

4

out of

5
 by
Adawg
Why are the arms so small???
I love this jacket, it's light weight bit super warm, well made, comfortable except....... The arms are so small! I always have this problem with Columbia jackets. I can't be the only one ordering plus size with big arms! The whole point of Columbia is it is an athletic brand, we don't all have stick figure arms! Jacket fits great everywhere else... I can't decide if it's worth keeping with the extremely limited mobility due to the arms.
January 28, 2016
Rated

5

out of

5
 by
toasty52
women's kaleidaslope 11 Plus
I really like that this jacket is not bulky but still keeps me warm. Its Great riding in the car too. I usually cant wear a jacket in the car because of excess material. This doesn't push up onto my face like other jackets do. Besides it has a wonderful soft collar that is so nice I wouldn't mind if it did a little. I Don't know how it would be in extremely cold weather, but for what Vermont weather has been this season, I have been nice and warm without the bulk. The only issue I have and it has nothing to do with how the jacket is made is that the arms run long for me. I am just under 5 foot and usually have this same problem. I just fold the sleeves under. Easy to do since its light weight. I would definitely recommend.
January 25, 2016
Rated

5

out of

5
 by
Pollock
Kaleidoscope II Jacket
I hate bulky jackets and coats. My daughter in law came over wearing this jacket. I picked it up and loved the way it felt and it was so lightweight. i tried it on and was sold. The interior is so soft and its real comfortable to wear. Bulky jackets are just to cumbersome to drive in and you feel you can't move around freely. You can in this jacket! The omni heat keeps you warm even on extremely cold days and the thumb cuffs prevent cold air from going up your sleeve. I loved it so much I ordered a second one in a different color. I showed it to several of my friends and they have placed orders for one.
January 22, 2016
Rated

5

out of

5
 by
aidais
Great Coat
nice and warm just wish it was a little longer to cover the bum... other than that worth every penny!
January 21, 2016
Rated

5

out of

5
 by
Ryann12
Best coat
I bought this jacket and I absolutely love it. Keeps me warm but I don't get over heated. I love the thumb holes!!
January 20, 2016
Rated

5

out of

5
 by
Geotech
My favorite jacket!
This jacket is absolutely beautiful. I purchased the deep wave color, and it is gorgeous. The jacket is really well made, and the pattern of the fabric and stitching make for a figure flattering jacket that is great for wearing out on the trail or out on the town. I especially love the added warmth of the fur-like collar. The omni heat technology really works, too. I was concerned this jacket may not be very warm, but when you put this baby on you can immediately feel the warmth from your own body heat. This jacket is not too puffy and doesn't add any bulk - which I was a little concerned about. The pockets are fleece lined and keep my hands warm. I bought this jacket one size larger so I could wear more layers if needed. I haven't needed any extra layers yet, and the jacket fits great. Thank you Columbia for making high quality, plus size clothing that is just my style.
January 19, 2016
Rated

3

out of

5
 by
Cindy23
Not quite as pictured and slow issuing credit
I ordered this jacket and was a bit disappointed in the fit. I have other Columbia jackets but this one seemed a bit boxy at the bottom and also I didn't like the back of the jacket. It had some sort of flap that I didn't notice when looking at it online. I returned it and reordered a different style from another vendor. I will rethink ordering directly from Columbia again as it took forever for me to see a credit back on my credit card. It's been a week and still no credit. Very slow in my book it shouldn't take that long to credit a credit card.
January 18, 2016
Rated

4

out of

5
 by
FAB2747
Ordered up a size based on reviews
The jacket is nice. I can't say how the function is due to the fact I had to return it and ordered a smaller size. I am normally always a 2X, but based upon all the reviews that it runs slightly small, I went up a size. Too big. Hopefully when the 2X comes in it fits as expected. I will review it when I get it.
January 17, 2016
Rated

5

out of

5
 by
WarmintheNE
New jacket
Love, love my jacket ! Love the color and the way the jacket contours to my body. It is super light weight yet warm. I live in the NE and would highly recommend this jacket for our area. Love Columbia and the quality!
January 6, 2016
Rated

1

out of

5
 by
lacyayn
Heartbroken!
I was so excited for this jacket but that was short lived. Fabric is EXTREMELY fragile!!!! I would not call it "ripstop". Only had it on for less than half an hour when I barely brushed up against a wooden porch railing and it ripped. I do not understand how a company who encourages you to get outside can offer a product that is so fragile! I should have saved my hard earned money and shopped at Walmart!! So devastated to have this as my first and possibly last experience w/Columbia products!
December 20, 2015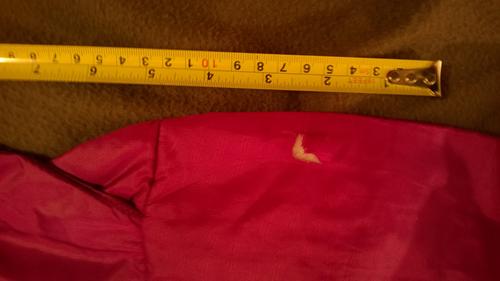 Rated

5

out of

5
 by
Joy123
Excellent jacket
Very lightweight for driving yet very warm in the cold. Love my jacket. Color is beautiful.
December 19, 2015
Rated

5

out of

5
 by
Tammy74
Love the feel of it
I bought this last minute as none of the stores had anything that would fit me right. I was worried about ordering online and having the same problem, but after reading the reviews and checking out the size chart, I ordered it. I love the fit..very true to size. It is so lightweight that I wondered if it would be warm enough...well I am hear to say that coat keeps me very warm and dry. Just wish it was a little longer or I should have ordered the longer version...but still love it.
December 18, 2015
Rated

5

out of

5
 by
ValC
Love this jacket!
This is lightweight but oh so warm. Love the color too, can't wait to try this out in the snow!
December 16, 2015
Rated

5

out of

5
 by
Allykat
Love this jacket so much, that I now have two of them!
Like I've said in the title, I love this jacket so much that I have two different colors in it, now. My only complaint is that the sleeves run a bit tight. I am a women's 3x and the jacket itself, fits true to size, but the sleeves run small in width. I would totally recommend this jacket for women who want nice warmth, without the annoyance of feathers coming from jackets filled with down. Love the Primaloft type fill!
December 11, 2015
Rated

5

out of

5
 by
KaleeB
WOMEN'S KALEIDASLOPE™ II JACKET – PLUS SIZE
I really like this jacket but found the 1X is alittle snug around the chest area. Next size up the 2X should be better this way you can layer under it.
December 11, 2015
Rated

4

out of

5
 by
coldasice
Light weight, huge pockets & warm, but not sweltering
Love that this jacket is warm and extremely light weight! When my iPhone 6 (which is fairly heavy with inside a Life Proof case) is in my front (very deep) pocket, I forget it's there b/c the jacket is so light weight. I ordered a 2X and normally wear an 18. I have plenty of room for a sweater or sweatshirt underneath! I haven't tested it out in below freezing weather yet, hence only the 4 star rating. Love the thumb holes in the cuffs too, although one isn't sewn the greatest.. another reason for 4 stars.
December 11, 2015
Rated

4

out of

5
 by
Riley26
Fit is more true to size
I normally wear a 1X so based on the reviews saying it runs a size smaller, I ordered a size 2X but it was too big so had to return it. The jacket seemed very nice though and I loved the color, it was just too big.
December 8, 2015
Rated

4

out of

5
 by
KammieW
Shorter then expected
Being a 22-24size female I expected this coat to not fit at all but ordered the 3X and hoped. It fits great around the bust ( 48 DD) and waist... extra room even and great Range of motion with sholders. But it is SHORT in the arms and length of the coat --sits just above my waist.
December 3, 2015
Rated

4

out of

5
 by
SPKodiakAK
In love!
I live in Kodiak, AK. I love this jacket. It's light and super warm, not to mention it being so flattering! I get compliments all the time and people asking where I got it. If you are on the fence about spending the money.... Do it you won't be let down! I have not needed to wear layers with the jacket and we have had a few days in the 20s with high winds. I could wear a sweater or a hoodie I'd I needed though, as I bought a size up. The only thing I wish it had was a hood, but I knew it didn't have one when I made my decision.
November 19, 2015
Rated

5

out of

5
 by
themacgirl
Excellent!
I've been wearing this jacket about two years and I still love it to this day. I've spent winters in KY (which isn't bad compared to northern states but still pretty bad) walking around campus and waiting for buses and it has always kept me warm. I love the fabric that goes over your hand that your thumb slides through. It's a nice touch, as well as the pocket on the interior of the chest; perfect for storing your iPhone. I'm still shocked at how great it looks given its age; it looks brand new. I've never spent this much on a coat but you definitely get what you pay for. Lastly, thank you for recognizing that plus size women want to wear your brand and don't want to look frumpy. A+ for the fit of this jacket.
October 26, 2015
Rated

5

out of

5
 by
Tmo2020
Loved this jacket-bought 2!
I bought this coat last year and bought another one this year. Love the thumb hole which eliminates drafts up your arms. Very flattering for a voluptuous figure. The Omni heat is amazing. Helps keep you warm without a bulky fill. This jacket is GREAT! Can't recommend it enough.
October 9, 2015
2017-01-23
bvseo-cps-pl-PRR
2017-01-23 T13:20:57.753-06:00
bvseo_lps, prod_bvrr, vn_prr_5.6
cp-1, bvpage1
co_hasreviews, tv_105, tr_105
loc_en_US, sid_WW4045, prod, sort_default
Size & Fit Guide
Size & Fit Guide
Women's Fit Guide
Performance
Body contouring fit conforms to movement.
Performance
Active
Body skimming fit with end-use mobility in mind.
Active
Modern Classic
Universal, easy fit for comfortable range of motion.
Modern Classic
Relaxed
Most generous fit for a full spectrum of movement.
Relaxed
Women's Body Measurement (Inches)
Women's Plus Sizing

Size
Bust
Waist
Hips
Short Inseam
Regular Inseam
Long Inseam
1X
16W–18W
43–45
36–38
45–47
29.5
32
34.5
2X
20W–22W
47–49
40–42
49–51
3X
24W–26W
51–53
44–46
53–55
How to Measure
1.

Chest/Bust:

Measure at the fullest part of the chest, under the armpits and over the shoulder blades, keeping the tape measure firm and level.
2.

Waist:

Measure around the natural waistline, allowing the tape measure to sit comfortably.
3.

Hips:

Measure around the fullest part of your hips.
4.

Sleeves:

Start at the center back of your neck and measure across the shoulder and down to the wrist. Round up to the next even number.
5.

Inseam:

Measure from the top of the interior leg to the bottom of the ankle.
How to Measure
How to Measure
Fold up at dotted line.
Place against a wall or other 90 degree surface.

Place heel against fold/wall on flat level surface.
Mark the end of the longest toe with a pen or pencil.
Measure both feet and use the larger measurement.
Read measurement and compare to size chart.
When comparing on the size chart, determine the closest larger measurement and use that number to determine your shoe size for your country's shoe measurement standard.
Shipping & Returns
Shipping & Returns
Shipping Information
Shipping Method
Rate
Expected Delivery Time
UPS Ground
$6.00
3-7 Business Days

UPS 2-Day Air
$12.00
2-3 Business Days
UPS Overnight
$19.00
1-2 Business Days
Free Standard Shipping
Available for Greater Rewards members. Learn more
Return Policy
Returns are accepted within 60 days of the purchase date online or in-store. Your apparel must be in original and unworn condition, with tags still attached. Footwear returns must also include the original box.
Still Have Questions
See our Customer Service section for more details. Visit Customer Service