Women's Mighty Lite™ Hooded Jacket
Details
http://www.columbia.com/womens-mighty-lite-hooded-jacket-WL5033.html
WL5033
Greater Rewards
members earn

1049

points with purchase
Size & Fit Guide
|
Reviewers rated this product
Fits Slightly Small
|
Fit
Active
Variations
Product Actions
Features
Beautiful geometric baffling, flattering seam details and a long silhouette lend a feminine feeling to this hooded jacket while the Omni-Heat thermal reflective lining and insulation keep you warm when the wind-chill drops; two-way front zipper facilitates mobility.
Features:
Omni-Heat thermal reflective and insulated
Omni-Shield advanced repellency
2-way center front zipper
Interior security pocket
Zip-closed pockets
Comfort cuffs
Thumb holes
Center back length: 34"
Imported
Fabric
:
OMNI-SHIELD SHELL
100% polyester Windowpane Triple ripstop
OMNI-HEAT LINING
100% polyester Thermal Reflective
OMNI-HEAT INSULATION
50% polyester/50% recycled polyester OH, 80g
Omni-Heat™ Reflective
Thermal Reflective Warmth
Omni-Shield™
Water and Stain Repellent
Technology Videos
Omni-Heat™ Reflective
Magic in a little
silver dot.
Breathable material with little silver dots that reflect body heat.
Omni-Shield™
GO AHEAD.
TRY AND GET DIRTY.
Helps you stay clean and dry by resisting absorption of liquids.
Reviews
Rated

4.4

out of

5

 by

450

reviewers.
Rated

1

out of

5
 by
Lisajoe
Complete joke and disappointment
I bought this jacket because it was a longer version of the short plush one but it was a complete joke!! I was highly disappointment in this purchase. I am 5ft 6 inches tall and found the pockets to be positioned way too low down on the coat. I found myself having to have to tilt to the left or right to reach for items in the pocket (ie coins, chapstick, candy) or grab the lining in the pocket & pull the pockets up to me to get hold of an item in the bottom. Its description purpose listed it as "winter" but this jacket is far from a good winter choice. It was extremely thin and flimsy but they made it seem like the Omni heat would be sufficient for the weather but by the time I was able to take the coat for a cold weather test run, my return window had already expired. I can honestly say that this is a complete joke of a coat. Total and full disappointment.
January 16, 2017
Rated

2

out of

5
 by
EllieB
disappointed
I bought the same coat last year in XL at a Columbia outlet store in Pennsylvania. I loved it & wanted another, "brighter" color, coat for this winter. When I saw the red color on sale on the web I couldn't resist. I don't know what happened to the sizing this year. As soon as I put my arm in the sleeve, I knew it ran small. The coat "just fit" across the bust , in the XL size. If I would gain any weight don't think the zipper would close. I actually measured(with tape measure) last years coat with this years coat, and there is a difference. I'm very disappointed & probably won't order anything else off the web since sizing is inconsistent. My friend ordered a size L in the same coat (black color). She's 5 foot 4 weighing 123 lbs. She also said the coat ran small.
January 14, 2017
Rated

3

out of

5
 by
patt1
Pockets are too low
In general I love this style of Columbia jackets. Very light weight and warm. I have the shorter version of this jacket and it fits great. However, this longer jacket has the pockets located too low on the coat so it's not comfortable to put your hands in your pockets. No idea why the pockets are not in the same location on the longer jacket as the shorter. If you have longer arms, this might not be an issue for you, but I really think it's a fail on the designer's part.
January 13, 2017
Rated

5

out of

5
 by
TTalleur
Love this coat!
This coat was recommended to me by a friend and I am so glad I bought it! It's not bulky, which i love! The Omni-heat insulation keeps you warm without the bulk of a big heavy coat. I love this coat!
January 13, 2017
Rated

5

out of

5
 by
TrK777
Excellent Jacket
I love the jacket!! Not puffy, stays warm, fits great!!
January 12, 2017
Rated

4

out of

5
 by
JimmySanmartin
Used
I bough this jacket (new) and it was used by someone else all labels were not attached ... and it had some dirty spot on the jacket ...
January 11, 2017
Rated

5

out of

5
 by
Juts
Everyone Knows About My New Fab Jacket!
I LOVE THIS JACKET! I actually brag about it to all my friends. Comfortable, warm, and so light weight! When I feel a little chilled, I simply move more and warm right up. It's so lightweight it feels like I'm wearing a jacket lining, but so snuggly warm! As a 5'2" 2x petite, the arms fit me just right, so if you have long arms this might be an issue for you. But the jacket itself is wonderful!
January 10, 2017
Rated

5

out of

5
 by
CoatGirl
Very warm and light weight
Love Love Love this coat. Got it in the Red Camellia. I hate bulky coats, but like to stay warm. This coat keeps you warm without all that bulk. Love the thumb holes in the attached sleeves. The double zipper is a nice feature, gives you more leg room when walking the dog, or sitting in the car on a cold morning.
January 10, 2017
Rated

4

out of

5
 by
PDee
Light weight but warm
I was very surprised at how warm this coat was. I like the color. It was what I expected. I live in a state where it gets very cold. With just a warm sweater underneath this coat, you stay really warm, even though the coat is very light weight. I also love how the hood when zipped all the way covers you mouth. Would definitely buy this coat again in the next size up.
January 8, 2017
Rated

5

out of

5
 by
Jojo61
Women's Mighty Lite Hooded Jacket
Love this coat. Light and very warm. It does run smaller in size than what you normally wear. Highly recommend buying it.
January 7, 2017
Rated

5

out of

5
 by
AliciaSM
Love!
Love this coat. Very light. Keeps me warm until temp gets to around 20. Recommend a jacket underneath.
January 6, 2017
Rated

5

out of

5
 by
Nonna46
Lightweight and warm
I live in northern Minnesota and love this coat! I have worn this in -25 actual temps with windchill -50 and it keeps me warm on shopping trips without the bulk. I don't know if it would keep you warm at those temps if you go for a 30 minute hike, but who would do that anyway?? I'm 5'7 and weigh 165 and average built. The XL gives me room to wear hoodie or sweater underneath.
January 5, 2017
Rated

5

out of

5
 by
MM11
Lightweight but warm!
I purchased this coat in black but when it was delivered, it was more of a dark grey color. Very close to black though. I ordered a small and it fit well, i have room for a light sweater underneath. I am 5'5, 140 lbs and 36B chest. The length hits about mid leg. I was worried it would run small, based on other reviews but i did not find it ran small. Lightweight but warm!
January 5, 2017
Rated

5

out of

5
 by
Rachelms
So good!
Such a great jacket! I took it to upstate New York in December and it was perfect. It's so light weight and gets compact so it's a perfect warm travel jacket. The zipper can be a little challenging to zip but it's fine. Love the cuffs on the ends of the sleeps to keep the cold out.
January 4, 2017
Rated

5

out of

5
 by
JuliaRoberts
amazing alround jacket
I was shocked when I received the shipment about the package size and thought something went wrong. To my disbelief it was the jacket I ordered. It can be folded into a small bundle, fits like glove, keeps me warm and looks amazing. Perfect for travelling.
January 3, 2017
Rated

3

out of

5
 by
MelB22
Too small
While the jacket was very pretty and light weight yet warm, I had to return it because it was too tight. I am curvy and have a plump rear. The coat was very tight to zipper from the bottom and no room for a thick sweater.
December 29, 2016
Rated

5

out of

5
 by
Jill20
Great Jacket!
Ordered this jacket for my daughter and she loves it so far. She can't wait to wear it at college! Nice weight jacket and very warm for wearing to go back and forth to classes in the winter.
December 28, 2016
Rated

5

out of

5
 by
S2127
Love it!
Bought this after a long, multi year search for a new coat. I was instantly struck by how light weight feeling it is and how well it fit, even over a bulky long sweater. Very comfortable, not bulky, and non restrictive. Love the length of the body and the sleeves. For reference, I am 5'8", 125 lbs and bought a S. Great casual every day coat or even dressed up with scarf. Love it!!
December 28, 2016
Rated

5

out of

5
 by
NatureFreak
Women's Mighty Lite Hooded Jacket
Excellent, flattering fit, lightweight coat. I love this coat! Trim fit, can add bulky sweaters underneath. Very lightweight. Excellent in 40 degree temperatures. Not sure how warm this will keep me in 20 degree temperatures, but you can add sweaters underneath. Love the pockets and built-in hand-warmers, too! I'm a size 38C bra and this fit perfectly.
December 27, 2016
Rated

1

out of

5
 by
Ilovesnow
Disappointed
This jacket performed well for one winter in WI. Now, whenever I go in the snow I am soaked! Not warm, not dry. Very disappointed.
December 26, 2016
Rated

2

out of

5
 by
Momomomomomomomomo
NOT for ladies with HIPS!!!
I commute to work on foot in NYC where winter gets pretty cold and it occasionally snows. Despite how very thin and light it is, the coat kept me warm. I wore layers underneath, because I get cold easily. Unfortunately, I had a few problems with it that had me buying a new coat. The pockets are in an awkward place, so you can't comfortably put your hands in them. The hood ALWAYS flew off, so I had to wear hats. My biggest problem was that it's not designed well for ladies with big hips, so it would get tight around my hips and leave my torso bulging enough that people on the subway stood up for me thinking I was pregnant, haha.
December 24, 2016
Rated

5

out of

5
 by
fastmumme13
Highly recommended for Winter
I have used this Coat in Saskatchewan, and Michigan. It is light weight which I love, it keeps you warm and isn't bulky. I have gone sledding in Saskatchewan with it and love this coat. I bought it in an XL as I tend to wear hoodies in the Winter. I will be purchasing a L next time. I am a short chubby woman. 5'3" 164lbs. I will continue to buy this particular coat over and over. So Please Columbia do not change this item. Thank you!
December 22, 2016
Rated

5

out of

5
 by
yeat
amazing coat
This is the ultimate coat for cold weather. feather-weight, impervious to wind, just the best. Have recommended and given to 5 people and all rave.
December 22, 2016
Rated

2

out of

5
 by
Paga
This jacket is not for winter.
This jacket is for fall. If you want to wear this jacket in winter, you will need to wear another jacket on top of this one. Don't buy this jacket for winter.
December 21, 2016
Rated

3

out of

5
 by
Ashcord1
Nice, just not for me
I'm short and curvy. I had to order an XL in order for it to fit my bust and bottom, but this made the other parts of the jacket really baggy and disproportionate and It just didn't fit my body. However, it is a very nice looking jacket and seems like it would definitely keep you nice and warm.
December 19, 2016
Rated

3

out of

5
 by
Braunhb
Good but not warm enough
I love that this is lightweight and fits really well. It keeps me warm until the temps drop to mid to upper 40's. The water resistance is great- but it's definitely doesn't block the wind at all. The fill is starting to come out of the seams on week 3. Have'nt washed it yet.
December 18, 2016
Rated

5

out of

5
 by
DawnaO
This will be my 2nd one!
Have one in white. It was the only one in the store about three years ago so I bought it. I have washed it OFTEN (I'm not really a white wearer) and it's still in great shape. Just ordered one in black after doing much comparison shopping. I love the thumb holes, how light, long and warm it is. No other coat has all these features.
December 18, 2016
Rated

4

out of

5
 by
kingstownepilates
Great coat, needs redesign though
I was looking for a warm, lightweight coat to wear while outdoors. The coat runs small and is great for all practical purposes. I ordered a Large and at 5'2", 120 lbs. I would have ordered a Medium, but it was tight in the hips. The large fits fine, except is long in the sleeves, so I have to roll back the cuffs. Also, the pockets hang a bit too low to be comfortable, but that is ok, because of the value and quality. I do wish Columbia would rework the design to correct the pattern and make this coat again next year. The cut is flattering and the color RED is awesome!
December 16, 2016
Rated

4

out of

5
 by
hb41473
Emphasis on Lite
I bought this coat to be my winter coat because I had/lost an omni-heat fall jacket and loved it. The coat feels very thin, but it is made extremley well. The thumb holes fit my hands perfectly, and I really like that detail. The coat itself isn't as warm as I was hoping it would be though. I live in Iowa and it gets very windy and cold. This coat works well for commuting, but I would not wear this coat if I needed to be outside for a long period of time. I am very sensitive to temperature though. I usually wear a size medium, but I got a size large because reviews said it ran small. The large is fitted on me, but I can also wear a sweatshirt underneath it.
December 16, 2016
Rated

5

out of

5
 by
Winterbaby
Omniheat
Perfect timing. My coat was delivered on the coldest day this year. Temperature was in the 40s and I was completely comfortable with long sleeve shirt, hat, gloves and scarf, in addition to this warm lightweight coat. I'll wear it all season.
December 15, 2016
Rated

5

out of

5
 by
MickieC
LOVE THIS COAT
Love love love it! When it arrived it came in a package so small I didn't think it was going to keep me warm enough. My friend had bought one and said it was the best coat she ever bought for warmth. She was right! Lightweight but the inside lining of the coat works with your body temp to stay toasty. In the malls when shopping you don't have the bulky weight of typical winter coats. I wear this coat everywhere for every occasion because it's lightweight but warm. It fits true to size but it is a very fitted coat which I like. The red colour is great for winter and gets a lot of comments and inquiries. I'm sure I will be buying a second coat.
December 15, 2016
Rated

5

out of

5
 by
Sweeper
Mighty lite hooded jacket
Love this coat and the length. It's warm without being bulky. It has a 2 way zipper which for me is a must have, especially with a long coat. The finger sleeve is nice. I've worn it in Pacific NW sleet, rain and snow and have stayed dry, warm.
December 14, 2016
Rated

5

out of

5
 by
DonnaBird
The Best
OMG I love this coat. Even though it's very lite it keep you extra warm to where you don't have to put on extra layers. I will not by anything other then Columbia products, because they are the best and they keep you warm.
December 14, 2016
Rated

5

out of

5
 by
Vfoodie14
Perfectly warm
I was worried when I first received the jacket that it would not be warm enough because it is so thin. I was wrong. I have wore it to the barn when it was rainy, windy and only 30 degrees and again out on the town and both times it has kept me toasty. I ordered up a size based on reviews. The thumb holes work great, no comfort issues. Easy to wash. I highly recommend this length too.
December 14, 2016
Rated

5

out of

5
 by
ktm3830
Awesome
This coat is great! I am so glad I purchased it. It is lightweight, but delivers a lot of warmth. I love the hood and the the cuffs that can be used with the thumb hole. Super coat!
December 14, 2016
Rated

4

out of

5
 by
meggiemae
Nice Coat! Not For Curvy Ladies
I am 5'4'' 130lbs and pretty wide on the bottom. I like my jackets more fitted since I live in a climate with more cold days than FREEZING cold days that require layers, so I ordered this jacket in a XS. It fit perfectly except it was way too tight across my hips and rear. If I had sized up to a S it would have been perfect in the hips, but too big across the shoulders and the arms would have been way too long. Too bad because it was really a nice light-weight coat and the Mineshaft is a nice green/grey that is a good departure from my usual black, grey, white wardrobe.
December 13, 2016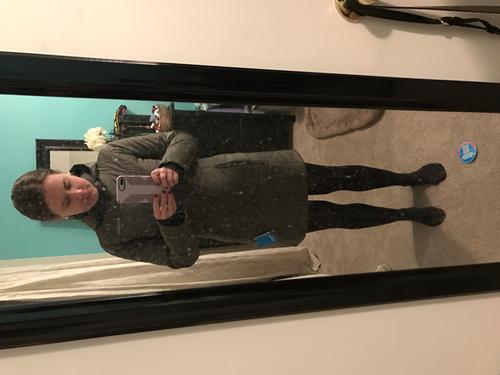 Rated

5

out of

5
 by
Lauri
Love my coat
I live in this coat all winter. Don't want to take it off. When it gets very cold I add a extra sweater
December 12, 2016
Rated

4

out of

5
 by
Kimberly62
Women's Mighty Lite™ Hooded Jacket
I love this Jacket, so stylish, warm and overall it is just what I wanted, but I found that it runs small, I ordered a medium, and found it to be more like a small, the large was too big so I am right in the middle...I kept it and can wear it but with a regular shirt underneath, no sweaters...but love it...
December 12, 2016
Rated

5

out of

5
 by
Karen67
Recommend
Extremely light, packs well. Great for walking. I would recommend this product.
December 12, 2016
Rated

4

out of

5
 by
yogiyeap
A little too large
Typically I'm a small (5"6 and 120lbs# but I ordered medium to wear layers beneath. My shoulders are pretty broad, but this coat had the shoulders seams drooping way too much. However, when zipped up all the way, it was really tight at my hips #and I don't really have big hips). Just isn't cut out for my size I guess. Purple is pretty close to pictured. Going to return.
December 11, 2016
Rated

3

out of

5
 by
Lamometer
Warm, but useless hood
It's a really good jacket, but the hood constantly falls off while I walk. I will need to put in my own drawstrings for a $140 jacket.
December 11, 2016
Rated

4

out of

5
 by
Jeanniepop
Very thin
I was buying this coat to wear at the rink. Returned it because it is very thin and felt it would make for a second layer. I like Columbia products but this is more for a sweater weight.
December 10, 2016
Rated

4

out of

5
 by
Bats59
Lightweight but Warm
Perfect coat for running around in the cold weather ,not very bulky but warm. Cold wind does not come through and keeps you warm. Sleeves are a bit long but otherwise a good fit adn true to size.
December 9, 2016
Rated

3

out of

5
 by
CBNYC
Strange fit
I just received this in size SMALL. There's plenty of room at the shoulders, arms, bust—but the hips are too snug and the waist indentation is about 2" below my waist, so it sits very strangely. I've never had this sort of fit problem before; my hips are within the given measurements for this size. I'm not ordering a MEDIUM because then the top part will be too large.
December 9, 2016
Rated

5

out of

5
 by
Knotty1
Columbia hooded jacket
This new Omni Heat lining is the best ever. So light in weight yet so warm. Great price for value. Warned sizing was running small, so ordered one size larger and perfect!
December 9, 2016
Rated

2

out of

5
 by
Jewels6779
Disappointed
This cute will NOT fill you well if you are a bustier gal AND you wear winter sweaters for warmth. It was also not flattering on me as I have a shorter mid section as well. It certainly didn't feel as warm as the description suggested. I am sending it back and doubly disappointed Columbia does not provide a pre-paid return label.
December 8, 2016
Rated

5

out of

5
 by
Kitti
This is great product
I bougt this jacket for my mom ,she love it,it is so light ,the color purple is nice. I also bough this jacket in white color for myself ,like the chalk color. It is perfect fit for me. I am medium size 5.10 so length is great ,I still put layer under for more comfort. Really recommend this jacket . All my jackets are Columbia product and I am very satisfied with all of them .
December 8, 2016
Rated

5

out of

5
 by
capecoat2
Buying a second color
Love this 2 way zipper, light weight coat that keeps me warm up her in New England. Buying a second one this year, different color, same coat, a size larger to fit over my bulky sweaters. Receive many compliments on this coat by the home care nurses I work with. The 2 way zipper works well maneuvering in and out of the car multiple times a day. Thank you for this product.
December 8, 2016
Rated

4

out of

5
 by
Suzanneh
A good new product to keep warm
Nice color Fit small at the breast and at ankles, was wondering if it was a man's product After 2 weeks of wearing it, the bottom of the zipper is already showing signs of problems
December 7, 2016
Rated

5

out of

5
 by
rkissi
light and warm
This is a very lightweight, but warm jacket. If you wear bulky sweaters in the winter, you might want to go a size larger than usual. I wear a medium and with a bulky sweater this jacket is almost too tight. On the other hand, I can just wear a long sleeved t-shirt and this jacket will keep you warm on a cold, windy day.
December 7, 2016
2017-01-19
bvseo-cps-pl-PRR
2017-01-19 T14:15:23.530-06:00
bvseo_lps, prod_bvrr, vn_prr_5.6
cp-1, bvpage1
co_hasreviews, tv_450, tr_450
loc_en_US, sid_WL5033, prod, sort_default
Size & Fit Guide
Size & Fit Guide
Women's Fit Guide
Performance
Body contouring fit conforms to movement.
Performance
Active
Body skimming fit with end-use mobility in mind.
Active
Modern Classic / Regular
Universal, easy fit for comfortable range of motion.
Modern Classic / Regular
Relaxed
Most generous fit for a full spectrum of movement.
Relaxed
Women's Body Measurement (Inches)
Size
XS
2
S
4-6
M
8-10
L
12-14
XL
16-18
Bust
32-33
34-35
36-37.5
39-40.5
42-44.5
Waist
25.5-26.5
27.5-28.5
29.5-30.5
32-33.5
35.5-37.5
Hips
34.5-35.5
36.5-37.5
38.5-40
41.5-43
45-47
Short Inseam
29.5
Regular Inseam
32
Long Inseam
34.5
Size
L
12-14
XL
16-18
Bust
39-40.5
42-44.5
Waist
32-33.5
35.5-37.5
Hips
41.5-43
45-47
Short Inseam
29.5
Regular Inseam
32
Long Inseam
34.5
How to Measure
1.

Chest/Bust:

Measure at the fullest part of the chest, under the armpits and over the shoulder blades, keeping the tape measure firm and level.
2.

Waist:

Measure around the natural waistline, allowing the tape measure to sit comfortably.
3.

Hips:

Measure around the fullest part of your hips.
4.

Sleeves:

Start at the center back of your neck and measure across the shoulder and down to the wrist. Round up to the next even number.
5.

Inseam:

Measure from the top of the interior leg to the bottom of the ankle.
How to Measure
How to Measure
Fold up at dotted line.
Place against a wall or other 90 degree surface.

Place heel against fold/wall on flat level surface.
Mark the end of the longest toe with a pen or pencil.
Measure both feet and use the larger measurement.
Read measurement and compare to size chart.
When comparing on the size chart, determine the closest larger measurement and use that number to determine your shoe size for your country's shoe measurement standard.
Shipping & Returns
Shipping & Returns
Shipping Information
Shipping Method
Rate
Expected Delivery Time
UPS Ground
$6.00
3-7 Business Days

UPS 2-Day Air
$12.00
2-3 Business Days
UPS Overnight
$19.00
1-2 Business Days
Free Standard Shipping
Available for Greater Rewards members. Learn more
Return Policy
Returns are accepted within 60 days of the purchase date online or in-store. Your apparel must be in original and unworn condition, with tags still attached. Footwear returns must also include the original box.
Still Have Questions
See our Customer Service section for more details. Visit Customer Service