Women's Minx™ Mid II Omni-Heat™ Boot
Details
http://www.columbia.com/womens-minx-mid-ii-omni-heat-boot-1554031.html
1554031
Greater Rewards
members earn

899

points with purchase
Variations
Product Actions
Features
You'll be proud to put your feet up near the fire at the lodge in this charmer of a boot. Waterproof, woven synthetic textile with jacket-like baffling and faux-fur at collar and tongue make a fashion statement while 200g's of insulation, heat-trapping reflective lining, and advanced traction outsole take care of business.
Features:
Waterproof membrane construction
200 gram insulation
Insulation rated -25F/-32C
Weight: size 7, ½ pair =13.2 oz / 374 g
Imported
Material
:
UPPER
Waterproof woven synthetic textile with faux-fur collar and tongue lining
INSULATION
200g
LINING
Omni-Heat reflective
FOOTBED
Removable contoured PU footbed
MIDSOLE
Techlite™ lightweight midsole for long lasting superior cushioning, and high energy return
OUTSOLE
Omni-Grip™ non-marking traction rubber
Omni-Heat™ Reflective
Thermal Reflective Warmth
OMNI-GRIP®
Advanced Traction
Technology Videos
Omni-Heat™ Reflective
Magic in a little
silver dot.
Breathable material with little silver dots that reflect body heat.
Omni Grip™
HOLD TIGHT
ON ANY TERRAIN.
Advanced traction outsole treads grip every environment.
Reviews
Rated

4.4

out of

5

 by

194

reviewers.
Rated

5

out of

5
 by
Chelle1218
warm boots
Boots are comfortable but I haven't worn over 3 hours yet. They do run small. I got 1 full size bigger (I am a 8 & I ordered 8 1/2 & 9, I had to go with 9). There are very warm. I wear with ski socks & they are almost too warm.
January 22, 2017
Rated

5

out of

5
 by
Tamma
Great walking boot!
I purchased these on a recommendation from my sister. She was right! The boots are extremely comfortable; I could wear them all day long. They are the warmest boots I've ever worn. I like that they are so lightweight and flexible. They do run small, so I went up 1.5 in size. Perfect for my winter socks, but I think they'd be fine with thin socks too. Would definitely recommend.
January 20, 2017
Rated

4

out of

5
 by
ABosgal
So far so good!
First of all, this boot does run on the small side so order AT LEAST half a size up. I usually wear an 8 so I ordered an 8.5 and I'm glad I did. I love these boots! I use these as my "nice" boots so I wear them to town and not out in the mud. They arrived with no flaws and have been holding up nicely, no leaks in the rain. They are warm and look great!
January 20, 2017
Rated

5

out of

5
 by
lgw78
LOVE!
I purchased these shoes for a trip to Utah. We haven't left yet but I have been wearing them all around Chicago- snow and rain. They do run a little small so I went one size up. Absolutely love these boots! Super warm too!
January 20, 2017
Rated

3

out of

5
 by
virginia872
Good boot
I ordered 2 pair- this one and another boot looking to keep my feet warm. Decided on the other as it was slightly warmer. Wore those for 20 min, discovered the fabric had a tear. Returning both pair as I am afraid they must rip easily thus compromising the warmth and weather resistance design. Very disappointed as they seemed to be warm and cozy.
January 19, 2017
Rated

5

out of

5
 by
NBT123
Fabulous protection in snow!
I bought this pair for my daughter in preparation of our trip to Oregon and I'm glad I did! It's waterproof so she's able to hike in the snow and I don't have to worry about her feet getting wet. It also looks great! Very well designed! My daughter loves them!
January 14, 2017
Rated

5

out of

5
 by
Cris71
WOMEN'S MINX™ MID II OMNI-HEAT™ BOOT
Superrrrr happy, best Winter boots ever, I highly recommended, just buy 1/2 size bigger, mi feet was all the time warm.
January 14, 2017
Rated

3

out of

5
 by
Sydney34
Great looking boot but runs very small!
I ordered the Shale color and they are gorgeous and appear to be very well made. I read several reviews before purchasing and most said the boots run small and recommended ordering a half size up. I measured my feet according to the sizing guide on the web site which indicated my regular size 9. I decided to order size 10 to make sure I'd have plenty of room for thick socks if needed. I ordered late on a Sunday and paid $19 for overnight shipping. The boots didn't arrive until late evening on Thursday. I tried them on and my toes pressed against the end of the boots with thin socks. I am truly disappointed in the fit, especially since we are expecting sever cold weather this weekend and I can't wear them. I am returning them and plan to order 2 sizes up from my regular size. I would recommend them because they are an attractive boot, just be sure to order 1.5 - 2 sizes larger than what you normally wear.
January 13, 2017
Rated

5

out of

5
 by
jennpro
A great purchase!
Wow, what a great purchase. I love the boots. They are lightweight, very comfortable and functional. I am also skeptical when companies say their products are waterproof but these boots really are. I have walked through several large slush puddles and my feet have been completely dry. The boots are also good to -25c but it hasn't got that cold here yet to test that out but they have been keeping my feet very warm so far in the -5 to -10 range that we've had so far. When you are buying the boots make sure you go a size bigger. I usually wear a 9 or 9.5, but had to buy a 10 to fit my feet perfectly.
January 13, 2017
Rated

5

out of

5
 by
ponzo57
Best winter boot ever!
I usually suffer from cold feet during winter......not with these boots. The heat-reflective inner lining really works. The treads on the bottoms worked well for me in various winter conditions. My daughter got a pair for herself last year, and loved them so much, she bought them for me for Christmas. I love these boots.
January 12, 2017
Rated

5

out of

5
 by
Bola1
Comfortable
These boots are comfy
January 12, 2017
Rated

5

out of

5
 by
Oscarzuzumom
Best everyday boot ever!
I bought these for the lightweight feel and flexible sole. I am a nanny for a special needs child and needed something comfy and easy on easy off. What I got was all that AND a wonderful, warm boot that I wear everyday. I have used them for playing, snowshoeing and everyday wear. I highly recommend and I am planning on buying a second pair for when these eventually wear out!
January 11, 2017
Rated

5

out of

5
 by
SueB8394
Best boot ever
I normally wear an 8.5; 9 wasn't enough room, purchased a10 - leaves me room for heavier socks if needed. Living in upstate NY I already got to test these in the cold and my toes stayed warm. I hate a heavy boot, these are light and I have ankle movement when driving! LOVE these boots - Best boot ever!!
January 8, 2017
Rated

4

out of

5
 by
WindyCityWinters
I love my boots.
They run a full size small. I normally wear 9 or 9.5 but the pair I purchased is 10.5 and they fit really nice. The boots are very light and so far still waterproof after playing with tons of snow during Chicago winters. The OMNIHEAT technology is tricky. If you leave your boots by the door and they are cold, your feet will stay cold. I keep mine by the heating vent to keep them toasty right before wearing them. I Recommend them for sure. I love that they are light, girly, good quality and waterproof. Great for the city. I just wish they were a tiny bit warmer.
January 7, 2017
Rated

3

out of

5
 by
NancyDewi
Slippery on ice
I received this item and tried on immediately on snow -6C yes its warm but its can not handle the ice snowing outside. Many times almost fell coz its so slippery. The warm yes but slippery cause any accident better not. The size runs bit small even-tough i put a half size bigger than my actual size still small. Will look another boots that really hold the bad winter snow in Philly.
January 7, 2017
Rated

5

out of

5
 by
Janis33
Love these boots!
Since moving to New England from California 10 years ago, my feet have been cold. Wool socks didn't work. These boots have made my poor feet toasty again. I love them.
January 3, 2017
Rated

3

out of

5
 by
JoJoey
Had to return
Great looking product but sizing is off
December 30, 2016
Rated

5

out of

5
 by
Meeka33
This is nice and warm
This is nice and warm but it runs small in size and the price was a little bit high but overall it was a great product.
December 29, 2016
Rated

5

out of

5
 by
CatLovesVikes
Love!
Worth the money spent! I haven't found a boot that looks this good yet keeps the feet warm! I especially like the little grips on the bottom of the boot! Made walking on ice easy!
December 28, 2016
Rated

5

out of

5
 by
Jenn10
Awesome boots
Absolutely the best boots I've ever owned
December 25, 2016
Rated

4

out of

5
 by
ItsMacie
My toes ARE FREEZING
After reading some of the reviews on here , I feel like I got a damaged boots !!!! They ARE NOT warm as other claim they are. Just a few days ago we had -12 weather here in Chicago and I had to seek shelter after standing in the snow for 10 min. I felt like my toes where getting numb , and I don't mess around with frost bite!!!! Yes they are extremely comfortable , and lightweight, but the OMNI-HEAT name should not be sold with this boot, as my feet did freeze.
December 21, 2016
Rated

5

out of

5
 by
Macartist
Love Boots!
I received these boots just before a Polar Vortex hit the city. The temperature was -12. This was the ultimate test! They passed with flying colors. My feet were warm, not once did I feel cold on my feet. Did I mention that they are super comfortable, like wearing sneakers. Also did I mention, they are very lightweight. This is a must buy!
December 21, 2016
Rated

5

out of

5
 by
Shell3082
Minx mid boot
The picture does not do the boots justice!!! They are beautiful, comfortable, and look great with anything i wear. I feel they are priced right and may just buy the other color. Great job Columbia you never dissapoint.
December 21, 2016
Rated

4

out of

5
 by
Zmama
runs small
nice boot but have to return for 1/2 size larger
December 19, 2016
Rated

1

out of

5
 by
Mandy213
Not warm
I have had these boots for less than a year and they are not warm in weather under 20 degrees F. I occasionally work outside for increments of less than 30 minutes; by the time I'm through, my toes and the bottom of my feet are freezing. They are waterproof, as I've walked through snow, slush and stepped in puddles. I love how lightweight they are! I can walk and even run (to catch the train not actual cross country running) in them! They're height is perfect, as I walk my dogs through the snow during the winter. Example: Today it was -15 F I started my car before I left and went back inside the house, but my drive to the train station was 20 minutes. 5 minutes into the drive my body was warm (with winter clothes/coat/scarf) and my toes were freezing even with the heater blowing warm air onto them. In addition, while sitting on the train they're so cold I'm tempted to remove them, knowing they'll warm up faster. Instead, I leave them on for 37 minutes when they no longer are freezing to the point they hurt. They're still cold at the end of the train ride (40 min ride) and I walk 10 minutes to work and again freezing cold. Yet once I've been inside for an hour they are sweating and I can't wear them all day inside.
December 19, 2016
Rated

5

out of

5
 by
Kc16
Great winter boots!
I live in Michigan where the weather can get very cold and these boots are amazing! It's currently -4ºF and my feet are still incredibly warm despite tracking thru the snow in below zero Temps! The do run a little small so if you plan on wearing thick socks I'd definitely go another half size up than you were planning on buying.
December 19, 2016
Rated

5

out of

5
 by
Lidia
WOMEN'S MINX™ MID II OMNI-HEAT™ BOOT
I love the way the look! At first when I wore them they felt funny and then I realized that I'm so use to the bulky ones! These are very light weight but warm and very comfortable
December 17, 2016
Rated

4

out of

5
 by
Malisa
Good boots
Comfy, fit perfect, warm and waterproof
December 16, 2016
Rated

5

out of

5
 by
Lugdmd
Excellent!!!
Confortable, great for winter
December 15, 2016
Rated

5

out of

5
 by
Liezl
I Love my MINX mid 11 Omni-Heat boots
I am totally satisfied with my order and the size is perfectly fit & very comfortable and light to wear...I love the color and texture...Quality is great...
December 14, 2016
Rated

5

out of

5
 by
DonnaBird
The Best
I'm so happy with the boots, they keep my feet warm and they move great thru the snow and over ice. I wish they came in half size. So glad I got them.
December 14, 2016
Rated

4

out of

5
 by
BGF18
Nice but not for me
I like the fit and the feel of these boots, and they seem plenty warm enough. But there's not enough support for my feet for the amount of walking I do. (So I recommend it, but with qualifications.)
December 14, 2016
Rated

5

out of

5
 by
BetancourtMyra
They're perfect!
They are perfect for winter They keep my feet so warm even if I am walking on the snow ! On top of that, they are so cute !! I just love them
December 14, 2016
Rated

5

out of

5
 by
ObsessedTraveler
Iceland Trip
Ordered these for my Iceland trip. VERY comfortable and warm. I always wear an 8 in all shoes. Ordered these in an 8.5 based off reviews. They fit perfectly and the 8 would have been too snug.
December 12, 2016
Rated

1

out of

5
 by
Cantor
Boot leaks
I bought these boots last year when we had a mild winter. They are very light weight and comfortable. I only wore them for an hour a day, to walk to the subway and back, going to work. So the tread is still good and they were really not worn very much. However, on the first snow storm of this year, 12 months later from the purchase date, they have both leaked. So these boots are only good for one mild season and the warranty only covers one year. They are therefore not worth it for the price, which is too bad as they are very comfortable but waterproof they are not.
December 12, 2016
Rated

5

out of

5
 by
LuciTO
Holding up well!
I'm heading into my second winter with these boots. My usual street size is 10, but based on reviews I sized up to an 11, and they are just right. There is enough room for heavy socks, but they are fine with tights as well. These boots are so light and comfortable, it feels like I'm wearing bedroom slippers! I keep them loosely enough laced that I can use them as slip ons. I bought them with dog walking in mind, and these have served me well through snow, slippery conditions, slush and mud. Last winter was mild, so these were the only boots I needed, and I wore them every day for months. They wouldn't be warm enough for deep freeze conditions, but I wasn't expecting them to be. Even though my boots are usually kind of muddy they are in great shape, and I have received numerous compliments on them. (I have them in "shale", a nice true mid grey.) I know others who treat them as their "get dressed and go to town" boots. Bring back the larger sizes, Columbia! I have several tall women in my family who would like them.
December 10, 2016
Rated

2

out of

5
 by
TheGirlwithThreeDogs
What happened?!
I tried these boots on in store and they felt great. First three walks they were perfect, no problems. However, on my fourth walk I ended up with horrible blister and now I can't even put my feet in my boots because the heel area digs into my feet too much. I loved these boots initially but now I can't even wear them. Wish I knew to buy a size bigger. The pros are that they are light-weight (fantastic!!!), warm, and have good grip. Unfortunately, I can't return them and therefore can't afford new ones in a larger size. Recommend you buy a size bigger than you normally would.
December 9, 2016
Rated

4

out of

5
 by
DeckDiva
Very warm, very small boots
I wear size 7.5 M, I ordered size 8 based on the reviews, and wish I had ordered 8.5. The 8s fit, just a little too snug with winter socks. If I wear tights, they're better. They get hot unless I'm outside--which I am some of the time, just not all of the time. They're really cute and easy to wear. Pull the laces at the top and they lace all the way down... sort of neat.
December 8, 2016
Rated

5

out of

5
 by
TimmyB
Great boots
Wonderful true to size boots, very warm, don't know about rain or snow, but are worth the money.
December 2, 2016
Rated

5

out of

5
 by
Karen71
Love these boots - but order 1/2 up
I love these boots! I walk a lot and these are perfect for wearing on long (or short) walks. Last year, I bought a pair of the Loveland Omni-Heat. I thought they fit when I bought them but after walking in them for 30 minutes or more, my toe starts to really hurt from hitting the end (Columbia, if you are listening... could you please exchange these for me for an 8.5?). I am a size 8 and that works in every brand I've ever tried. I have never taken anything smaller or larger than an 8. However, after reading the reviews online, and hearing all the comments about the very small fit of these boots, as well as knowing that other pair I bought last year are too small, I bought the 8.5 from and they are 100% perfect. I'm glad I bought these boots in a size 8.5. I almost didn't because of the experience I had with buying the size 8 last year. I would definitely recommend these boots. They are as comfy as a pair of slippers and have good ice traction as well. Order 1/2 size up.
December 1, 2016
Rated

5

out of

5
 by
Educatingmom
So warm!
I love attending football games in late fall/early winter, but I don't like that my feet are always freezing--even with foot warmers! Not anymore--wore to a game on Saturday-shoes needed NO breaking in AND my feet have never been as toasty warm before! So awesome!! I highly recommend!!
November 27, 2016
Rated

5

out of

5
 by
melvapo
Warm feet
I am 7.5 and ordered 8. Perfect fit. Order a little bigger that your size. The waterproofs starts were the fur ends (on the inside). Don´t cross rivers! The waterproof is enough for being in the snow for hours, perfect insulation. I recommend a good pair of socks. The anti slipping rubber sole works perfectly, but still be aware on the ice!
August 23, 2016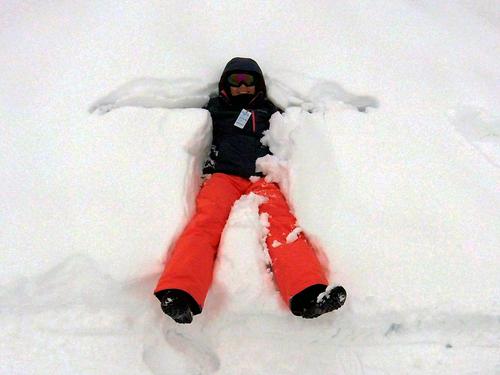 Rated

5

out of

5
 by
VeganTraveler
I would sleep in these if I could!
First off buy a 1/2 size up and then get ready to never take them off of course unless it is summer. I have tried on dozens of boots and LOVE these. The support is good. My feet are wider in the front and I have a narrow heel so if your toes need room these are the boots to buy.
August 3, 2016
Rated

5

out of

5
 by
DJBug
Very Warm
These boots will keep you feet very warm. They are also comfortable and cute. I wear them hiking in the winter and also to the office with dark pants and a sweater, although I can't wear them inside all day because they are so warm. I bought a size 10 and typically wear a 9 1/2.
July 6, 2016
Rated

1

out of

5
 by
Torontoexperiance
After two winters.....
In January 2015, I bought these boots for my 9 year old daughter. The boots are warm, comfortable and to my surprise waterproof. The reason I'm giving them a low rating is for durability. These boots were used to go to the school bus stop (one block from the house) and to play during school recess. Overall these boots were worn two hours a day, at the most, for three months during the first winter. This past winter in Southern Ontario was very dry, not much snow, so the boots were worn about the same even though my daughter used them the full season. As you can see in the picture, the outer fabric is ripped at the base of the boot and there is another tear close to the shoe laces. For the amount of money I paid, US$1200oo, I expected these boots to last more. The rest of the boot is in good shape, the sole looks like brand new and the inside is good as well, but the outer fabric is not strong enough for winter boots. If you expect a pair of boots to last you a season, then, these boots are fine, but it you want more durability for your money….unfortunately, these are not the boots for you. Believe me, I don't expect things to last forever, but I've had boots purchased at W….rt that have lasted two full seasons for less than half of the price :-(
April 29, 2016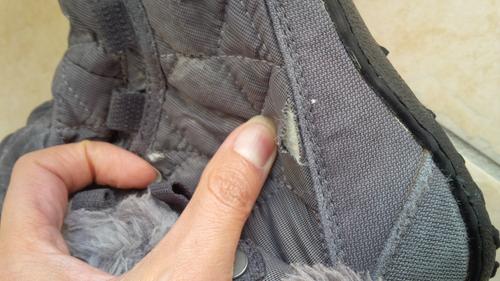 Rated

4

out of

5
 by
Ariel13
Cozy and functional
These boots are fantastic for snowy days and even slushy days. I used them all winter long and never had a problem with leakage. They do run a bit large but that's not a problem since I usually wear thicker socks in the winter anyway.
April 14, 2016
Rated

3

out of

5
 by
Donna18
Aware boot-NOT WATERPROOF
I bought these boots in October. They are very warm, lightweight with a great grip on ice but THEY ARE NOT WATERPROOF. The first day we had freezing rain and slush, one boot leaked badly and it took approx. 4 days for the inner sole to dry out. I am very disappointed and I am going to try and take them back to the store for a refund because they are supposed to be guaranteed waterproof which was an important feature to me when I bought them.
March 6, 2016
Rated

4

out of

5
 by
Nhopkins
WOMEN'S MINX™ MID II OMNI-HEAT™ BOOT
These boots are not trued tp size...Runs small
March 3, 2016
Rated

5

out of

5
 by
vlfleming
Love these boots
I adore these boots. They are extremely comfortable. I bought them to replace a pair of Uggs that I had worn out. I needed a functional pair of boots that I can wear in the rain and the snow and to work out in the yard in. These boots will do just that but I can also dress them up if I need to. They are incredibly warm. I have to wear a very thin sock with them. I ordered the size that I always wear and they were a perfect fit.
March 3, 2016
Rated

5

out of

5
 by
Katie88
Love
They feel so good on my feet and they don't make my feet look like they belong on a six foot man (I'm a 5'3" woman). I am actually praying for snow and cold, so that I can wear them more. :o)
February 29, 2016
2017-01-22
bvseo-cps-pl-PRR
2017-01-22 T12:43:11.180-06:00
bvseo_lps, prod_bvrr, vn_prr_5.6
cp-1, bvpage1
co_hasreviews, tv_194, tr_194
loc_en_US, sid_1554031, prod, sort_default
Size & Fit Guide
Women's Shoes
| | | | |
| --- | --- | --- | --- |
| USA | UK | EU | CM |
| 5 | 3.5 | 36 | 22 |
| 5.5 | 4 | 36 ⅔ | 22.5 |
| 6 | 4.5 | 37 ⅓ | 23 |
| 6.5 | 5 | 38 | 23.5 |
| 7 | 5.5 | 38 ⅔ | 24 |
| 7.5 | 6 | 39 ⅓ | 24.5 |
| 8 | 6.5 | 40 | 25 |
| 8.5 | 7 | 40 ⅔ | 25.5 |
| 9 | 7.5 | 41 ⅓ | 26 |
| 9.5 | 8 | 42 | 26.5 |
| 10 | 8.5 | 42 ⅔ | 27 |
| 10.5 | 9 | 43 ⅓ | 27.5 |
| 11 | 9.5 | 44 | 28 |
| 12 | 10.5 | 45 ⅓ | 29 |
How to Measure
How to Measure
Fold up at dotted line.
Place against a wall or other 90 degree surface.

Place heel against fold/wall on flat level surface.
Mark the end of the longest toe with a pen or pencil.
Measure both feet and use the larger measurement.
Read measurement and compare to size chart.
When comparing on the size chart, determine the closest larger measurement and use that number to determine your shoe size for your country's shoe measurement standard.
Shipping & Returns
Shipping & Returns
Shipping Information
Shipping Method
Rate
Expected Delivery Time
UPS Ground
$6.00
3-7 Business Days

UPS 2-Day Air
$12.00
2-3 Business Days
UPS Overnight
$19.00
1-2 Business Days
Free Standard Shipping
Available for Greater Rewards members. Learn more
Return Policy
Returns are accepted within 60 days of the purchase date online or in-store. Your apparel must be in original and unworn condition, with tags still attached. Footwear returns must also include the original box.
Still Have Questions
See our Customer Service section for more details. Visit Customer Service