Women's Mix It Around™ Vest
Details
http://www.columbia.com/womens-mix-it-around-vest-1556491.html
1556491
Greater Rewards
members earn

299

points with purchase
Size & Fit Guide
|
Reviewers rated this product
True to Size
|
Fit
Modern Classic
Variations
Product Actions
Features
A simple, attractive antidote to chilly temperatures, this versatile hybrid vest keeps your core warm and protected from the elements thanks to a blend of water-repellant microfiber at front and back torso and soft, breathable microfleece inserts at each side. A key layering piece in any season, the Mix It Around features chevron-shaped baffling lines that create a slimming effect and a roomy high collar that's been meticulously designed for ultimate comfort.
Features:
Modern Classic Fit
Water repellent
Hand pockets
Center back length: 24"
Imported
Fabric
:
Shell: 100% polyester microfiber
Side panels: 100% polyester micro fleece
Reviews
Rated

4.3

out of

5

 by

62

reviewers.
Rated

4

out of

5
 by
Jennl
Great
really happy with the fit I'm 5 2" with a larger chest Usually I would have to go up a size to accommodate
January 14, 2017
Rated

5

out of

5
 by
Dufryoung
So versatile!
I got this vest because I already had one in another color and I wanted one I could wear with more things. Our winters aren't too harsh, so the vests are something I can wear almost every day and be comfortable. I plan to buy at least one more just for a little more variety, but I love them!
January 13, 2017
Rated

4

out of

5
 by
Richmond05
Very nice design
This vest is very light weight, but my wife tells me that it is very comfortable. She does not like to wear bulky coats/clothing, so this works well for her. She can put a long-sleeved shirt under it and stay warm in the winter months.
January 9, 2017
Rated

5

out of

5
 by
suzc1
light layer
I like this vest a lot-very stylish with the collar. It is a light layer though, so I wear it more for looks than extra warmth. Nice big pockets and very comfy.
January 4, 2017
Rated

5

out of

5
 by
GinnyZ
Excellent Vest!
I love this vest! Its lightweight but still really warm over a long sleeve top. I've worn it so much! I got it in plum, and would definitely get other colours. The pockets are deep which is great for my phone, iPod, and hands when I exercise. I'm 5'11" and the M fits great lengthways, and big enough to wear layers underneath
December 29, 2016
Rated

3

out of

5
 by
MrsKMRedger
Very Lightweight
This vest is much more lightweight than expected, it seems to be more fashionable than functional for warmth. I returned it, the quality is great, just not what I was looking for.
December 27, 2016
Rated

5

out of

5
 by
Zrose
Perfect vest
I like that the vest is warm but not bulky like a puffer vest. I am 5'2 and 135lbs. I bought the black in a medium and It fits perfectly. It has multiple pockets and they are deep. I love it and highly recommended.
December 26, 2016
Rated

3

out of

5
 by
MarcoCO
Fits well
I bought this as part of a present, I was OK with the front and back...not so happy about the sides of the vest, they were like a fleece like material...not sure how it will hold after a couple of cycles in the washing machine...
December 19, 2016
Rated

5

out of

5
 by
Marinela
Excellent vest
This vest is very thin, comfortable and warm .
November 26, 2016
Rated

5

out of

5
 by
Seflady
Great gift!
I have grown daughters and sometimes find it difficult to get creative, fun gifts that they will enjoy. This vest is perfect! Great look, just the right amount of warmth, nice colors for any mood, add a cool scarf for extra fun!! The side fabric ensures a good fit. The girls love the vests!!
November 12, 2016
Rated

5

out of

5
 by
wandajo
Nice weight for running.
I got this vest for running in cool weather when I just needed a little extra warmth. It is exactly what I wanted. It fits well (I'm 5'3" and 130#), and I got a medium. The pockets are deep enough for my IPhone without concern that it will bounce out, because there are no zippers on the pockets.
November 10, 2016
Rated

5

out of

5
 by
GsMom
Great Vest
The large "collar" is fleece lined and super warm. I like that the vest is warm but not bulky like a puffer vest. I am 5'4" and 116 lbs. The XS fits perfectly. Bought the blue and love the color. Will likely buy in additional colors. A+!
November 2, 2016
Rated

5

out of

5
 by
kindermom
Just love it
I love this vest. It is warm great for summer evenings or not to cold days. Very good quality!!!
August 2, 2016
Rated

5

out of

5
 by
thecloset401
WOMEN'S MIX IT AROUND™ VEST
I love this vest light weight secret pockets keeps warm just a great vest
July 5, 2016
Rated

5

out of

5
 by
CRinArkansas
So cute!
This vest is great! It looks great on!
June 24, 2016
Rated

4

out of

5
 by
CharleyinVest
I like the color
I bought the burgundy color bad I like it! The pockets are deep enough. Also, I chose this vest because the material is light and I can use in in an air conditioned room.
June 23, 2016
Rated

3

out of

5
 by
Jeterville
Lightweight vest
I have been wanting a lightweight vest for when I am walking my dogs and this is working perfectly. It is comfortable, fits great and is serving my purpose.
June 18, 2016
Rated

5

out of

5
 by
Loric
Very functional vest
This is the vest I have been looking for. Does an excellent job adding that extra layer without bulk. Highly recommend.
June 17, 2016
Rated

3

out of

5
 by
Lindsay85
Good vest, but runs small.
I have a 44D bust and ordered size XL. The vest's material/weight is just what I wanted, a little extra warmth for spring/summer hiking when I wouldn't want to wear a whole jacket. Unfortunately, the sizing runs small. I tried it on over a thin t-shirt and was able to zip the vest closed, but it really squeezed my chest. I couldn't even sit down in it. I would recommend the product, but if you are a busty lady, then order one size up.
May 30, 2016
Rated

2

out of

5
 by
Suzyqoh
Not what I expected
Very thin material, very small sizing. Color was good, but product not at all quality I expected. Will b returning it.
April 22, 2016
Rated

5

out of

5
 by
Wiredup
Great
This vest is perfect for just a little extra warmth in a cold office or for a late evening walk.
April 14, 2016
Rated

5

out of

5
 by
SarahMSP
Been looking....
for a nice vest. A vest with some style. A vest that is made for a woman. A vest that isn't weirdly expensive. I looked for months. I found it here. Love it!
April 2, 2016
Rated

5

out of

5
 by
Ted1982
Lightweight
I played tennis with this on and I felt comfortable. Vest is not bulky!
April 1, 2016
Rated

5

out of

5
 by
grasgal
Versatile
This is my favorite go to vest. It's light weight and fits under a jacket for extra warmth or does a great job of keeping my chest and neck warm without having to where a jacket on hikes. This vest fits to your curves ...It's definitely not a "guy" vest.
March 25, 2016
Rated

4

out of

5
 by
Meow234
Nice Spring Vest
Material was a bit thinner than I expected, but would work well in spring and fall. I got my mom the large and while it was loose throughout, the arm holes were a little on the smaller side. Otherwise, great length, and she enjoys it.
March 24, 2016
Rated

5

out of

5
 by
Westy
MyVest
I really love the color, a bluish green. It is such a cheerful color and so refreshing for the dark winter days. It fits very well and is comfortable. I love to wear vests in the winter all the time and I hope this one will last for many years..
March 21, 2016
Rated

5

out of

5
 by
Merrell
Love this vest!
Was so happy to get this vest. It is perfect for our Louisiana weather. The fit is very nice. Helps my figure!
March 11, 2016
Rated

5

out of

5
 by
nan321
Super buy
I had my eye on this vest but hesitant to pull the trigger at $60.00 so when it was reduced to a $19 I snapped up the white w/gray. So happy with my purchase. Note: The vest is very thin so a down vest would be better than this one in colder climates. I live in Florida so this vest is perfect for a winter day 45-65 degrees. It does keep my core warm during an walk, jog, cycle etc. and it is as light as a feather so very comfortable. I also wear it for errands and such. I am 5'4" 140 lbs and the MED fits perfectly but size up if you plan on wearing a thick fleece underneath. For $19 it's a steal. Thanks, Columbia!
February 24, 2016
Rated

3

out of

5
 by
SBRAND
To big, to thin !!!
I was looking forward to this vest arriving and when it did I was very disappointed, it was to big, way thinner than it looks . I have purchased two jackets that I love, I was hoping the same for the vest, mailed back for a refund.
February 23, 2016
Rated

5

out of

5
 by
drizzyydrew
buy the vest
Love at first site my girl friend wears it with everything
February 20, 2016
Rated

2

out of

5
 by
Carolyn62
Not what I expected
Very thin, the quilted cushion look is just a mirage. It's been returned.
February 20, 2016
Rated

4

out of

5
 by
APED
womens mix it around vest
Love this vest. Light weight, non bulky. Nice pockets. Sizing is a bit off, I always wear XS and this seems gappy under my arms. Love wearing this around the house for an extra layer of warmth.
February 20, 2016
Rated

5

out of

5
 by
ebsagle
cute and warm
Comfortable and cute
February 6, 2016
Rated

5

out of

5
 by
Lilac1
Very cute and comfortable!
I have an hour glass shape so I have some quick alteration done at the waste line and the vest looks amazing. The blue bell color is very pretty and neutral. Bought another one with different color.
February 5, 2016
Rated

4

out of

5
 by
Pudding53
Lightweight
Really like my vest. It's lightweight but yet keeps me very warm.
February 5, 2016
Rated

3

out of

5
 by
Penny123789
Average Vest
The vest was thinner than I expected. I bought a black, medium vest on sale and would not pay the full price for this item. The size is true to size and the vest is pretty warm worn under a jacket.
January 23, 2016
Rated

5

out of

5
 by
Hikeup
Perfect!
Lightweight, but warm, perfect fit, it has become my "go to" jacket.
January 23, 2016
Rated

4

out of

5
 by
FrequentCustomer
Very lightweight, comfortable for cool indoors
I have an older version of this vest that I love with different fleece panels. Somehow the material on this one feels less substantive--the nylon shell seems thinner and the fleece is finer. It's still a fantastic deal with the sale price (honestly, I can't comprehend how this vest was ever marked $60! Maybe I'm underestimating the quality of the materials...) and warm enough for indoor and outdoor wear when temps aren't freezing. It's also not a problem for me as I don't plan on using this for heavy duty sports activities. I absolutely LOVE the tall funnel neck on these vests. I wear the vest under coats for extra warmth and don't need a scarf. Check your zippers as mine was a little fussy (I feel like Columbia quality has diminished significantly in the last three years)--I kept it anyway because it wasn't broken and there were no more of the size and color I wanted (Blk, M). It's a flattering cut, and there are a pair of 3 inch fleece panels that run from under the arm area to the waist so there is a little extra room for stretch. I'm 5'8, 145lbs, 32C, and the medium fits wonderfully.
January 23, 2016
Rated

5

out of

5
 by
Kikipoo
Love it
This Plum color Columbia vest is just what I needed. Lightweight yet very warm. I love the chevron detailing and the high collar. The vest has a slimming effect when zipped at least 1/2 way up. Just love it!!!!
January 22, 2016
Rated

5

out of

5
 by
Stylin
Vest
Love love love my vest!!! I ordered 2 more in different styles. Highly recommend!
January 19, 2016
Rated

5

out of

5
 by
Annie86
Cozy and comfortable!
Very comfortable vest. Not bulky and fits nicely over hips!!
January 14, 2016
Rated

5

out of

5
 by
BassetMom
An ok jacket.
This jacket is a little thin and runs a little too large for my taste. I tend to buy clothes so they fit loosely and this one leaves even more room than I anticipated. I will hang on to it but can layer thicker shirts beneath it.
January 12, 2016
Rated

5

out of

5
 by
HCRun
Great vest! Warm for running in 48F weather
I purchased a small and glad I did! My measurements are 36/27.5/38 (5'5" 130lbs) which would fall between a small and medium based on the size chart, but the small fits well with room for one to two thin layers underneath. The vest itself is relatively thin, so don't expect a puffy, down-type vest. I've used vest primarily for running and it has kept me warm in 48F weather so far. The large collar does away with the need for a scarf and looks good folded down as well. The color of the vest is pretty close to the photo (more pink than red) and the fit is similar as well. Overall, great vest! Warm without added bulk. Will purchase again.
January 11, 2016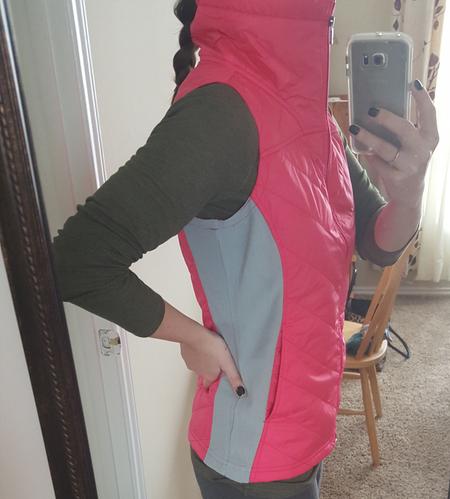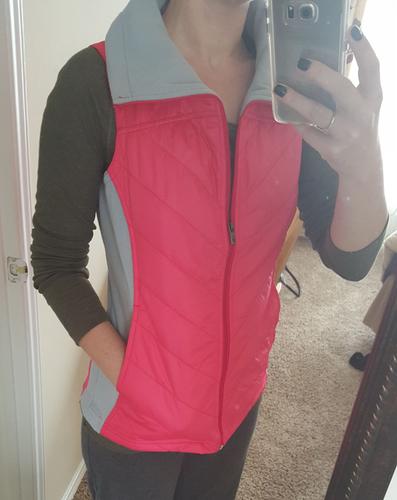 Rated

5

out of

5
 by
BP01
Light Vest
I agree with other reviewers that this is not a vest that should be worn to keep you warm. I bought this knowing that it was going to be light so I was not disappointed. It's cute, lightweight, and I love the color (bluebell). I've worn it with a long sleeve shirt in 40 degree weather and have been fine. On colder days in the 30's I've worn it over a sweatshirt and it was comfortable. It's just a nice accessory to add to your outfit, don't buy this expecting it to keep you warm!
January 1, 2016
Rated

3

out of

5
 by
Debbie12
Vest
I have purchased a lot of items from Columbia but this was the first time ordering on line. The vest was so thin it was like something u ou wear under an item. I returned it to the store and exchanged for a much nicer vest. Also, as a rewards member I shouldn't have had to pay shipping but was charged shipping so know I'm out that money.
December 30, 2015
Rated

1

out of

5
 by
Leighky
Mix It Around Vest
I really wanted to like this vest. It had a few flaws. First and foremost, the reason for returning was the tight arm holes. So tight that even when I wasn't moving it was cutting into the front of my arms. I do not have fat, huge or over muscular arms. It seemed to be more of a design flaw. Also, the collar was disfunctional. If you zip it all the way up it hide half your face.....what's with that? The length could have been a bit longer. I am 5'9" but if I raised my arms it would have been up to my belly button. Disappointed in this vest!
December 25, 2015
Rated

5

out of

5
 by
Mandy903
The vest is light and comfy
I really like vests, this was a color I didn't have, I bought one for me and one for my daughter.
December 16, 2015
Rated

4

out of

5
 by
sibv
nice but very thin
This vest is nice but very thin and lightweight. It won't do a whole lot to keep you warm but it looks cute. The purple color is super pretty as well.
December 14, 2015
Rated

1

out of

5
 by
Dandan
Extremely thin, won't keep you warm
I was so disappointed when I received this in the mail. The vest was so thin and didn't look like it would keep me warm at all. I live in Plattsburgh, NY (60 miles from Canada) so I need a vest the will serve it's purpose. Don't buy if you are looking for something to keep you warm.
December 2, 2015
Rated

5

out of

5
 by
katephl
love it
i got a size up from what i usually get so i can wear the vest over a sweatshirt for my morning walks and its perfect. i think i will get another one. it was a little lighter than i thought it would be but now that ive been wearing it for a couple of days i love it. i love how it has a long neck
November 11, 2015
2017-01-23
bvseo-cps-pl-PRR
2017-01-23 T13:19:46.948-06:00
bvseo_lps, prod_bvrr, vn_prr_5.6
cp-1, bvpage1
co_hasreviews, tv_62, tr_62
loc_en_US, sid_1556491, prod, sort_default
Size & Fit Guide
Size & Fit Guide
Women's Fit Guide
Performance
Body contouring fit conforms to movement.
Performance
Active
Body skimming fit with end-use mobility in mind.
Active
Modern Classic / Regular
Universal, easy fit for comfortable range of motion.
Modern Classic / Regular
Relaxed
Most generous fit for a full spectrum of movement.
Relaxed
Women's Body Measurement (Inches)
Size
XS
2
S
4-6
M
8-10
L
12-14
XL
16-18
Bust
32-33
34-35
36-37.5
39-40.5
42-44.5
Waist
25.5-26.5
27.5-28.5
29.5-30.5
32-33.5
35.5-37.5
Hips
34.5-35.5
36.5-37.5
38.5-40
41.5-43
45-47
Short Inseam
29.5
Regular Inseam
32
Long Inseam
34.5
Size
L
12-14
XL
16-18
Bust
39-40.5
42-44.5
Waist
32-33.5
35.5-37.5
Hips
41.5-43
45-47
Short Inseam
29.5
Regular Inseam
32
Long Inseam
34.5
How to Measure
1.

Chest/Bust:

Measure at the fullest part of the chest, under the armpits and over the shoulder blades, keeping the tape measure firm and level.
2.

Waist:

Measure around the natural waistline, allowing the tape measure to sit comfortably.
3.

Hips:

Measure around the fullest part of your hips.
4.

Sleeves:

Start at the center back of your neck and measure across the shoulder and down to the wrist. Round up to the next even number.
5.

Inseam:

Measure from the top of the interior leg to the bottom of the ankle.
How to Measure
How to Measure
Fold up at dotted line.
Place against a wall or other 90 degree surface.

Place heel against fold/wall on flat level surface.
Mark the end of the longest toe with a pen or pencil.
Measure both feet and use the larger measurement.
Read measurement and compare to size chart.
When comparing on the size chart, determine the closest larger measurement and use that number to determine your shoe size for your country's shoe measurement standard.
Shipping & Returns
Shipping & Returns
Shipping Information
Shipping Method
Rate
Expected Delivery Time
UPS Ground
$6.00
3-7 Business Days

UPS 2-Day Air
$12.00
2-3 Business Days
UPS Overnight
$19.00
1-2 Business Days
Free Standard Shipping
Available for Greater Rewards members. Learn more
Return Policy
Returns are accepted within 60 days of the purchase date online or in-store. Your apparel must be in original and unworn condition, with tags still attached. Footwear returns must also include the original box.
Still Have Questions
See our Customer Service section for more details. Visit Customer Service