SOME CALL THIS A DREAM JOB
We scoured the globe for two people who could prove they can test gear in the most unforgiving conditions on Planet Earth and tell the world about it. We hired two people to be the ultimate testers, world travelers, glacier climbers, brand ambassadors, social media gurus, nature photographers and spelunkers all-in-one.

And we've found the perfect people to carry the torch from season one.
MEET COLUMBIA'S DIRECTORS OF TOUGHNESS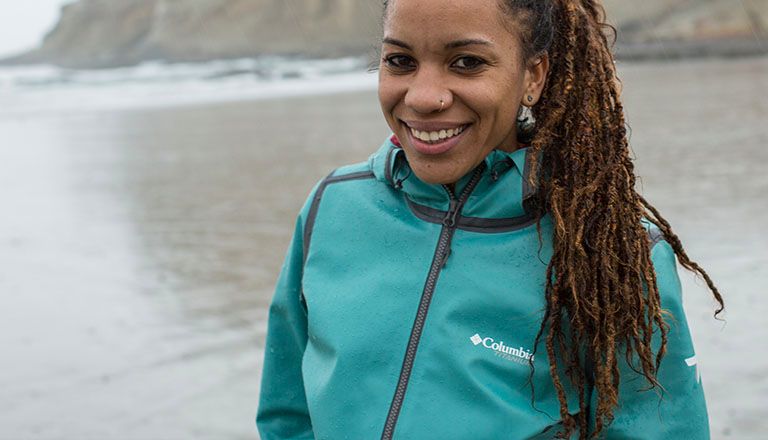 Faith Briggs is an avid runner and documentary filmmaker from Brooklyn, New York. She's passionate about sharing stories from diverse communities and can always be found with her camera, whether at New York Fashion Week or in the cloud forests of Honduras. Faith is equally at home running trails upstate or sprinting down 5th Avenue. A dedicated urban runner, she's a member of Black Roses NYC. When Faith sets her mind on something, she never gives up. She lives by the motto #goodvibesonly and loves to show that women and girls, literally, run the world. Follow Faith's adventures on Twitter and Instagram.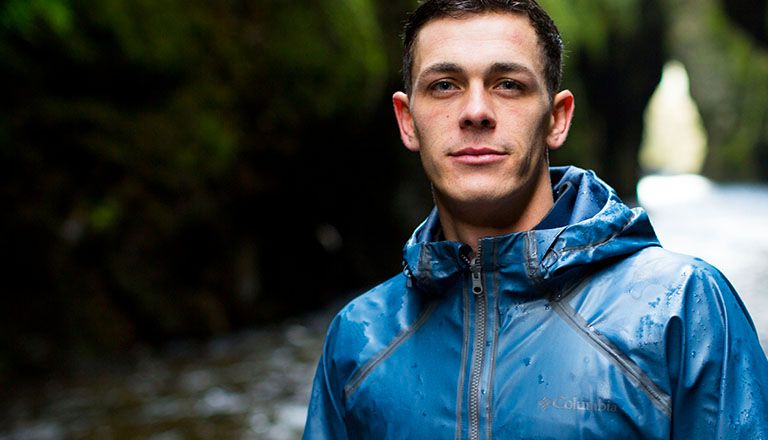 Mark Chase is our first international Director of Toughness and hails from Gloucester, England. Raised on a diet of climbing, skiing, camping, hiking, and rugby, a safe office and a cozy bed were never going to cut it. An ex semi-professional rugby player, Mark is used to challenging himself both mentally and physically. After retiring from rugby, he discovered a passion for adventure. Working, playing, and often living in the outdoors, Mark continually pushes the limits to feed his natural curiosity, and was recently described as "an adrenaline junkie with a camera." Follow Mark's adventures on Twitter and Instagram.
GUTS AND GLORY
IN ARGENTINA
It's known simply as El Cruce, "The Crossing." A three-day, 60-mile (100-kilometer) foot race across the Andes from Chile to Argentina on loose rock and uneven trails at high altitudes in South America's summer heat. "Not everyone can run it," the official slogan declares, "But no one who runs it can forget it."

That was what Faith and Mark had ahead of them—and only a few weeks to prepare. A daunting task even for two people not easily daunted. "I'm nervous because this is a completely different kind of race," Faith said the day before El Cruce. "It's gnarly. It's really gnarly."

Faith is a competitive runner and former captain of the Yale track team, but she specializes in sprinting. And El Cruce is anything but a sprint. In the lead-up to the race, she sought out tactical advice and a training regimen focused on longevity over speed and mind over matter.

Mark is a different story. While a former semi-pro rugby player and all-around athlete, he's not a runner in the competitive—or even conventional—sense. "Honestly, I think I'm woefully underprepared for this race," he said the day before it began. "I've never really run any major distance before."

That isn't self-deprecating downplay either. When a close friend of Mark's heard about what he was about to undertake, they responded with well-good-luck-with-that disbelief. Turns out, that response was exactly what he needed. "If someone tells me I can't do it," Mark said, "I'm sure as hell going to do it."

Of course, the first person he had to convince was himself. He started off by simply running a mile. As each day of training progressed, one mile turned to two, two turned to six, six became 10. In final preparations for El Cruce, he and Faith went on a training run at Joshua Tree National Park. The first miles were brutal. But he convinced himself to do a few more. Then a few more. And a few more. By day's end, he had run 20 miles—the benchmark for one stage at El Cruce. It didn't matter that he could barely move the next day. He felt relieved.

"For the first time, I believed I could actually do this," he recalled. "At a minimum, I knew it was possible."
Faith was wavering. A knee injury she suffered in training flared up early on the first day of El Cruce. As the sun beat down, she was hobbling as much as running on the rough terrain. Finally, she rounded a bend in the trail expecting to see the Day 1 finish line only to find a narrow river—and more trail.

"I'm very competitive and I wanted to finish and I wasn't sure if I could. There were moments where I didn't know if I could even walk. And I think that moment was just like, 'Why is this happening to me right now?'"

This was Mile 18. Faith plunged awkwardly into the river. She stopped a few strides in, hands on knees, wincing in pain, panting for breath. Then she waded forward another few steps and stopped again. Staring down at the rippling water, mind racing, trying to collect herself. Finally, she picked her head up, sloshed to the other side of the river and continued down the trail.

Mark fared only slightly better. At the conclusion of Day 1, he had finished 20 miles for the second time in his life—but it wasn't any easier. "I was almost on my knees. Literally I ran out of energy, completely out of energy."

Making it through the first day seemed to invigorate both Faith and Mark as they made it through Day 2 feeling much more in control of their fate, even though Mark crumpled to the grass near the finish line suffering from heat stroke.

The camaraderie of camp and the upbeat spirit of their fellow runners helped ease aching muscles and screaming joints. But morning still came all too quickly on the final day. As they approached the starting line with a steady rain falling and grim determination on their faces, Faith said simply, "I'm ready to be done."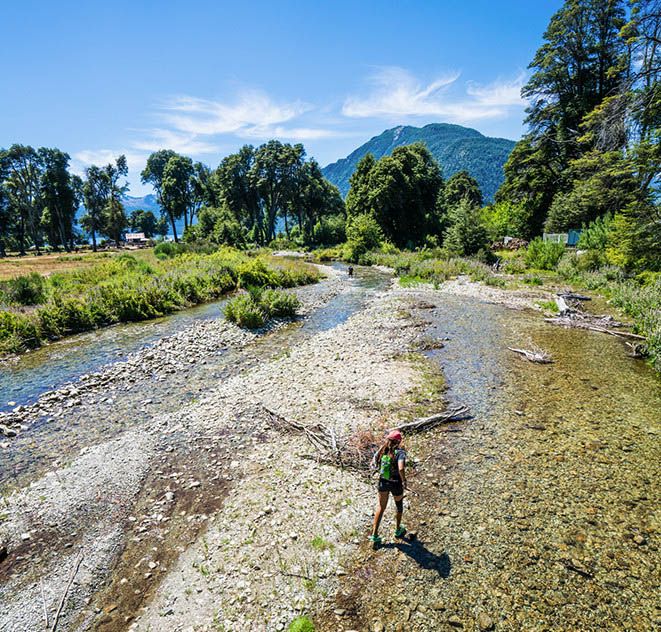 You have to just be in the moment and take each experience for exactly what it is and do your best, whatever your best is, at that moment.
—Faith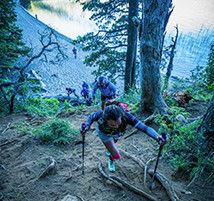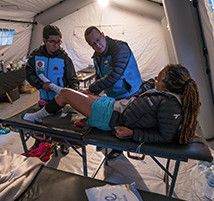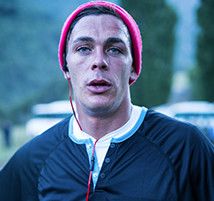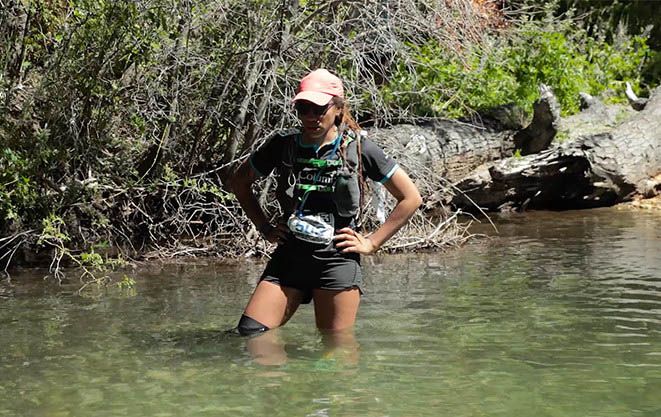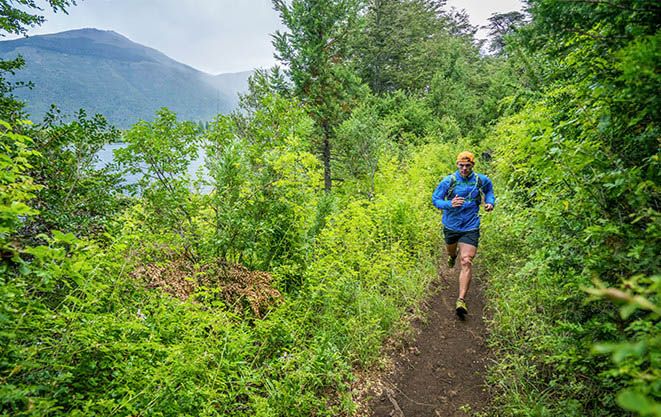 There are no rules for being mentally tough. Get a grip of whatever you need to see you through and hold on to it. However long it may take or however hard it may be, if you refuse to give up you cannot be beaten.
—Mark
GIVING IT ALL AND GAINING MORE
Hay que disfrutarla. That phrase popped up time and again on the trail as Faith and Mark battled through El Cruce. Enjoy it. On the surface, it would seem the sentiment of masochists. But as Mile 9 became Mile 26 and Mile 43 turned finally into Mile 60—the finish line—the enjoyment of this undertaking had sunk deep roots into both Faith and Mark.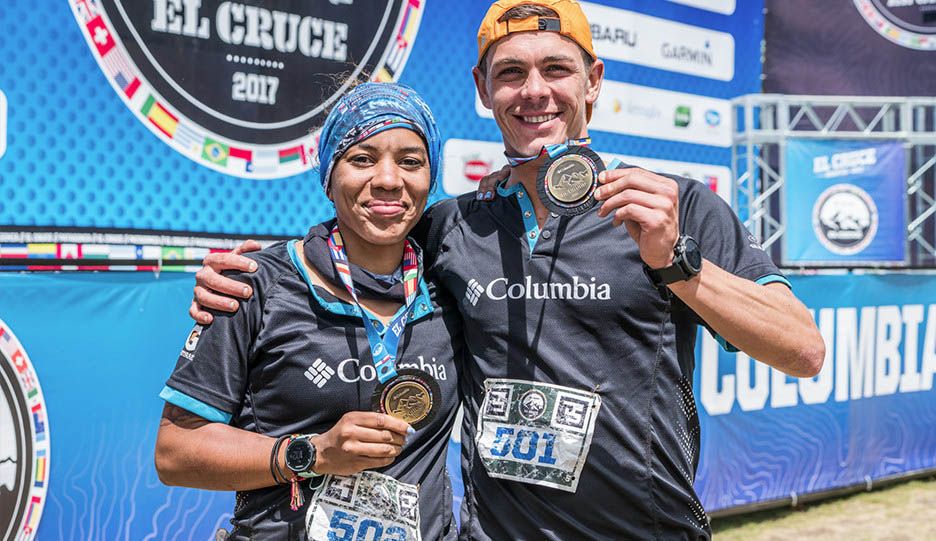 "Taking the advice to enjoy the experience was what made this such a special adventure," Faith said. "I battled with injury, but I met so many cool people that are out there for different reasons, laughing and joking and having fun on the trail. Everyone just encouraged and pushed each other along."

It allowed them to appreciate what Faith calls "an absolutely breath-taking environment," while the esprit de corps of their fellow runners and the sense of accomplishment of having completed The Crossing revealed to both Faith and Mark that this event was about much more than a test of strength and endurance.

"I would never in my life have thought of doing something like this but now that I've done it I'm so glad I have," Mark said. "I couldn't run 100 kilometers. That's exactly why I had to run 100 kilometers."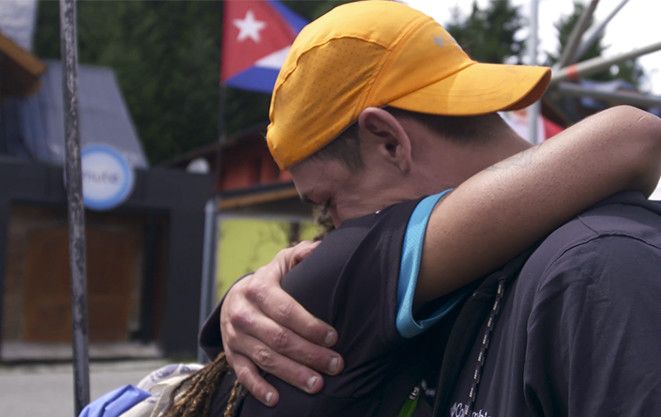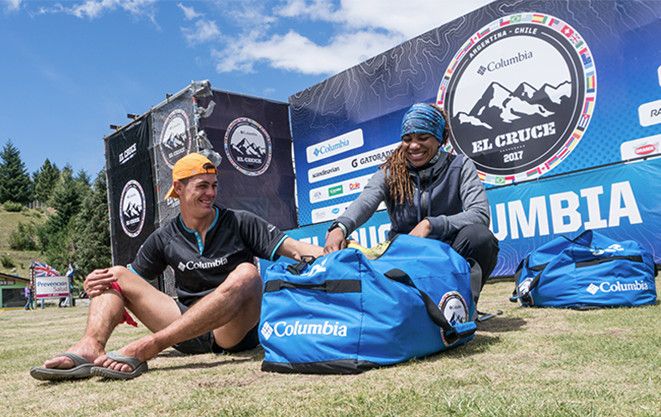 WHERE ELSE HAVE THEY BEEN?