SOME CALL THIS A DREAM JOB
We scoured the globe for two people who could prove they can test gear in the most unforgiving conditions on Planet Earth and tell the world about it. We hired two people to be the ultimate testers, world travelers, glacier climbers, brand ambassadors, social media gurus, nature photographers and spelunkers all-in-one.

And we've found the perfect people to carry the torch from season one.
MEET COLUMBIA'S DIRECTORS OF TOUGHNESS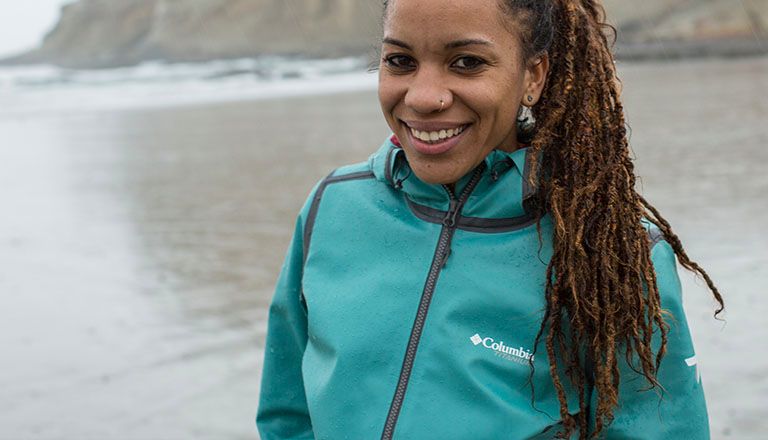 Faith Briggs is an avid runner and documentary filmmaker from Brooklyn, New York. She's passionate about sharing stories from diverse communities and can always be found with her camera, whether at New York Fashion Week or in the cloud forests of Honduras. Faith is equally at home running trails upstate or sprinting down 5th Avenue. A dedicated urban runner, she's a member of Black Roses NYC. When Faith sets her mind on something, she never gives up. She lives by the motto #goodvibesonly and loves to show that women and girls, literally, run the world. Follow Faith's adventures on Twitter and Instagram.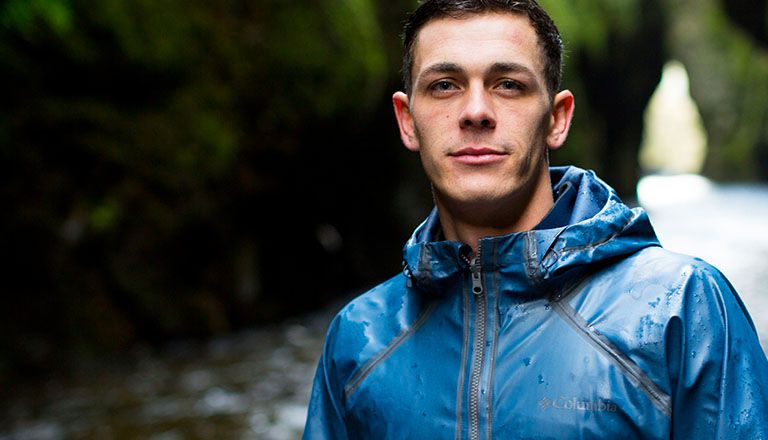 Mark Chase is our first international Director of Toughness and hails from Gloucester, England. Raised on a diet of climbing, skiing, camping, hiking, and rugby, a safe office and a cozy bed were never going to cut it. An ex semi-professional rugby player, Mark is used to challenging himself both mentally and physically. After retiring from rugby, he discovered a passion for adventure. Working, playing, and often living in the outdoors, Mark continually pushes the limits to feed his natural curiosity, and was recently described as "an adrenaline junkie with a camera." Follow Mark's adventures on Twitter and Instagram.
SAND, SWEAT, AND SURVIVAL
IN DEATH VALLEY
HOT WHEELS AND CRANKY SNAKES
Faith and Mark needed only to read a list of local landmarks to grasp what their sixth test held in store. Funeral Peak, Badwater, Sidewinder Canyon, Furnace Creek—all mere parts in the sum of fears that is Death Valley and the greater Mojave Desert. They began their journey by hiking more than 5,000 feet up to Dante's View, an aptly named overlook for surveying the inferno below. And if the monikers on the map weren't daunting enough, their challenge—crossing 250 miles of some of the hottest, most inhospitable terrain on earth—would do the trick.

"It is hard to believe that there's just this place in the middle of North America that is so desolate," Mark said. "If something was to go wrong out there and you weren't prepared for it, then I think you could be in a lot of trouble very quickly."

After picking up their first "Gert Mail" clue (courtesy of Columbia chairman Gert Boyle), Faith and Mark set out equipped with their gear, two bicycles, and an initial set of GPS coordinates. The only way to find out what would come next was to finish the first stretch of the challenge, find another Gert Mail, get the next set of coordinates, and so on. "A 100-degree scavenger hunt," Faith mused, "Gert's idea of a good time."

When Faith and Mark set up camp the first night on an open patch of desert floor, they soon discovered the stifling heat prevailed long after nightfall. If that alone wasn't conducive for blissful sleep, an unnerving encounter with a sidewinder rattlesnake a few feet from their campsite—and two hours from the nearest hospital—didn't help.

"Welcome to Death Valley," Faith said with an incredulous laugh. For his part, Mark, acknowledged, "I am not too big to say that I am not keen on snakes." Whether due to the sauna-like conditions or cranky sidewinding neighbors, Mark estimated he got precisely 23 minutes of sleep before the sun rose again.

The first leg of the challenge was 82.9 miles on lonely ribbons of asphalt and desolate dirt roads in oppressive heat, up and over rocky hills, and across the arid valley floor. Faith and Mark paused for a water break near where the hottest temperature on record (134° Fahrenheit) was registered. Lucky for them, it was a mere 105°. "It is steaming hot," Mark observed. "You can see why they call it Death Valley. Surely nothing can survive out here."
SWEATING BULLETS AND SWERVING BUGGIES
At the end of a long day, concluded by scouring through scrub brush in the dark with their head lamps for the next Gert Mail, Faith and Mark hunkered into their tents for a few hours of rest—if not much actual sleep. But day broke again all too soon. "I think it's going to be a super strong coffee day," Faith said softly as she steeled herself for another 167.1 miles. "Little sleep, a constant battle to drink enough water and eat enough food, energy levels at an all-time low," Mark summarized.

They also had at least one unexpected revelation with each agonizing uphill mile they put behind them. "Deserts are not flat," Mark said. "I suppose I'd never really thought about it before, but I always assumed that deserts were just flat. Well, I can confirm that's not the case."

When the series of undulating hills and unrelenting heat began to weigh on them, they found relief when their coordinates led them to a pair of dune buggies beside a sea of sand dunes. Faith, who hadn't found much need for a driver's license back home in Brooklyn, was particularly giddy about rooster-tailing through nature's sandbox. "I don't do much driving," she said with a playful smile, "so this should be pretty fun."

Buoyed by the motor-revving reprieve, they hopped back on their bikes and set out with their last set of coordinates. As their stamina began to wilt, they rounded a desert bend and encountered what Faith called a "breathtaking and re-energizing" sight—the towering red rocks of Valley of Fire State Park. Eventually, the route navigable by bike ended with about seven miles to go. They'd walk the rest of the way.

"Almost immediately after leaving our bikes and heading out on foot we passed a sign warning that hiking was not advised," Mark said. "It was a severe heat warning. I couldn't help but laugh at feeling it had come three days too late."

The coordinates led Faith and Mark down into a narrow slot canyon where they found their last Gert Mail. Inside was simply a flight number for the return trip to Portland. This journey was over, but the lessons it taught lingered.

"I began this process with the belief that some far away land and some unbelievable challenge, if anything, would get the better of me," Mark said. "[We've endured] freezing temperatures in Canada, 100-kilometer trail runs in Argentina, and it was here on 'home' soil that almost cracked me. This mission was the toughest yet."
When they weren't navigating across the Mojave Desert, Faith and Mark joined six students from Las Vegas for a hike organized by two local non-profits (Leaders in Training and Outside Las Vegas) focused on empowering youth and exposing them to the outdoors. While the hike itself—to a desert spring and back—was breezy by Directors of Toughness standards, it served as a reminder of the rewards that can be found by getting outside and away from the day-to-day routine.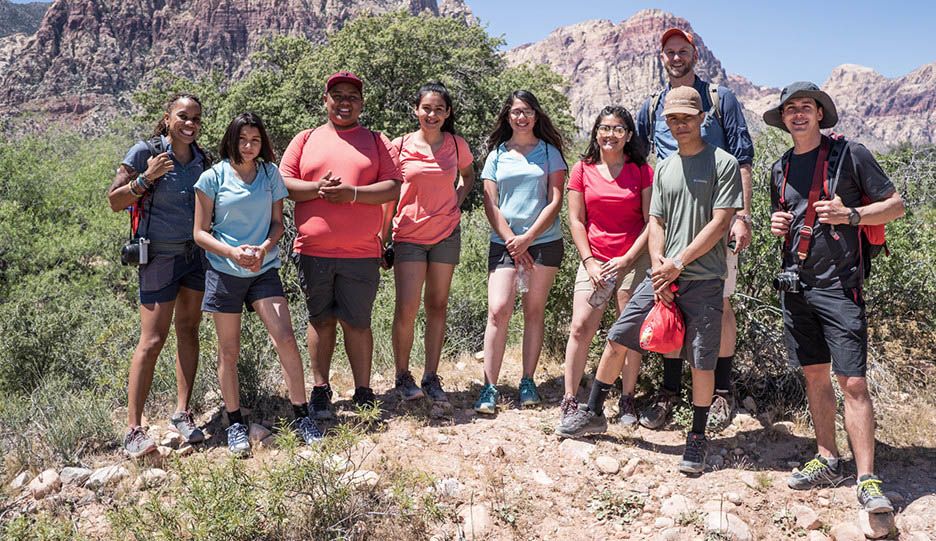 As Faith and Mark chatted with the students about their travels, one of the participants—Germaine—told Faith what a pleasant surprise it was to get outside his comfort zone. "I felt the sun on my skin, I touched a ladybug, I don't do things like that," he said with a laugh. "I thought Las Vegas was ugly, but then we hiked out to that little waterfall. I didn't think we had stuff like that in Vegas."

For Faith, that small revelation spoke to a bigger idea about getting outside and pushing yourself to try something new—underscoring for her the universal message that "the outdoors are for everyone."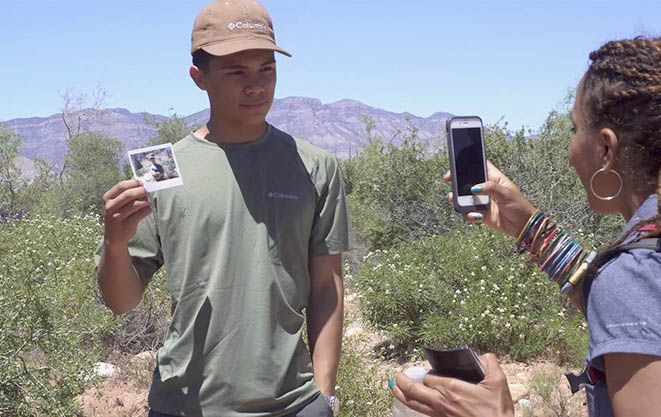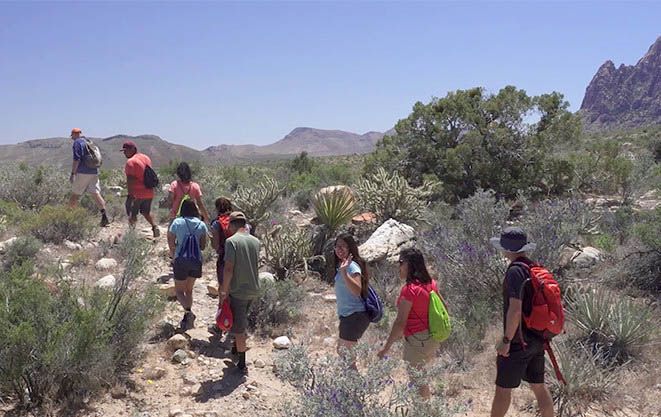 WHERE ELSE HAVE THEY BEEN?