SOME CALL THIS A DREAM JOB
We scoured the globe for two people who could prove they can test gear in the most unforgiving conditions on Planet Earth and tell the world about it. We hired two people to be the ultimate testers, world travelers, glacier climbers, brand ambassadors, social media gurus, nature photographers and spelunkers all-in-one.

And we've found the perfect people to carry the torch from season one.
MEET COLUMBIA'S DIRECTORS OF TOUGHNESS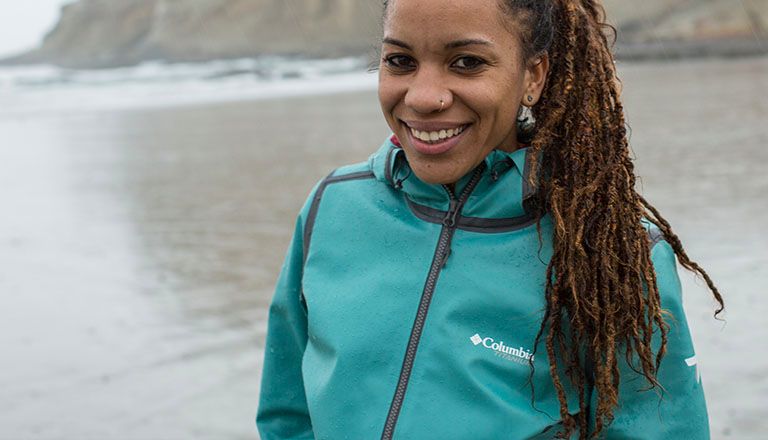 Faith Briggs is an avid runner and documentary filmmaker from Brooklyn, New York. She's passionate about sharing stories from diverse communities and can always be found with her camera, whether at New York Fashion Week or in the cloud forests of Honduras. Faith is equally at home running trails upstate or sprinting down 5th Avenue. A dedicated urban runner, she's a member of Black Roses NYC. When Faith sets her mind on something, she never gives up. She lives by the motto #goodvibesonly and loves to show that women and girls, literally, run the world. Follow Faith's adventures on Twitter and Instagram.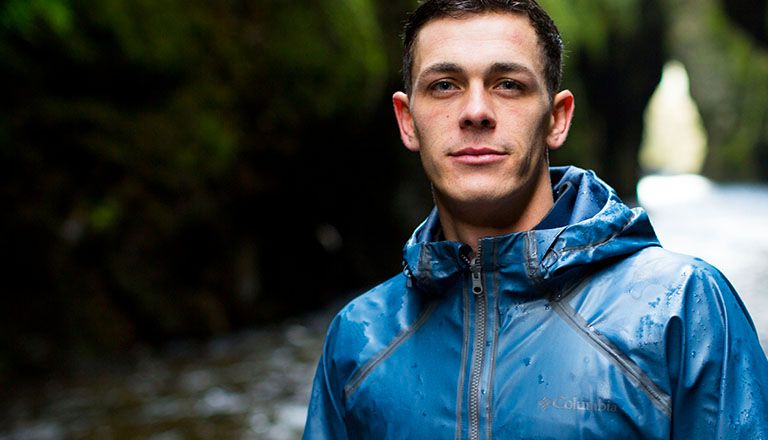 Mark Chase is our first international Director of Toughness and hails from Gloucester, England. Raised on a diet of climbing, skiing, camping, hiking, and rugby, a safe office and a cozy bed were never going to cut it. An ex semi-professional rugby player, Mark is used to challenging himself both mentally and physically. After retiring from rugby, he discovered a passion for adventure. Working, playing, and often living in the outdoors, Mark continually pushes the limits to feed his natural curiosity, and was recently described as "an adrenaline junkie with a camera." Follow Mark's adventures on Twitter and Instagram.
FIRE, FISH, AND THE FINISH
IN KAMCHATKA

Faith doesn't do heights. Or at least she didn't (if it could be helped) before becoming one of Columbia's Directors of Toughness. But it wasn't long into this epic journey that she was forced to confront high altitudes. The third trip involved running El Cruce, a 60-mile, three-day race across the Andes Mountains. Then she and Mark trekked high up to the sacred lakes of the indigenous Kogi people of Colombia's Sierra Nevada de Santa Marta. But her toughest test came when she nearly abandoned a climb of Mt. Shasta before muscling on to the 14,179-foot summit.

"Your body can put one foot in front of the other for a very long time, but your mind believing you can is another thing," Faith said. "When you come out the other side after doing something you didn't think you could do, you just feel really powerful and grateful for the experience."

Fresh from conquering Shasta, it was time to double down on that mind-over-matter business as Faith and Mark prepared to climb another active volcano in the Pacific Ring of Fire. But the contrasts between Shasta and the Avachinsky volcano on Russia's Kamchatka Peninsula became quickly apparent the moment they landed in Petropavlovsk-Kamchatsky. "You cross the International Date Line and find yourself 21 hours in the future in a place that feels like you've journeyed into the past," Faith reflected.

Amid the city's industrial post-Soviet architecture, onion-domed buildings, and V.I. Lenin statues, the surrounding landscape is starkly gorgeous with towering mountains and massive untamed wilderness. Kamchatka is primarily famed for two things—fly-fishing and volcanoes, with the latter being "famous because they erupt," Mark noted.

Of course, just getting to Avachinsky would be a challenge after storms washed out many area roads and trails. Faith and Mark joined their guide Viktor aboard a massive, six-wheel truck to get as close to their base camp as possible. After spending six hours travelling about 20 miles of what used to be road, they hiked the rest of the way to the mountain hut where they'd prep for their ascent the next day.

Once the climb began, it soon became clear Avachinsky was going to throw everything it could at them. From the wet valley below, they marched upward into pummeling winds and a blinding fog encircling the grumbling mountain. Underfoot, they found themselves transitioning from gravel to sand to snow and finally scree. Progress was slow as each step forward on the loose rock came with a half-step sliding back. "It's different to be walking on volcanic rock," Faith said. "It just feels otherworldly."

Slowly, visibility began to clear, the wind died down, and Faith and Mark were confronted with a different type of mist—steam, pouring upward from the mountain through small vents in the surface. "This place is wild," Mark said. "It's one of the craziest places I've ever been in my life."

As they reached the summit, they peered down into the large crater filled with smoldering black rock. The ground was yellow with sulfur and white with ash as steam billowed around them. "I had one of those can't-believe-my-eyes moments," Mark said. "It's hard to imagine, but this pile of rock was alive. As I stood above the crater peering down, I couldn't help but feel that this monster knew we were there."

For Faith, it was another monster slayed. After reaching the top, she sat on the warm ground and took a quiet moment to collect herself. "The outdoors is for everyone and everyone can enjoy it differently," she said. "The jury is still out for me and mountains, but looking down from the summit I couldn't wipe the smile off my face."
LETTING IT FLY ON THE SAVAN
Faith and Mark were familiar with remote environments. They had snowshoed and sled-dogged through the frigid Yukon and biked and hiked across scorching Death Valley. But after climbing Avachinsky they knew they were in for something else when a creaky Russian transport helicopter dropped them beside the Savan River deep in the wilds of Kamchatka. "It is so remote, it is so out there, we are so far away from anybody or anything else out here," Mark said. "That makes it one of the most extreme environments we've been to."

As the helicopter chuk-chuk-chukked up and out of sight, Faith and Mark were left to navigate the wilderness more than 150 kilometers from the nearest town. With guides Dima, Nikita, Anatoli (and guard dog Alpha) leading the way, their mission was to travel 30 kilometers down the Savan on an epic fly-fishing adventure in a region famed for its abundance of both fish and bears.

It wasn't long before one of those local residents joined them in the river. "I knew about the bear situation out here but what I never expected was that I would be standing in the same river," Mark said. "We're out here fishing and the bears are out here fishing as well. They don't mind us doing our own thing and we don't mind them doing their thing and it's amazing we can be in such close proximity."

That delicate balance was struck harmoniously as Faith and Mark ventured down the swift-moving river. The spin of their reels, the excited shouts of a catch on the line, and the awestruck murmurs of a bear sighting were about the only sounds breaking up a pure soundtrack of the wild. "Standing fifty meters from a bear is something I never thought I'd do," Faith said with a laugh. "This place is unbelievable. There's nothing I can compare it with, I don't know how to describe it, it's absolutely amazing."

Spirits remained upbeat even as the conditions shifted dramatically hour by hour from brisk sunshine to torrential downpour. Ever since their fifth test, when Faith and Mark went head-to-head in a fishing competition off the coast of Miami, they had embraced the notion that a bad day's fishing is better than a good day of almost anything else.

As they stepped ankle- and waist-deep into the Savan and the hours and days passed, it was clear they had temporarily become part of the river's ecosystem. The salmon were going upriver to spawn, the bears were fishing the salmon, the trout were seeking out salmon eggs, and Faith and Mark were aiming for the elusive trout. "There's no better feeling really than trying to get one of these guys in," Mark said. "Once you get the trout on the line that's only really the start of the battle. These guys like to run, they like to fight."

The days were filled with reels spinning around the river, high-fives, smiles, and the traditional Kamchatka end-of-day celebratory nightcap of fresh salmon roe, cucumber, and vodka. After reaching their rendezvous point, they packed up camp and waited for that giant, lumbering helicopter to take them back to civilization. That's when a different sort of reality set in as Faith and Mark began to reflect on the realization their last official mission was coming to an end.

"For the last nine months, Faith and I have been travelling the world to test Columbia gear in some of the most extreme conditions on the planet," Mark said standing amid the tall windswept grass beside the Savan. "It's been probably the most incredible nine months of my life."

Mark doesn't run. Or at least he didn't (if it could be helped) before becoming one of Columbia's Directors of Toughness. Despite being a former semi-pro rugby player and self-professed "adrenaline junkie," it wasn't until he began preparing for El Cruce that he purposely ran a mile. That's one mile, singular. In the span of several days, that turned into two, then five, then 10. He completed 20 for the first time in one of the final training sessions before leaving for El Cruce—and it left a mark.

"The first time I ran 20 miles, I broke down and cried," Mark said. "I was absolutely exhausted, I was beaten, I was happy, I was sad, I was in pain, I was all of these things. In that moment, there was just nothing else in the world." Faith was practically giddy for him. "I knew so well that feeling and I was pumped that he got to have that feeling too," she said. "We've both been really proud of each other. We've seen each other push through crazy barriers both mentally and physically to do things neither of us knew we could do."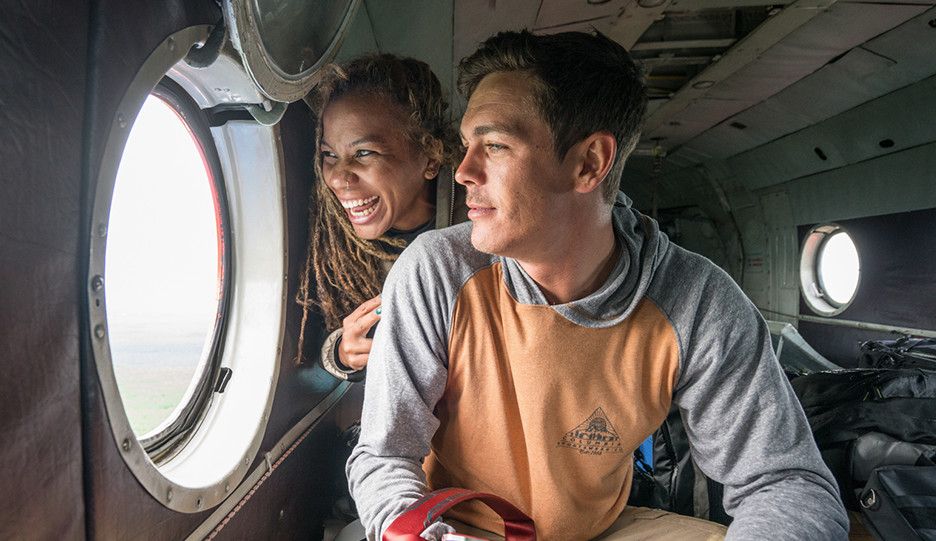 Mark and I have learned so much about each other. We've travelled all around the world, met all of these people, and shared so much. We've grown a lot and we've just had an incredible, incredible adventure testing gear with Columbia Sportswear.
—Faith
For Mark, that included running—then running some more. After completing their last official gear-testing trip in Kamchatka, Faith and Mark ventured to France to run at UTMB, one of the world's toughest and most renowned trail-running events. Both completed the 33-mile OCC, running well over a marathon—a first for both—while encountering biting cold and yawning crevasses. It was an accomplishment neither could have imagined when they first arrived in Portland nearly a year prior.

"Now I'm an ultramarathoner," Mark said with a laugh. "There is something slightly sick about that kind of running that I quite like. There's a moment when you feel like you have to give up, like you haven't any more to give. If you get through that, it's just the most incredible feeling."

During their journey, both Faith and Mark had plenty of opportunities to push themselves further than they previously thought possible. Whether it was Mark fighting through heat exhaustion, sleep deprivation, and rattlesnake encounters in Death Valley or Faith summoning the courage to keep moving up Mt. Shasta even as her fear of heights and the biting cold tried to force her back.

"Faith and I are not professional athletes, just normal people that have had this amazing opportunity," Mark said. "With the right gear and the right planning, we've been able to achieve some things that I never dreamt were possible. You just have to get out of your own way."

Documenting the struggles—and the triumphs—was always front of mind for Faith and Mark. Early on they made a pact that when the going got tough, the first thing they'd do is "hit record." "I wanted to walk away from the camera many times, but I learned there's value in sharing those moments," Faith said. "If all you see is everyone looking like a pro and loving the 'suffer fest,' that's not an honest interpretation and it can be intimidating for people. It's okay if you didn't love every moment, there's still a place for you to experience the outdoors."

As their journey came to an end, Faith and Mark took stock of what they'd seen, what they'd done, the people they'd met, and how they plan to carry those experiences forward. They prepared to head back home to Brooklyn and England, respectively, uncertain about what the next chapter will bring but excited for new adventures and empowered by the knowledge that they can take on whatever may come.

"I've learned how little I really need to survive and I've learned how happy I can be surviving on it," Mark said. "I'm not worried about the fact that I'm going back home and all I have is my bag full of gear because what else do I need?"

WHERE ELSE HAVE THEY BEEN?