SOME CALL THIS A DREAM JOB
We scoured the globe for two people who could prove they can test gear in the most unforgiving conditions on Planet Earth and tell the world about it. We hired two people to be the ultimate testers, world travelers, glacier climbers, brand ambassadors, social media gurus, nature photographers and spelunkers all-in-one.

And we've found the perfect people to carry the torch from season one.
MEET COLUMBIA'S DIRECTORS OF TOUGHNESS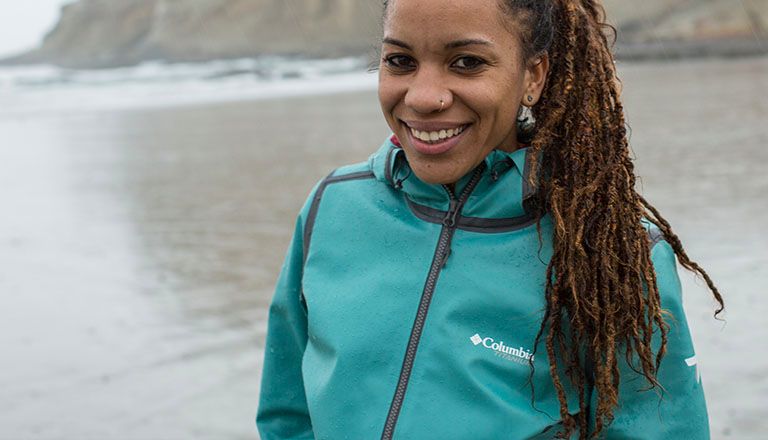 Faith Briggs is an avid runner and documentary filmmaker from Brooklyn, New York. She's passionate about sharing stories from diverse communities and can always be found with her camera, whether at New York Fashion Week or in the cloud forests of Honduras. Faith is equally at home running trails upstate or sprinting down 5th Avenue. A dedicated urban runner, she's a member of Black Roses NYC. When Faith sets her mind on something, she never gives up. She lives by the motto #goodvibesonly and loves to show that women and girls, literally, run the world. Follow Faith's adventures on Twitter and Instagram.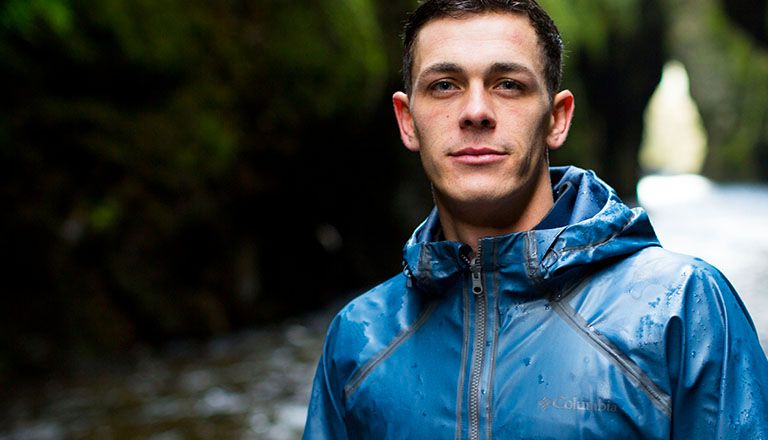 Mark Chase is our first international Director of Toughness and hails from Gloucester, England. Raised on a diet of climbing, skiing, camping, hiking, and rugby, a safe office and a cozy bed were never going to cut it. An ex semi-professional rugby player, Mark is used to challenging himself both mentally and physically. After retiring from rugby, he discovered a passion for adventure. Working, playing, and often living in the outdoors, Mark continually pushes the limits to feed his natural curiosity, and was recently described as "an adrenaline junkie with a camera." Follow Mark's adventures on Twitter and Instagram.
A BAD DAY'S FISHING
IN MIAMI

FISHING FOR REDEMPTION ABOARD THE MARC VI
Sometimes the hardest challenges are the ones out of your control. Navigate the frigid Yukon in the dead of winter? Check. Run 60 miles across the Andes in summer swelter? Double check. But for Faith and Mark, going head-to-head in a fishing competition off the coast of Miami required a different kind of toughness.

"I got through the Andes by simplifying everything and not thinking," Mark said. "We're used to just fighting and fighting to keep going but this required us to think rather than to overcome. This was definitely a mental challenge of another order."

Even with Columbia athlete and fishing legend George Poveromo as the skipper aboard the Marc VI, it soon became apparent that athleticism, savvy, and strategy can only do so much if the current doesn't cooperate and the fish don't bite.

Mark came tantalizingly close to landing The Big One—estimated by the crew to be an 80lb-100lb Wahoo—only for it to become the proverbial One That Got Away after the behemoth broke free of the line. And, as Day 1 drew to a close, Mark had nothing to show for his efforts other than three Bonito—non-scoring in the competition due to their abundance.

He began staring a bit more intently at his idle pole, ready to spring into action with any tell-tale tugs of the line. After all, Mark was the one who had to take an icy plunge in a glacial lagoon after losing the first head-to-head competition with Faith in Iceland. Entering Day 2, he was determined to prevent a repeat occurrence.

"I really wanted to pull one back from losing in Iceland," Mark said. "We are both individually very competitive people and I think that shows in everything we do."

Day 2 for the Marc VI began much as Day 1 had left off. Desperate for points, the crew switched up their strategy and headed to a shipwreck site George knew about south of Miami. That's when their luck began to turn. Before long, Mark pulled up a Mutton Snapper. And another. Then came a tug on the line. The reel bent to the seas and a back-and-forth battle was on. Mark was determined not to let this one get away.

"I wasn't sure at one point whether that fish was going to win this fight," he said. "I was so tired… I almost had to give the rod to somebody else. This was definitely a tough experience."

Finally, Mark pulled a thrashing 35lb Cobia out of the water and onto the deck. It was a great catch, but would it be enough? As the clock ran down, the crew of the Marc VI headed back to shore to find out.

REELING WITH LAUGHTER ABOARD THE LADYFISH
While Mark had fished with some regularity while growing up in the U.K., Faith had only vague childhood memories of casting hooks into a lake with her grandfather. Neither had ever fished off-shore before. And Faith was about to get a crash course.

"We're going to bridle some gogs first and get a flat line and a balloon in the water," Captain Lee Lavery of the Ladyfish told Faith when Day 1 began.

Faith blinked, trying to piece together the words she recognized in that sentence into something actionable but could only offer a blank stare in return. "Pass me those black rubber bands," Lee continued, undeterred, "and come grab this net."

With Lee and crewmate Deb Calhoun offering instruction, encouragement, and light-hearted wisecracks, it was only a matter of time before Faith began to pick up the basic lingo (discovering, for instance, that a "gog" is a popular type of bait fish) and logistics of sportfishing. Before long, she was reeling in her first ever catch—a Mahi-Mahi. By the end of Day 1, the Ladyfish crew had added four Blackfin Tuna to their haul.

"Our strategy is dinner," Faith said, laughing. "That's our strategy and so far dinner is looking pretty good."

After cooking the catch for dinner and camping for the night on a tiny island just offshore, Faith headed into Day 2 with a sizable—but not commanding—lead in the competition. The second day would not be as bountiful as the first for the Ladyfish, and—like the gentlemen aboard the Marc VI—they were forced to pull out all the stops to try and win the competition.

"We literally tried everything," Faith said. "We were pulling frozen bait out and throwing it on other kinds of bait. We pulled out every kind of weird hook, everything we could think of. That is a bummer when you're so ready for the fish and the fish are just not trying to be a part of your life."

At the end of Day 2, with no additional points scored and knowing that Mark had landed a big Cobia, Faith headed back to shore sensing that the competition was lost and her resulting fate would be to spend the evening scrubbing the Marc IV. But as she munched on peanut butter and jelly saltine cracker sandwiches with Lee and Deb on the way in, she couldn't help but smile.

"I swear nothing ever tasted so good," she said. "I had a lot of fun. I had these awesome ladies and we laughed until our abs hurt. With the sun on my face heading back, it still felt like a win."
THE BOUNTY OF THE SEA, RETURNED
A bad day of fishing is better than a good day of work, so the saying goes. And while Mark and Faith netted only a modest catch collectively, the experience of spending two days aboard the Marc VI and the Ladyfish meant so much more.

"The people we were able to go out on the water with were amazing," Mark said. "Neither of us had fished from a boat before. And to be able to hang out with people who are so passionate, I mean, George has his own fishing show (George Poveromo's World of Saltwater Fishing on NBC Sports). The first time we go fishing and we go out with a guy who has his own fishing show."

As it happens, they also put in a good day of work after the competition by teaming up with Florida Sea Grant, a program affiliated with the University of Florida dedicated to supporting research, education, and activism to protect oceans and coastal communities.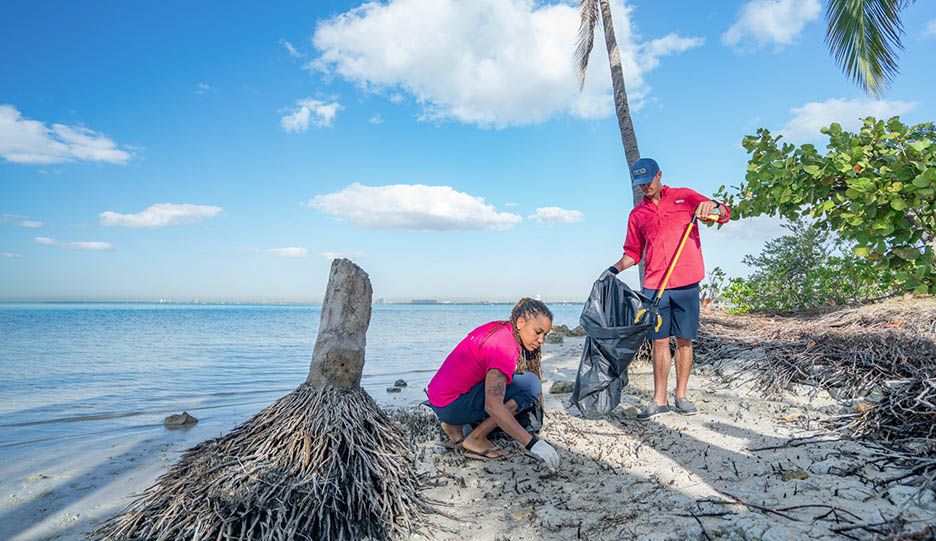 Faith and Mark joined Florida Sea Grant staff and volunteers for a day of shoreline cleanup in Miami, ranging from picking up trash on the beach to untangling old fishing line from mangroves. "We were all there together taking action to protect our precious ocean resources," Faith said.

As for the competition? Mark's haul on Day 2 proved to be decisive.

"I still think I had the best team," Faith said with a laugh. "I had a lot of fun. You can't always pull out a win, that's life. I just had a great time and I'm always down for a rematch."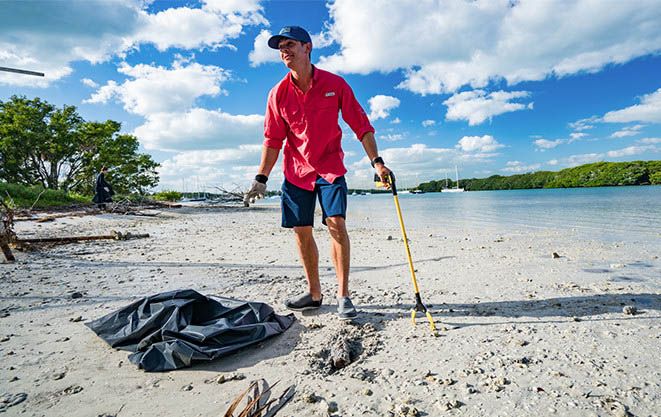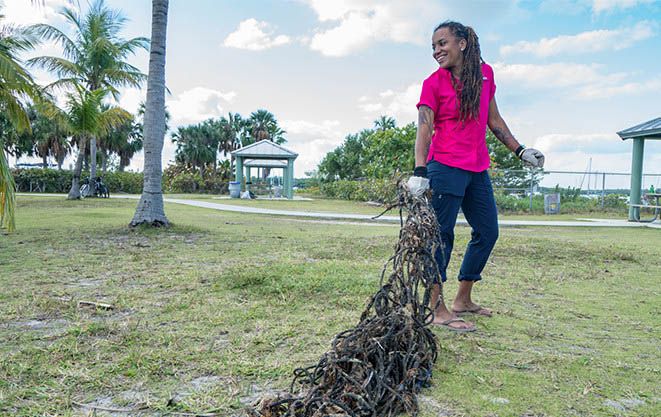 Without clean oceans there would be no offshore fishing like Mark and I were able to do off the Miami coast. It was great to give a little back to the oceans that constantly give us so much.
—Faith
WHERE ELSE HAVE THEY BEEN?