SOME CALL THIS A DREAM JOB
We scoured the globe for two people who could prove they can test gear in the most unforgiving conditions on Planet Earth and tell the world about it. We hired two people to be the ultimate testers, world travelers, glacier climbers, brand ambassadors, social media gurus, nature photographers and spelunkers all-in-one.

And we've found the perfect people to carry the torch from season one.
MEET COLUMBIA'S DIRECTORS OF TOUGHNESS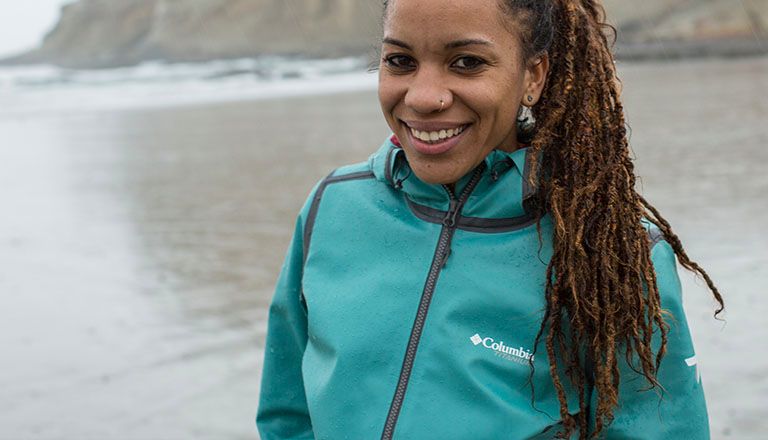 Faith Briggs is an avid runner and documentary filmmaker from Brooklyn, New York. She's passionate about sharing stories from diverse communities and can always be found with her camera, whether at New York Fashion Week or in the cloud forests of Honduras. Faith is equally at home running trails upstate or sprinting down 5th Avenue. A dedicated urban runner, she's a member of Black Roses NYC. When Faith sets her mind on something, she never gives up. She lives by the motto #goodvibesonly and loves to show that women and girls, literally, run the world. Follow Faith's adventures on Twitter and Instagram.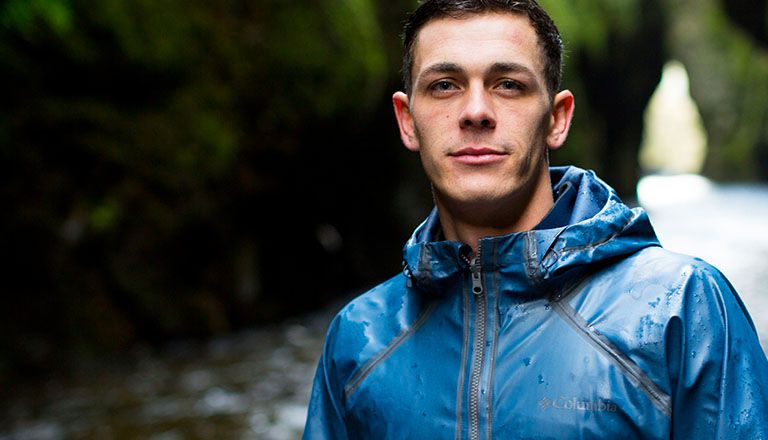 Mark Chase is our first international Director of Toughness and hails from Gloucester, England. Raised on a diet of climbing, skiing, camping, hiking, and rugby, a safe office and a cozy bed were never going to cut it. An ex semi-professional rugby player, Mark is used to challenging himself both mentally and physically. After retiring from rugby, he discovered a passion for adventure. Working, playing, and often living in the outdoors, Mark continually pushes the limits to feed his natural curiosity, and was recently described as "an adrenaline junkie with a camera." Follow Mark's adventures on Twitter and Instagram.
CREEK TO PEAK IN
THE PACIFIC NORTHWEST

"How often do you get to do something for the first time?" It's an observation Faith has made often enough for it to become a de facto motto for her and Mark. It's both an appreciation for their experiences and a rallying cry to step outside their comfort zones.

For the Directors of Toughness, that could be running 100 kilometers across the Andes or biking 200-plus miles through the Mojave Desert. To kick off their first leg of a Pacific Northwest road trip, it simply meant Faith merging onto I-5 for the first time after getting her driver's permit. "Yeah, we got airbags," Mark observed wryly. "We'll be fine."

Of course, the truth of any road trip is that the journey is as important as the destination. In this case, it's finding awe-inspiring adventure in their own backyard. After driving south across Oregon from Columbia's headquarters in Portland, Faith and Mark reached their first destination—the banks of the Klamath River. Their task: A three-day whitewater kayaking trip down the Klamath and Clear Creek. Another first.

They started with a crash course in piloting their inflatable kayaks through calm eddies and rushing rapids and around—or into—jagged rocks, fallen trees, and any other obstacles in their path. It quickly became apparent they were merely hitching a ride on whatever Mother Nature threw at them. "You can definitely see how powerful the water is," Mark said, "and how you can very easily get into a sticky situation."

Turns out, the best way out of those situations was a bit counterintuitive. "We were almost taught to forget everything we knew about self-preservation and just go for it," Mark said. "If you were approaching a big wave, tackle it head-on. If you're powering towards a rock you can't avoid…hit that guy straight on." Or as their river guide Tyler Poley put it, "When in doubt, crank it out, paddle hard!"

As Day 1 turned to Day 2 and then Day 3, the water got colder, the current moved faster, the obstacles became bigger, and the waves more ferocious. As Faith and Mark steadily made their way down the Klamath and Clear Creek, they muscled through a gauntlet of roaring rapids with names like Devil's Toenail, Sasquatch Squeeze, and Dragon's Tooth. More than once they were swept out of their kayaks and into the frothing cauldron of rushing water. "I took a few swims," Faith said. "It happens so quickly. One minute you're in the kayak and the next minute you're flying into the water. The river's force is not to be underestimated."

Ultimately, they were left soggy but undefeated. When they paddled ashore for the final time, they were handed a message from Columbia chairman Gert Boyle with instructions for what the second leg of the road trip would entail. "You survived the river, now go and climb to its source," the message read. "Sweet," Faith said with a laugh. "Up we go."
After leaving the river behind and driving south, the gravity of their next challenge became apparent when they rounded a bend and saw their second destination towering above the horizon. "We've had our first view of Shasta this morning and," Mark said, pausing, "It's big."

At 14,179 feet, Mt. Shasta is the second-highest summit in the Cascade Range—and an active volcano to boot. Faith and Mark knew that reaching its peak was anything but a foregone conclusion. "I am excited but I'm pretty nervous," Faith said, eyeing the snow-capped behemoth. Indeed, any number of obstacles—physical or mental—could prevent a successful ascent. And one false step could lead to disaster.

After a final gear check with their mountain guides Eric Layton and Jenna Kane, Faith and Mark set out from the Bunny Flat trailhead to begin their three-day climb. After several hours, they broke through the tree line and reached their base camp at Hidden Valley—the stark, snowy doorstep for attempting a summit of Mt. Shasta. After setting up camp, Eric and Jenna took Faith and Mark through a "snow school" to practice safety techniques and familiarize themselves with essential tools like their ice axes, crampons, and ropes.

Just past 3 am the next morning, they switched on their headlamps and set out for the summit. They hit 9,000 feet. Then 10,000. The morning sun began to rise as the grade grew steeper and the footing more precarious. Just above 11,000 feet, the reality of the undertaking—and the potential consequences of a mistake—hit Faith hard. "This is the most dangerous and scariest thing I've probably ever done," she said. "It's just you and nature and there's really no way out except your own two feet."

As they reached the top of the West Face at around 12,000 feet, it was clear that the altitude, physical, and mental strain were taking a toll on Faith. She sank to her knees in the snow and sat for several minutes trying to summon the fortitude to keep going. "Faith is pushing through like Faith does and I've no doubt whatsoever that she'll make it," Mark said. Faith overheard. A few moments later, she pulled herself back up. "Sometimes it's just really helpful to have someone believe in you," she said. "And I think that got me to the top."

Battling through ferocious wind gusts pelting them with ice shards, Faith and Mark battled their way up Misery Hill, the aptly-named ridge leading to the summit. Snow crunching, heads pounding, and lungs burning, they clambered up the last 200 feet of rock and then, suddenly, there was no more mountain to climb. They had done it. Another first. The group hugged and clinked their ice axes together in celebration before taking a few minutes to absorb the view and the moment. "Standing 14,000 feet above the Pacific Northwest, it was an incredible feeling," Mark said. "To be able to have this adventure in our own backyard is something I am really grateful for."

From the roaring rapids of the Klamath River and Clear Creek to the breathtaking experience in climbing Mt. Shasta, the Pacific Northwest road trip left both Faith and Mark feeling profoundly grateful for their adopted home as Columbia's Directors of Toughness. "Despite all of the amazing places I've visited around the world, the Pacific Northwest has remained right at the very top of the places I love," Mark said.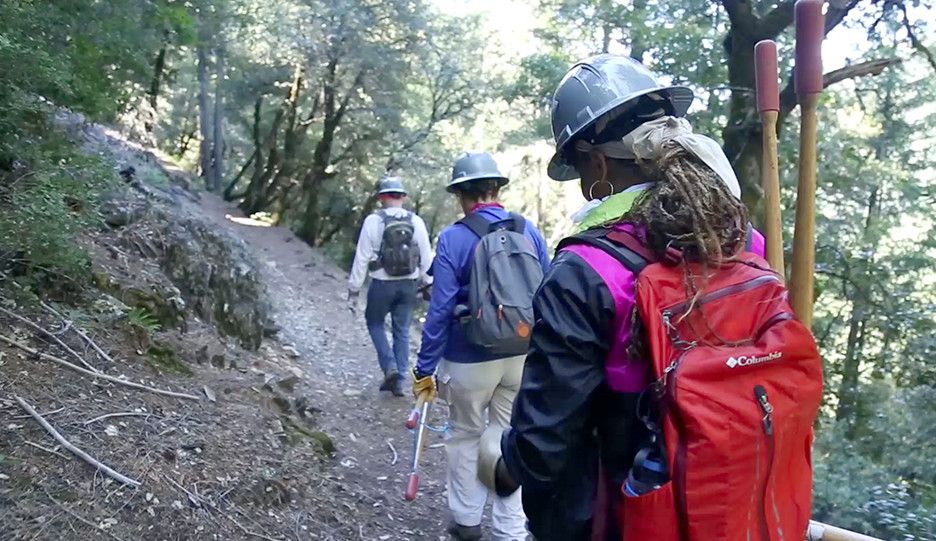 All along the way, the importance of protecting the outdoors became even more apparent. While both kayaking and climbing, they adhered to the "leave no trace" approach to enjoying the outdoors. So it was only natural that they would wrap up the road trip by doing maintenance work on the iconic Pacific Crest Trail.

With hard hats on and shovels in hand, Faith and Mark worked alongside volunteers from the Pacific Crest Trail Association and the local NorCal Trail Crew clearing debris and widening the trail. "I've been doing volunteer work on the [PCT] since 2009 and I love it," says Janette Storer of the NorCal Trail Crew. "You get very attached to this trail." She is hardly alone, a fact driven home by thru-hikers—with trail nicknames like "Salty," "Mama Bear," and "Patchy"—who stopped to chat briefly with Faith, Mark, and the volunteers.

That connection between people and nature resonated profoundly with Faith from the Klamath to Shasta to the PCT, and reiterated her desire to help preserve it for generations to come. "I was just in awe of the entire experience," Faith said. "When you are in the middle of such epic beauty you want to share it with others so that everyone will know just how worthy it is of our protection."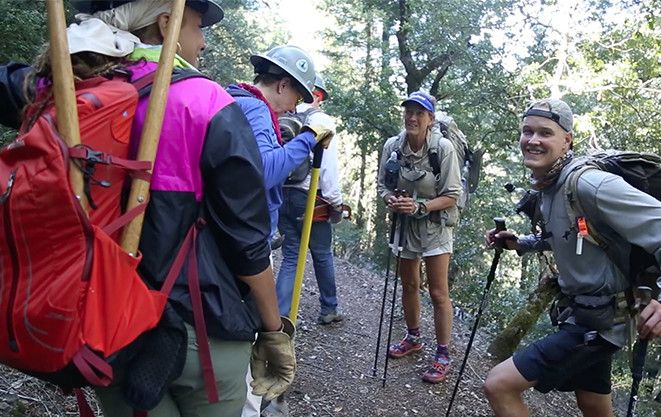 WHERE ELSE HAVE THEY BEEN?