SOME CALL THIS A DREAM JOB
We scoured the globe for two people who could prove they can test gear in the most unforgiving conditions on Planet Earth and tell the world about it. We hired two people to be the ultimate testers, world travelers, glacier climbers, brand ambassadors, social media gurus, nature photographers and spelunkers all-in-one.

And we've found the perfect people to carry the torch from season one.
MEET COLUMBIA'S DIRECTORS OF TOUGHNESS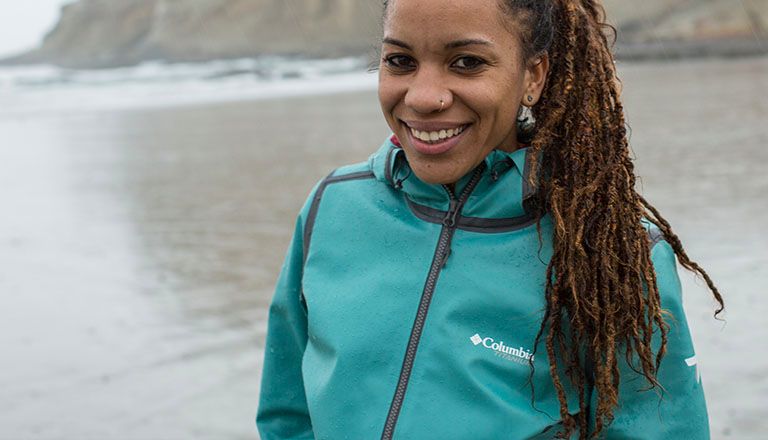 Faith Briggs is an avid runner and documentary filmmaker from Brooklyn, New York. She's passionate about sharing stories from diverse communities and can always be found with her camera, whether at New York Fashion Week or in the cloud forests of Honduras. Faith is equally at home running trails upstate or sprinting down 5th Avenue. A dedicated urban runner, she's a member of Black Roses NYC. When Faith sets her mind on something, she never gives up. She lives by the motto #goodvibesonly and loves to show that women and girls, literally, run the world. Follow Faith's adventures on Twitter and Instagram.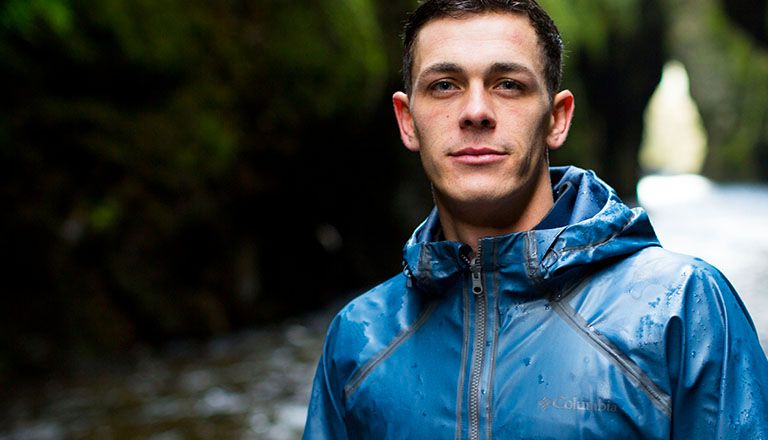 Mark Chase is our first international Director of Toughness and hails from Gloucester, England. Raised on a diet of climbing, skiing, camping, hiking, and rugby, a safe office and a cozy bed were never going to cut it. An ex semi-professional rugby player, Mark is used to challenging himself both mentally and physically. After retiring from rugby, he discovered a passion for adventure. Working, playing, and often living in the outdoors, Mark continually pushes the limits to feed his natural curiosity, and was recently described as "an adrenaline junkie with a camera." Follow Mark's adventures on Twitter and Instagram.
ICE, SNOW, AND 30 BELOW IN THE YUKON
The reality of what Faith and Mark were about to endeavor hadn't quite sunk in. Not even as their survival guide led them through a crash course in ice fishing, cutting wood, building a shelter, and starting a fire in sub-zero temperatures deep in Canada's Yukon Territory.

It also didn't fully resonate when they boarded a tiny bush plane equipped with skis for landing gear, nor when the plane soared high above the Yukon as they gaped out the windows at the stark, frigid beauty below. "It was hard to do anything but admire the scenery," Mark admitted.

But when the plane landed on remote, iced-over Coal Lake—and then abruptly disappeared up and out of sight—it finally hit them. "It really wasn't until the pilot took off that I was like 'Ohhhh, this just got real'," Faith recalled.

They had three days and two nights to get from Coal Lake to their extraction site—with a whole lot of snow, volatile weather, and mountainous wild standing between points A and B.

Faith and Mark set out on snow shoes across Coal Lake and into the wilderness beyond, pulling their gear on sleds behind them. But as the thermostat began to drop along with the fading daylight, they decided to put their rudimentary survival training to the test by constructing a shelter for the night.

With nothing but deep, powdery snow to work with, they built a quinzhee—effectively a big pile of snow packed down and hollowed out with just enough space for the two of them. After building a campfire and having meal-in-a-bag for dinner, they settled into their accommodations for the night.

"It's freezing outside, I can't describe to you how cold it is," Mark said nestled into the quinzhee. "But in here, no gloves, I'm warm, so I'm pretty impressed with our handiwork."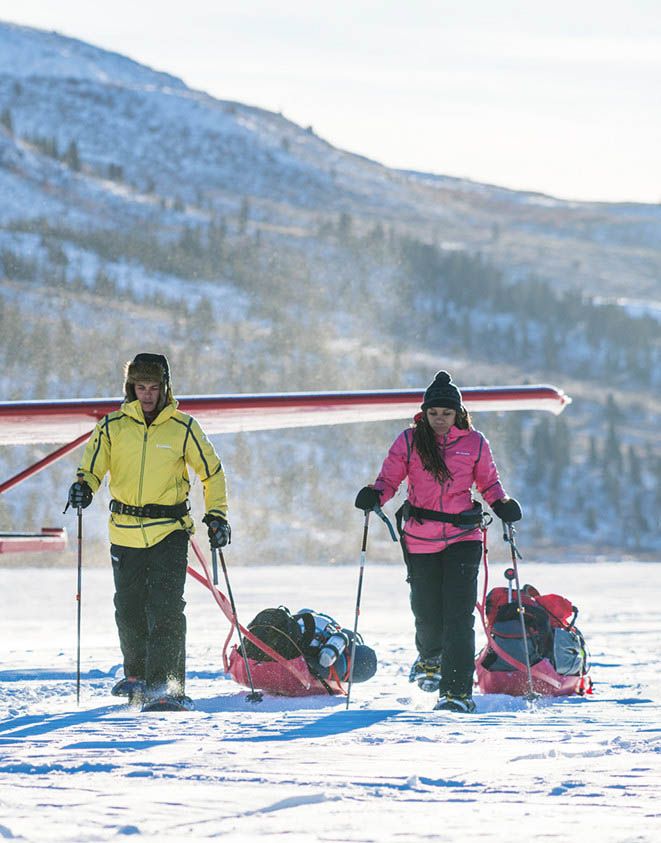 This is the most time outside in the cold I've ever spent in my life. [But] with the right gear… you can have fun in the cold and that's nothing that I would have said before.
—Faith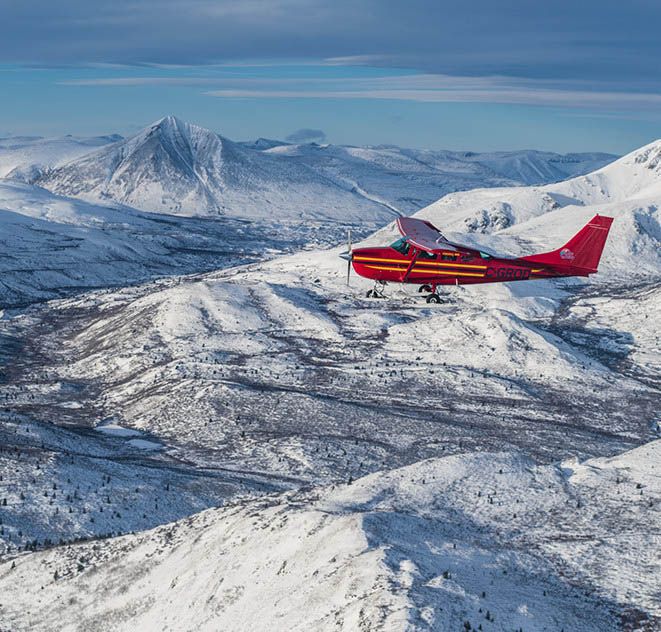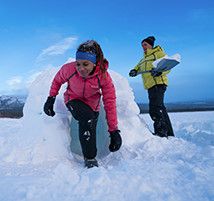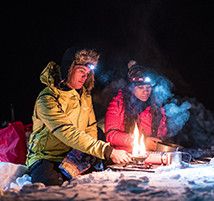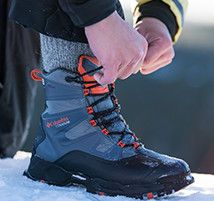 As the nighttime temperatures plummeted well below zero, the Northern Lights danced in the sky overhead as Faith and Mark jostled for sleep buried underneath their makeshift shelter. "Imagine being stuck in a cold closet on its side, covered in ice and resting on a frozen lake that was moving and grumbling beneath you," Mark said. Sweet dreams.

At daybreak, they rustled out of their snowy cocoon and were greeted by a freezing fog. "It feels a bit like you're inside a cloud and everything you touch just seems to get a sheet of ice over immediately," Mark said. "Not what you want to see when you got a long hike ahead of you."

Powering forward, at times trudging through knee-deep powder with their sight line limited to whatever the icy mist allowed a few feet ahead, Faith and Mark marched onward, into, and through the aptly named Windy Pass. On this terrain and in these conditions, speed is less critical than just continuing to move. The Yukon isn't kind to loiterers. "We are certainly deeper into the wilderness here," Mark said. "It's been pretty gnarly out here, pretty brutal."

With light and visibility negligible, they sought refuge in a wooded area as darkness fell, constructing a lean-to shelter with sticks and branches and took shifts keeping a campfire running through the night to ward off the bitter cold. At daybreak on Day 3, they packed their gear quickly and set out again. "It's minus-two Fahrenheit but we made it through and we're still smiling," Mark said. But they still had ground to cover to get to their rendezvous on time.

Just as they broke free from the snowy depths of the Mt. Granger foothills and started to make their trek onto frozen Fish Lake, Faith and Mark saw a welcome sight fast approaching on the horizon. It was two sled dog teams (aka, a "Yukon taxi") arriving to take them the last few miles of their journey. "It was the coolest thing," Faith said. "Riding on a sled with dogs leading the way was a transcendent experience…The perfect end to an epic adventure."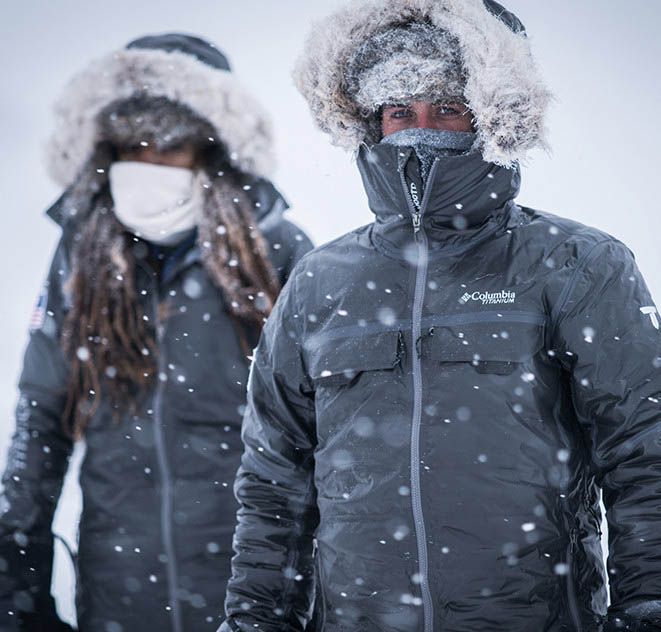 Being lost in the wilderness is daunting. Just staying alive is a full-time job. It was definitely a struggle… But that only served to generate an even more unforgettable experience.
—Mark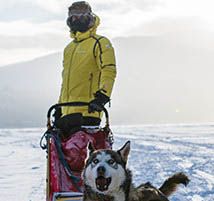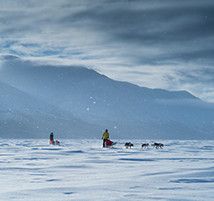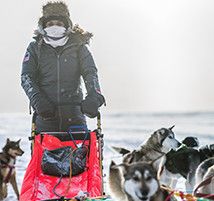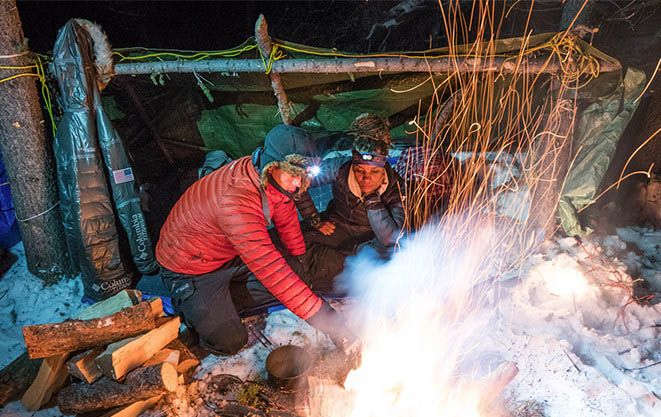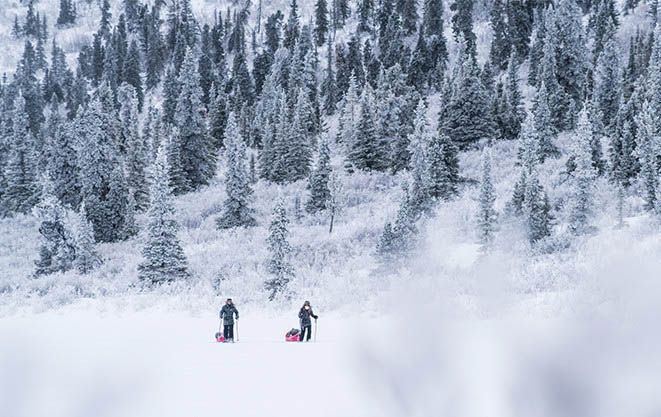 Of all the modes of transport Faith and Mark might have expected to take in the Yukon, bicycles probably wouldn't have made their top ten. And yet they nevertheless found themselves pedaling across snowy terrain on fat tire bikes with participants from Singletrack to Success.

The program, which was launched by the Carcross/Tagish First Nation more than a decade ago, began as a way to reconnect indigenous youth with ancestral lands through trail-building and mountain biking outside of Whitehorse—the capital, largest, and only city in the Yukon. While it continues to provide those youth with education, empowerment, and employment opportunities, it has also become a world-class, 40-mile trail system that both locals and tourists flock to.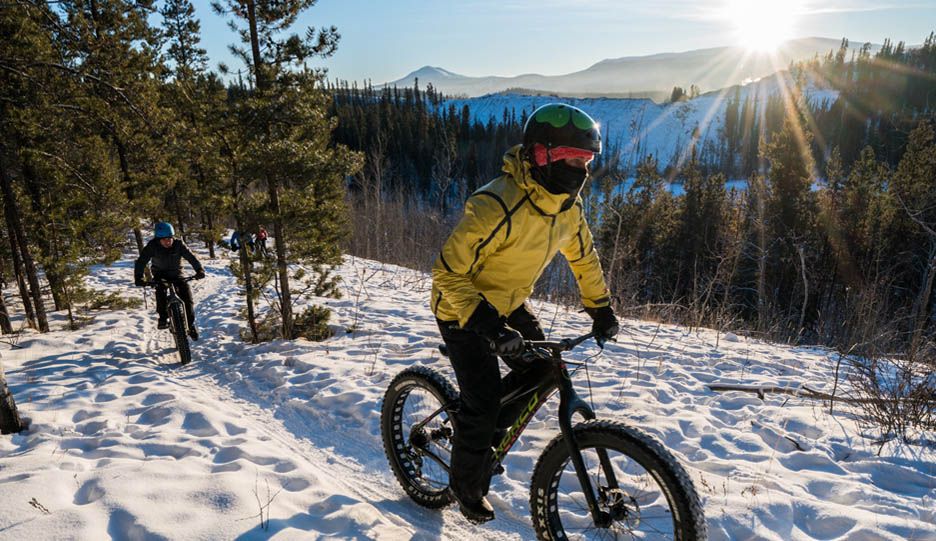 Even in temperatures that dipped to -37 degrees, Faith and Mark saw the fruits of that labor as they sailed through the snow alongside Singletrack to Success participants Nico, Keona, Mackenzie, and Jared.

"The program has instilled pride in them," Faith said. "They're aware of the importance of their role and they also get to ride the trails they make and have fun doing what they love. [And then] you see them pedaling furiously and flashing wide smiles." For Faith, that spirit reflects the uniqueness of an undertaking, environment, and experience that "can only happen in the Yukon."


WHERE ELSE HAVE THEY BEEN?