The All-Time Best Columbia PFG Fishing Shirts
The All-Time Best Columbia PFG Fishing Shirts
Columbia Sportswear is known worldwide for making some of the best fishing shirts—here's a list of our favorites
Take a peek at any body of water during sports fishing season and you'll spot a wide range of gear, including spincasts, fly rods, and baitcast reels. But one thing that unites the scenery, especially in the southern U.S., are ever-present Columbia Sportswear fishing shirts. From the Louisiana Bayou to the Florida Keys, the iconic performance fishing shirts have been cult favorites among anglers since the collection launched in 1995.
The unique shirts have a long history in the fishing community—and they're popular for a reason. After all, you don't become
Luke Combs' favorite shirt
by doing just anything. The PFG line, which stands for Performance Fishing Gear, offers anglers advanced technology, along with a cool, laid-back style. Bill Ferreira, Columbia's PFG-PHG director of global merchandising, calls it the "boat to bar" look.
"We built these shirts for the angler, but now it's their everyday wear," Ferreira says.
The shirts are stylish, but they also have technical features like UPF sun protection and special cooling fabrics. "A big part of what makes our shirts stand out from others is the innovation that goes into them," Ferreira explains. "The fabric technology. The design aesthetic. We're led by performance."

To pay tribute to the popular line of fishing shirts and to kick off an amazing season ahead, we've gathered the all-time best Columbia PFG shirts. Check out the winners below.
Columbia's All-Time Best PFG Fishing Shirts
The Best PFG Fishing Shirt For Sun Protection
The Best PFG Fishing Shirt For Cooling
The Best Short Sleeve PFG Fishing Shirt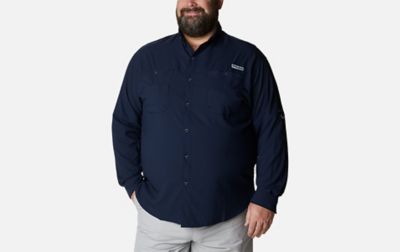 The Best Long Sleeve PFG Fishing Shirt
Name:
Tamiami II Long Sleeve PFG Shirt
($50)
Men's version:
Tamiami II Long Sleeve
Range of sizes:
XS to 6XL (Men), XS to 3XL (Women)
long-sleeve fishing shirt
, which features a casual fit and an easy snap-up design, offers cool moisture-wicking fabric. It has UPF 50 sun protection and hidden mesh-lined vents in the back. Not only that, it showcases an antimicrobial treatment that helps reduce odor.
Anglers of all skill levels and styles can also check out our experts list of the
best PFG fishing shoes
.