Unique Hiking Picnic Ideas for Every Palate
9 Unique Hiking Picnic Ideas For Every Palate
Tired of the same old PB&Js? Try these one-of-a-kind hiking lunch ideas on your next adventure
Let's face it: nothing is worse than being hangry on a hike. But trail mix and beef jerky can get old after a while—so why not spice things up a bit? With a little pre-planning, you can take your hiking meals to the next level with these inspiring picnic spreads.

We've searched high and low to find gourmet backpacking recipes for every palate. From Asian fusion to simple French fare to the junk food junkie and beyond, try out these field-tested ideas and hiker-friendly recipes on your next adventure.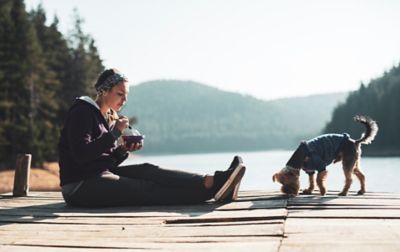 1. Asian Fusion Inspiration
Create your own bento box by packing a few partitioned children's plates that you can fill with a mix of the following dishes. Bring them all or pick and choose your favorites.
Pad thai noodles in peanut sauce: These are delicious and easy to make ahead of time. Cook your choice of noodles, mix with peanut butter and coconut milk, and then add in your favorite veggies, like spring onion and red peppers. Top it off with chopped peanuts for extra protein. These noodles pack easily in reusable containers or food storage bags.
Asian salad: Whip this up the day before your hike by combining chopped red cabbage, broccoli, Brussels sprouts, onions, garlic, and a package of crunchy noodles with a dressing of equal parts soy sauce and lime juice, and sugar to taste. Take along sunflower seeds, almonds, pepitas, and raisins to add when serving at your picnic spot.
Egg rolls: Air fry as many as you need, and add either whole or cut into bite-sized pieces to your bento box. Toss in a few packets of soy sauce and a baggie of pickled ginger.
Fortune cookies are lightweight, easily packable, and make for both a tasty and fun dessert. Take along a few small cups and a
water bottle
filled with sake to top off your serene Asian fusion picnic experience.
2. The Francophile Charcuterie Board
Say "Oui" to a French charcuterie board, full of meats, artisan cheeses, olives, nuts, and more. This taste of French cuisine on the trail begins with a baguette. Keep it fresh for up to two days by wrapping it in tinfoil or store precut slices in a reusable food storage bag.
Pair your baguette with cheeses like goat, Brie, cheddar, and Gruyère, which can pack easily into a reusable container and last awhile without refrigeration. Use small containers and reusable utensils to take along and enjoy your favorite baguette spreads, like kalamata olive tapenade and garlic hummus.
Include some dry-cured hard salami or Sopressata, which can be presliced or cut on the spot and served with crackers.
Toss some Castelvetrano olives, dried apricots, cranberries, pistachios, or almonds into reusable food storage bags.
And for a tasty dessert, take along a few sliced croissants pre-spread with a bit of butter and jam.
Tuck a small cutting board or sturdy piece of cardboard into your pack to serve your French fare once you find your perfect spot in the sun. To be even more fancy, pack a few tea towels to cover your serving board.
Fill a
thermos
with your favorite wine and pack it along with outdoor wine glasses to toast your French impressionist picnic in the woods.
3. The Mexican Fiesta
Tacos aren't just for Tuesdays. They can also take center stage on any trail with this easy taco bar setup.

Accommodate both soft and crunchy taco lovers by packing hard taco shells in a reusable container and soft flour or corn tortillas in reusable food storage bags.

Before heading out, prepare some favorite fillings, such as refried beans and seasoned ground meat or grilled chicken. Use separate reusable containers for chopped lettuce, cabbage, peppers, onions, shredded cheese, and cilantro. Be sure to use an insulated lunch bag or two to keep these taco fixings fresh and safe until lunchtime.

For the final touch of your taco bar picnic, bring along some salsa or taco sauce. Both homemade and store-bought salsa can be transferred to a small reusable container, and any leftover taco sauce packets you may have saved up can easily be tossed into your pack.

For dessert, make a popular Mexican fruit salad ahead of time by combining 1" cubes of pineapple, watermelon, papaya, and mango in equal amounts, sprinkled with the juice of one lime and chili lime seasoning to taste. Transfer to a reusable container and pass around for a refreshing taco bar topper.
4. The Island Luau
For a Polynesian-style luau in the wild, a few days before hitting the trail, slow-cook pork shoulder with onions, garlic, seasoning, and brown sugar, and shred once thoroughly cooled. Make an easy coleslaw by combining finely shredded green and red cabbage and carrots with chopped red onion, and mix with mayonnaise, cider vinegar, a bit of sugar, salt and pepper. Store the pork and coleslaw in separate containers and place in an insulated lunch bag.

When you reach your perfect picnic spot, spread the pork and coleslaw onto some Hawaiian bread rolls, add a few pickles, and enjoy your wilderness luau.

Fun sides can include sliced fresh or canned pineapple and sliced mango. Tuck each into separate containers to finish off your luau picnic with exotic sweetness.

For a refreshing and invigorating beverage before finishing your hike, take along a thermos of coconut milk and lime juice. Blend 1 cup of coconut milk with 1⁄3 cup fresh lime juice and 3–4 tbsp of honey or agave. Chill it in your thermos with a few lime slices before you head out.
5. The Tapas Plate
With the proper outdoor utensils and dinnerware, you can create a delightful trailside tapas experience.

The Spanish omelet is so popular that some call it the national dish of Spain. Made from only three ingredients served at room temperature, it's a must for a tapas spread. First, peel and thinly slice a few potatoes and onions and sauté until tender. While this cools in the pan, beat five eggs in a separate bowl and pour over the potato mixture. Cook over medium heat until the eggs cook around the edges. Once slightly browned, slide the omelet onto a large plate and flip back into the pan to cook the other side for a final three minutes. Let it fully cool, cut into slices, and store in a plastic container until lunchtime.

Serrano ham, cheese, and Spanish chorizo with bread is a delicious combination that can be put together quickly on the spot for a satisfying no-cook meal.

Patatas bravas, or "fierce potatoes," is an easy Spanish dish for a tapas plate. Fry (or air fry) diced potatoes then toss in a spicy mixture of ketchup and Tabasco or any other hot sauce. Serve from a reusable container with toothpicks.

An authentic tapas spread should include a can of "boquerones" (sardines). You might have to find these cans of sardines in a specialty shop, but they're worth it for their excellent source of salty protein. Or make tuna or chicken salad to serve with crackers or bread. Be sure to store these in an insulated lunch bag.

For a vegan or vegetarian option, you can prepare a couscous salad a day ahead, mixed with tasty favorites like pistachios, raisins, olive oil, and fresh parsley.

Serve a warm (or iced) "cafe con leche" for a perfect post-lunch boost before you get back on the trail. Make your espresso at home, and pour equal parts of coffee and gently boiled milk into an insulated thermos. Top it off with a dash of cinnamon for an extra zing.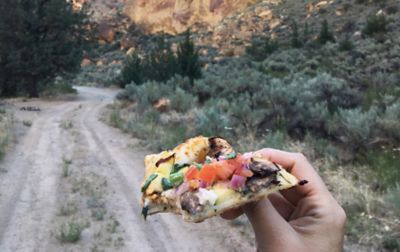 6. The Comfort Food Picnic
Comfort food can provide us with just the right kind of reward for our efforts on the path.
Bananas and peanut butter contain valuable potassium and protein that can provide a great energy boost out on the hiking trail. Slice peeled bananas in half and lengthwise and spread with peanut butter. Store in a reusable container for a quick and handy picnic treat.
Make excellent use of leftover pizza by wrapping slices of cold pizza into tinfoil packets and tuck them into your pack. By the time you reach your picnic spot on the trail, they'll have warmed up to room temperature and be just right for lunch. Or if you prefer your leftover pizza cold, pack it away in an
insulated lunch bag
.
For an American comfort food staple, thoroughly cook or grill hotdogs before hitting the trail. Tuck them into dry buns and place in a reusable container or wrap them tightly in tinfoil. Bring along condiments in picnic-size bottles or small reusable containers, and use food storage bags for toppings like chopped onions, cheese, sauerkraut, etc. Store it all in an insulated lunch bag. When you stop for lunch, you'll have everything you need for the perfect trailside hotdog.
When you need a salty side snack, nothing quite hits the spot like potato chips or goldfish crackers. To keep them from getting smashed in your pack or taking up a lot of room, toss a couple handfuls of each into reusable containers.
Use an insulated thermos to bring along the perfect beverage for an American comfort food picnic: lemonade. And don't forget the rice krispy treats for dessert.
7. The Veggie Lover
Vegans and vegetarians can rejoice in exciting plant-based hiking meals that involve more than just cut-up vegetables and fruit strips. Any of these dishes can be made ahead of time and assembled once you find your perfect picnic spot.
Vegan ceviche: This is primarily made with mushrooms. Get a couple of containers of your favorite kind, wash and dry them, then chop them together with an onion, a tomato, a cucumber, and a half bunch of cilantro. Next, dice up as many serrano chili peppers as you can handle, and add the juice of five lemons, a splash of olive oil, ketchup, oregano, salt, and pepper. Mix everything together and refrigerate overnight to let the flavors blend. Pack in a reusable container and serve with tortilla chips or crackers. Cauliflower can be used in place of mushrooms for this recipe.
Vegan spring rolls: These make a healthy trail snack and super easy to make at home. Grab some rice paper wrappers and roll up your favorite ingredients. Julienned carrots, cucumbers, red bell peppers, diced onion, shredded cabbage, sprouts, cilantro, and basil all work well. Tuck as many rolls as you need into a reusable container. Make a peanut sauce with 1/4 cup peanut butter, 3 tbps of soy sauce, 1 tbsp of rice vinegar, garlic powder, ginger powder, and maple syrup for sweetening, and store in an airtight container to serve with your spring rolls.
Vegan tofu and veggie kabobs: These are an impressive option for the hiking trail. Grill (or pan fry) marinated kebobs the day before and keep them on the skewers. Before heading out, wrap them well in tinfoil, or place the tofu and veggies in reusable plastic containers.
Serve any of these options alongside a vegan salad made from your favorite greens, chopped veggies, avocados, toasted pecans or pine nuts, and dried cranberries. Pack your favorite dressing in a small container and dress the salad when ready to eat.
Homemade or store-bought hummus is always a hit, best served with carrot sticks, sliced red bell peppers, or pita chips. It's a fuss-free snack to share while taking a breather on the trail.
For a cool, refreshing drink, fill a thermos of agua fresca made from cucumber, mint, and agave, blended and poured over ice.
8. The Italian Pasta Fan
Elevate your caprese salad for the outdoors. Skip the squishy tomatoes, which don't pack well, and exchange them for sun-dried tomatoes. Slice fresh mozzarella beforehand and pack with fresh sweet basil and the sun-dried tomatoes in a reusable plastic container. Serve with artisan crackers as a starter.

Before your hike, mix a jar of Bolognese sauce with sautéed veggies and spices and bring to a simmer. Cook and drain your favorite pasta and mix in the sauce. Pack in an airtight container that will keep your pasta warm or room temperature. Bring a small baggie of parmesan sprinkles and crushed red pepper flakes to garnish your picnic pasta.

Or make a cold pesto pasta salad ahead of time by mixing fusilli with a few tablespoons of pesto, some black olives, and toasted pine nuts.

Serve your pasta with a simple green side salad and your favorite dressing.

Don't forget the garlic bread! Bake it the day before and store slices in a reusable food storage bag.
9. Brunch for Lunch
Enjoy your early morning hike through the woods with the promise of breaking for bacon, eggs, and waffles.
Start with a basic necessity: coffee. For summer hikes, make your coffee the way you like it (black, almond milk, vanilla flavoring, etc.) and freeze it. When you get to your resting spot, you'll have a slushy iced coffee at the ready. For a chillier start, pack a thermos of hot coffee to wrap your hands around at break time.
Fry up bacon (or vegan bacon) and wrap it in paper towels before storing in a baggie.
Boil some eggs and, once cooled, pack them into a reusable container or a plastic bag.
Make waffles, pancakes, French toast, or even crepes, and butter them while they're hot. Once cooled, place them in a plastic bag. Bring a small jar of syrup or jam to top them.
Precooked sausages (and veggie sausages) are easy to transport and provide a filling source of meats and fats.
Round out your trail brunch with seasonal fruits, such as strawberries, oranges, or grapes, and slices of your favorite cheese.
Remember to bring
utensils and dinnerware
to serve up these cuisine-themed picnic ideas and any unique meals and snacks you're inspired to create for your upcoming
hiking and backpacking trips
. With some creativity and preplanning, you'll always enjoy flavorful fare on the trail.