The Benefits of Hiking Poles: Do You Really Need Them?
The Benefits of Hiking Poles: Do You Really Need Them?
Ever wonder why hikers carry trekking poles? Here are nine reasons to love them
You may have seen them: adventurous hikers climbing up hills or across switchbacks using
trekking poles
to help navigate the terrain. But what do those poles really do? There's a common misconception that trekking poles are intended for older folks or people with physical limitations. While they can indeed be helpful for people with mobility issues, trekking poles can provide myriad benefits to the full range of active hikers. Whether assisting with balance or providing a better workout, trekking poles can improve anyone's time on the trail.
Here are nine benefits to consider for making trekking poles part of your next hiking adventure.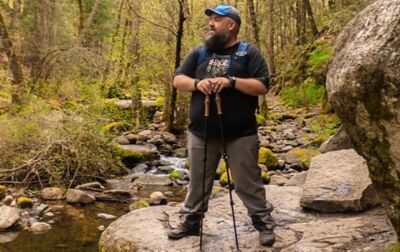 Hiking poles can improve your balance and help you stay on the trail longer.
1. Improved balance
One of the primary benefits of using trekking poles (also called "hiking poles") is the added stability and balance they provide. Particularly if you're hiking on steep, rocky, or uneven terrain—or any time you're
hiking in the rain
—having a pair of trekking poles can help keep you balanced and upright. They can also offer reassurance for people who are just
learning how to hike
.
2. Stay on the trail longer
Trekking poles can help you make the most of your adventure by giving you more time on the trail. The support they provide helps to reduce overall fatigue and boost your endurance, so you may be inspired to keep hiking into the sunset rather than collapsing into a bed.
3. Useful backcountry equipment
Another benefit of trekking poles is their adaptability for multiple uses in the
backcountry
. You can use them as tent poles, which allows ultralight backpackers to carry less weight. Use them to hang wet clothes for drying or use one as a monopod for your camera. They can even work as makeshift splints in a first aid scenario or provide protection for fending off predators.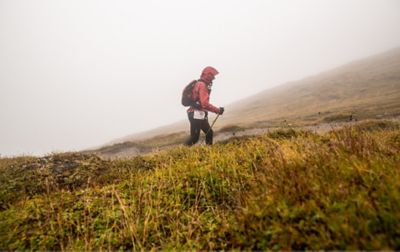 Hiking poles engage your upper body muscles and provide a better workout for your outdoor adventures.
4. A better workout
Hiking with trekking poles engages upper body muscles as you move, which burns more calories and gives you a better workout. The degree to which trekking poles can enhance your workout varies depending on the hike and individual, of course, but they generally provide a nice boost.
5. Arthritis relief
Arthritis can be painful and hiking might cause it to flare up. Trekking poles help to take some of the weight off your joints, making it more comfortable to hike and possibly for longer periods of time.
6. Better weight distribution
For big-and-tall or
plus-sized hikers
—or anyone carrying a heavy backpack—hiking poles can feel like magic. Trekking poles help distribute your weight more evenly, which makes hiking easier on your muscles and joints.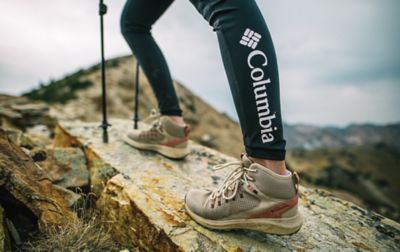 Alleviating knee, hip, and other joint pain is another reason why people use trekking poles when they hike.
7. Alleviate knee or hip pain
Trekking poles can be especially helpful for people with bad knees. Not only that, they can help with hip, ankle, or back pain too, because in addition to helping you navigate the trail, they act as shock absorbers. This lessens the impact on your joints and also provides added support for the rest of your body.
8. Assistance for adaptive needs
Trekking poles can offer folks with adaptive needs more opportunity to get out and enjoy the outdoors. The support provided by trekking poles is a great way for someone with adaptive needs to safely navigate an
accessible hiking trail
.
9. Safely deflect obstacles
Hiking can come with a variety of obstacles, especially in the backcountry—from branches and spiderwebs to tall grasses and bushes. Rather than use your arms to clear obstacles from your path, trekking poles work great to keep your body clear of trail obstructions.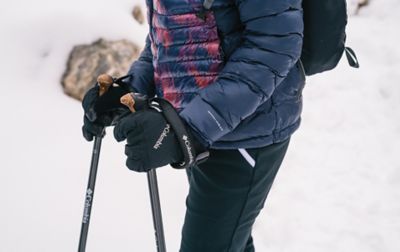 Trekking poles can provide a host of other benefits including arthritis relief, assistance with adaptive needs, and the ability to safely deflect obstacles.