How To Shoot Better Sunsets on Your Outdoor Adventures
How To Shoot Better Sunsets on Your Outdoor Adventures
One of the world's leading adventure photographers explains how to capture the perfect sunset
It's not uncommon to find outdoor enthusiasts who are also photography lovers—when you spend that much time hanging out in the most breathtaking spots on Earth, it only makes sense to want to take some pictures. But sometimes that's easier said than done. Sunsets, especially, rank among the hardest images to capture. How many times, after all, have you taken photos of an exquisite sunset, only to discover the pictures don't match the ones in your head, that the stunning golden orb that was glowing in the sky now just looks like a tiny white dot?
To help you take better shots at sunset, we reached out to
Grant Gunderson
, one of the biggest names in adventure photography. The Bellingham-based action sports photographer, who shoots regularly for Columbia Sportswear, has been published in outlets such as POWDER Magazine, Outside, ESPN, Skiing, Backcountry, and others. He offers his best advice below on how to photograph sunsets like a pro. Whether you're into
hiking
,
skiing
, mountain biking, or
trail running
, there's something in these pro tips for you.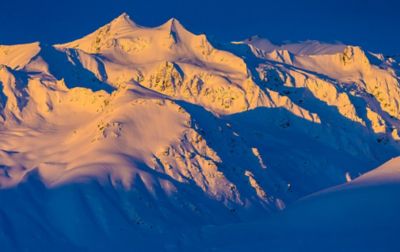 Photo credit: Grant Gunderson
Why are sunsets so hard to photograph?
Unlike other times of day when you can dial in your camera settings and more or less leave them alone, lighting conditions are constantly changing during sunset. This is what makes it so challenging.

"The exposure changes quite fast, so you need to constantly adapt to the changing light," Gunderson explains.

Not only that, if the clouds are moving around a lot you might not get a sunset photo at all. That means that if you have a specific location in mind, you might have to keep returning night after night to get the shot you're after.

"Trying to determine if sunset is going to take place requires a bit of intuition about the weather—and some luck," Gunderson adds. "I've had (plenty of) days where after a beautiful sunny day, it clouded over right at sunset."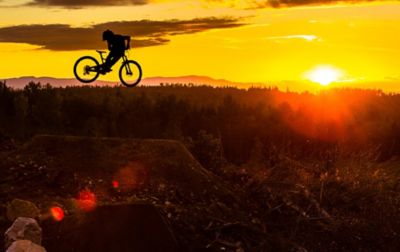 Photo credit: Grant Gunderson
Tips for photographing sunsets
Given the challenges that taking photographs at sunset present, here are some quick and easy tips that Gunderson recommends, particularly for beginners.

1. Use a tripod
This may seem obvious, but you'd be surprised by how often people think this step can be skipped. Attempting to capture a sunset photo without a tripod is a recipe for blurry shots, so take the extra time to set one up. This will ensure that your images remain clear as the light fades and you decrease your shutter speed.

2. Close the aperture down
Not only does using a narrower aperture setting (which translates to a higher F stop) enhance your depth of field (something that's always great for landscapes), it has the added advantage of "creating a cool starburst effect with the sun," Gunderson explains. Plus, you can use it to play around with silhouettes.

3. Don't always shoot into the sun
Shooting directly into the sun can be fun, Gunderson explains, because you can produce more-dramatic images. That said, it can also be rather unpredictable, so make sure to take plenty of safer shots too. During sunset, it's helpful to experiment with a lot of different angles (Also, for your own safety, be sure not to look directly into the sun).

4. Keep it in manual focus
You may think that because the light is changing so quickly at sunset, it makes more sense for you to set your camera on auto mode. However, your camera gets easily confused during this time and your images won't be properly exposed if you do this, Gunderson says. To get the photographs you want, switch to manual focus for sunset.

5. Stay open-minded
With sunset shots, it's common for people to have preconceived ideas of how they want their photographs to look. But Gunderson recommends trying to avoid this way of thinking. "It's important that people don't get too fixated on just one shot at sunset," he says. "The light is changing fast, so if you keep an open mind, you might find even more engaging compositions. Most importantly, don't be afraid to experiment with new ideas."

6. Be prepared for sundown
If you're shooting a sunset during outdoor adventures, it's important to be prepared for what happens after the sun goes down. "Once the sunset reaches its peak, it's going to get dark fast and you still need to ski, hike, or bike back home," Gunderson explains. In addition to a reliable headlamp, it's a good idea to bring extra layers. "The temperature will drop as well, so be ready for that too," he adds.

Can you take good sunset photos with an iPhone or Android?

All of this is great for people with high-end camera gear, but what if you don't have a fancy single-lens camera? Can you still take good sunset photographs with a smartphone? According to Gunderson, the answer is yes. In fact, he says he's been amazed in recent years by some of the images he's seen that have been taken with simple iPhones or Android devices.

"I've seen some pretty amazing photos that people have taken with their iPhones," he says. "The same basic rules of photography apply to all cameras, even phones, so most of the above is all pretty applicable. You just have less control on your exposure."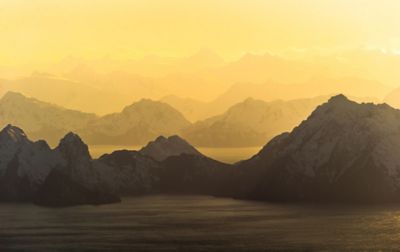 Photo credit: Grant Gunderson
THE BEST CAMERA SETTINGS FOR SUNSET
Here's a breakdown of Gunderson's best advice for shooting sunsets for each camera setting:


Exposure: Stick to manual mode. When you're shooting into the sun, the camera's auto modes are too easily confused.
Focus: Use autofocus (AF) to focus on a key point, then switch to manual focus (MF) so it doesn't change.
Shutter speed: If you're shooting anything with action as the light begins to disappear (e.g., skiing, mountain biking, etc.), make sure your shutter speed is extra fast.
Aperture: Use a narrow aperture (higher F stop) to create a sharper landscape and interesting starburst effects with the sun.
ISO: Even though you normally want to use the lowest ISO possible, you may need to increase this at sunset as the sun gets closer to the horizon.
Lens: Although it depends on the location, wider angles tend to work better for sunsets.
Drive: This only matters for action shots, in which case you'll want a higher drive speed at sunset.
White balance: Always set the white balance to daylight for sunset colors. If you forget this step, the image will try to compensate for the warm tones and look too cool.