How To Still Have A Social Life This Fall (Hint: Take The Fun Outside)
How To Still Have A Social Life This Fall
(Hint: Take The Fun Outside)
Let's face it—life under quarantine isn't exactly the key to a blossoming social life. Sure, you may have done some Zoom get-togethers or Facetimed with your friends but by and large, it's been mostly oversized pajamas and Netflix binges. Now, after a wonderful summer sitting on patios and barbecuing outside, remembering what human contact feels like, the weather is getting chillier and signs of fall are all around. That leaves just one thing on everyone's minds: How will we have a social life if we have to go back inside?
The answer is simple: Don't go back in. Whether you're a college kid in the dorms or a 30-something living in the city, you can do a lot of the same stuff you've been doing outside all summer—you just
need the right clothes
.
According to the CDC, activities are
safer in outdoor spaces
where there's better ventilation and it's easier to stay six feet apart. That means that as long as you have a
good jacket
and
some layers
, you can maintain a healthy and safe social life even once the weather changes. If you're eager for ideas, check out these socially distant outdoor activities below. Just be sure to follow proper
safety recommendations, any guidelines and restrictions from your local health authorities
, and wear a mask when appropriate.
Keep socially distanced with a cozy "No-Touch Bonfire," complete with s'mores, hot beverages, and good friends.
Host A "No-Touch" Bonfire
There's no better way to socialize at a safe distance than by gathering a small group of friends for a "No-Touch" bonfire. The concept is simple: Build a fire, gather around (appropriately distanced and masked as recommended by health authorities), and be merry. Just don't touch each other. You can roast marshmallows, drink hot beverages, and enjoy some good old-fashioned mask-to-mask socialization.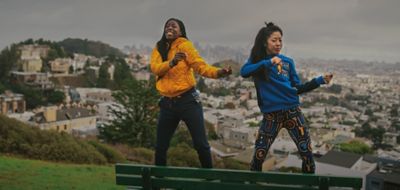 Move your dancin' feet with an outdoor silent disco—it's easier to socially distance. (Model on the left is wearing Columbia Sportswear's Sweet View™
insulated jacket
; model on the right is sporting Columbia Lodge™
leggings
).
Have An Outdoor Silent Disco
Feel like dancing? Missing clubs and house parties? A silent disco is a great way to get your dance fix without having to get too close to people. The idea, for the uninitiated, is that everybody dances in a silent space with headphones on. You can stream the same music together or dance to your own tunes. Since you're wearing headphones, it's easier to keep apart.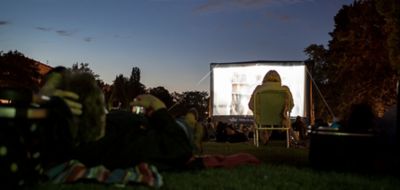 A drive-in movie is a great way to gather with friends without having to be too close to each other.
Do A Drive-In Movie Theater
Movie screen, blankets, popcorn—what more do you need? The best part of this plan is that you can choose how socially distant you want to be. For example, you can stay in your car (yet you'll still be around people) or you can bring a blanket to sit on. All you need is a projector, a wall or mounted sheet, and a space big enough to hold a few cars. Tell folks to
dress warm
and bring some snacks.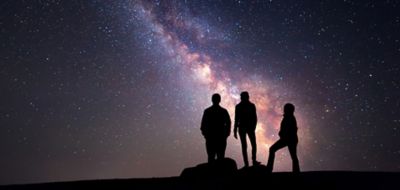 Gaze at the stars under the moonlight this fall where you can stay safer in an outdoor setting but still be social.
Plan A Stargazing Soiree
Lying on the ground watching the stars is one of the best (and most mesmerizing) ways to maintain appropriate distance while still being social. Whether it's a special astral occasion or simply a clear fall night, the starry sky rarely disappoints. This year, there's a blue moon on Halloween—a rare occurrence that won't happen again until 2039. And if you can hold out until Dec. 13-14, the Geminids meteor shower will showcase up to 150 meteors per hour across the sky. For the best views, get out of town and away from the city lights.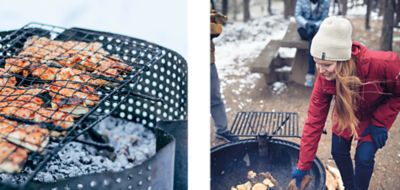 Bundle up and heat up the grill. For an added bonus, pick a winter theme.
Have A Cold-Weather Themed Cookout
Grilling out isn't just a summertime activity. Mini-grills are the perfect winter barbecue tool—just bundle up, turn on the grill, and serve some warm beverages on the side. Hot cocoa? Yes please. Plus, if you're missing all of the fun college theme parties, this is a great way to get your costume fix.
Try one of these cold weather themes:
"80s Ski Lodge" - Everyone wears throwback ski lodge clothes and fanny packs.
"All Your Clothes" - It's like "Anything But Clothes" but the opposite: Wear literally everything in your closet. Whoever's the most bundled up wins.
"Animal Kingdom" - Get out your fuzzy boots and fluffy neck warmers and dress up as your favorite furry animals.
"Parka Party" - Wear your best parka. Look for the largest, coziest, and perhaps goofiest one you can find.
"Apocalypse Party" - Dress for the apocalypse, complete with all of your warm gear and bug-out backpack. Given the year we've had, you should probably have this anyway.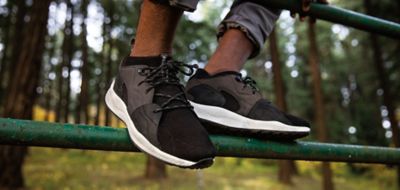 Take to the park with hot cider and play with your friends like you're in middle school—kickball, capture the flag, and four square are still really fun as adults. (Model is wearing Columbia Sportswear's SH/FT™ OutDry™
sneakers
).
Plan "Hot Cider and Recess Games"
Remember all of those fun games you played in gym class or at recess? (I.e. capture the flag, kickball, Simon says, four square, etc.) Guess what? Those are still really fun to play as grown-ups. Make big vats of hot cider and bring them to the park. Get together with your friends and warm up with your favorite throwback gym activities. (Note: If you live in a winter climate, kickball becomes "snowball." This is actually a thing. Google it.)
Also, Remember That Rain And Snow Can Be Fun...
If you run into elements such as wind, rain, sleet, or even snow, keep in mind that these can actually be incorporated into your good time. For example, if the forecast calls for nasty weather on a day you want to be social, try one of these "bad weather" ideas...
Rainy-Day Water Fight
Snowman-Building Contest
Wet and Rainy Toy Boat Race
Extreme Sledding