5 Tips For Your First Snowshoeing Adventure
5 Tips For Your First
Snowshoeing Adventure
Winter is a wonderful time to be outside and snowshoeing is one of the best ways to appreciate the scenery at a pace that lets you soak up the sights. With the mountains blanketed in glittering snow, you can trek along the trails, taking in all of the amazing views around you. Not only that, it's a great workout too. If it's your first time getting out there, check out the tips below to help you make the most of your experience.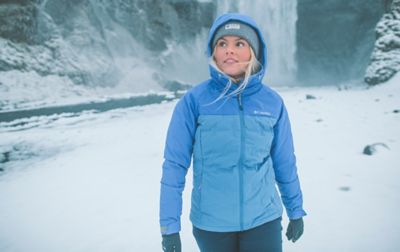 DRESS PROPERLY
There's no quicker way to ruin a fun day snowshoeing than by being cold, wet, or uncomfortable. It's important to
dress properly
and that means wearing clothes that are warm, stretchy, and moisture-wicking. Not only that, you'll want to dress in layers. Opt for a
sweat-resistant baselayer
to prevent you from feeling damp or sticky, along with a
solid mid-layer
and
waterproof shell
. And don't forget your head and extremities. Pack a good hat, a warm pair of socks, and nice gloves. Remember that learning
how to stay warm outside in the winter
is a learned art and the more you practice, the better you'll get.
DON'T PICK SNOWSHOES THAT ARE TOO BIG
Snowshoe sizing is largely based on how much you weigh and most manufacturers have size charts to help you decide. Keep in mind, however, that these are just recommendations. Unlike hammocks or lawn chairs, it's unlikely that you'll snap your snowshoes if you're too heavy for them—you'll just end up sinking down a lot. This can be annoying, but it's often worse to choose a pair that are too big, as they'll be clunky and hard to maneuver. When in doubt, select something on the smaller side of your weight range. The exception to that is if you're planning backcountry treks or if you think you'll do a lot of walking through deep, untracked powder. But if you're just starting out, you'll most likely be sticking to the trails, which tend to be more packed down.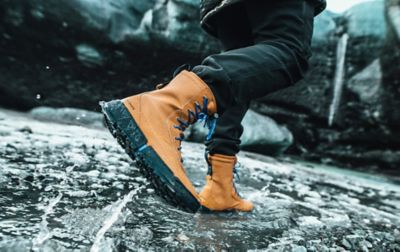 WEAR GOOD SHOES UNDERNEATH
Snowshoes aren't the only thing you need to wear on your feet when you're walking through your winter wonderland. You also need a good pair of
high-quality winter boots
. Don't pick regular hiking boots—they need to be equipped with special winter features such as advanced traction for use on ice and fully waterproof exteriors. You'll also want some insulation (although don't overdo it because a boot with too much insulation can get too hot with all that cardio). Plus, they need to be comfortable since you will be walking in them all day. Look for options with lightweight, well-cushioned midsoles. And if you really want to stay warm and dry, consider adding a pair of gaiters too.
PRACTICE GOOD ETIQUETTE
Once you start down the winter trails, the beautiful solitude may make you feel like you're the only person out there. But in reality, you'll be sharing the trails with other hikers and cross-country skiers. That makes it important to practice
good etiquette
, especially if you want to make friends and do this sport for a long time. Try your best to avoid stepping on ski tracks. This chops up the smooth surface that skiers like to glide on. Walk on the outer edge of the trail whenever possible, and if you're with friends, stay in a single-file line. Also keep in mind that skiers usually have the right-of-way since it's easier for you to hop out of their way or redirect your path.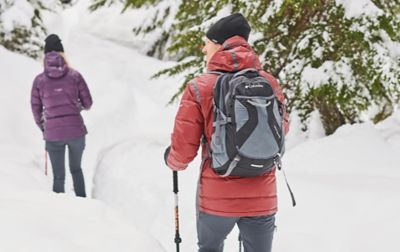 PACK SMART
Don't overpack when you're snowshoeing (a heavy backpack will weigh you down), but don't leave out anything important either. In addition to extra layers, your backpack should have food and a handful of basic survival tools in case something happens and you get stuck on the trails longer than expected. Here's a good beginner's packing list:
SNOWSHOEING PACKING LIST
Compass
GPS device or Personal Locator Beacon
Headlamp
Knife
Fire starter
Small first aid kit
Extra batteries
Emergency bivvy
Extra food and water
Sunglasses
Sunscreen
Extra layers