Why Sportfishing in Southern Baja Is a Trophy Angler's Paradise
Why Sportfishing in Southern Baja Is a Trophy Angler's Paradise
"The beauty of Baja is there's something to do all day, every day. There's always an adventure out there. You just have to find it." ~Marq Lazicky
There's a reason that famed ocean explorer Jacques Cousteau called the Sea of Cortez the "world's aquarium." The crystal-blue body of water situated in southern Baja is chock-full of marine life, hosting everything from whales and dolphins to manta rays and sea turtles. Just across the peninsula, the Pacific Ocean produces the iconic gray whale migrations often seen in glossy magazines and nature documentaries.
In addition to its striking visual allure, the region's incredible biodiversity creates conditions that are epic for sportfishing. In fact, southern Baja is brimming with fishing records. Last year, for example, a California fisherman
broke an IFGA world record
with a sea bass he caught north of La Paz. The year before, a group of anglers
reeled in an 814-pound marlin
near Cabo San Lucas (although they didn't meet guidelines for IFGA qualification). And nearby, a Mississippi man caught a
giant 102-pound dorado
in 2015 that would have nabbed an official record had the scale been certified.
In short, if you're into sportfishing, southern Baja is the place to be. According to local fishing guide Marq Lazicky, the unique variety of species is a big part of its draw.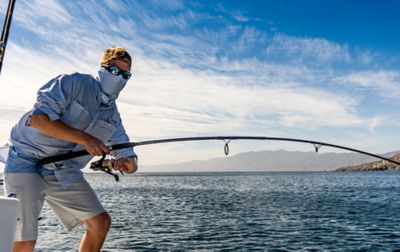 Fishing guide Marq Lazicky (pictured above) says that southern Baja's striking biodiversity is one of the things that draws so many sportfishermen to the region. Photo credit: Fritz Otiker
"The Sea of Cortez is known to be more biodiverse than the Galapagos Islands," Lazicky said. "It has so much (aquatic) life of all different types. Sea lions, whales, a massive variety of sharks. Plenty of game fish and amazing reef and coral. Any kind of enthusiast of marine biology can find something here."

The boat captain, who runs fishing charters for La Ventana Beach Resort, said the southern part of the peninsula boasts a remarkable number of trophy catches. "A lot of destinations in the world have one specific trophy fish," he said. "But if you come down here, there are seven or eight big trophy fish to be caught. You've got wahoo, you've got dorado, you've got tuna, you've got marlin. There are multiple types of marlin, actually. Blue marlin, black marlin, striped marlin. Even just yellowtail, sierra, pargo. And the groupers on the reef.

"All of these fish can get way past 100 pounds. It doesn't matter what you want—there are multiple grand trophy fish here. That's what really makes the Sea of Cortez stick out."

Not only that, he said, there's stellar fishing on the Pacific side too, which is just a couple of hours away.

"If you want to get a marlin, I would say that the Pacific side is the spot you really want to go to," Lazicky said. "Typically because they're pelagic fish, they like to travel around. They like the structure, they like current, and there's a lot more of that in the Pacific simply because it's a bigger road. In the Sea of Cortez, you find more snapper and pargo.

"That's not to say that you won't find both on either side—it's just that the groupers in the Pacific tend to be bigger and more numerous."

When the whales are migrating on that side, he added, they bring giant swarms of sardines with them that make the fishing conditions soar around October, November, and December.

"They're like bait balls," he said. "There are a bunch of smaller (fish) swimming around. You might have seen it on 'Blue Planet' where you have marlins dancing with little fish and sea lions coming around and they're almost coddling them together and dancing. It's a crazy sight to be seen. People from 'National Geographic' come to film them."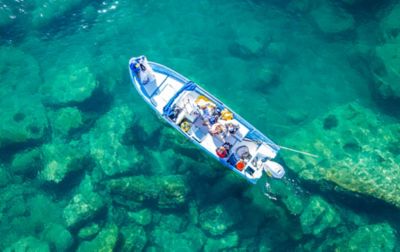 Ocean explorer Jacques Cousteau called the Sea of Cortez the "world's aquarium." Lazicky, who guides fishing trips for La Ventana Beach Resort (pictured above), says the visibility is often 100 feet in the summer months. Photo credit: Elevate Pro Photo
Fall and winter aren't the only epic seasons for fishing in southern Baja, he added. The weather is sunny year-round and in the summer months, the water becomes pristinely clear.

"The visibility becomes world-class in the Sea of Cortez in the summer," Lazicky said. "Close to a hundred feet. You can see the bottom."
When you're not fishing
Best of all, on days you're not fishing, the list of other activities is endless—snorkeling, sailing, hiking, camping, mountain biking—whatever fits your fancy. That's what makes the region one of a kind, he noted.
"There aren't many places in the world where there's something to do every day, depending on the weather," Lazicky said. "If it's calm on the Sea of Cortez, you can go spearfishing, rod-and-reel fishing, scuba diving, boating. If it's windy, you can go kiteboarding or drive over to the Pacific side and go surfing.
"The beauty of Baja is there's something to do all day, every day. There's always an adventure out there. You just have to find it."
If you're looking for lodging options, there's a huge range of options available, from sprawling mega-resorts to laid-back beach "
glamping
"—and everything in between. The same variation is true of the area's dining choices. The smaller fishing villages offer cheap taco stands while bigger tourist hubs feature five-star Michelin restaurants.
Depending on the type of traveler you are, there's an option that fits your style. Each destination offers a different vibe.
"If you want to check out a new restaurant every night and stay in hotels with infinity pools and bottle service, go to Cabo San Lucas," Lazicky explained. "If you want more of an adventure, check out somewhere like La Ventana, which attracts more of a rustic crowd. There's something for everyone down here. It comes down to what you're personally seeking."
Dalaney Overstreet, owner of La Ventana Beach Resort and Dalaney's Tours, casts a net near La Ventana. Photo credit: Fritz Otiker
Finding a charter
The types of fishing charters vary from location to location too. In smaller places like Todo Santos, for example, you'll find mostly pangas and smaller boats, while spots like Los Barriles or Cabo San Lucas offer everything "from panga to yacht."

"The spectrum is huge," Lazicky said. "You could pay for a 40- to 50-foot sportfishing boat with a big deck and an inside cabin, kitchen, all that stuff. You could sleep in it. It really depends on what you're looking for."

The biggest key to success is to pick out the right guide, he said.

"People normally assume when something is the most expensive, it's the best," Lazicky noted. "But that is definitely not the case with fishing guides. A lot of it comes down to personality. Talk to the guide first and think to yourself: 'Do I want to be on a boat with this guy for eight hours?'"

The fishing itself, he explained, is typically a matter of "luck and fate." That's why the other factors become so important when selecting a charter.

"The best fishermen in the world have been skunked hundreds of times and some of the worst fishermen might just get lucky," he said. "So what it really comes down to in selecting a guide service is whether they have the right gear, the right attitude, and the right boat."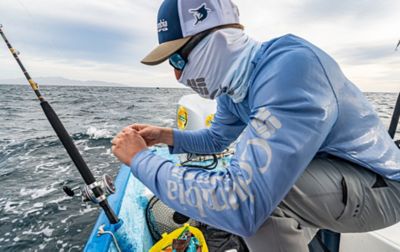 Marq Lazicky says that having the right gear is one of the keys to a successful trip. In addition to a shirt with UV protection, he said it's good to have a
fishing gaiter
for your face (pictured above). Photo credit: Elevate Pro Photo
Once you've caught something, most captains will either fillet it for you or put it on ice to cook for yourself later. Lazicky recommends taking it to a restaurant, however. It's a little secret that a lot of Baja tourists don't know about.

"I've learned down here that if I bring my own fish and say, 'Hey, can you cook this?" most restaurants will say sure. It's not really out of the ordinary. In the U.S., if you bring meat to a restaurant they're like, 'What the heck are you doing?' But here, it's common.

"So find your favorite taco place and bring the fish you caught that day. You'll have the freshest-made tacos ever (and the satisfaction of knowing you caught it yourself)."
Why your gear matters
On top of finding a good fishing charter or staying at the right hotel, Lazicky said another way to make your fishing trip successful is to bring the
proper gear
.
One thing people often forget is how intense the sun can be out on a boat. It's important to have good sunscreen and
high-quality sun gear
, he said. Otherwise, you'll turn into a lobster on day one and ruin the rest of your trip.
Lazicky said he's seen it a million times.
"UV protection is so important," he said. "It's sunny as hell down here. You're exposed to UV rays all of the time. When you're on the water, it reflects right off the surface and you get hit from all of the different angles. In addition to a
shirt with UV protection,
I would recommend wearing a
fishing neck gaiter
over your face. You also need really nice polarized sunglasses and
a hat.
"
Bring something to protect yourself from the wind too, he added. A puffy jacket works well if it's chilly, or you can also use a
lightweight waterproof windbreaker
.
"Those are great for the ride back," he said. "The wind will be taking the swell up and you're usually getting sprayed. On a two-hour ride, even if you're getting sprayed very lightly, you're going to be soaked by the end of it, so you want something slightly waterproof."
You should also make sure you have the
proper footwear
for wet boat decks or slippery docks.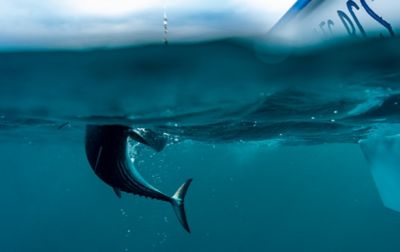 "A lot of destinations in the world have one specific trophy fish. But if you come down here, there are seven or eight big trophy fish to be caught. ... That's what really makes the Sea of Cortez stick out." ~Marq Lazicky Photo credit: Fritz Otiker
The best tip he can offer, however, for having a great fishing trip in Baja, is to not get too hung up on reeling in a certain type of fish.
"There's so much to catch down here, I promise you won't be disappointed," he said. "But try not to come expecting one thing—because if you don't get it, you'll get something else. Maybe you don't get that marlin, but you get a tuna, a wahoo, and a mahi mahi. That's amazing! Some people would die to have all of those fish in one trip.
"That's why they call it fishing, not catching, you know? You can't guarantee anything. That's the beauty of the sport as well. If everyone can go out there and just catch a marlin any time they wanted to, it wouldn't be that cool."
If you are planning a Baja vacation, be sure to check the State Departments Travel Advisories before planning your trip.
Photo credit: Fritz Otiker