Behind the wheel with Bubba Wallace
Behind the wheel with nascar racer Bubba Wallace
As one of just a few dozen athletes in the world who race competitively in NASCAR's top-flight series—and the only African-American driver on the roster—Bubba Wallace is a rare kind of athlete. His love for adrenaline can be seen on the racetrack, yet it's tempered by his laid-back attitude, as well as his passion for quieter pursuits such as
landscape photography
. In 2018, the Alabama native soared to fame after nabbing second place at the Daytona 500, and his rise in popularity continued as he became a prominent figure in the fight for racial equality. Last year, Wallace succeeded in his campaign to have the Confederate flag banned from NASCAR events. Columbia Sportswear caught up with the intrepid athlete to talk more about his life and his career. Check out the interview below.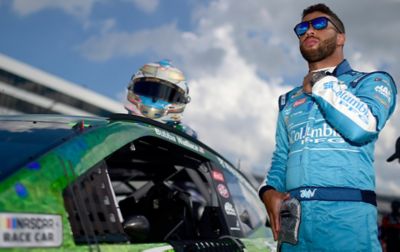 Bubba Wallace, pictured above last August at the NASCAR Cup Series In Dover, Delaware, grew up 15 minutes from the Charlotte Motor Speedway. In 2018, he took second place at the Daytona 500.
Q: What first drew you to NASCAR?
Bubba Wallace: I grew up right next to the racetrack. We were about 15 minutes away from the Charlotte Motor Speedway. I always heard the cars going around, but I never really knew what they were. I got started racing a few years after that with no idea of what to expect, really. But as I got more involved and began learning the ins and outs of the sport, I became a bigger and bigger fan. I didn't see myself being a part of it 18 years later, but here we are.

Q: How did you first learn to race?
Bubba Wallace: I started out in go-karts. A family friend invited us to come watch. In go-karts, as you start moving up through the ranks, the projected path is NASCAR—you get into bigger cars and faster cars and the next thing you know, you're starting to race at some of the NASCAR circuits. On some of those weekends that you're racing, NASCAR is there and you're in front of the big teams. So I just kind of got involved in that way. I started when I was nine, but I didn't really know that I wanted to be a part of it long-term until I was about 16. At that point, I was already heavily involved in the sport at the grassroots level and I was like, "There's really no need to turn back now. Let's keep going."

Q: Tell me about your most epic memory behind the driver's seat.
Bubba Wallace: Hmm, let me think. There have been a lot of good memories. I would say Daytona, finishing second there, and also my first Daytona 500 back in 2018 was really cool.
As a kid, Wallace raced go-karts in front of some of the NASCAR teams. His involvement eventually put him on a path toward the professional racing circuit.
Q: For those of us who don't get in cars and drive really fast, what does it feel like? Can you explain what the adrenaline is like or what's going on in your mind?
Bubba Wallace: Well, it's really hot. During the summer months it gets to be to about 150° in those cars. We have air conditioning and cool suits to help regulate our body temperature, but it's still hot. It's fun though. It's fast. It's really competitive, close-quarters racing. We're bumping each other down the track and, I mean, the cars can take it—the driver just has to be able to be ready for it and to hang on.

Q: How do you train your body to tolerate that kind of heat and stress?
Bubba Wallace: We do heat training, but it's a totally different animal. When you go from practicing or testing to the real deal, nothing is ever the same. So for us, it's just getting into a rhythm and once you do that, you kind of become accustomed to it.

Q: How do you brace yourself for vehicles crashing into you at those kinds of speeds?
Bubba Wallace: You just hang on tight and say, "Here we go." Every once in a while, a "Yahoo!'' comes out too.

Q: Haha, I love that even at the professional level, the sport still provides enough joy for you to be saying "yahoo" behind the wheel.
Bubba Wallace: Oh, yeah. We're all kids at heart.

Q: How do you mentally prepare? Is it as scary and daunting as it looks?
Bubba Wallace: I mean, it has its moments for sure. But we know the safety that goes into these cars. It's evolving even to this day, and it's safe to climb in and out of them, even after a scary wreck. Knowing that and hoping for the best in each scenario helps me mentally prepare. When you have a crash, you have to just get back in and go do it again—it's what we know how to do.

Q: When was the first time you had a wreck that really scared you? What was that feeling like?
Bubba Wallace: In 2018, my brakes went out on one of NASCAR's fastest straightaways. I was doing about 200 [miles per hour] and as I was heading into a corner, the brakes blew up and went to the floor and the next thing, I was heading straight for the fence. I definitely had that moment where I thought I was going to die. About 1.5 seconds before I hit the wall, the car transitioned back up on the racetrack and turned sideways. I said to myself, "Oh, thank God." And also, "This is really going to hurt." After that, I hit the fence. You don't really prepare yourself for those moments because you hope it never happens.

Q: What was going through your mind after that?
Bubba Wallace: Once I knew that I wasn't going to die, I braced for impact. I ended up breaking the gas pedal. I sheared it in half with my foot. I had a tiny knot the size of a dime or a penny on my ankle, but it felt like it was the size of a football for the next couple of days. But all in all, I was good. I got out. I guess you could say I was one Tough Mother after that.
Wallace's next race is March 7th at the Las Vegas Speedway where he will be racing the No. 23 Columbia Camry.
Q: How did you get yourself back on the racetrack after an experience like that? Did you have any mental blocks?
Bubba Wallace: No. No, I didn't. I got back in there the next week because we've all been through crashes and wrecks throughout our career. It just becomes—I wouldn't say a normal thing—but it just becomes another thing.

Q: Is that something that coaching or other training prepares you for?
Bubba Wallace: I mean, yeah. You're gonna lose races. You're gonna wreck out. As long as you can take getting beaten or banged up, then you're going to be fine.

Q: How does training to overcome fear or learning to get back up and dust yourself off translate into other areas of your life? Does it give you the ability to put things into perspective?
Bubba Wallace: You just live life to the fullest each and every day. You never know what can happen. I think that's what I've taken out of these lessons and applied to the big picture.

Q: How is NASCAR different from other competitive sports?
Bubba Wallace: Well, I mean, it's a fast-paced sport, obviously. It's a super competitive sport. It's something that's very thrilling. The crashes, the speeds that we're going. It's high risk. It's crazy to think about, but of all of the people in the world, there are only about 40 of us that do it. The numbers that compete at the top level in any motorsports is a very small number. So I think that's pretty cool. We're out there grinding and sweating away. We're losing three to four pounds of water weight each and every weekend. It's a sport where you have to be mentally, physically, and emotionally tough.

Q: Do you have any sort of good luck routines on race day?
Bubba Wallace: We have a lot of downtime and for me, it's just trying to get a good mindset going into the race and getting a good race-day meal. Whether that's grilled chicken with some vegetables or whatever it may be, just making sure you're both mentally and physically ready to go out and compete. I don't really have any superstitions or anything like that though.

Q: What sort of tips would you give kids or anyone else who might be interested in getting into professional racing?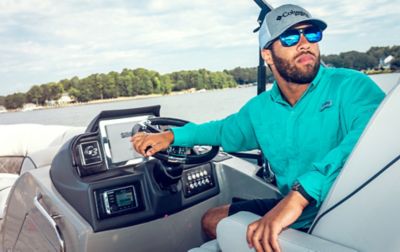 "You just live life to the fullest each and every day," says Wallace (pictured above in a Columbia Sportswear
Tamiami shirt
). "You never know what can happen. I think that's what I've taken out of these lessons and applied to the big picture."
Bubba Wallace: Motorsports is tough because it's a form of racing where you lose more than you win. So you have to be able to accept defeat right off the bat. If you're a sore loser, racing might not be for you.

Q: I understand that you're also a photographer. What drew you to that?
Bubba Wallace: I picked up a camera in 2010 and I've never really put it down since. I've had a lot of fun taking pictures of just about anything. My favorite thing is to capture clouds moving. They're always changing shape and form. Being able to photograph nature has been a lot of fun. I'm more of a landscape photographer than anything.

Q: It's an interesting combination because auto racing is adrenaline-focused while photography requires stillness. Is the balance part of what draws you to it?
Bubba Wallace: Photography definitely balances me out. You need to have patience in the car when nothing is going your way, and in photography, all you're doing is practicing patience. I do lots of time-lapse photography and between setting up to get the right shot or walking to your destination, it's all about patience. So I get to practice that and then use what I've learned in the racing world. It's a nice parallel.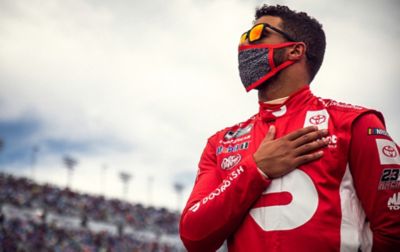 In recent years, Wallace has become a prominent figure in the fight for racial equality and last year, he succeeded in his campaign to have the Confederate flag banned from NASCAR events.
Q: Last year, you successfully campaigned to have the Confederate flag banned from NASCAR events, and you've also been involved in the fight for racial equality. Do you see any more activism in your future?
Bubba Wallace: Yeah, I mean if I could just change one person a day, I think that's doing something positive. It's about getting people to understand and show compassion for one another and not be so divided. I want to show people that you can like someone but not agree with them—that's totally acceptable. In today's world, it seems like if you don't agree with something that somebody says, then you have to hate them or do bad things to show them how you feel. That's not who we are as humans. All you can really do is be the best person you can be and hope that inspires others to do the same.

Q: What made you want to sign on with Columbia Sportswear?
Bubba Wallace: There were a lot of things, but the biggest was talking about what we were going to do off the racetrack and how we can grow our brands together to make positive change. Columbia has been a great partner up to this point and we've got a long future ahead that I'm excited about.

Q: What is next for you with your career and what sort of goals do you have?
Bubba Wallace: We just kicked off last month with the Daytona 500, which was on Valentine's Day. ​We are competing March 5 to 7 at ​NASCAR​ Weekend at ​Las Vegas Motor Speedway​ which will be conducted with a limited number of fans in the speedway. We have 36 races total this year. I'm excited to be heading into the season. I'm motivated, pumped up, and ready to roll.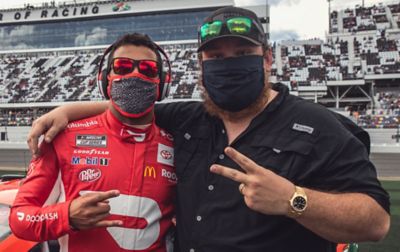 Above, Wallace is pictured with country singer and fellow Columbia Sportswear ambassador
Luke Combs
at the NASCAR Cup Series 63rd Annual Daytona 500.
Headed to the racetrack this summer? Explore Columbia's
Omni-Shade collection
of shirts, shorts, hats and more.