The Best Hunting Gear to Make Your Trip
The Best Hunting Gear:
Columbia's Top 9 Picks
From the warmest jackets to the quietest vests, here's a list of our favorite hunting gear
No matter the season, the terrain, or the game, you need high-quality hunting gear to keep you as warm, dry, and quiet as any animal you're after.
To help you find the perfect picks, we sat down with Bill Ferreira, Columbia Sportswear's Director of Global Merchandising for PFG-PHG, to find out what a hunter should look for to stay protected. He pointed to four key considerations to think about when choosing hunting gear, whether you're after big game or waterfowl:
Breathability
Water-resistance
Quietness
Camo type
The first two considerations go hand in hand.
"With big-game hunting, you need a good rain shell," Ferreira explained. "It's going to rain and you want to be protected. Breathability is number one when it comes to waterproof gear. That's why we have pit zips in our jackets, so you can dump heat if you get warm. Many of the pants also have zippers inside the thighs you can unzip to get some venting."
Quietness is also essential, he said, as is the type of camo you choose. Ferreira spoke to the importance of knowing the environment and climate of where you're hunting—this not only affects how warm or cool you want your gear to be, but also
what camo pattern you select
.
"Hunters in Mississippi or Alabama are going to be dressed totally differently than someone in Ohio or Michigan or Wisconsin," he said. "Regionality definitely plays into it."
Lastly, Ferreira stressed the importance of layering, noting that an
interchangeable hunting jacket
can be a great solution for long days out as it gives you three jackets in one.
"This allows you to dress according to the weather so you can start shedding things so that you're not overheating, but you're still staying warm when you're out early in the morning."
Now that you have a better idea of what to look for, here are Ferreira's top picks for Columbia's best hunting gear for both big game and waterfowl.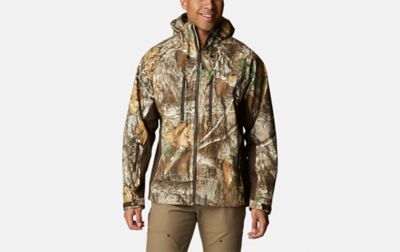 The Best Rain Jacket
Trophy Rack™ Silent Rain Jacket
Staying dry or being quiet—which is more important while hunting? The answer is both, and the PHG Trophy Rack™ Silent Rain Jacket does just that. This high-performance camo hunting jacket is both waterproof and breathable, with underarm venting to help you stay cool when the hunt heats up. Ferreira adds, "It is waterproof, but it also has a sueded face so it's super quiet."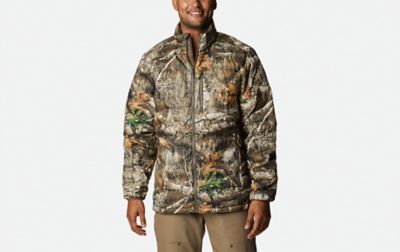 The Best Puffer Jacket
PHG Trophy Rack Omni-Heat™ Heat Seal Puffer Jacket
There's no doubt that animals are born better equipped for the extreme cold than we are. But the Men's PHG Trophy Rack Omni-Heat™ Puffer Jacket is designed to change that. With a thermal-reflective lining and construction that seals in heat, this puffer is guaranteed to bring added warmth to just about any hunting environment, including inside your favorite hunting shell.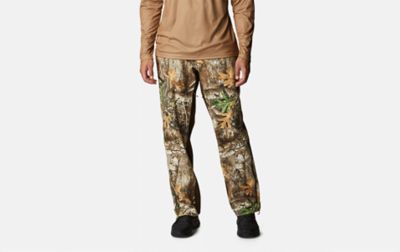 The Best Rain Pants
Trophy Rack™ Silent Rain Pants
When it comes to rain gear for hunting, the right pants are at the top of every hunter's list. Waterproof-breathable Trophy Rack™ Silent Rain Pants repel the wet even after hours of tracking through it, while leg venting ensures you won't overheat. And once you spot the game you're after, the camo pattern and silencing suede inseam mean they'll never see—or hear—you coming.
The Best Parka
PHG Ptarmigan™ Interchange Parka
The best bird hunting companion you can have this side of four legs, the PHG Ptarmigan™ Interchange Parka is a shell and a vest that can be worn separately or together, giving you three wearable options. Constructed of rain- and stain-resistant durable duck canvas and fleece, Ferreira describes this as "a convertible jacket that has a front-entry game bag that goes into the back." It features blaze orange accents to keep you safely visible as well as plenty of deep canvas pockets to store enough shells for limiting out.
The Best Liner
PHG Widgeon™ Wader Heat Seal™ Liner
When it feels like the cold is trying to bag you, it's time to bring out the PHG Widgeon™ Wader Heat Seal™ Liner. Compatible with select Interchange jackets, this camo puffy is ideal as a hunting midlayer. It features a stitch-free baffle construction for zero drafts, thermal-reflective lining, and synthetic insulation, ensuring that warmth is one thing you won't need to hunt for.
The Best Vest
PHG Ptarmigan™ Bird Vest
When gear has "bird" in its name, it's no secret what it's designed to help you bag. The rain- and stain-resistant PHG Ptarmigan™ Bird Vest is made with durable canvas to stand up to briars and thickets as you flush game from the brush. Blaze orange accents keep you visible to other bird hunters and deep pockets keep your callers, shells, and other hunting must-haves at the ready.
The Best Pants
PHG Ptarmigan™ Pants
These are the pants that upland birds will wish you never learned about. Cotton, stain-resistant Men's PHG Ptarmigan™ Pants give you the perfect combination of comfort and protection to keep you on the hunt. Ferreira adds, "It has a canvas overlay so that when you're running through thicket and brush you're not getting chewed up."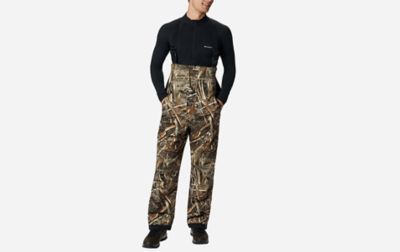 The Best Waterproff Bib
PHG Widgeon™ III Bib
For waterproofness that not even a bird can compete with, check out the
PHG Widgeon™ III Bib,
one of our best choices for rainy-weather hunting gear. Ferreira describes this as "an insulated bib that's fully waterproof with breathable Omni-Tech technology—and it also has Omni-Heat reflective technology in it for warmth." There's even a watertight security pocket to keep your important things as dry as you are—pockets being one of many things that make us superior to our feathered friends