How to Stay Dry: Types of Waterproofing
How to Stay Dry:
Types of Waterproofing
If you're wet, clammy, and miserable in the rain, you bought the wrong jacket. But are all rain jackets created equal? You probably already know that the light trench you'd wear around town doesn't measure up to the thigh-length slicker reserved for kids' soccer games or rainy days at the coast. But—with rainwear labels like water-resistant, water-repellent, and waterproof—how do you know what's going to work best for you?

Here's a quick overview of important differences to help keep you dry and comfortable no matter the conditions.
So many "W's"
Let's start by defining the three key rainwear terms:
Water-repellent – the fabric helps prevent saturation and sheds water. This is often due to a treatment like wax or durable water repellent (DWR) as well as fabric type and construction.

Water-resistant – the fabric resists saturation and penetration, meaning it takes a little while before it starts to soak in. This can be due to the fabric's tight-weave construction, type of fabric, and/or applied treatments.

Waterproof – impenetrable materials and construction simply won't allow water in, meaning it can stand up to a LOT of rain. Waterproof-breathable fabric also works to reduce that clammy feeling.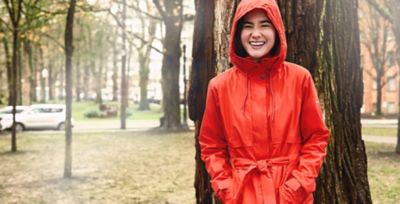 A light drizzle
If you're spending a short time in light rain,
water-repellent
and
water-resistant
jackets are ideal. Most tightly woven nylon or polyester fabrics can provide some water resistance (unlike cotton, which absorbs like a sponge). If you're just dashing from one place to another, that's probably all you need. Most of the time, water-repellent jackets are treated with DWR to create a surface that sheds water, preventing it from soaking into the fabric as quickly.
Water-resistant jackets provide slightly more protection without going fully waterproof (water-resistant and waterproof gear is also water-repellent). Because they require less engineering,
water-resistant jackets
are often less expensive and are offered in a variety of stylish silhouettes with or without hoods. But if you spend too much time in the rain or get caught in a storm, that water-resistant jacket may get saturated (also known as "wet out").
Tip: Water-repellent properties don't last forever. Because it's applied to the fabric, DWR will eventually wear off. The good news is you can buy spray-on or wash-in DWR, reapply it, and extend the life of your jacket.
Shower to downpour
If a dark sky turns into a hard rain, you're hiking, fishing,
camping
or
hunting
all day in nasty weather, or sitting in a stadium for hours getting rained on—you need a jacket that's fully
waterproof
. Waterproof jackets both repel water and resist it for longer than water-resistant jackets. They're designed to stand up to extended or extreme exposure and are engineered specifically to keep you dry over time, often featuring sealed seams and special zippers.
Tip: What does "seam-sealed" mean? Jackets stitched together with thread have tiny holes that let in water. Waterproof jackets have seams that are taped or welded to keep water out. Fully seam-sealed jackets are more waterproof than critically seam-sealed, and welded seams usually hold up to a soaking better than taped (unless the tape is on the outside, which effectively seals out water).
Not all waterproof jackets are
breathable
. A rain poncho for brief excursions may not need to be, but jackets built for the long haul must achieve a balance between breathability and waterproofness. Plastic is completely waterproof but wearing a garbage bag will quickly turn you into a sweaty, clammy mess.
Multi-layered construction
with fabric on the outside and a microporous membrane with taping on the inside protects you from the wet while allowing excess moisture to escape.
If you're
exercising or exerting yourself in the rain
, a highly
waterproof-breathable
jacket is essential.
State-of-the-art rain jackets
feature external membranes with tiny pores that allow water vapor (from sweat) to escape while sealing out surface moisture, ensuring zero wet out. And by placing the membrane on the outside and fabric on the inside to manage moisture, unrivaled next-to-skin comfort is achieved.
Weather or not
If conditions are uncertain you can always opt for a
3-in-1 jacket
with two separate layers—typically an insulated liner and a waterproof shell—each of which can be worn alone or zipped together for maximum warmth and rain protection.
Want more outdoors? Connect with @Columbia1938 on Instagram or learn more about staying dry with Columbia innovations on our technology page.