Men's Snowblade™ Waterproof Boot
Details
http://www.columbia.com/mens-snowblade-waterproof-boot-1553551.html
1553551
Greater Rewards
members earn

599

points with purchase
Variations
Product Actions
Features
Waterproof, seam-sealed suede give this lightweight boot its charm. An ultra-responsive midsole, comfy footbed, and super gripping outsole make this the ideal cold weather boot.
Features:
Seam-sealed waterproof construction
Techlite™ shell
200g insulation
Insulation rated -25F/-32C
Weight: size 9, ½ pair =17.2 oz / 488 g
Imported
Material
:
UPPER
Waterproof seam-sealed suede leather
SHELL
Techlite™ lightweight flexible shell
INSULATION
200g
MIDSOLE
Techlite™ lightweight midsole for long lasting comfort, superior cushioning, and high energy return
OUTSOLE
Omni-Grip™ non-marking traction rubber
Techlite™
Cushioning midsole
OMNI-GRIP®
Advanced Traction
Technology Videos
Techlite™
Superior cushioning for impact absorption and high energy return.
Omni Grip™
HOLD TIGHT
ON ANY TERRAIN.
Advanced traction outsole treads grip every environment.
Reviews
Rated

4.5

out of

5

 by

44

reviewers.
Rated

5

out of

5
 by
Joselito
best boot
very comfortable for working in the snow, keeps my feet very warm.
December 2, 2016
Rated

4

out of

5
 by
Adamas
Light weight and very warm
Pros 1. Light weight 2. Warm 3. Quality is good Cons 1. Not quite flexible 2. Color is a bit difference
October 3, 2016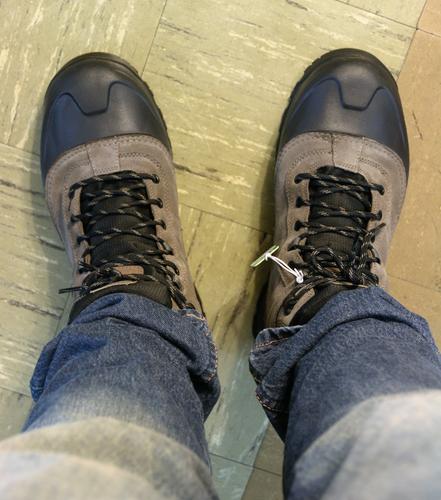 Rated

3

out of

5
 by
ATXCLYDE
Nice boots but runs large
I read some reviews that all said that the boot ran small so I ordered a 12 instead of my normal 11 or 11.5 and they are huge on me. Wish I wouldn't have listened to the reviews. Sent them back. They do seem like nice boots though.
June 6, 2016
Rated

5

out of

5
 by
quilthen
Great looking but way small
Great looking boot, wish they had fit. I have returned them and sadly couldn't get another in the proper size. I ordered 1 size larger than I wear. I did order another style, hope they fit. I ordered 2 sizes larger than I wear.
June 1, 2016
Rated

5

out of

5
 by
outdoor222
great snow boot
boots feel very lite, they run small in size, I wear 9.5 to 10 got the 10.5 and fit great
May 6, 2016
Rated

5

out of

5
 by
joe12
Fishing Boots
Great boots. Water proof and warm.
April 17, 2016
Rated

5

out of

5
 by
Mom002
Great product
Appealing to the eye and kept my hubby's feet nicely warm and dry while walking in mounds of snow during our skiing trip. He loves these boots!
March 13, 2016
Rated

5

out of

5
 by
Theodocious
Great boot!
This is my second pair that I've purchased. The snow blade is light, warm and comfortable. It runs about a half size smaller than average. It handles well in icy conditions and is very flexible. I'm very pleased.
February 28, 2016
Rated

5

out of

5
 by
Fibberz
My husband LOVES THEM!
Got them in black for my husband and he loved the arch support, how warm they are (though it hasn't been terrible lately in MN), and the overall look. Great quality!
February 25, 2016
Rated

5

out of

5
 by
Praveen
very good, true to size and Light weight
very good, true to size and Light weight. Don't even think twice they very comfortable. excellent value for price..
February 25, 2016
Rated

3

out of

5
 by
Spryboy
Runs large unlike other Columbia shoes
I have several pairs of Columbia shoes, hiking boots and winter boots. All are size 10. I bought the Snowblade boots in size 10 and they were way too big. I am returning them.
February 19, 2016
Rated

4

out of

5
 by
Carman
Very good
I brought this boot for my husband, he like it because very light and very good in snow
February 10, 2016
Rated

5

out of

5
 by
Mavrick
Awesome
Highly recommend it to anyone that's looking for a nice warm snow boots very comfortable
February 10, 2016
Rated

5

out of

5
 by
GDavis72
Excellent boot!
Excellent winter boot at a great sale price ($39.98). These boots have kept my feet warm and dry during the few snowfalls we have had so far this winter. They are very light and comfortable.
January 26, 2016
Rated

5

out of

5
 by
Rad1
Good boot
I ordered 9.5 because it said order 1/2 size bigger. They fit with heavy wool socks. I ordered another pair in size 9 to wear with regular socks. These are true to size. Order your normal size.
January 22, 2016
Rated

2

out of

5
 by
oleswanny14
Not what i was expecting
I'm disappointed in this boots quality. Not what I was expecting after owning 2 different styles.
December 21, 2015
Rated

4

out of

5
 by
ggnore
big toe box. NOT SMALLER. comfortable
these boots do not run small, as others have suggested. the majority if not all of my shoes are size 7.5. i read all the reviews stating for me to go up a half size. i ordered an 8 and it was way too big. i believe these would be true to size if i were to order another pair.
December 10, 2015
Rated

4

out of

5
 by
Steve2011
Good Shoe
I bought a pair of brown and black and as was mentioned on the website, they do run slightly small but they still fit my feet well enough. They do seem a little on the wide side. The one issue I have is the same with most every pair of shoes I have purchased from Columbia. The laces are not long enough. These days if you tie shoes laces single knot, they don't seem to stay tied. So, I find that tying a double knot is the solution. In case your wondering, every time I buy shoes from you folks I also by a pair of 72" laces.
November 22, 2015
Rated

5

out of

5
 by
gdg316
Uncomfortable Boot
Uncomfortable , Columbia has better boots this is not one of them. Not great arch support and cushioning under foot
September 13, 2015
Rated

5

out of

5
 by
DickStrong
OMG I love these!
I was not even looking to purchase winter boots but I stumbled upon this and noticed the combination of great sale price and so many positive reviews for the product. So I went ahead and ordered them. I wasn't sure what was in the package because it was so LIGHT. I thought well maybe I ordered a sweater or something and forgot about it, which happens to me. When I pulled it out of the package and saw it was the boots I was like OMG these are light and I love that! I just hate HEAVY boots. I get tired from walking in heavy boots it's like strapping on weights to my feet. So then the next thing was okay so how do they fit? I put them on and OMG they feel so comfortable like slippers and my feet started COOKING! Which is good because it's currently summer, and NYC has a heatwave, and I purchased this for the winter. I am glad that from reading the reviews many customers advised getting a half size larger, which I did and they fit great. Columbia really needs to talk to their Chinese factories and get strict on the quality control of the sizing because everything I have purchased so far that is O/S as in One Size, fits PERFECT! But just about everything else I have to order bigger than my normal size. Which means now I have to buy three of each item and return two. But back to the boots, if they have the same model in a taller size, for the heavy snowfall, I will get those as well, when they are on sale! P.S. I am going to wait for the next sale, hopefully Labor Day, to get these in the Brown color as well.
September 2, 2015
Rated

5

out of

5
 by
AHJL
Great all purpose winter boots
These boots are comfortable and keep me warm and dry in cold, snowy, wet Philadelphia winters. I use them mostly for walking but they're lightweight enough that they work for my bike commute as well. They're a little clunky but comfortable enough to wear inside. They've been through one winter so far and I expect they'll hold up well for more.
July 1, 2015
Rated

5

out of

5
 by
BootNStuff
This product is as good as listed
I listed the fit as "Runs a little small". I normally wear a size 7 and ordered a size 7.5. Perfect fit for me.
June 11, 2015
Rated

5

out of

5
 by
JBizzle
Excellent Boot
Picked these up for a great deal. I was unsure of quality for $39 but I'm very impressed. If I paid full price at $89, I still would have been happy; they feel even more expensive like a $120 boot. Very comfortable/squishy sole, multi-purpose, rugged, waterproof and very light for size of boot. Some said the boot ran a half size small but I wear a 12 and they fit perfect. If I went up half size then 12.5 would have been too big. Great product from a well known company at an unbeatable price. You won't be dissapointed.
June 6, 2015
Rated

4

out of

5
 by
Jay0327
Incredibly comfortable!
Im a landscaper in Fl, these are the most comfortable boots I've ever owned in 17 years. I don't get wet or dirt in them. They actually don't overheat my feet as it was my only worry being that I worked in the heat. Would absolutely recommend in all types of weather.
June 3, 2015
Rated

5

out of

5
 by
anna5
Excellent!
I bought this shoes for my husband... and then for my dad and brother) Perfect quality, no weight. Hope they will last long
June 3, 2015
Rated

4

out of

5
 by
Tomga
Feels good
I just bought these boot and have not used them for the intended purpose yet. I tried them on and took a short 4 mile hike in the rocky desert mountains of west Texas. They were stable, comfortable and hot all good indicators for winter boots.
June 3, 2015
Rated

5

out of

5
 by
PickledHerring
Very nice boots. Good fit
Needed a pair of good winter boots without breaking the bank. Based on previous reviews, decided to give these a try. Boots fit pretty well. Many reviewers mentioned that they run a tad on the small size and to order a size up than you normally would. Great advice as the size 12's I bought are just a tad snug. The boot lining/insulation adds a little bit of bulk but it's well worth it. If you wear thick socks then you'll definitely need to order a size larger. I normally wear regular socks so it's not that big s deal for me. Haven't tested the water proofedness of this but it seems like a good quality shoe that should hold up for next winter. Look/style of the boot is nice as some other winter boots can look a little gaudy. Overall, I like the boots, they fit pretty well and, assuming they are waterproof, then these should be just what I need when winter rolls around again.
May 28, 2015
Rated

5

out of

5
 by
StuPidassole
Great Boot
These boots keep your feet warm and dry. My feet are 9 1/2 wide so I ordered a 9 1/2. The day I got them I had on thick wool socks and the boots were way too tight. With regular socks they are a little tight but not uncomfortable. I didn't need the wool socks and my feet did not get cold. My feet did not hurt and they did not get wet. I work as a UPS driver and had them on for over ten hours the first day without any complaints. I regret not buying them sooner as I only got to wear them for 2 weeks before the weather warmed. If I had to do it over I would have got a 1/2 size bigger but, like I said, my feet did not hurt at all.
March 11, 2015
Rated

4

out of

5
 by
DeeMan
Great Snow Boot
This boot is warm and comfortable. Wide toe box. The feel on the inside is on the soft side. Nice traction in the snow. Well made...should last for years to come. Great deal $$
March 9, 2015
Rated

5

out of

5
 by
Shawnsink
Keep your feet warm & dry!
I purchased these to replace a similar pair that I had owned for about 6 years. The fit is excellent - something I was concerned with, as I have wide feet. No worries!! I live in New England, and work outdoors, so, keeping my feet dry and warm in the winter time is key. This is an excellent general purpose winter boot.
March 6, 2015
Rated

5

out of

5
 by
centsmar
Snowblade Waterproof Boot
Reviews and product details are right on. Very light, good traction and warm for the Chicago weather. Love these boots. I do recommend go up at least 1/2 a size or one as the boot is snug but yet large on the outside-especially if you are going to wear thicker socks, however, I have been wearing normal socks and my feet are warm. I am wearing them now, I forget I have them on around the office.
March 5, 2015
Rated

5

out of

5
 by
wfd324
Great Boots.
Great boots for a New England winter!
March 5, 2015
Rated

5

out of

5
 by
TonyB
Outstanding boots
I bought a pair each for my son and nephew. I felt compelled to test them and here are my findings: The boots are 'fashionable' enough for office wear. Besides being warm, they are: lightweight, have good traction, and have excellent cushioning. The boys concurred with my judgement.
February 28, 2015
Rated

4

out of

5
 by
kendog
great snow boots
This boot is warm and waterproof and perfect for snowy conditions. It is also lightweight and can be worn all day.
February 25, 2015
Rated

5

out of

5
 by
Abner
Excellent boots
I clicked on fit a little small because my recommendation is to buy at least 1/2 a size bigger than what you use. My regular size is 10 1/2 and I bought size 11 because a friend recommended me that. 11 fits perfect. I believe the reason is the insulation. The boots are great functionality speaking. I've walked on the snow and my feet remain dry and warm. I definitely recommend this product.
February 19, 2015
Rated

5

out of

5
 by
Sadmorgan
Great Boots!
I bought 3 pairs for my husband, son and brother all three are very happy. Perfect for New England weather warm and light boots!
February 15, 2015
Rated

4

out of

5
 by
keithhanley55
Men's Snowblade Waterproof Boor
Purchased boots 3 weeks ago, have worn in wet, snow and cold conditions. Have to say boot has held up very well, feet have been dry, extremely warm, and boot is comfortable to shovel and walk in. My foot is wide and boot fits comfortable at real shoe size. I would recommend for someone looking for a warm, waterproof day to day boot.
February 12, 2015
Rated

5

out of

5
 by
cxn28
Great winter boot
Bought these boots for a trip to Iceland and they're exactly what I was looking for. Feet stay warm and the traction is good. Removable insoles let me slide in the orthotics my podiatrist gave me, and the boot is surprisingly comfortable, not stiff like other others I've owned.
February 1, 2015
Rated

5

out of

5
 by
Rick79
Lightweight and warm
I was very surprised when I pulled these out of the box and felt how light they are! Once they were on my feet, I realized they are very warm. I've only had them a couple weeks, so durability is still a question. But, I love these boots!
January 22, 2015
Rated

4

out of

5
 by
Karebear96
Great Boots!!!
I am not a big fan of boots but living in upstate New York I have no choice because of the amount of snow we get up here. Anyways, I am happy with the quality and function that these boots provided me thus far in the snowy weather. I am especially happy about the pricing of the boots. I recommend anyone who is just looking for simple good winter boots to buy these.
January 19, 2015
Rated

5

out of

5
 by
Mike121886
Great winter boots
This is my first pair of Columbia boots , man I made the best decision on buying winter boots , they keep my feet nice a warm and dry
January 15, 2015
Rated

1

out of

5
 by
Bona
My feet freeze every time I go outside
These boots say they are good up to -32° Celcius. I've been wearing them in -20 and my feet freeze right away. Wearing 2 pairs of Smartwool socks inside of them. I bought them to keep my feet warm and they do not do what they say on the tag.
January 2, 2015
Rated

5

out of

5
 by
GiantL
Great boot.
I've had the boots about three weeks and use them every day in the course of my job, which has me outside in and out of a car and walking on pavement, crushed stone, and snow and ice for 5-6 hours each day. The boots are warm & definitely waterproof, and comfortable regardless of sock. The interior lining feels great, and the boot is very well cushioned. The waterproof base of the boot is sturdy and does what it's supposed to do, and has really good grip on slippery surfaces - with my old boots I always needed yak trax on ice, with these boots the grip is excellent and I haven't needed the trax (yet). It also does not seem to pick up any junk and track it inside like some soles do. The only thing that I've noticed is that the boot is slightly wider than I expected both inside and out, and I feel that an extra sole insert gives it a better fit, if you like the boot to closely hug your feet (I do and typically use an insert). There is just enough room in the toes to keep them warm and let them move a little without sacrificing stability. While it is holding up just fine right now, I am slightly concerned that the seam between the suede upper and the rubber on the base could start to pull apart, only because I am already starting to see some fraying at the heel... but I'm also pretty rough on these boots. The single set of lace hooks at the top of the boot are surprisingly good at locking the laces in... sometimes I have had difficulty loosening the laces to put the boot on when I haven't realized that the laces are still hooked in. Overall a great boot - when this pair eventually wears out I'll probably get another pair.
December 7, 2014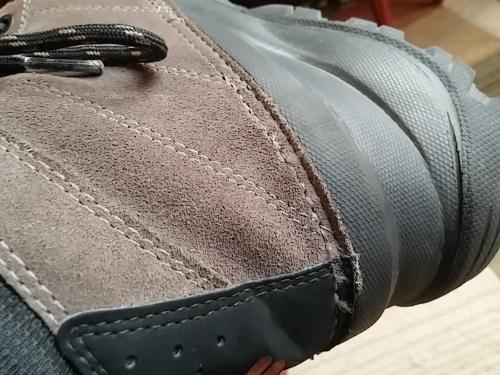 Rated

5

out of

5
 by
Voltron
Excellent Gift!
My black Columbia Snowblade boots were received as a gift. I have always worn heavy, leather boots. The Columbia Snowblade is refreshingly light-weight in comparison to my regular gear. They are indeed waterproof, and have excellent insulation. In every way, they appear to be well made, and the tread appears to be ideal for winter. I switched the insoles to a gel pair, and am extremely pleased with the fit, comfort and warmth of the boots. Due to the insulation, the shoe appears wider than my normal shoes. I am a true believer in function over fashion, and the Columbia Snowblade boots seem to meet both needs to my satisfaction.
December 5, 2014
2017-02-01
bvseo-cps-pl-PRR
2017-02-01 T14:26:31.326-06:00
bvseo_lps, prod_bvrr, vn_prr_5.6
cp-1, bvpage1
co_hasreviews, tv_44, tr_44
loc_en_US, sid_1553551, prod, sort_default
Size & Fit Guide
Men's Shoes
| | | | |
| --- | --- | --- | --- |
| USA | UK | EU | CM |
| 7 | 6.5 | 40 | 25 |
| 7.5 | 7 | 40 ⅔ | 25.5 |
| 8 | 7.5 | 41 ⅓ | 26 |
| 8.5 | 8 | 42 | 26.5 |
| 9 | 8.5 | 42 ⅔ | 27 |
| 9.5 | 9 | 43 ⅓ | 27.5 |
| 10 | 9.5 | 44 | 28 |
| 10.5 | 10 | 44 ⅔ | 28.5 |
| 11 | 10.5 | 45 ⅓ | 29 |
| 11.5 | 11 | 46 | 29.5 |
| 12 | 11.5 | 46 ⅔ | 30 |
| 13 | 12.5 | 48 | 31 |
| 14 | 13.5 | 49 ⅓ | 32 |
| 15 | 14.5 | 50 ⅔ | 33 |
| 16 | 15.5 | 52 | 34 |
| 17 | 16.5 | 53 ⅓ | 35 |
How to Measure
How to Measure
Fold up at dotted line.
Place against a wall or other 90 degree surface.

Place heel against fold/wall on flat level surface.
Mark the end of the longest toe with a pen or pencil.
Measure both feet and use the larger measurement.
Read measurement and compare to size chart.
When comparing on the size chart, determine the closest larger measurement and use that number to determine your shoe size for your country's shoe measurement standard.
Shipping & Returns
Shipping & Returns
Shipping Information
Shipping Method
Rate
Expected Delivery Time
UPS Ground
$6.00
3-7 Business Days

UPS 2-Day Air
$12.00
2-3 Business Days
UPS Overnight
$19.00
1-2 Business Days
Free Standard Shipping
Available for Greater Rewards members. Learn more
Return Policy
Returns are accepted within 60 days of the purchase date online or in-store. Your apparel must be in original and unworn condition, with tags still attached. Footwear returns must also include the original box.
Still Have Questions
See our Customer Service section for more details. Visit Customer Service