15 Tips for Staying Cool in Hot Weather
15 Tips for Staying Cool This Summer While Being Active
Whether you're hiking, fishing, paddleboarding, or trail running, here are some ways to keep from overheating
Spring has arrived and it's the perfect time to get outside and start doing the things you love again, whether that's
running
,
hiking
,
fishing
, or kayaking. But as summer gets closer and the hotter temperatures start creeping in, it can get tougher to enjoy yourself outdoors. After all, it's hard to be fully present on a nature hike when you're dripping sweat. To help you stay cool, we've put together a list of the best tips for being active this summer.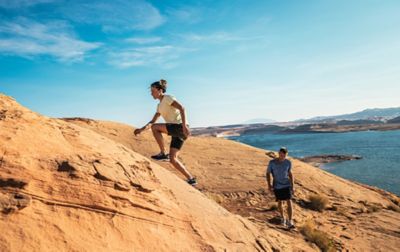 Hiking and Camping
Start early: If you want to stay cool and keep your body at a pleasant temperature, don't begin an arduous trek at high noon. Start earlier in the day—before sunrise even—and enjoy the benefits of the crisp morning air. This is especially helpful if your hike involves an uphill climb, because by the time the sun gets really hot, you'll be on your way back down.
Choose your location wisely: Don't just open up your guidebook and point to any trail if you're planning a hike in the summer heat. Look for options with lots of shade and water. Seek out wooded areas with forest canopies, or deep canyons that are sheltered from the sun. Opt for locations near lakes, rivers, and other bodies of water where you can stop to cool off. And if you're feeling really adventurous, try a night hike. (Just be sure to bring proper lighting and safety gear.)
Bring an extra shirt: If you sweat a lot, it's helpful to bring an extra T-shirt. That way, when you arrive at the top of the hiking trail or make it to your campsite, you won't have to sit around in cold, wet clothes. This is especially important in the mountains, deserts, or other locations with significant changes in altitude or rapid drops in temperature.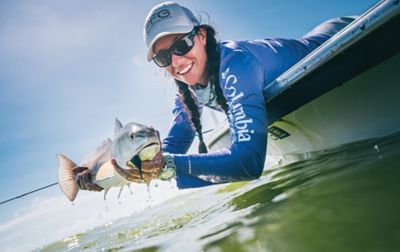 Fishing
Wear a hat: This piece of hot-weather gear is one that is often neglected on fishing trips, but it's so important. Between the hot sun shining down from above, and the bright glare reflecting up from the water, you're getting hit from all angles. If possible, select a hat with a wide brim, like a booney hat or bucket hat, that's made with cooling vents and sun-protective material.
Select clothing with UPF sun protection: Instead of gobbing on sunscreen every 30 minutes, wear long-sleeved clothes with UPF sun protection that can offer you a barrier from the sun. In addition to feeling breezier (and less sticky against your skin), you'll reduce the amount of chemical or mineral sunscreen you have to use. You should still wear sunscreen—this simply allows you to use less.
Don't forget sunglasses: The glare from the water doesn't only damage your eyes. It can cause headaches too. Wearing polarized sunglasses while fishing will make your experience more pleasant, and while it won't directly keep you cooler per se, it will reduce that sluggish hot and tired feeling you get after a long day on the water.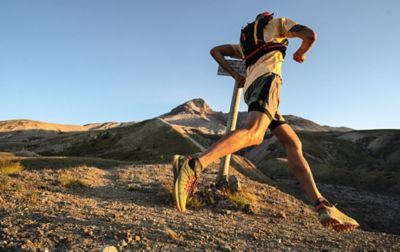 Trail Running and Exercise
Stay hydrated: This tip may seem obvious, but it's hard to overstate the importance of staying hydrated when you're outside running or exercising in the heat. Instead of using a regular handheld water bottle, opt for a hydration pack that you don't have to carry. Having something easily accessible that you can sip from at any time will help you hydrate more frequently.
Pick the right socks: If you don't want your feet to become hot and sweaty pools of perspiration, choose high-quality running socks that are made from materials like polyester, acrylic, or merino wool. These breathable fabrics offer excellent ventilation that will keep you cool while you run. Not only that, they provide moisture-wicking properties that transport sweat to the outer layer of fabric where it can dry quickly. Whatever you do, avoid cotton.
Experiment with "pre-cooling": Rather than waiting until you're dripping sweat, why not start to cool down before your run? Use pre-cooling strategies like sipping a cold beverage, wearing an ice vest, or sitting in a cold, air-conditioned room to cool yourself down ahead of time.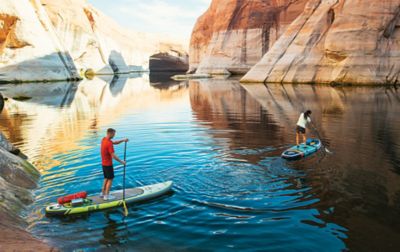 Paddleboarding and Kayaking
Wear moisture-activated clothing: Outdoor gear is extremely high-tech these days and advanced fabrics are available that offer both moisture- and sweat-activated cooling features. The innovative material works like a cooling towel, except that you can wear it on your entire body. When it gets wet or moist, it releases heat and lowers the temperature of the fabric.
Chill your water bottle: The night before your paddleboarding or kayaking adventure, fill your water bottle halfway full and freeze it overnight. Before you head out the next morning, top it off with room-temperature water. As the day unfolds, the water will melt the ice, keeping it cool and fresh. Just be sure to only fill the bottle halfway for the ice so it doesn't crack the sides of the bottle when it expands.
Use the "dip your bandana" trick: It may seem simple, but dipping your bandana in cold water throughout the day is an extremely effective way to keep yourself cool and regulate your body temperature. Neck gaiters also work well—and some also feature cooling technology. Make sure, however, that you're pulling the water from a clean, non-polluted source that isn't too stagnant.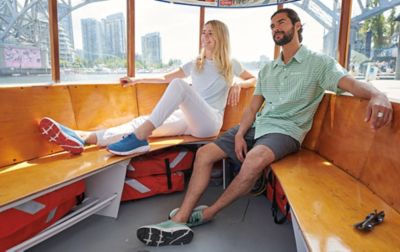 Around Town
Pick your clothes strategically: If you're planning to spend the day outside (whether running errands or playing at the park), you'll be much happier in cooling clothes with heat-managing properties. These might include shirts with air vents or cooling flaps, or clothes made from breathable, lightweight material like nylon or polyester. They should be loose fitting and light in color (avoid dark shades like black or brown).
Be smart about how you schedule your day: If you're running errands in the heat, don't pick the hottest part of the day to be doing things outside. Plan a noontime break to eat lunch or sit somewhere with air conditioning so you can cool off. Do the hottest activities you have planned early in the morning or in the evening.
Avoid extreme temperature changes: Rapidly switching from extreme heat to extreme cold without allowing time to acclimate can cause stress on your body. Rather than striving for fast changes in body temperature, allow yourself to cool down slowly.
A versatile and stylish sun dress with wicking fabric, built-in UPF 50, and just-right stretch.
Sale price:

$54.99
Regular price:

$80.00
A comfortable, flattering dress enhanced with UPF 50 sun protection and advanced cooling technology.
Cooler heads always prevail, if you're in a lot of sun, then you need a lot of hat, it's a simple as...
Read More
A light, soft, comfy sunguard hoodie outfitted with UPF 50 sun protection to keep them safe.