Bucket Hats vs. Booney Hats: What's The Difference?
Bucket Hats vs. Booney Hats: What's the Difference?
From sun protection to cooling features, learn about the key differences between these popular hats
Two of the most commonly misidentified hats in the outdoor world are bucket hats and booney hats, one often mistaken for the other. The confusion makes sense—both are similar in size and shape, and tend to be made of similar materials. But they each have some unique features, both in terms of style and function.
To help explain the differences between
bucket hats
and
booney hats
, we enlisted Meghan Baldys, principal apparel designer for Columbia Sportswear. Read on for her expert breakdown of these two popular hats.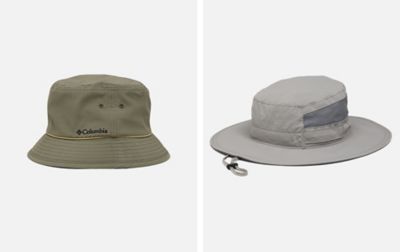 What's the difference between bucket hats vs. booneys?
There are several key distinctions between the two, Baldys explains:
Booney hats have wider brims to provide extra shade coverage.
Bucket hats have taller crowns, making them more versatile style-wise—they can sit high on your head or be pulled down close to your eyes.
Booney hats sometimes feature neck capes, but bucket hats usually don't.
Unlike bucket hats, booney hats often have chin straps.
How are the performance features different?
Both hats can be worn for outdoor adventures, but booney hats tend to have more performance-focused features typically intended for hiking, camping, fishing,
paddleboarding
, or other outdoor pursuits, while bucket hats are also often worn in urban settings.
"Bucket hats can be worn out hiking or doing outdoor activities, but they're also geared for wearing around town," Baldys explains. ""A booney hat, on the other hand, is more of a hat you wear hiking on the trail or on the river. From that perspective, bucket hats are more versatile.
"Bucket hats can be geared towards rain too—you can wear them year round. Bucket hats have almost become the new ball cap."
One key performance feature found in many booney hats is
UPF sun protection
. Booneys made with fabric that uses special technologies like
Omni-Shade
or
Omni-Shade Sun Deflector
can block UV rays and provide extra protection when spending more time in direct sunlight.
A recent study found that
UPF fabric works better than sunscreen
, partly because fabric is more consistent, Baldys explains.
"You don't have to apply fabric to your body over and over again," she says. "That's one thing that's really great about getting your sun coverage from the UPF protection in your booney hat—you're not having to constantly reapply sunscreen."
You can also find
bucket hats made with sun-protective fabric
, as well as
water-resistant bucket hats
if you need additional rain protection. But those features are not as common in this hat that often serves as around-town wear. (Some booney hats feature
water-resistant fabric
as well.)
Booney hats tend to be made with cooling technologies like
Omni-Freeze Zero
or
Omni-Freeze Zero Ice
and also offer
wicking technology
. These two features help prevent overheating while also wicking away sweat to keep you from feeling sticky and uncomfortable.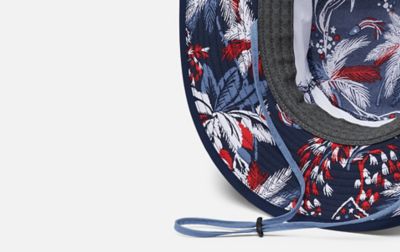 A final performance feature of the booney hat is ventilation, which is especially helpful in hot weather. This typically comes in the form of mesh panels or vents that accommodate airflow. Mesh panels are usually seen in the form of a ring around the crown, whereas vents are often concealed by a flap.
"In a booney hat, you'll often get a vent built-in," Baldys says. "That helps you
stay cool
."
Bucket hats can be found with vents built into the crown as well, but it's nto as common.
What fabrics are bucket hats and booneys made out of?
Nylon is typically the best fabric for each type of hat because it provides both durability and breathability. Plus, fabric designers like them because you can easily attach components like mesh panels or venting to give the hat additional cooling features. Hats made with a nylon polyester blend can offer enhanced breathability.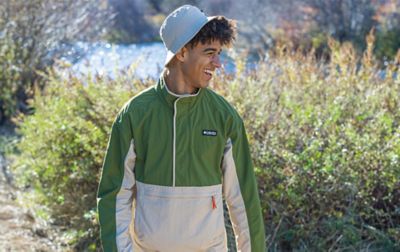 Are bucket hats and booneys different style-wise?
FAQ:
Why do fishermen wear bucket hats?
Bucket hats have a classic look that fishermen tend to like, and they're functional too. Fishermen in Ireland discovered long ago that the sloped brim of the bucket hat was ideal for keeping rain off their faces, and the flexible fabric makes them easy to roll up and tuck into a pocket when not needed.
Why do hunters wear booney hats?
One reason hunters may favor booney hats could be their similarity to safari hats. Whereas safari hats have a stiffer crown, and a brim that makes them inflexible, the pliability of a booney hat offers more comfort than a safari hat, and its portability is a convenient advantage out on the trail.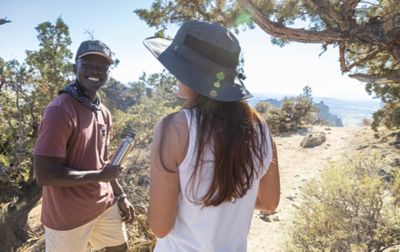 Why are booney hats popular?
The booney hat was largely popularized by Columbia Sportswear's
Bora Bora hat
. Baldys explains that this is not just her own bias—it's a truly iconic hat. "It's one of those hats you'll see often in TV shows," she says. "It's been around forever and people recognize it."
Booney hats also gained popularity after the
military used them
to replace standard field caps and continued to utilize them in hot climates to provide soldiers with protection from the sun and overheating. Being rollable, portable, and packable appeals to soldiers and civilians alike.
Why are bucket hats popular?
Bucket hats started becoming fashionable in the 1980s and continued into the '90s. Now considered retro, many millennials find the bucket hat nostalgic, while Gen Z sees them as fun and youthful. Plus, a
brightly patterned bucket hat
makes a stylish accessory at an affordable price.
Why is it called a bucket hat?
Bucket hats get their name from being similar in shape and size to an inverted water bucket.
Why is it called a booney hat?
The name "booney" is derived from the word boondocks, meaning "rough, rural, isolated country," where this type of hat was originally worn by military personnel.