The 22 Best Camping Hacks
The 22 Best Camping Hacks
These clever DIY camping tips will help you dial in your wilderness experience
Camping may seem straightforward—pitch a tent, make a fire, and melt into S'mores heaven. But anyone who regularly adventures into the wilderness knows that enjoying Mother Nature can include some hassles. Along with epic campfire sing-alongs comes swatting away insects, wiping away dirt, and fumbling around in the darkness, often as you're cooking meals out of cans. No matter if you are
car camping or tent camping
these pro tips and tricks can significantly improve your outdoor experience. Alternatively, if you are new to camping or just need a more luxurious experience you can also check out our
guide to glamping
or glam camping.
To help you morph into a camping extraordinaire, we've compiled a list of our best camping hacks. From clever food prep ideas to strategies for keeping mosquitoes at bay, these DIY camping tips will smooth out the kinks and help you focus on roasting that perfect marshmallow.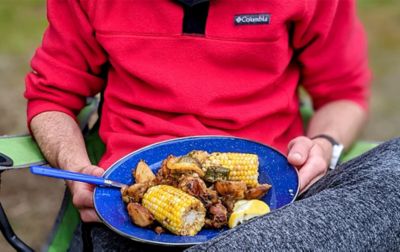 1. Pre-chill your cooler
Your cooler works hard to keep things cold while you're playing in the sun, so make its job easier by pre-chilling it before your trip. A day or two before heading out, place an ice block or bagged ice in the cooler and let it sit somewhere cool. When it's time to load up, dump any melted ice and replace it with fresh ice. This way, the ice you haul to your campsite won't be wasted on cooling the cooler itself. And stuffing newspaper or small towels into empty spaces will remove pockets of air and extend your cooling time.
2. Make coffee with 'tea bags'
It's hard to muster the energy for a day of outdoor excursions without a morning cup of Joe. One quick and easy way to get the caffeine flowing is to pack premade coffee "tea bags." Simply place ground coffee into a coffee filter, and gather and tie the edges with string to make a bag. When you're ready for your java, dunk the bag in hot water and voilà, coffee! And don't shrug off instant coffee—it has evolved to provide easy and great-tasting options that are great for camping.
3. Cook 'water bottle omelets'
Waking up in the woods doesn't mean you can't make an
amazing camping breakfast
, especially with a clever camping hack like the water bottle omelet. Eliminate the stress of packing in fragile eggs by premixing them with your favorite omelet ingredients in a wide-mouth water bottle or plastic bag. After that, all you'll have to do is fire up the camp stove and you'll be "brunching while camping" in no time.
4. Use Tic Tac containers for spices
Packing your favorite spices right out of your spice cabinet to take camping can take up a lot of room, but leaving them behind can lead to bland camp cooking. One easy way to ensure flavorful campfire recipes is to use empty Tic Tac containers to transport spices. This convenient hack will help make your favorite foods as tasty in the wild as they are in your kitchen.
5. Turn a belt into a utensil holder
Kitchen utensils can quickly turn into a tangle of plastic and metal when you're camping. To keep things organized, fasten a belt around a handy tree and use S-hooks to hang your cooking utensils. If it's sturdy enough, you can even use it to hang pots and pans. A shoe organizer is another a great way to store utensils and camping gadgets if you have a convenient place to hang it.
Camping hacks for insects
6. Scent your campfire with rosemary or sage to repel bugs
Nothing ruins a camping trip quicker than pesky mosquitoes buzzing around your ears and leaving itchy bites. Ward off those annoying bloodsuckers by tossing some sage or rosemary into the campfire. The scent will deter mosquitoes and leave your camp with a pleasant scent. Essential oils like citronella, pine, and rosewood dropped into the fire work too.
7. Reduce sweat and hydrate
Insects are attracted to hot, sweaty skin—the more heat and perspiration, the better.
Staying well hydrated
when you're camping and keeping the sweat off may help to ward off pests. If you have access to shower facilities, rinse off several times a day, and if water is limited, try wiping your skin down with wet, cool towels throughout the day. Keeping your skin fresh and your body hydrated may reduce your chances of getting bitten.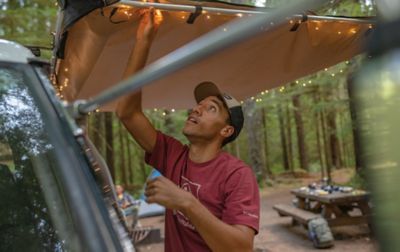 Camping hacks for lighting
8. Wrap tent stakes in LED lights
It can get dark quickly in the wilderness, so it's helpful to keep things on the ground well illuminated. Wrapping LED lights around tent stakes and other obstacles will help prevent tripping in the dark. You can also wrap solar fairy lights around trees, posts, or picnic tables to give you a point of reference when you head to the bathroom or explore around camp. Plus, they create a warm and festive ambience.
9. Tie glow sticks on pets
If you want to avoid losing Fido, tie a glow stick to his collar to keep track of him at night. With a glowing light dangling from his neck, you'll be able to spot him if he wanders into your neighbor's camp to sniff out the hot dogs.
10. Create a DIY lantern
Why pay for an expensive lantern when you can make one yourself? If you've got a headlamp handy, simply fill a clear bottle or milk jug with water and strap a headlamp to it with the light facing in to create a nice ambient glow to light your camp space.
11. Use a lanyard for the shower
There's nothing like a good shower to rejuvenate you while camping, but hauling all of your soaps and shampoos to the campground facilities can be a nuisance. Make it easy on yourself by using a simple lanyard. Use travel bottles with hangtags for your shower supplies and tie them to your lanyard to hang on your neck or sling over the showerhead. Even if you're washing up in a river or under a waterfall, having your toiletries hands-free and where they can't get separated will make it even more refreshing.
12. Clean clothes with a bucket-plunger 'washing machine'
After a few days of camping, clothes and shoes can start to
get a little funky
. A great camping hygiene hack is to bring along a bucket-and-plunger DIY washing machine. Using a five-gallon bucket and lid, cut a hole in the lid large enough to fit a small plunger that has a few holes cut into the bell. When you're out camping, fill the bucket with soap and water, throw in your dirty clothes, and pump the plunger up and down through the lid. Wring out your clothes well, and once they're dry, enjoy the feeling of fresh, clean gear.
13. Give 'soap leaves' a try
Stay clean while camping by shaving flakes or "leaves" off of a standard bar of soap using a potato peeler. The little flakes will fit in a plastic bag that's lightweight and compact, yet more than sufficient for a few days of handwashing or even full showers. The flakes take up less space and you won't have to deal with a slimy bar of soap.
14. Bring quick-drying clothes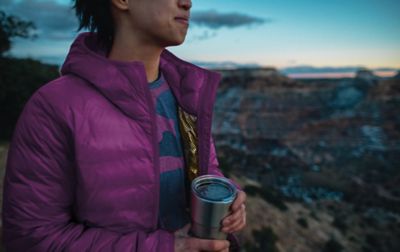 Camping hacks for staying warm
15. Stuff tomorrow's clothes in your sleeping bag
Staying warm, especially if you're
camping in the wintertime
, is a key factor in determining how comfortable and enjoyable your experience will be. Mornings can be chilly no matter what time of year, but you can avoid the dread of exiting your cozy tent by tucking the next day's clothes into the foot of your sleeping bag to absorb body heat as you snooze. Waking to warm clothes will make you want to get dressed and seize the day. (After coffee, of course.)
16. Duct tape mylar to your tent
If you're going to be camping in chilly weather, a great way to help you
stay warm
at night is to pack a mylar emergency blanket and duct tape it to the ceiling of your tent. Your body heat will be reflected back at you while you sleep rather than escaping through the tent roof.
Jackets made with Omni-Heat™
or
Omni-Heat™ Infinity
work in a similar way by using silver and gold dots to reflect your body heat to keep you warm.
17. Use foam play mats on the floor
Another convenient camping hack for staying warm is to line the floor of your tent with kids foam play mat tiles. In addition to the extra comfort—and fun colors if you're camping with children—they'll provide extra insulation to keep you toasty while you sleep. They're also a great way to protect your tent floor from wear and tear.
18. Use the 'hot water bottle trick'
One of the
best tips for camping in cold weather
is the "hot water bottle trick." Just fill a bottle with hot water at bedtime and pop it into your sleeping bag with you. The heat from the bottle will radiate through your bag to keep you nice and toasty. Just make sure to seal the lid tightly so it doesn't leak or spill in your sleep, and keep the bottle from directly contacting your skin to avoid burns.
19. Have a dry clothes stash
Whether you're splashing in a river or getting caught in a rainstorm, your clothes are bound to get wet at some point on a camping trip. Having a special stash of dry clothes safely tucked away can often prove invaluable for comfort. And even if everything goes according to plan and nothing gets wet, you'll have a nice clean set of clothes for the drive home.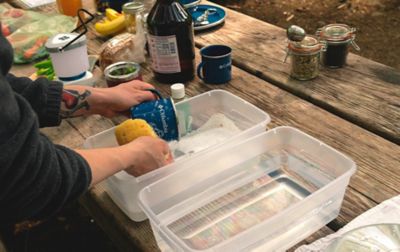 20. Use your stuff sack for a pillow
Rather than packing a big bulky pillow or risking a sore neck by sleeping on a bunched-up hoodie, use your sleeping bag's stuff sack for a pillow. The cylindrical sack filled with your soft, comfortable fleece clothes provides more surface area and won't separate in the middle of the night.
21. Avoid stuck zippers by using candle wax
Before heading out into the wilderness, help keep zippers on your camping gear from sticking with this simple DIY hack. Just rub a bit of candle wax along the teeth, and then run the zipper up and down a few times. The wax will act as a lubricant and help prevent your zippers from catching. And it may
help your outdoor gear last longer
too.
22. Light a campfire with cotton balls
Everyone loves a good fire, but sometimes getting it started can be a pain. Simplify the process by bringing along some premade fire starters. One of the best is cotton balls covered in petroleum jelly, which will light right up. Dryer lint compressed into a ball is another effective fire starter. In a pinch, even potato chips, wadded-up duct tape, or hand sanitizer sprinkled on kindling can be used to get your fire going.