The Healing Power of the Outdoors for People with Breast Cancer
For People With Breast Cancer,
the Outdoors Offers Healing Power
Three women share their stories about how nature offered them strength on their journeys
Lori Jordan was sitting at the dining-room table watching birds eat out of her bird feeder when she got the call from her doctor confirming what she'd been fearing for the last 48 hours: the lump in her breast was cancer.

Two days prior, her doctor had discovered a small tumor in her right breast and the biopsy results were back. Jordan would need a double mastectomy.

After setting down the phone, the first thing the California native did was have a "proper meltdown."

"I can't imagine having responded any other way," Jordan remembers of that moment. "It's like you see your life flash before your eyes. And you think, 'What am I gonna do?'"

The second thing she did was go outside.

As a lifelong outdoor enthusiast, Jordan knew it was the best way to calm her anxiety and keep her thoughts from spinning out of control.

"I grew up in Santa Cruz, hiking in the redwoods," she said. "Being outside always recenters me. It's a reset for my brain.

"If I'm having a hard day, the first thing I'll do is put my shoes on, go outside, hit a trail, and just pound it out. That's where I get a lot of my thinking done. The outdoors stops the noise—it's like taking a deep breath.

"So after my doctor called Monday night to tell me, I was out on a trail the next day."
Breast cancer survivor Lori Jordan is pictured above in April 2017 at Carrizo Plain National Monument, the weekend before her cancer diagnosis sitting on a trail during a rare California superbloom. The double mastectomy survivor describes the outdoors as a deeply therapeutic part of her healing journey.
A new way of seeing the world
Over the weekend, she and her husband had gone hiking at Carrizo Plain National Monument as they awaited the news. They wanted to get their minds off things, Jordan explained, and "not get ahead of what they knew."
It worked. A beautiful superbloom was underway—a once-a-decade phenomenon that was big enough to
be seen from outer space.
As the couple hiked through fields of wildflowers, Jordan says they were able to put their worries aside for the afternoon.
She remembers her husband snapping a photo as she sat on the trail in a field of yellow flowers. Today, the image seems like a different woman.
"When I see that picture, it's so weird to look at," she says. "I stare at the photo and I think, 'I had cancer that day and I didn't know it yet.'
"The moment you learn you have cancer, it's like a switch is flipped. It's like a binary. There's the moment before you know, and the moment after—and the two never come back together. Life is different now. It's like the moment in the 'Wizard of Oz' where everything goes from black and white to color.
"You can never go back to your old way of seeing the world."
"I can still feel that woman's happiness. I could feel my body coming back to life."
In May 2017, surgeons removed Jordan's tumor and she began chemotherapy. Throughout the grueling treatment, spending time outdoors is what kept her grounded. Some days Jordan could only make it to the mailbox, but she always made a point to walk outside at least once.

"I wouldn't have done well sitting in a room staring at walls all day," she explains. "I think it would've put me in a very bad place mentally. Being outside and moving my body is what kept me centered the whole time and prevented me from going into super dark places, or getting really lethargic.

"It also helped with the side effects of treatment like nausea, fatigue, and bone pain."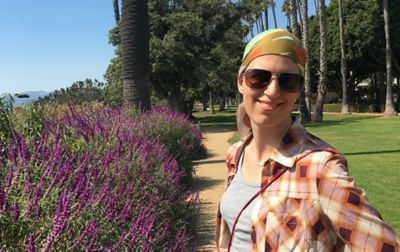 Jordan is pictured here in September 2017 at Palisades Park in Santa Monica, one week after her last chemotherapy treatment. There were times she could only make it to the mailbox, she says, but Jordan made it a point to
get outside
every day during her healing journey.
The path to healing
After chemotherapy, Jordan transitioned to radiation treatment and, by fall, was beginning to feel better. She completed her final treatment in November, and over Thanksgiving weekend she took a three-mile hike in Big Sur, logging 900 feet of elevation gain. Although the climb would have been nothing prior to her diagnosis, Jordan said she felt like she'd "conquered the largest mountain in the world."

Hiking up the mountainside made her feel powerful again. Not only that, it gave her hope.

"I can still feel that woman's happiness," she remembers of that day. "I could feel my body coming back to life. I was getting my strength back and it was happening faster than I would've expected. It was really, really amazing.

"When we got up there, I teared up because it was like, 'I can do this.'"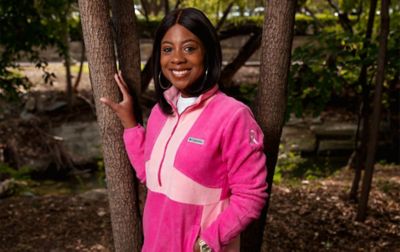 Catrina Cruthcher says that spending time outside helped her cope during her breast cancer treatment.
Nature as a safe space
For Catrina Crutcher, a Frisco, Texas resident who was diagnosed with stage three triple-negative carcinoma in June 2020, the outdoors provided an open, nonjudgmental space to process her emotions.

Battling an aggressive form of cancer, it was invaluable to have a safe place to work through her feelings, she says.

"Being outside allowed me to express myself in ways that I couldn't always do when I was indoors," Crutcher says. "I could scream, cry loudly, and think deeply. Inside, I sometimes felt trapped. But outdoors I was free."

During chemotherapy, she often took nature walks at a nearby pond where she'd spot turtles, geese, fish, and other wildlife. Crutcher said she drew lessons from them, observing all the ways that animals use "determination and fight'' to stay alive in the wild.

"Watching the pond and all of its elements was so therapeutic for me," she recalls. "It reminded me to not give up the battle."
"For many people, healing happens by lying in bed or taking medicine. But for me, it was being outside that healed me the most."
Today, Crutcher is involved with the
National Breast Cancer Foundation
(NBCF), which offers women affected by breast cancer early detection resources, education, and support services.
Spending time outside has played an integral role in her healing journey, she says.
"For many people, healing happens by lying in bed or taking medicine," she says. "But for me, it was being outside that healed me the most. I've always been an outdoor girl, so it made sense to go back to my roots when I needed healing most."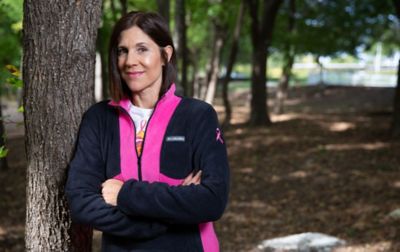 Jody Feil, a fitness and nutrition expert for National Breast Cancer Foundation, says there are numerous health benefits to spending time outside.
Evidence of the effects
The benefits that Crutcher and Jordan says they've received from
spending time outside
is well documented. In fact, an emerging field of clinical psychology called
ecotherapy
has been gaining popularity in recent years among mental health professionals who are "prescribing" time in nature for their patients. In substance abuse circles, recovering addicts have
credited time in nature
with helping them get and stay sober.
For cancer specifically, there's mounting evidence that being outside can be beneficial, both physically and
mentally
.
A study published online in the journal "Occupational & Environmental Medicine," for example, found that Danish women who worked outside over a span of years had a
lowered risk of breast cancer after age 50
—something researchers said could be attributed to higher vitamin D levels.
Another study examining the
role of nature in cancer patients' lives
found that the outdoors offered a "familiar and nurturing" space for them to navigate the "personal consequences of cancer."
Even meditating on nature may be helpful. UCLA's Center for Integrative Oncology offers a
mindfulness workshop
for cancer patients that uses nature imagery to
soothe and empower them during treatment.
Columbia Sportswear is a proud supporter of National Breast Cancer Foundation.
Outdoors in action
Jody Feil, NBCF's fitness and nutrition expert, says she sees anecdotal evidence of nature's power every day with her clients.

"Getting outside and exercising through breast cancer treatment can make a world of difference," Feil said. "It's one of the best ways to get vitamin D, reduce stress, and increase your overall mental health."

During the pandemic, Feil's work was brought close to home when her mother was diagnosed with bilateral breast cancer. She believes the daily outdoor walks her mother took helped create positive results for her.

"She saw immediate relief of some of the side effects and her outlook improved," Feil says. "I attribute this form of exercise as one of the contributing factors to her successful outcome—completing treatment and thriving today as a breast cancer survivor."
Jordan is pictured in August of 2022 as she begins her ascent up Mt. Whitney, the tallest peak in the lower 48 states. The California woman climbed up to Trail Crest, a 13,600-foot lookout point near the top, five years almost to the day of her last chemo treatment. "There was something about being outside that always had the ability to remind me that this is a moment—and moments change," she says.
Hitting milestones
Jordan is now in full recovery. In August, she hiked California's Mt. Whitney Trail all the way up to Trail Crest, a 13,600-foot lookout point near the summit of the tallest peak in the lower 48 states.

She and her husband camped two nights before tackling the summit trail with 35-pound backpacks. It wasn't until she reached the top that she realized she was celebrating her five-year chemo milestone almost to the day.

"I remember standing up there and thinking about how five years ago, I could barely walk to the end of the block and back. I couldn't even go out to a restaurant and get dinner. And now I'm on the top of Trail Crest looking over the entire eastern and western Sierras as far as the eye can see.

"And I did this with my own two feet."

She encourages folks who are still going through treatment to try their best to not set limits about what they think they can do, especially if spending time outside is an important part of their lives.

"You still can do hard things," she said. "It may not feel like it in the moment, but you can.

"If the outdoors is something that's important to you, this diagnosis doesn't have to stop you from doing those things. It can still be part of your everyday life, however you are able to implement it.

"Even if it's literally just walking out your front door and sitting on a chair and watching the flowers and the birds, it can be so helpful to just take a break and let yourself have that moment of stillness." Crutcher says that her experience has strengthened a long-standing relationship she's had with nature. She views the outdoors now in a different, more meaningful way.

"My journey with breast cancer has made me appreciate the outdoors and nature a lot more," she says. "Everything outside feels more significant and demands more of my attention. When I take a walk, I see the flowers growing, the sunlight on the trees, the drops of rain.

"Nature is spiritually powerful," she continues. "It allows us to sense that we belong to something bigger than ourselves."
"I feel like the outdoors teaches you to slow down, to take a breath."
Jordan echoes the sentiment, explaining that she's derived powerful lessons from outdoor spaces.

"I feel like the outdoors teaches you to slow down, to take a breath. For me, it reminds me how small I am, that time is fleeting for us as humans. We're not on this planet for a very long time. Even if I live to be 95 or 100 years old, that's short compared to the things that you see when you're outside, to the mountains, the trees.

"The redwoods are still young and they're 2,000 years old. To me, there's something quite comforting in that. These rocks know a lot more than we do about what's happening on this planet. They've seen more than we have."

Jordan says the wisdom and knowledge she gains from natural spaces informs how she lives her life.

"It reminds me to take advantage of each day," she says. "That nothing is forever. That you need to live in the moment and try not to get too far ahead of yourself.

"During chemo, there were days where it felt like it was never going to end, like I'd never get back to normal again. But there was something about being outside that always had the ability to remind me that this is a moment—and moments change."