How To Stick To Your New Year's Resolution To Run More When It's Freezing Outside
How to Stick to Your New Year's Resolution to Run More When It's Freezing Outside
It's early January and, like a lot of folks, you may have made some New Year's resolutions. In addition to things like "call mom more" and "learn to speak Italian," another one may be to
start running
—specifically trail running. However, as you're peering out the window into the frozen streets beyond, you might be starting to wonder what you were thinking. It's cold out there (like, really cold) and your mind may already be finding excuses (Did I
really
want to run more this year? What about trying something more sensible like knitting or hot yoga?).
If this sounds familiar, trust us, you're not alone. The prospect of strapping on sneakers and venturing outside in the wintertime can sound daunting no matter who you are. But it isn't as difficult as it sounds, we promise. In fact, if you know the right secrets, winter running has amazing perks that you can't get in the summertime—things like extra solitude, stunning scenery, and a deeper, more introspective runner's high.
"Winter trail running offers us the positive connection to nature that we are deprived of as we spend more time indoors during the winter," explained Columbia Sportswear running specialist Derek Scott. "It's a physical and mental boost. Fewer people are out there and the trails become less crowded, giving you more freedom to explore."
To better equip you to hit the trails, we've rounded up some of Scott's best tips for winter trail running. Check them out below.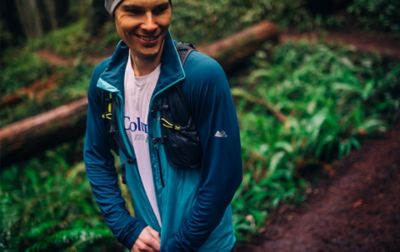 1. Layer properly
It's difficult to overstate the importance of a good layering system in the wintertime. In addition to helping you stay warm without overheating,
layering offers you protection from wind, rain, and slush
. The challenge can be doing it in a way that you're not constantly lugging around extra layers. To avoid this, Scott recommended taking a warm-up lap close to your house or car. That allows you to start your run bundled up, but still be able to drop off the layers once you're warmer without having to take them with you on the trail.
Another option is to carry a small
running pack
. These can come in handy on runs with changes in elevation that will have colder, potentially snowier conditions up top, or thickly forested trails with less warm sunlight. When in doubt, it's best to over-layer, Scott said. "Runners often make the mistake of dressing too lightly, which ends up being worse than overdressing." Here's a checklist he recommends:
Upper body
Base layer tee or long-sleeve
Protective outer shell
Long-sleeve half-zip (optional)
Lower body
Base layer tights
Tall crew socks
Waterproof running shoes
Outer layer shorts (optional - for pockets)
Hands & head
Running gloves
Thin, warm hat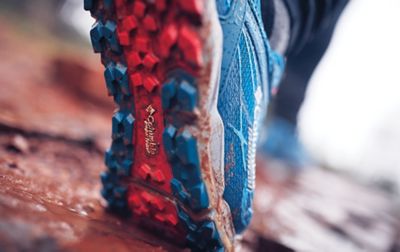 2. Have good traction
Traction is important any time of the year
, but it's a particularly critical factor in the winter when conditions like snow and ice create slipperier surfaces, especially as you climb in elevation. Not only that, the winter months are darker, which can limit your ability to see and reduce your overall body awareness. The key to good traction is having lugs on your soles that deliver the proper height, shape, and orientation to help you grip the ground. Beyond that, you also want to make sure they stabilize your heels and offer ample cushioning. Even with top-of-the-line footwear, however, you need to be more careful in the wintertime, Scott said. Roads often have black ice, bridges are prone to freezing over, and trail moisture becomes frozen and slippery. "A cautious approach is a safe approach," he said. "Take turns easier, monitor your speed in potentially dangerous areas, and tiptoe a bit more in slick terrain." Always keep your center of gravity on top of your feet, he added.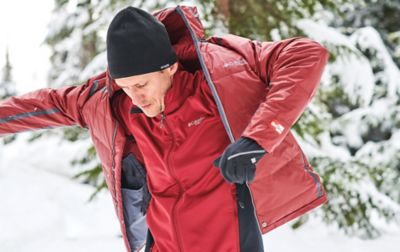 3. Stay warm
Learning how to stay warm on the trails is a wintertime skill that takes practice. Scott recommends logging the temperatures each time you run, noting what you wore and how you felt. This helps you dial in a system that works best for you. "If you find a comfortable wardrobe for 40 degrees, consider what you'll need to add when it's 30 degrees," he explained. "The more knowledge and understanding you have, the more you'll be able to avoid mistakes."
One of the best things you can do for yourself is to warm up before you start. If you have 60 minutes to run, for example, take the first 5 to 10 minutes to activate your body indoors with some yoga, body weight squats, or other light cardio. If you do these in your warm house before you leave, your body temperature will be elevated by the time you hit the chilly air. The hardest part can be overcoming the mental barrier. Scott said that creating incentives can help, such as:
Keep a training log. Writing down your achievements makes you feel accomplished and helps keep you accountable.
Designate special post-run treats that you only allow yourself to have on days you complete your runs.
Find a running partner. This will be one more step to staying motivated and holding yourself accountable.
Follow runners' blogs, listen to podcasts, watch inspirational movies, put on motivational music, or explore other media that gets you excited about your new hobby.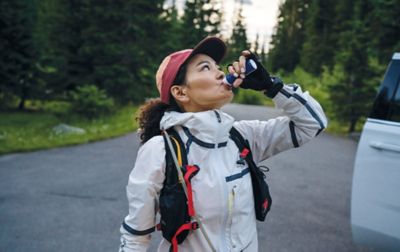 4. Keep hydrated
Running involves a lot of energy expenditure to begin with and your thicker winter clothing can make you sweat more, making hydration critical even during this time of the year. Yet with your thirst response diminished due to lower temperatures, it's easy to forget this important step in the colder months. The fact that people tend to drink less water in the winter anyway means that you're likely to be starting your runs in a dehydrated state, complicating the issue even further.

One of the most helpful things you can do is to get in the habit of increasing your hydration throughout the week, Scott said, not just when you're training. He pointed to small tricks like drinking more tea, incorporating smoothies into your morning routine, carrying a water bottle around with you everywhere, and shifting to slightly warmer water, which can be easier to get down at room temperature.
5. Start small
A final thing that can help you be successful is to start small. Overdoing it right out of the gate is a recipe for failure, according to most motivational experts. Yet the tendency—especially when starting a new habit around New Year's—is trying to tackle too much, too fast. Opt instead to begin with smaller goals and gradually increase the length, frequency, and difficulty of your runs. "Most habit-forming literature speaks about starting small," Scott said. "Begin with a manageable amount of running and find a groove where you can stay consistent. That's the most important piece. After a lifetime of running, this is the best secret I can give. Consistency is key. Find what works for you and do it consistently—this is the best way to grow as a runner."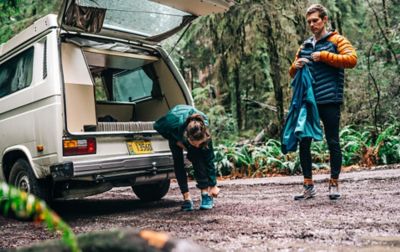 Final quick-tips for winter running
At the beginning of each week, check the forecast and plan your training sessions accordingly. If there's going to be sun on Wednesday, for example, make that day a priority.
Invest in a GPS smartwatch like Garmin or FitBit so you can geek out on all your running stats, or sign up for an app like Strava to connect with a motivational community.
On runs you have to drive to, always bring extra clothes to change into before heading home. Sweaty running gear drops your body temperature dramatically, so it will feel nice to crawl into warm, cozy clothes for the drive back.
Have food waiting for you when you're done. A crockpot with warm, delicious post-run meals in it is an awesome way to stay motivated in the wintertime.