The Hyper-Grippy Traction on This New Hiking Shoe Lets You "Be The Goat"
The Hyper-Grippy Traction on This New Hiking Shoe Lets You "Be The Goat"
Columbia Sportswear's Facet™ 75 Mid boasts cutting edge technology that helps you climb trails like a mountain goat
A new hiking shoe from Columbia Sportswear is designed with exceptional traction technology that allows hikers and other outdoor adventurers to climb trails with the ease of a mountain goat.

The Facet™ 75 Mid, which has been three years in the making, features an advanced traction system called Adapt Trax™ that gives trail enthusiasts an edge when navigating technical terrain.

The launch of the new shoe coincides with an advertising campaign titled "Be The Goat" that celebrates the nimbleness of mountain goats and their impressive ability to climb nearly vertical rock faces.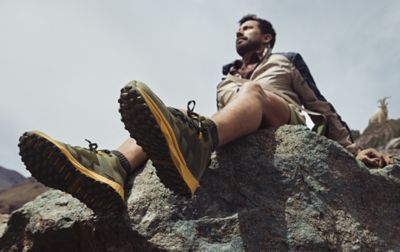 The goat-like agility the shoe delivers comes from the Adapt Trax's three-part advanced traction system. The first component is a proprietary rubber compound that's engineered to be like a sticky rubber. This helps the sole of the shoe grip the terrain.

The second part is the shape of the lugs which offer biting edges that hikers can use for braking during ascending and descending, reducing the chances of slipping or sliding.

Lastly, the orientation of the lugs completes the Adapt Trax system, utilizing an 'S' formation' that starts at the big toe and goes through the midfoot down to the heel. This follows the foot's natural striking pattern which typically lands on the heel just to the outside of the foot, then transitions to the center and finally across where it "toes off" at the big toe.

The sure-footed traction provides hikers with the extra boost of confidence to navigate diverse and challenging terrain. On top of the added security, it lets outdoor lovers soak up the experience rather than worrying about each step they're taking.

Adapt Trax is designed to perform well in all types of weather, acting as a particularly effective assault on rain, snow, ice, mud, and other inclement trail conditions.
In addition to its groundbreaking traction features, the Facet 75 Mid is made with industry-leading OutDry™ technology that incorporates waterproof breathable construction to keep trail travelers warm and dry.

It has a robust toe cap for foot protection when hiking or scrambling, along with overlays to keep it centered and prevent sliding on steeper terrain.

The Facet 75 Mid is built with a proprietary midsole called Techlite Plush™ that provides underfoot cushioning, offering excellent responsiveness to return energy back to the hiker. Not only that, it offers incredible longevity on longer days on the trail so you can remain as comfortable on mile 30 as you were on mile one.

As you get tired, the shoe's performance features help you keep going so you can achieve your goal, whatever that may be.

The versatile shoe is engineered for everything from flat beginner trails to gnarly near-vertical ascents—and everything in between. Designed for the mountain, the Facet 75 Mid is a hiking shoe that was born for performance.